Dhruv Shirpurkar's parents never let go of their faith in God while standing with him in his battle against a rare disorder that left him 85 per cent disabled and bound to a wheelchair.

Rediff.com's Swarupa Dutt met the 16-year-old boy with an indomitable heart and ambition to be an engineer.
IMAGE: Dhruv in class. Photograph: Sanjay Sawant/Rediff.com
On July 21, like lakhs of other Mumbai students, Dhruv Shirpurkar went to college.
Class 11, Science, at the reputed Vaze College in the city's northern suburb of Mulund.
Vaze College was chosen for its ranking (among the top 10 Science colleges in the city rated according to a 2014 India Today survey), but more because it is one of the only disabled-friendly suburban colleges.
Dhruv is 85 per cent disabled, bound to a wheelchair, since 2007.
He has Duchenne Muscular Dystrophy, which causes muscle degeneration and progressively gets worse, beginning from the feet and working its way to the neck. Due to progressive muscle deterioration, loss of movement occurs, eventually leading to paralysis and premature death.
Dhruv is 16.
His muscles are wasted waist down and he can just about use his fingers; waist above he has a 40 per cent disability; he cannot raise his hand. He has to be fed, bathed, helped to the loo and into his clothes; he can just about turn the pages of a book, but only if it is a paperback.
He has a Scoliotic (curved) spine, has to be nebulised often since he is prone to chest infections, which if ignored can put him on a ventilator. He has diabetes and is on insulin.
Enough to kill your spirit may be, but not Dhruv's.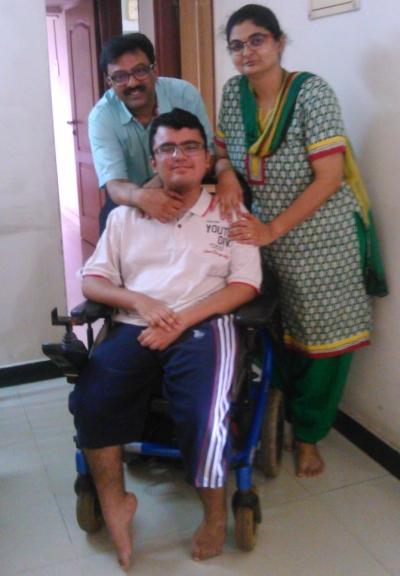 'I am a positive person, but I am also a rebel. If I am not happy with the way things are, I will fight it and change it or at least improve it,' says Dhruv, pictured here with his parents. Photograph: Swarupa Dutt/Rediff.com
The boy scored 92.2 per cent in the Central Board of Secondary Education and is aiming for the Indian Institute of Technology -- computer or mechanical engineering.
"My condition does not preoccupy me. I don't think of it as something big. It's just a part of me," he says.
And to illustrate that he is just like any other kid he says he did not use a minute of the extra 45 minutes given to special students appearing for exams.
"I finished in under three hours," he grins.
He had to use a writer, but he says that is actually more difficult than writing the exams yourself because you have to compose your answer in your head and then dictate it.
"Especially Math. It took some time for me to adjust to the process of solving it in my head and then dictating it to the writer. If the scribe decides to use his own head, it is a big problem. They confuse me and themselves too," he says.
Dhruv is quick to credit his parents and his school -- the Nalanda Public School, in Thane -- with his success.
"The school was very good, there were elevators which allowed me access to almost all areas and there were ramps everywhere. I was the only child in a wheelchair, but there were other children with learning disabilities and a child with visual impairment," he says.
"When we took admission in Class 1 there was not a single school with handicap compliance, but it is different now. We had always decided to send him to a regular school, even though we had been advised against it," says Rupa, Dhruv's mother.
Dhruv's father Mangesh, an engineer says, "One school told us to take his IQ test and even after he scored very high they refused admission, saying they wanted a caretaker right from the beginning which was not needed. It's as if physical impairment equals mental impairment."
"Actually kids with Duchenne's are advised against going to regular schools because more the stress faster the muscular deterioration. That is why neurologists advise against it," Mangesh adds.
Dhruv pipes up, "My father's explanation is not valid. It will in fact cut down on our capability. If you have no learning disability, if the person can manage physically, why should the child have to go to a special school?"
He says he is aware of every aspect of Duchenne and has read up on it extensively.
The family says the school was with them every step of the way -- teachers printed out notes when his hands couldn't keep up with writing in class, helped find him a writer; classmates helped him tackle everyday chores like taking text books out of his bag, or just helping him adjust in his wheelchair (he cannot push himself back again when he bends forward).
However, an attendant employed by his parents wheeled him around school and helped him to the washroom.
"That phase of 'why us' is long gone. You cannot fight this, you have to accept it and make the best of a bad situation. We are optimistic that in the years to come there may be a solution"
"We are taught not to discriminate over caste, community, colour, to believe in women's empowerment, but what about not discriminating against the handicapped? It should be part of the curriculum," says Dhruv.
He also feels there is a lot of prejudice against the differently abled. "We are always underestimated; if I can't walk it doesn't mean I can't think. People treat us like we are some alien species to be gawked at."
"Wherever we have gone, in Mumbai or outside, if we ask help," Rupa adds ,"people immediately come and help. But they look at him differently. We can look at their eyes and see it."
"It is pity," points out Mangesh.
Dhruv moves around in a motorised wheelchair, which he has been using since 2007, when he was just seven.

"We moved here (their present apartment, sparsely furnished to allow wheelchair access) during Ganpati. He was walking, but he was very unsteady and he kept falling and hurting himself, so the doctor told us to get a wheelchair. We bought him this one and he has never got up from it ever since," says Rupa.
Dhruv barely remembers what it was to walk.
"Of course, I can imagine what it was, but to be honest, it's a very distant memory."
Rupa says each time they are in a public place people come up to them ask what the wheelchair cost.
"It is for someone they know. You become something of a spectacle. If you are the kind who doesn't want attention, forget about it," she says.
Adds Dhruv, "They think the wheelchair is like a gadget or a car! They want to sit in it and drive it around. They don't see it as medical equipment and the challenges that a person using the wheelchair faces. I just normally ignore such people."
But the wheelchair at least allows a limited degree of independence since Dhruv only needs to use his fingertips to get around.
"But not everyone can afford it," points out Rupa. "Seven years ago it cost me Rs 1.5 lakh; today it costs Rs 3.25 lakh. It is made in Germany and there are no service centres in India. You know, we have made at least 25 changes to it ourselves."
Says Dhruv, "The prices of TVs, phones, computers go down, why not wheelchairs? It's because we are not mainstream."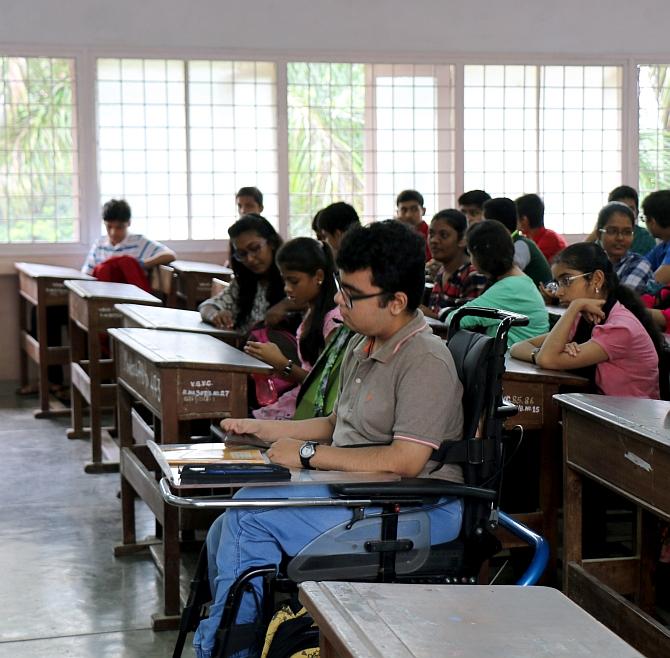 On his first day at Vaze college in Mulund, Dhruv Shirpurkar says he felt comfortable in his new environment and expected to make "loads of friends." Photograph: Sanjay Sawant/Rediff.com
Financially, it has not been exactly smooth sailing.
"If Mangesh had not gone abroad, it would have been very difficult. Family members have been supportive and have lent us money which we have always returned," says Rupa.
But says, Mangesh, more than finances, it is the simple things that really set you back emotionally, physically; going to a movie, for instance.
"Most cinema halls now have ramps to enter the hall, but if you want a good seat at the back, you have to negotiate steps. So we always have to sit in the first row craning our necks. When they say a place is disability-friendly, it actually isn't."
"But at least we can take him to a movie. Earlier only the Wadala dome theatre had wheelchair accessibility, but now we can watch a movie in Thane," says Rupa.
"But then you do feel that he should also be able to watch movies sitting at the back like the rest of us," sighs Mangesh.
Has it been easier dealing with his disability over the years?
"Well, yes and no. No, because we are getting older. He is getting heavier. For instance, making him wear his trousers is very difficult; or taking him to the bathroom. It is very difficult for me to pick him up now," says Mangesh.
"You know, when it was first detected, it was like a bolt from the blue. We were completely unprepared. We had never even heard of Duchenne. Since it is a genetic disorder, we went back five generations in both families to see if anybody had anything similar, may be they did not diagnose it, but there may have been someone with a disability. But we found nothing," says Rupa.
"What really pulls us through is our faith in God. That phase of 'why us' is long gone. You cannot fight this, you have to accept it and make the best of a bad situation. We are optimistic that in the years to come there may be a solution," says Rupa.
Dhruv nods his head in agreement.
Rupa says that normally, people have a second child in these cases, but they decided against it since they wanted to devote all their time with Dhruv.
"Whatever lies ahead we will deal with it together and make the best of what we have," smiles Rupa.
"You feel like giving up sometimes; that's true, but I think that happens with normal families too," adds Mangesh.
They take each day at a time, each goal at a time. Class 10 done, Class 12 next.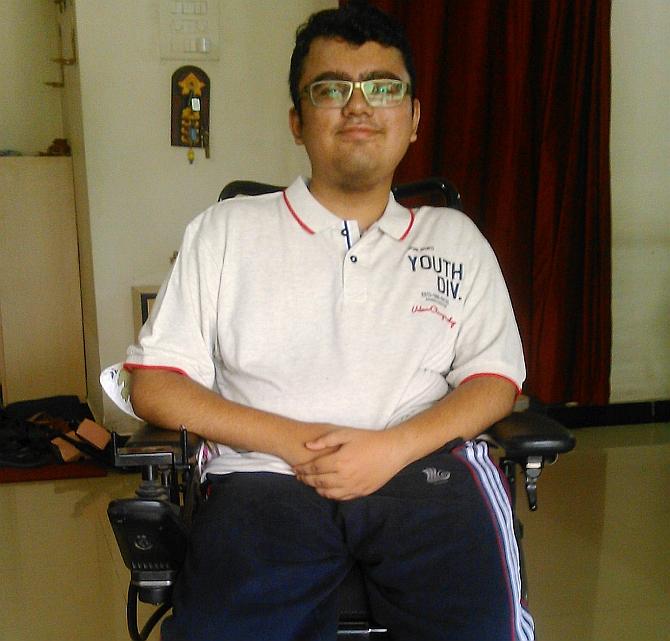 "The prices of TVs, phones, computers go down, why not wheelchairs? It's because we are not mainstream." Photograph: Swarupa Dutt/Rediff.com
"We worry about how he will earn a living. We worry about whether he will be financially independent. We want him to do data analytics, but he wants to do engineering," says Mangesh, who feels Dhruv may not be able to physically cope with the demands of engineering, but wants him to give it a go. He even has notes ready for his son.
Dhruv believes he can and will.
" am a positive person, but I am also a rebel. I do not always accept situations the way they are. If I am not happy with the way things are, I will fight it and change it or at least improve it. By situations I mean my skills, my academics, not my physical abilities. I do not focus on my disability at all," he says
"My doctors and my counsellor have helped me remain positive and I cannot thank them any for it," the boy adds.
The family is just back from their holiday in Mahabaleshwar. Like most travellers nowadays they always Google the place, but not for sightseeing options.
They spend days researching the hotel. Does it have wheelchair accessibility? Are there ramps everywhere? Is the door of the bathroom big enough to accommodate a wheelchair? Is the commode the right height for his wheelchair? They call the hotel and speak to the managers, get the details and only then book a room.
So, on this holiday, Dhruv carried his book (Song of Ice and Fire by George R R Martin -- the first book in the Game of Thrones series) on his Kindle, and yes, his spunk.