'It is frustrating when you have to say 'No', but you are helpless when something is not available.'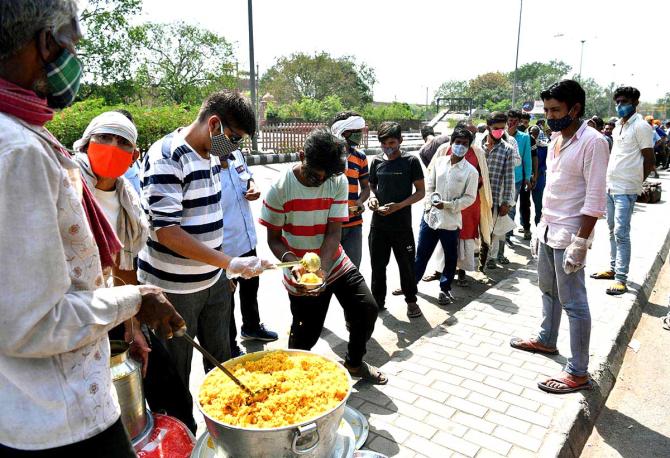 When tragedy strikes there is always a group of good Samaritans, mostly youth, who come forward to help.
It is no different this time as COVID-19 once again surges dangerously across India.
Many such well-meaning youth, who had helped the Delhi riot victims in 2020, have swung into action and organised themselves under the banner of the COVID Citizens Action Group (CAG), to help those in distress by providing information about ICU beds with oxygen, oxygen suppliers, food delivery and medicines.
Swati D'souza, who works for the NGO, National Foundation for India, as their research lead for climate change, and Ankit Gupta, a content writer, are two such good-hearted citizens who are working with CAG.
Swati says she had helped raise money for the Delhi riot victims while Ankit had helped the victims with medical aid, rations and restarting their businesses. They had helped 120 families cope after the riots with their acts of kindness.
When the pandemic hit India last February-March, they began distributing rations and home-made food for the needy. They were in the process of distributing 1,000 food packets when this correspondent spoke with them.
"Last year, during the pandemic, we helped almost five lakh people across India. We are a close-knit group of 10 people but there are others too who joined us for a period of time and volunteered to help those in distress," Ankit says.
CAG was founded on April 16, 2021.
"The states weren't doing enough and we decided to step in," says Swati. "We used Twitter and Instagram to announce our initiative.
"The same group that worked together during the Delhi riots came together to launch this initiative," explains Ankit.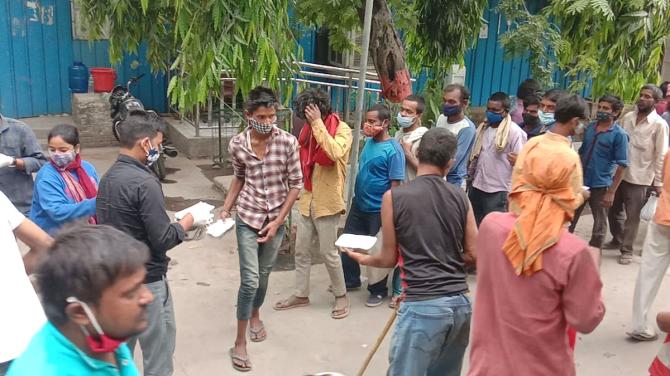 CAG is made up of civil society members who have come together to help people.
"Patients keep calling us to find out about the availability of beds. Some call for oxygen and others for medicines.
"One of us becomes the point-person for the patient, while others search for what the patient wants.
"Once we have the information, we pass it on to the patient," says Swati, talking about how they have streamlined their efforts to quickly help those in need.
Almost immediately, their Delhi-centric effort assumed nationwide proportions.
"We were very happy when 220 people across the country signed up to work with us on the very first day," says Swati.
"Their main responsibility is to coordinate COVID-related necessities and match supply and demand."
Ankit adds, "If they are looking for a bed, we verify their request and then inform them about the beds available at various hospitals.
"When they want oxygen cylinders, we find it for them.
"If they don't have transportation, we arrange it for them.
"We crowdfund if they need money; civil society helps."
They keep in touch with each other through WhatsApp groups.
Many people already have their phone numbers.
As they are in touch with hospitals, pharmacies, oxygen suppliers and manufacturers, they know where what is available at any given time.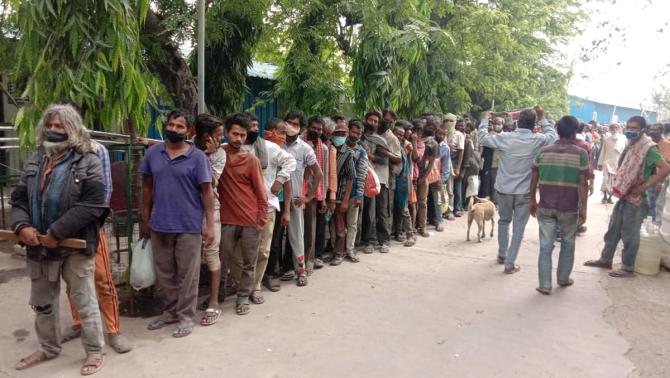 They don't have any regular funding mechanism. "Sometimes, we spend from our own pockets and sometimes we go for crowdfunding; we take it case by case," Swati says.
"We do crowdfunding through social media. For small cases, we pay from the funds we have collected earlier; if it is a big amount, we make an appeal through social media and the money goes straight into the patient's account," adds Ankit.
"I was just coordinating a case in Patna," says Swati.
Though they are working all over the country, most of their work is focused in Delhi, adds Ankit.
The Delhi government has been supportive whenever CAG's volunteers have asked for help. The state government and private hospitals have nodal persons and CAG is in touch with them when needed. They also contact the government helpline sometimes.
Ankit said government hospitals are helpful but are now over-crowded. Even the call centres need to be streamlined, he says.
"Bed availability is very low. There is a shortage of oxygen and ventilator beds everywhere. Unfortunately, people are blackmarketing these," he adds.
"The Delhi government officials are helpful but they are also facing shortages."
CAG is expanding fast.
On the first day, Swati says 220 people had signed up. Three days later, Ankit says they now had more than 300 volunteers.
CAG also has healthcare workers. "Apart from their regular work, they are working with us on their own time," Swati says. "They are very good at locating resources," she adds.
These health workers include doctors and other frontline workers.
Patients normally call them to find out about oxygen cylinders, ICU beds, normal beds, oxygen beds and COVID medicines. Some call them for food when they are in isolation at home. The biggest problem today is oxygen shortage and shortage of ventilators and ICU beds, say Swati and Ankit.
She adds, "It is frustrating when you have to say 'No' but you are helpless when something is not available. We sleep for very few hours. We are functioning from our homes," she says.
Ankit says that they are flooded with too many calls and it is disappointing when they cannot help everyone.
They are maintaining data on people they have helped but have not tabulated it yet.
On CAG's future plans, both say, "We are going to provide as much help as we possibly can for all who reach out to us and the cases we know about."
Swati's Twitter handle: @Sw0oti
Ankit's Twitter handle: @Kissekahaaniyan
*Kindly note that this image has only been posted for representational purposes.