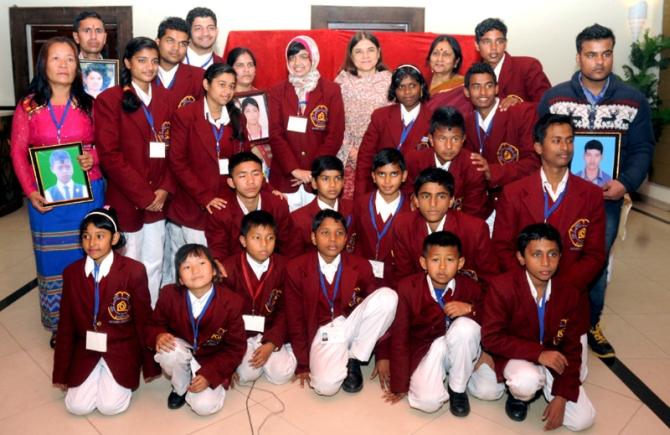 Union Minister for Women and Child Development Maneka Gandhi with the winners of the National Bravery Awards 2014 in New Delhi. Photograph: PIB
They are the Special 24, the proud young recipients of the National Bravery awards this year. Rediff.com's Upasna Pandey met them at the award ceremony in New Delhi.
Their innocent smiles could be misleading and the twinkle in their eyes could make you believe they are just ordinary children on their first visit to the national Capital. But make no mistake; for these are the 'Special 24' -- proud recipients of the National Bravery Awards this year -- children who were selected for their 'meritorious acts of bravery against all odds'.
They smiled, shook hands and got their pictures taken with Union Minister for Women and Child Development, Menaka Gandhi, when they called upon her at the awards function in Delhi last week. The group also included family members of four awardees who have been rewarded posthumously for their acts of bravery.
Among the four who have been rewarded posthumously is Gaurav Kumar Bharti, 16, who lost his life while trying to save a friend in the Deoria district in Uttar Pradesh.
His father, Shambhu Nath Bharti, posted with the UP police, narrates the incident which led to his son's death.
"Gaurav and his friends used go swimming in the morning before going to school. On March 11 last year, he had gone with his friends to the Ghagra river. After a while, Gaurav realised his friend Vikas was drowning. Though he didn't know how to swim, Gaurav jumped into the river and managed to save Vikas, but got tangled in a whirlpool and couldn't save himself."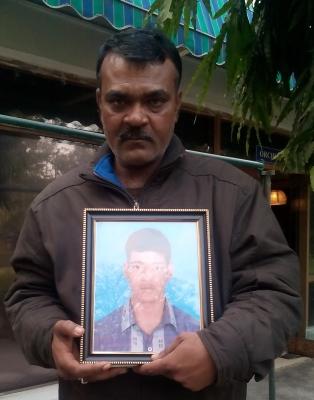 Shambhu Nath Bharti with a picture of his son Gaurav, who lost his life while saving his friend from drowning.
He adds, "We feel proud, but our grief is much deeper; there is no way to fill this loss. I want to request the government to construct a school in my son's name so people will remember his act of courage and get inspired."
Bharti also appealed to the UP administration to take steps for proper barricading around rivers in the state as there are repeated incidents of drowning reported every year and the loss of life could be stopped.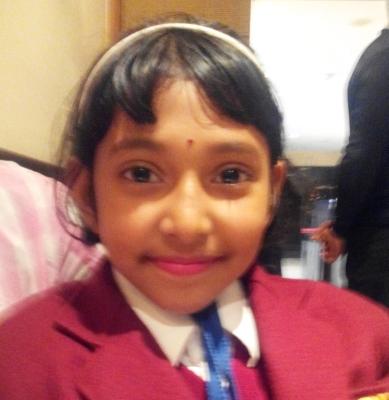 Ripa Das, 8, who saved her baby brother from a house fire.
Ripa Das, 8, is the youngest winner this year. She does not speak Hindi or English, but her excitement does not need words, so Litan Das, her father, acted the interpreter.
"On April 24, 2014, Ripa was alone at home save for her toddler brother, and was getting ready for school. She realised that her house was on fire, so without wasting any time, she picked up her baby brother and ran out of the house to safety," says Das, who works as a driver in Bilonia, a town in south Tripura.
Gunjan Sharma, 14, speaks with lot of confidence as she recounts her heroic act which earned her the prestigious Geeta Chopra Award this year.
"I study at the Kendriya Vidyalaya in Dibrugarh in Assam. I was coming back in our school van with around 10 younger children. Suddenly, a man stopped our van and pointed a gun at the driver. He said he would take all the children with him to the jungle as a cover to protect him from the police who were chasing him.
"I volunteered and told him that he should take me instead, to which he agreed. Later in the night, search parties arrived screaming my name, so he put a gun in my mouth to stop me from calling out. He finally fled, leaving me behind," recollects Gunjan.
Mhobeni Ezung, 9, from Nagaland, was all smiles when congratulated for winning the National Bravery award. Mhobeni's father, Longtsubemo, works as a home guard and talked about his young daughter's exemplary courage.
"Mhobeni was at the river banks with her grandmother, when the latter accidentally fell into the water. After several attempts, she managed to take her grandmother out of the water, brought her back to the house, gave her first aid, some food and water and then ran out to call all the neighbours and family," shares Longtsubemo.
This year, the Bharat Award, the highest of the National Bravery awards, has been given to Resham Fatima, 16, of Uttar Pradesh, the Sanjay Chopra Award to Devesh Kumar, 16 (also from UP), among others. The National Bravery awards instituted in 1957 are given annually by the Government of India and the Indian Council of Child Welfare to children aged between 8 and 18 years of age for their exemplary presence of mind and courage.
Also read: President meets bravery award winners