'I was declared dead thrice.'
'I even contemplated suicide...'
Disability activist and motivational speaker Virali Modi recounts some of her life's most challenging moments and explains how she turned adversities in her favour.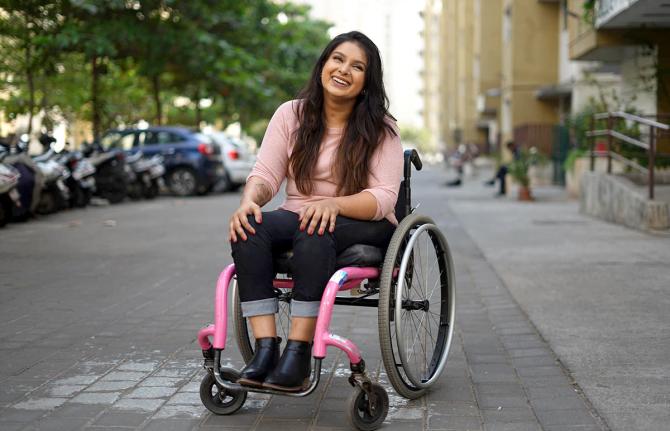 Once in a while, you come across a story that sends goosebumps down your spine.
Virali Modi's story is one that will stay with you long after you have read it.
And that is, because despite everything that life took away from her, she chose not to give up. Because, in her own words, she is "destined for bigger things.
Virali was a bright student who loved dancing, was active in sports and wanted to pursue a career in acting or modeling.
In 2006, while she was pursuing her education at Conestoga Valley High School in Lancaster, Pennsylvania, United States, her dreams came crashing down after she took a trip to Mumbai from the US to meet her family.
"I spent July 2006 with my family. Little did I know, that amazing month was going to be followed by the most difficult time in my life," Virali, the only child to her parents, says while remembering the incident that turned her life upside down.
"After returning to the US, I was diagnosed with fever. After many visits to the doctor, I ended up in the emergency room. Surprisingly, all of the tests were inconclusive and I was sent home with another dose of paracetamol. The next morning, I couldn't recognise my mother. I went back to sleep.
"When I woke up to visit the washroom, I started limping. I wasn't able to walk properly anymore, and suddenly realised that I couldn't pass urine either. I was rushed to the hospital where they did an MRI and suspected that there was a shadow in the cervical region of my spine and performed a spinal tap," Virali tells Divya Nair/Rediff.com.
Virali, who was just 14 at the time, remembers the doctors inserting a needle into her lower back to extract the fluid that surrounds the spinal cord.
"As I lay on my back, I had a violent seizure that lasted for 30 seconds. My blood pressure shot up and I threw up; half of the vomit went into my lungs, causing respiratory arrest. I lost the ability to breathe and went into cardiac arrest. I was declared dead for 7 minutes, while the doctors tried to revive me," Virali recalls how quickly things progressed in a matter of hours.
Virali remained in a coma for 23 days.
"Those 23 days were the most testing times for my parents. I was declared dead, two more times, in a matter of three-and- half-weeks. I lost so much blood that my haemoglobin went below 4, another time my body temperature went below 32 degrees Celsius (89.6 degrees Fahrenheit)."
On September 21, 2006, the doctors wanted her parents to sign a letter of consent that would allow them to pull the plug on her ventilator and end her life because there weren't any signs of hope.
"My mother begged for the doctors to keep me alive because I would turn 15 in 8 days."
After seeking permission from the dean of medicine, Virali's parents threw a birthday party in the presence of family members.
The doctors had only one condition -- "If I didn't show any signs of hope on my birthday, the doctors would switch off my ventilator at midnight on September 30."
Virali's mother reluctantly signed the consent form.
"At 3:05 pm, the exact time of my birth, my family surrounded my bed singing Happy Birthday. My dad held my hand and as soon as I cut the cake, I opened my eyes. It was indeed a miracle! You can call it a rebirth if you must."
It was a moment of joy and despair for Virali who discovered that she was paralysed from neck down.
"I was on steroids for the inflammation of my spine, which caused immense weight gain.
"I suffered from depression, anxiety, and panic attacks. I was told that I was a burden because I was technically a vegetable. My self-esteem and confidence suffered. I even tried committing suicide, twice."
Virali underwent many sessions of therapy and counseling while her parents helped her understand the true meaning of self-love.
With a lot of help and support from her parents, Virali finished Class 12 through a GED (General Educational Development) programme in Pennsylvania.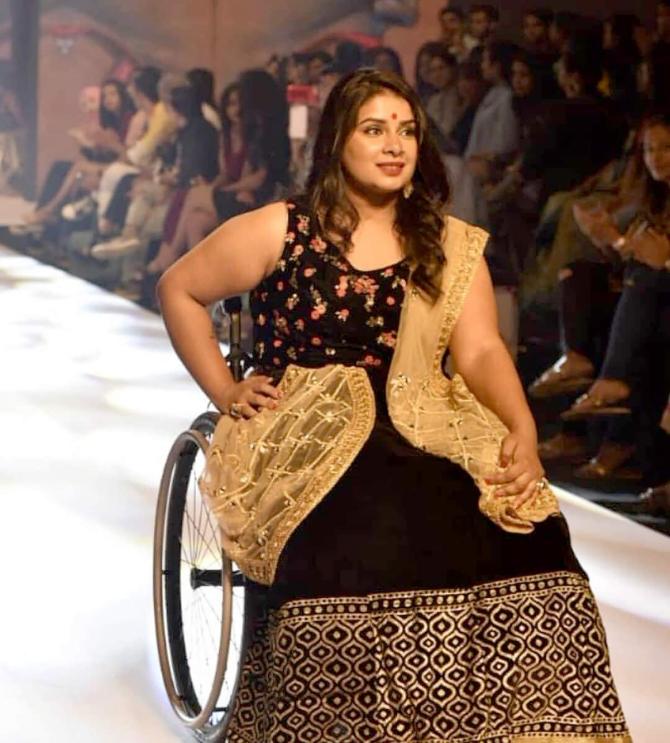 In 2008, she decided to shift to India along with her mother. But she was still paralysed hip down and there were other challenges waiting for her.
"I loved to travel and had the worst experience travelling in trains due to inaccessibility. I would have to wear a diaper because the bathrooms were inaccessible for the disabled. While traveling on an expressway train, I was molested by the porters on more than one occasion."
"I never raised my voice not because of shame, but I felt that because no one would believe me. I was scared of being victim-blamed or taking advantage of my disabled condition."
With the help of Ayurveda and stem cell therapy, Virali worked on improving her mobility, upper body strength and overall personality.
In 2014, she participated and emerged runner up in the Miss Wheelchair India pageant which gave her some hope and boosted her confidence.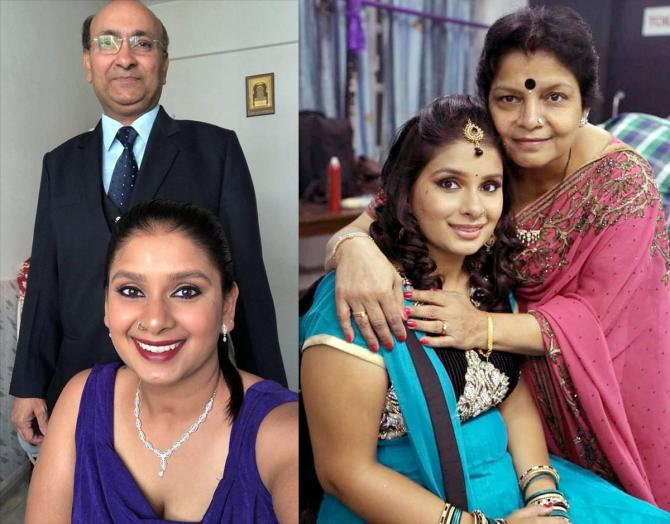 "In 2016, some changes were recommended in the Disability Rights bill (Rights of Persons with Disabilities Act, 2016) which inspired me to become a disability rights activist. It was an eye opener for me. I realised that it was time someone talked about the challenges disabled people face."
In 2017, she started an online campaign #MyTrainToo on change.org to highlight the problem of inaccessibility within the Indian Railways. The petition received over 6 lakh signatures and with the help of a railway official from Kerala, 9 railway stations in India, including Trivandrum, Thrissur, Ernakulam, Chennai, Mumbai Central, to name a few -- were assigned to be made totally wheelchair accessible, without any renovations.
"This landed me in BBC 100 Women (in 2017) and I became a TEDx speaker," Virali proudly mentions the long list of things she has achieved over the years.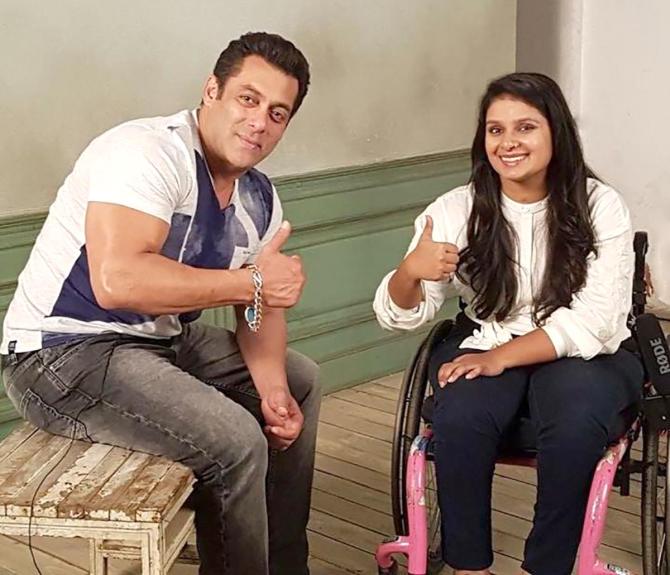 From modelling with Salman Khan for Being Human to being a show stopper at the Bombay Times Fashion Week, FBB, and Jewels Of India, in 2019, Virali even pushed herself to try scuba diving in Lakshwadeep.
"It was a long pending dream. If it hadn'[t been for the lockdown, I would have been a certified scuba diver now," she adds.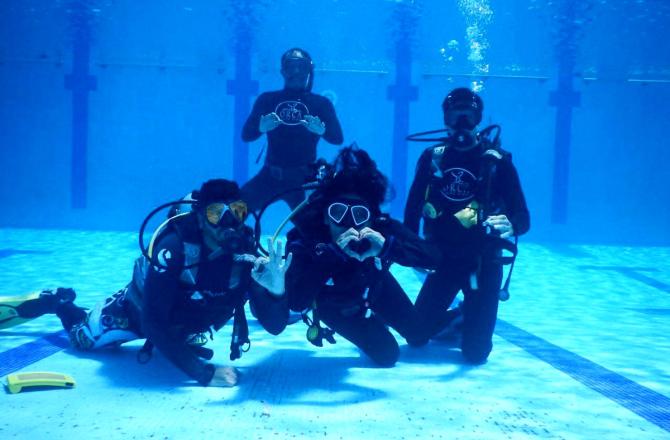 In October 2018, Virali's mother was diagnosed with last stage of cancer.
"It was a major setback for both of us. All this while, I had her love and support. While her diagnosis was going on in the US, I realised that she would need our constant support. With her chemotherapy going on, I knew that even if she recovers, she would be very weak. So, I decided to move back to India and retrain myself to start living independently."
In June 2019, Virali flew to the US to spend the last few days with her mother. After her mother passed away, she came back to India all by herself, resolving to make her mother proud.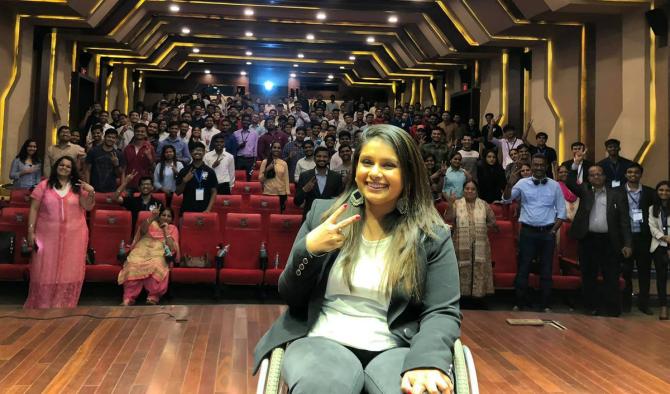 While the lockdown put most of her plans on the backburner, Virali, who currently lives in Dombivli, a city on the outskirts of Mumbai, found new ways to become financially independent.
"I became a motivational speaker and started creating content through my social media," says the 29 year old who is active on Instagram, Twitter and Facebook where she has over 11,000 followers.
Simultaneously, Virali also decided to work on her fitness so she can get back to modelling.
"The steroids I took 15 years ago have taken a toll on my body. Before my disability, I was 52 kg. At one point, I had touched 90 kg. In December, I signed up with a fitness community so I can change my lifestyle, lose weight and be fitter."
"Since I stay alone, it's difficult to weigh myself, but I know I've lost weight because I'm in desperate need of a wardrobe change. And this is just the beginning, says Virali who dreams of becoming a model and prove that disability is not an excuse to discount your dreams.
Through her latest campaign #DontDiscountDisability (external link), she wants the government to "reallocate and increase the Budget spend for persons with disabilities."
"The fight is on. I have a lot I want to see, experience and achieve. I don't want my disability to come in the way of my dreams."
If I can come this far, with everyone's love and support, I am sure I am destined for bigger things."