The world endured bushfires, drought, tsunamis and earthquakes in 2018.
According to the Centre of Research on the Epidemiology of Disasters, 5,000 people died and 28.9 million needed emergency assistance because of extreme weather this year.
Kindly click on the image below to view the photographs in full screen.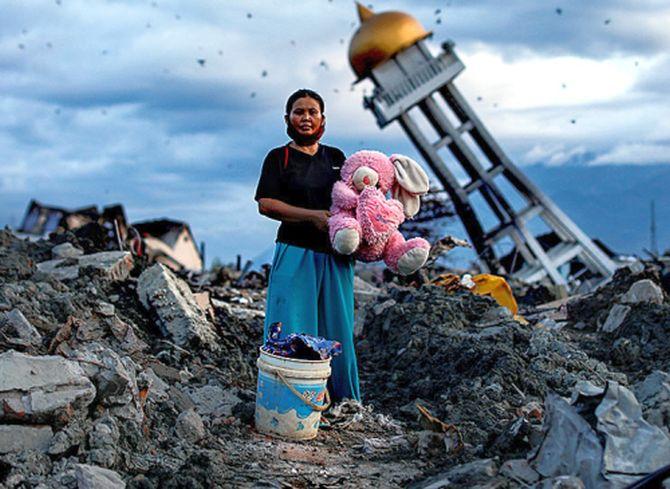 Close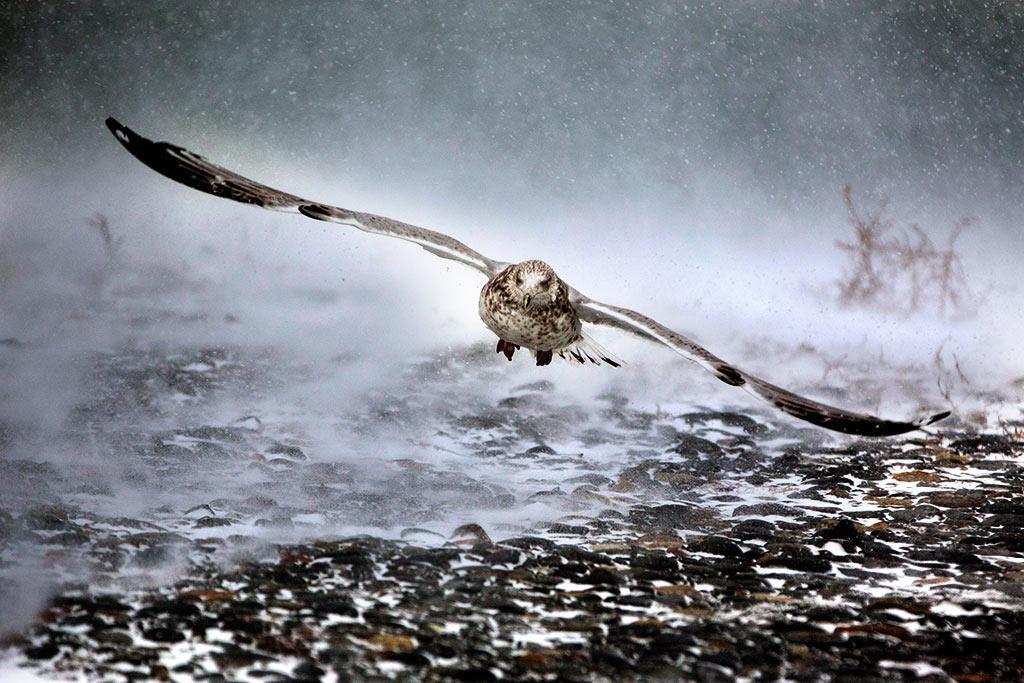 A seagull takes flight in high winds and blowing snow as a massive winter storm begins to bear down in Hull, Massachusetts, January 4.
The East Coast and Midwest in the United States battled record-breaking low temperatures in January as cold Arctic air swept through the region followed by a freezing winter storm -- bomb cyclone or bombogenesis.
According to reports, the bomb cyclone caused skin to freeze within 30 minutes.
Photograph: Scott Eisen/Getty Images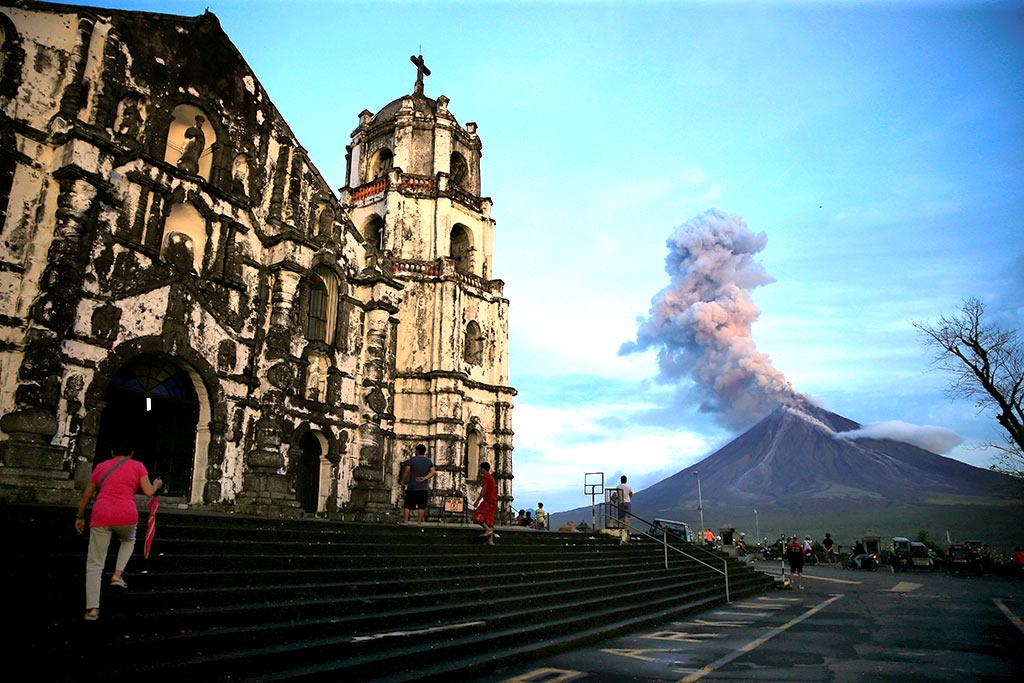 A view of Mount Mayon volcano as it erupted anew, from Our Lady of the Gate Parish church in Daraga, Albay province, south of Manila, Philippines in January.
The Mount Mayon is the most active volcano in the Philippines.
Photograph: Romeo Ranoco/Reuters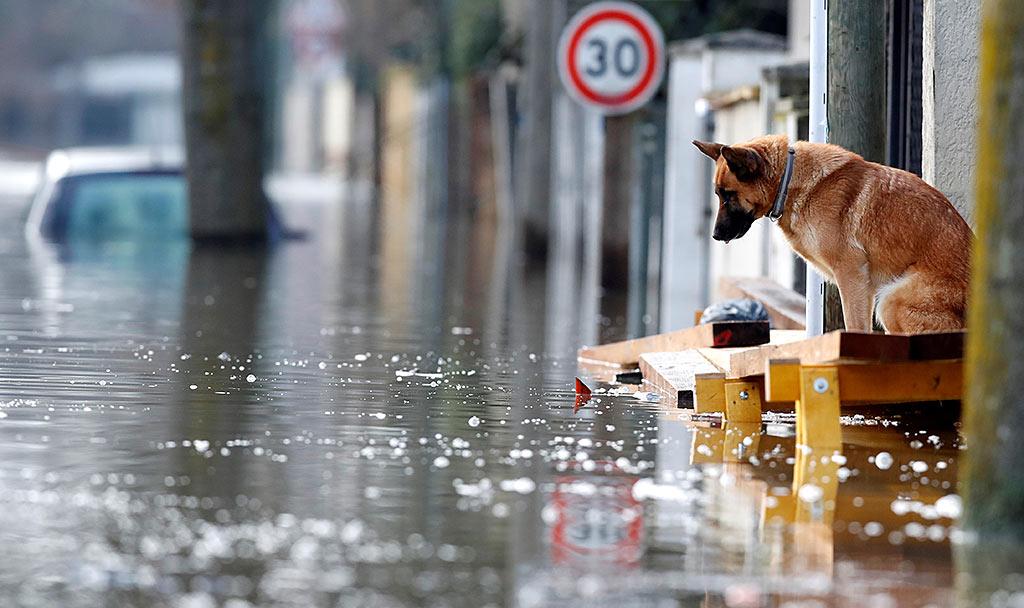 A flooded residential area in Villeneuve-Saint-Georges, near Paris, France.
In January, the river Seine spilled over its banks and gushed into neighbouring streets as a result of weeks of rain.
The 2018 floods reminded French observers of the catastrophic flood which hit Paris a century earlier, drowning homes for months on end, setting off a rash of cases of typhoid and scarlet fever.
Photograph: Christian Hartmann/Reuters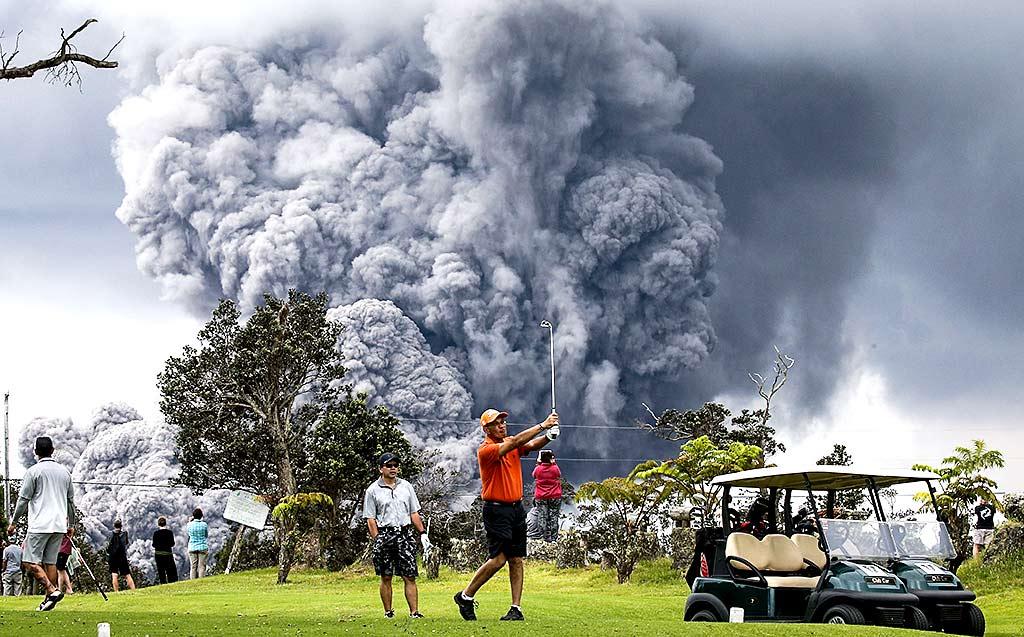 An ash plume rises from the Kilauea volcano on Hawaii's Big Island on May 15.
Lava kept erupting out of fissures in Kilauea's Lower Eastern Rift Zone for three-and-a-half months.
The lava flows closed Hawaii's national parks, created new islands, and changed the coastline.
It destroyed more than 600 homes and made Kīlauea the most destructive volcano in the US since Mount St Helens erupted in Washington state in 1980.
Photograph: Mario Tama/Getty Images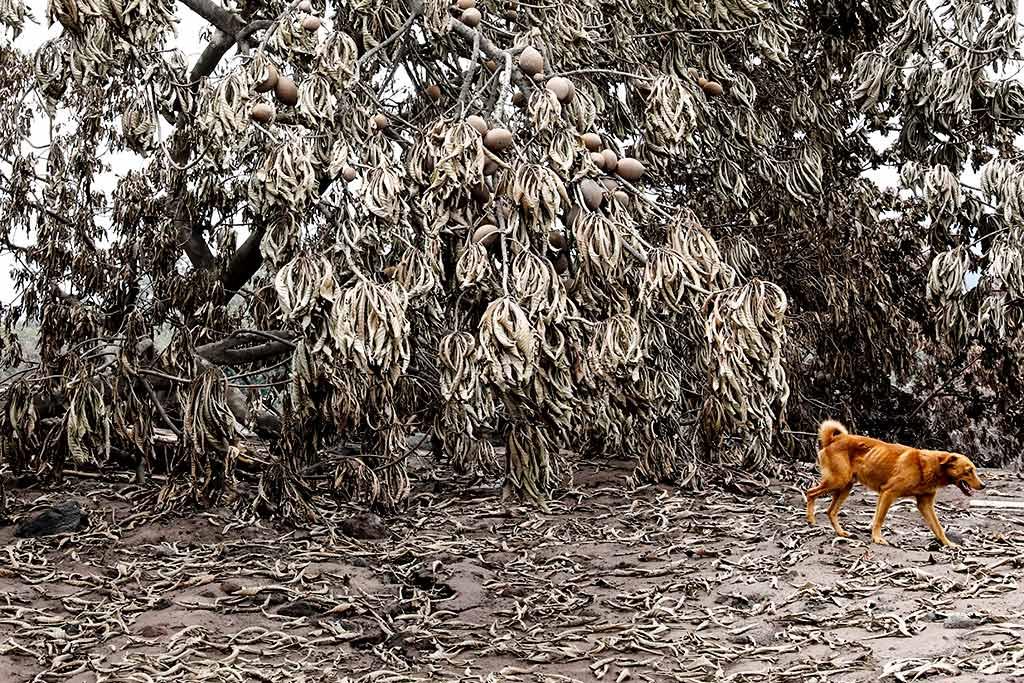 Trees covered with ash after the eruption of Fuego volcano in San Miguel Los Lotes in Escuintla, Guatemala.
The volcano rumbled to life early in the morning on June 3.
By midday, it was spewing miles-high columns of ash that then fell, dusting a wide swathe of the Central American country.
In the afternoon, things took a turn for the worse.
Tons of ash propelled by scalding, toxic gases poured down Fuego's flanks.
At least 110 people died in the hamlet on the fertile lower slopes of the volcano.
Fuego -- Spanish for 'fire' -- rises between the regions of Sacatepequez, Escuintla and Chimaltenango about 50 km from Guatemala City, the nation's capital.
Photograph: Carlos Jasso/Reuters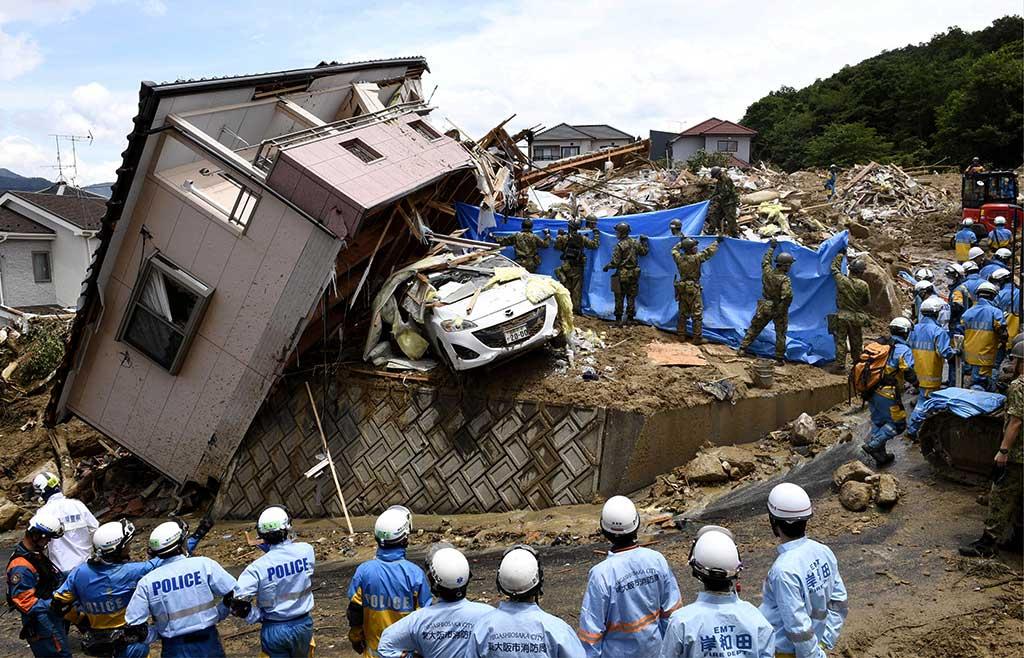 Rescue workers look for missing people in Kumano town, Hiroshima prefecture, Japan.
In mid-July, up to 70 inches of rain led to one of Japan's worst flooding disasters.
At least 155 people died from landslides and overflowing rivers.
The death toll in the country was the highest from a flood in more than three decades. Floodwaters forced more than 2 million people from their homes.
Photograph: Kyodo/Reuters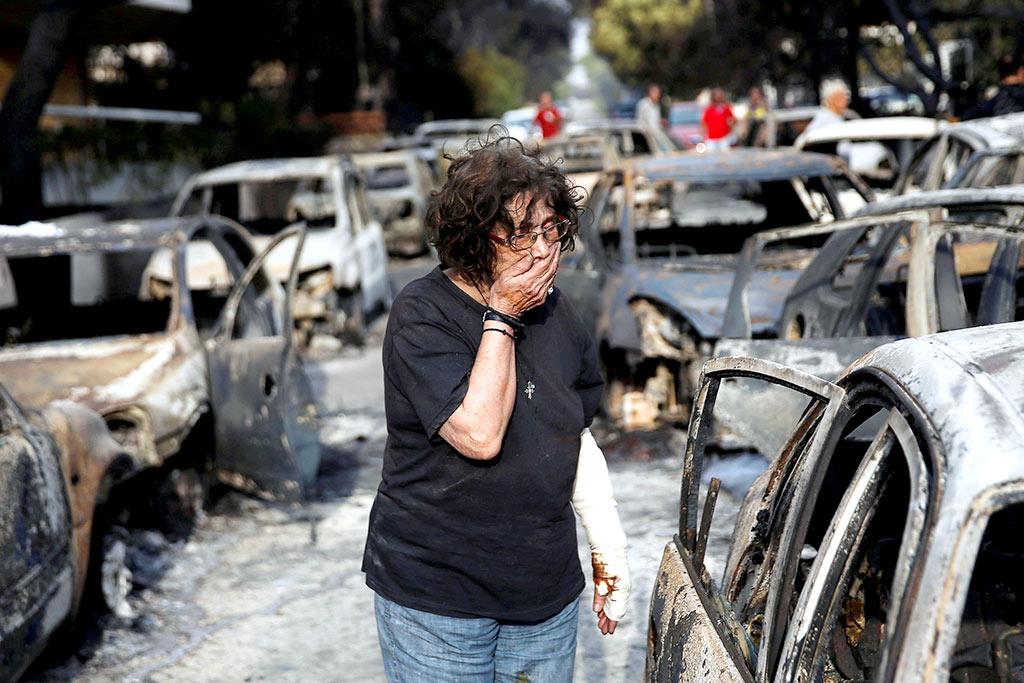 A woman tries to find her dog following a wildfire in the village of Mati, near Athens, Greece.
A series of wildfires, during the 2018 European heat wave, began in the coastal areas of Attica in July.
As of December 15, 100 people were confirmed dead.
Fires are a recurring problem during the hot, dry summer months in Attica.
The wildfires are the worst to hit Greece since 2007 when dozens of people were killed in the southern Peloponnese peninsula.
Photograph: Costas Baltas/Reuters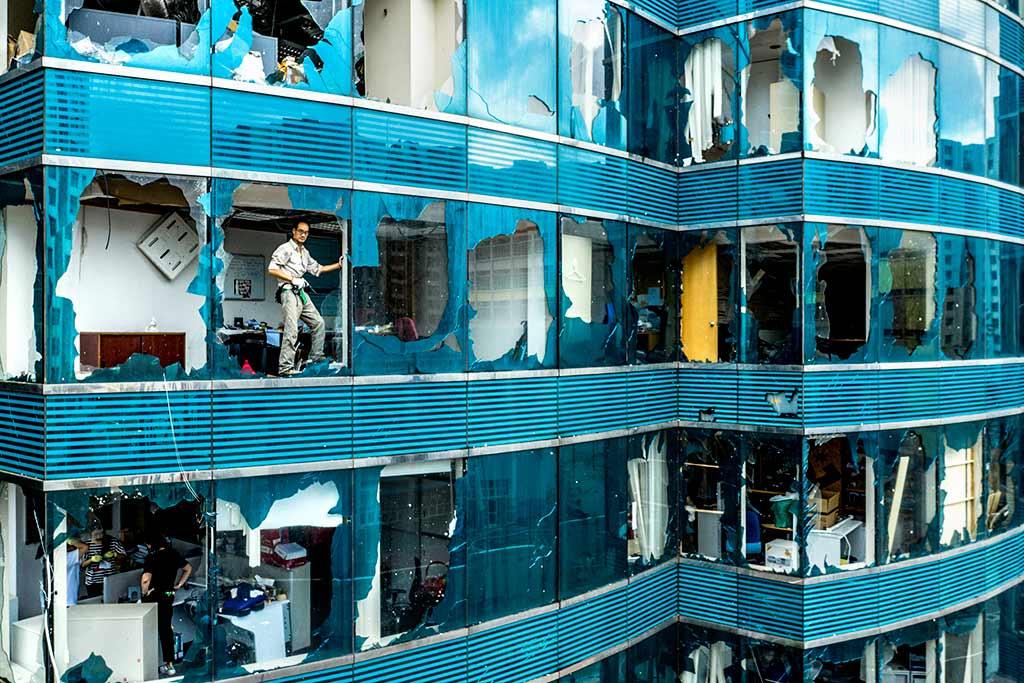 Typhoon Mangkhut rammed into Hong Kong in September.
The 20-second tropical storm and ninth typhoon of the 2018 Pacific typhoon season, Mangkhut made landfall in the Philippine province of Cagayan late on September 14 as a Category 5-equivalent super typhoon, and subsequently impacted Hong Kong and southern China.
Mangkhut was the second-strongest tropical cyclone worldwide in 2018.
Photograph: Lam Yik Fei/Getty Images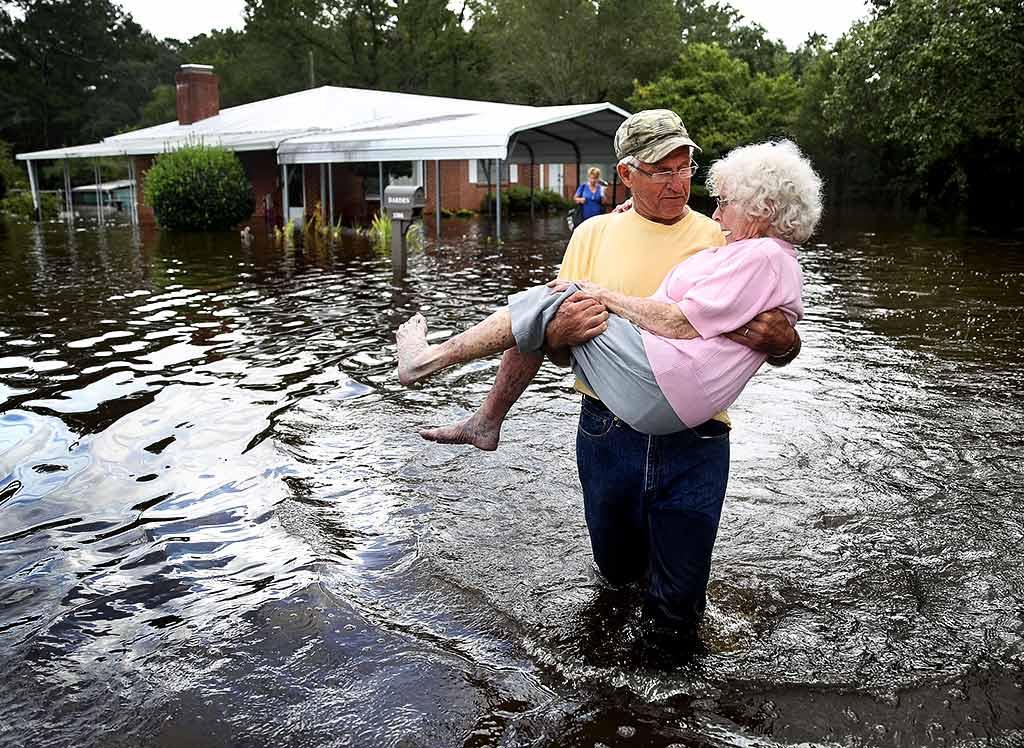 Bob Richling carries Iris Darden as water from the Little River starts to seep into her home on September 17 in Spring Lake, North Carolina, USA.
Flood waters from the cresting rivers inundated the area after the passing of Hurricane Florence which made landfall near Wrightsville Beach, North Carolina, on September 15, sustaining a maximum windspeed of 145km/hr, causing a huge storm surge and widespread flooding.
Whole communities were left devastated, power was cut to hundreds of thousands of homes and many people were left fearing for their lives.
The monster storm, which reached speeds of 220km/h, claimed 55 lives and caused a staggering $17 billion in damage.
Photograph: Joe Raedle/Getty Images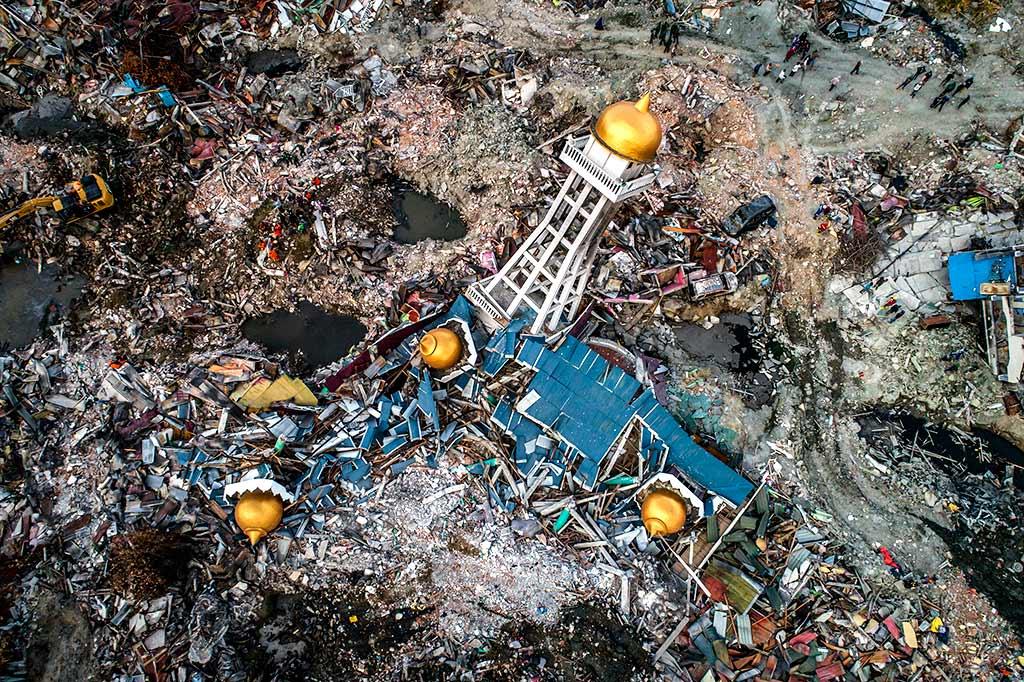 An aerial view of Balaroa village following the earthquake on October 6 in Palu, Central Sulawesi, Indonesia.
The death toll from the earthquake and tsunami was 1,558.
A tsunami triggered by a magnitude 7.5 earthquake slammed into Indonesia's coastline on the island of Sulawesi which destroyed or damaged over 70,000 homes.
Photograph: Ulet Ifansasti/Getty Images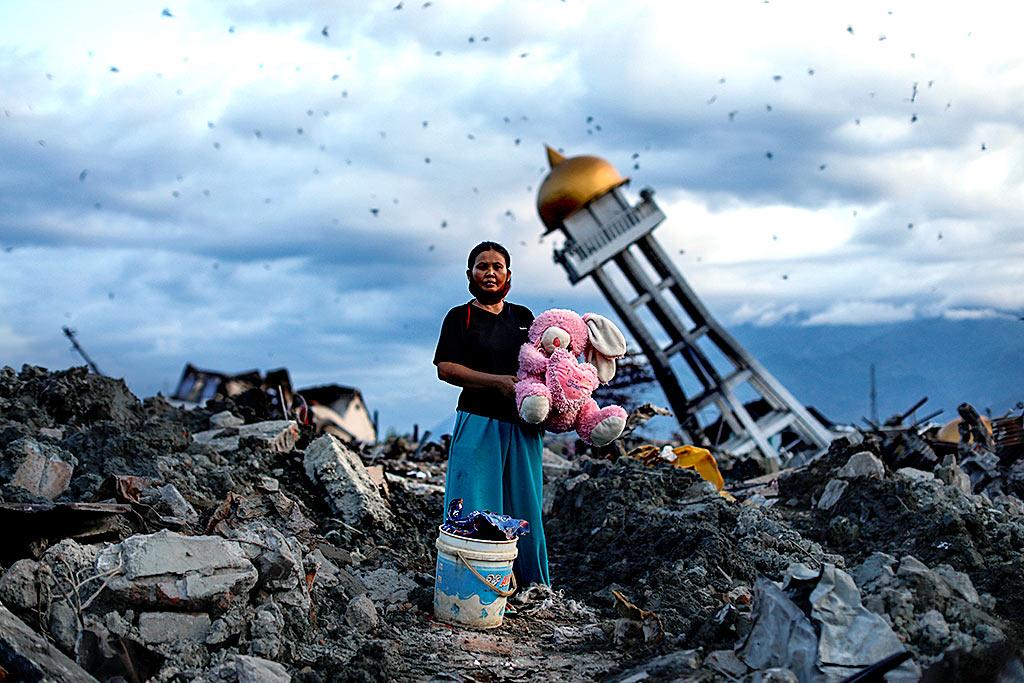 A woman holds a stuffed rabbit toy after it was found at her destroyed home where she said she had lost her three children in Palu, Central Sulawesi, Indonesia.
An October 16 report in The New York Times stated there was evidence that the quake was both natural and man-made.
'In a front-line earthquake zone,' the NYT reported, 'much of Palu had sprung up in the form of unreinforced buildings on soft ground. A tsunami was quickly detected, but no siren rang around the city.'
'And despite hard lessons from previous natural disasters in which the Indonesian authorities discouraged outside help at the expense of their citizens, the international aid effort in Palu was still dogged by resistance and confusion.'
Photograph: Jorge Silva/Reuters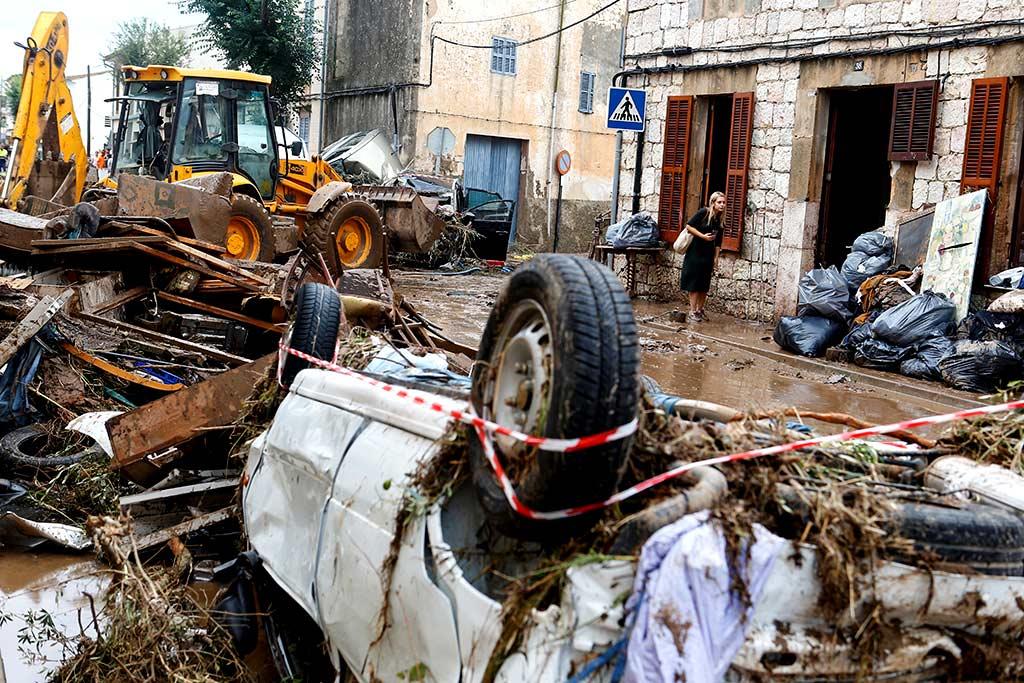 Heavy rain and flash floods hit Sant Llorenc de Cardassar on the island of Mallorca, Spain.
The floods, which killed 13 people and caused considerable damage, were made worse by the local geography and by a deficient water channeling system.
Tennis superstar Rafael Nadal, who is from Mallorca, helped during the recovery operations and opened up his tennis centre to the affected.
'It was terrible. Scary, and very sad,' Rafa recently told CNN. 'I really lived that tragedy, from very close. Was very sad for all the people that lost the materials, but especially, the lives that can't come back.'
Photograph: Enrique Calvo/Reuters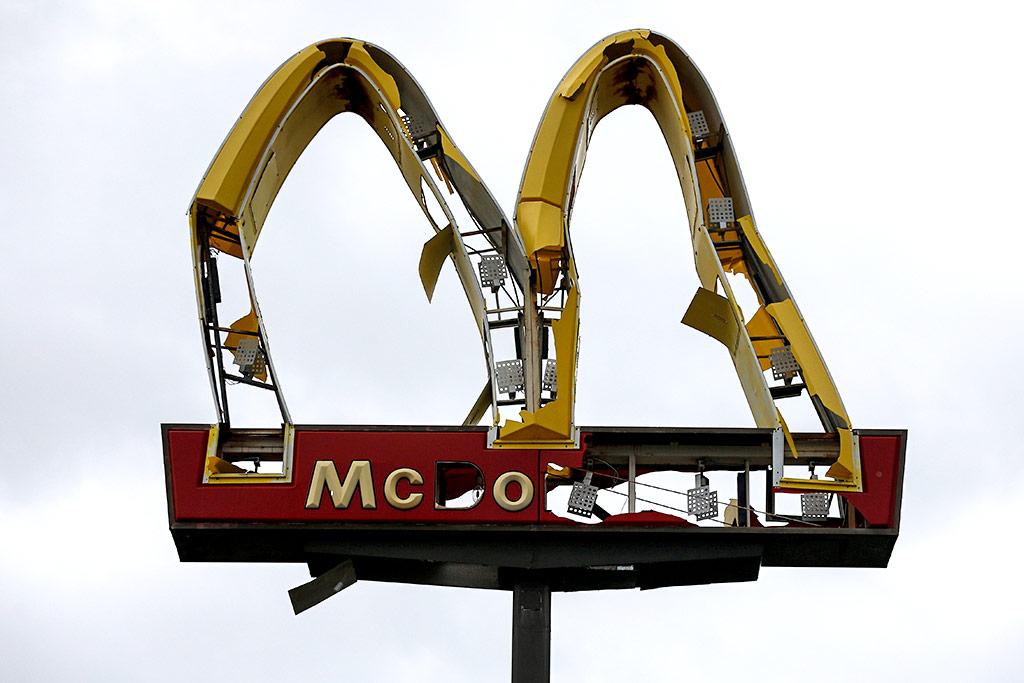 A McDonald's sign damaged by Hurricane Michael in Panama City Beach, Florida, USA, October 10.
Hurricane Michael was the third-most intense Atlantic hurricane to make landfall in the US.
By October 28, at least 60 deaths had been attributed to the storm, including 45 in the US and 15 in Central America.
Hurricane Michael caused at least $14.58 billion in damage, including $100 million in economic losses in Central America.
Photograph: Jonathan Bachman/Reuters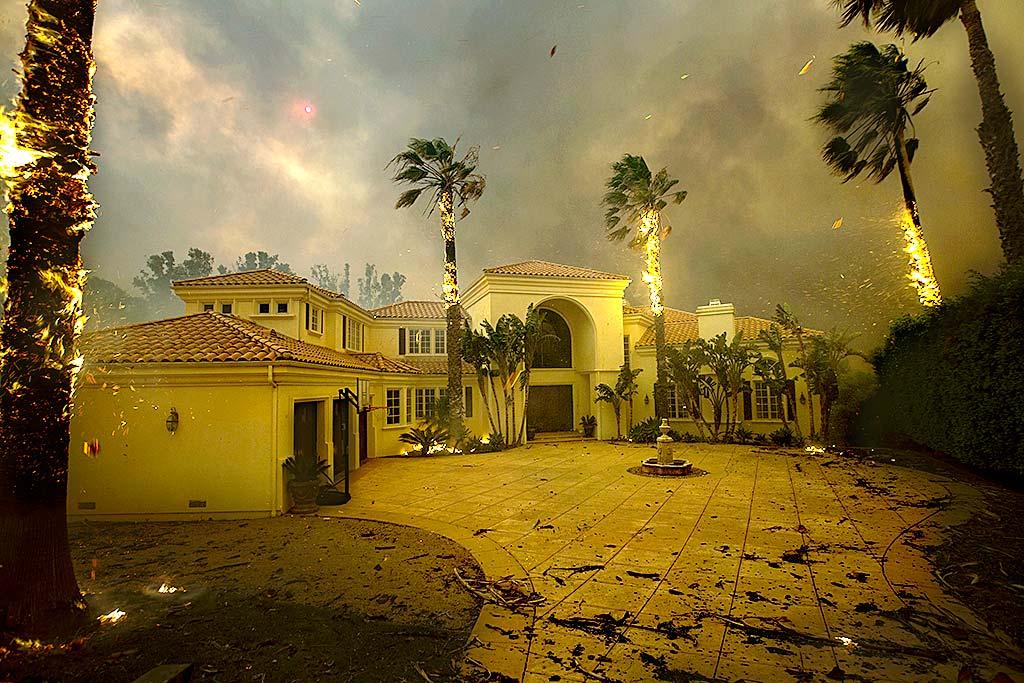 Embers falls from burning palms and the sun is obscured by smoke as flames close in on a house in Malibu, California, USA.
On November 8, a wildfire burned in California's Los Angeles and Ventura counties.
The blaze destroyed 1,643 structures and prompted the evacuation of more than 3 lakh people.
Several celebrities, including Kim Basinger, Miley Cyrus and Gerard Butler, lost their homes in the blaze.
The fire was so severe that NASA satellite photos showed it left a giant 'burn scar' on the face of the earth.
Photograph: David McNew/Getty Images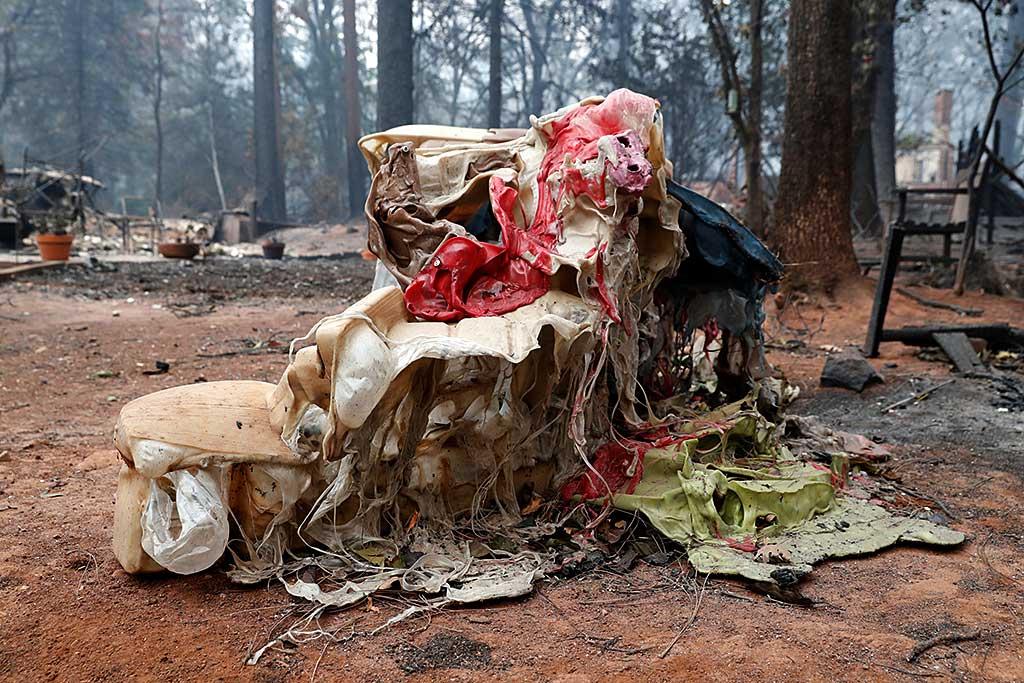 A children's toy destroyed by Camp Fire in Paradise, California.
The Camp Fire was the deadliest and most destructive wildfire in California's history.
The fire caused at least 86 deaths and destroyed 18,804 structures, with most of the damage occurring within the first four hours.
Damage was estimated to be upwards of $7.5 billion.
Photograph: Terray Sylvester/Reuters