As we live through it, every year has key players who, for better or worse, seize our attention on the world stage.
As 2018 draws to a close and the white noise of 24-hour news cycles and Twitter storms fade into the background, it is already clear that history will remember only a handful of those people, each of whom has taught us something about ourselves and the rapidly changing world in which we live.
Kindly click on the images below to view the photographs in full screen.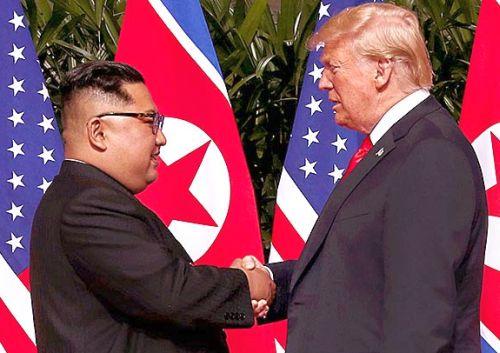 Close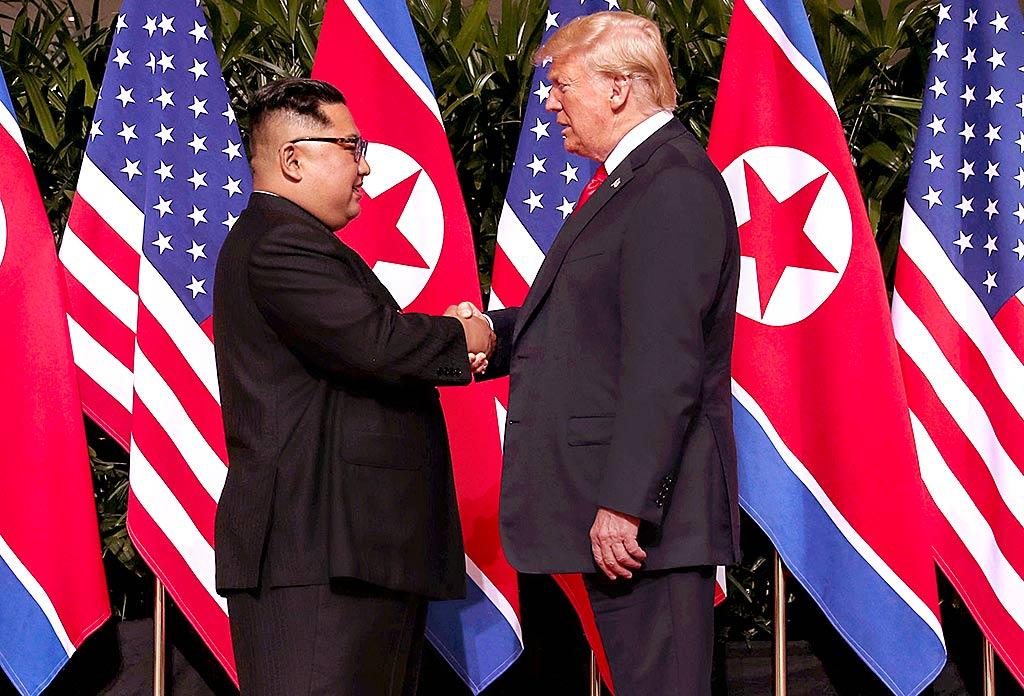 The handshake that shook the world!
After months of hectoring each other and threatening annihilation, United States President Donald J Trump made history when he met North Korean tyrant Kim Jong Un at the Capella Hotel on Sentosa island in Singapore on June 12.
Kim pledged to disarm his nuclear arsenal, a promise that in retrospect seems like so much hot air.
Photograph: Johnathan Ernst/Reuters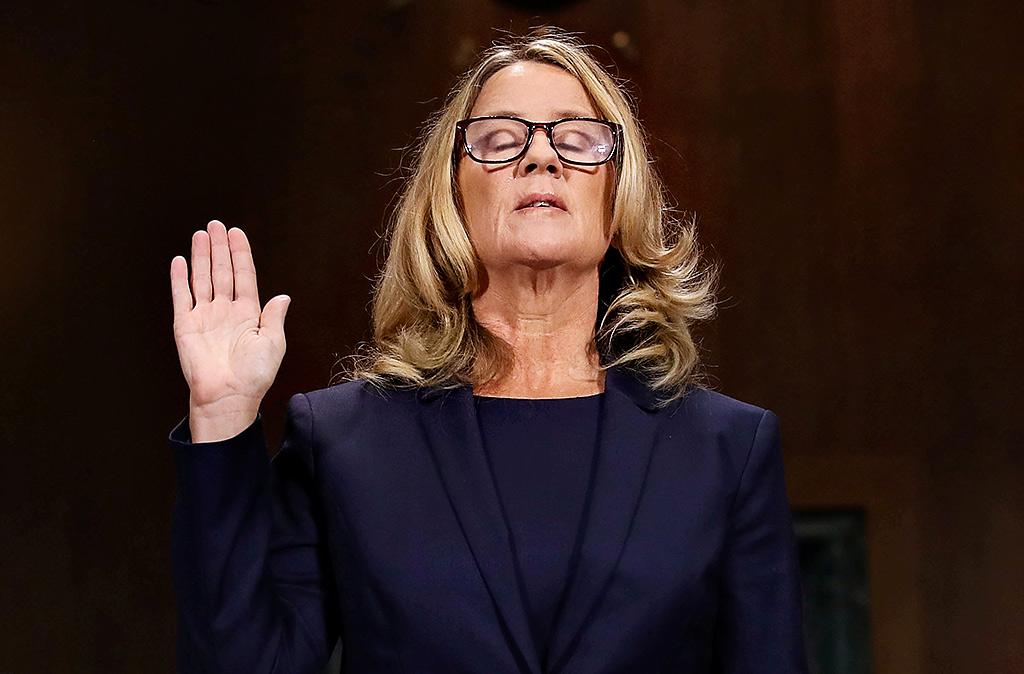 I do solemnly swear!
The world watched as Brett Kavanaugh and Christine Blasey Ford testified before the US senate judiciary committee on a hearing on Ford's sexual assault allegations against the then US supreme court nominee in September.
Ford alleged that in high school, a drunk Kavanaugh pinned her down and tried to remove her clothes while he held his hand over her mouth to prevent people from hearing her scream.
Kavanaugh denied the incident had taken place.
After much tumult in the US senate, Kavanaugh was confirmed as a supreme court judge.
Ford faced continuous threats after she testified and was forced to move to temporary housing.
Photograph: Win McNamee/Reuters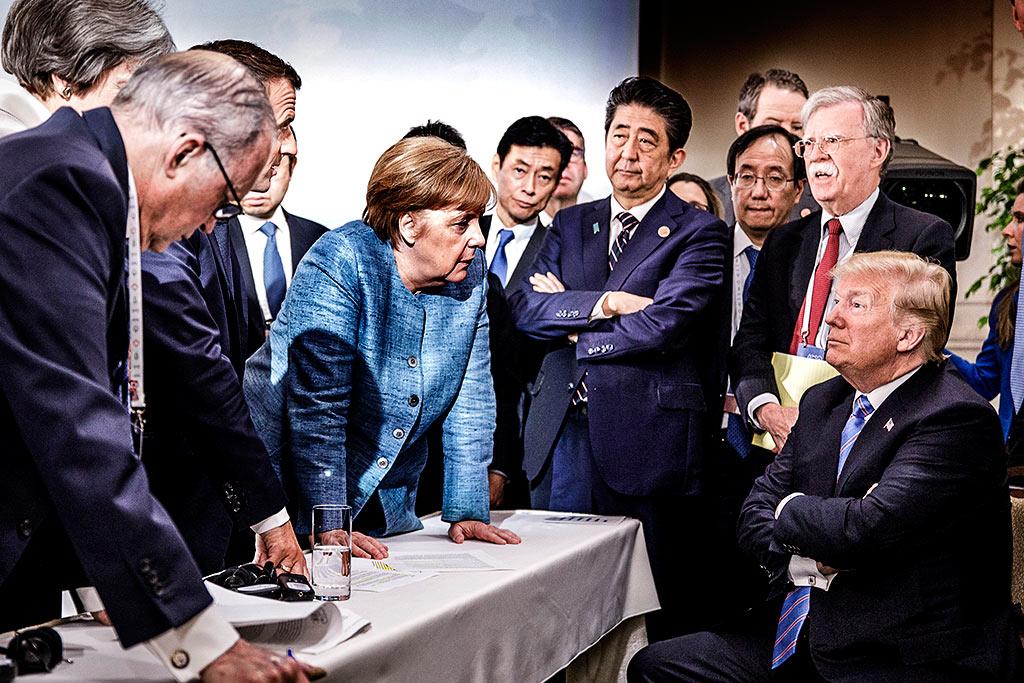 A political standoff
This photograph released by German Chancellor Angela Merkel during the G7 summit in June caused a social media sensation.
With both hands down on the table in front of her, Merkel leans in during what appears to be a tense discussion, staring straight at her American counterpart and cast in a light that presents her as the central figure, the power.
Also pictured are Japanese Prime Minister Shinzo Abe, with arms crossed and an uncertain look on his face; John Bolton, the US national security adviser, staring blankly; British Prime Minister Theresa May, who is identifiable here only by her hair; and French President Emmanuel Macron, with one hand on the table.
Trump arrived at the summit with the suggestion that Russia should, again, have a seat at the table, following its ouster in 2014 over Vladimir Putin's annexation of Crimea.
Photograph: Jesco Denzel/Bundesregierung via Getty Images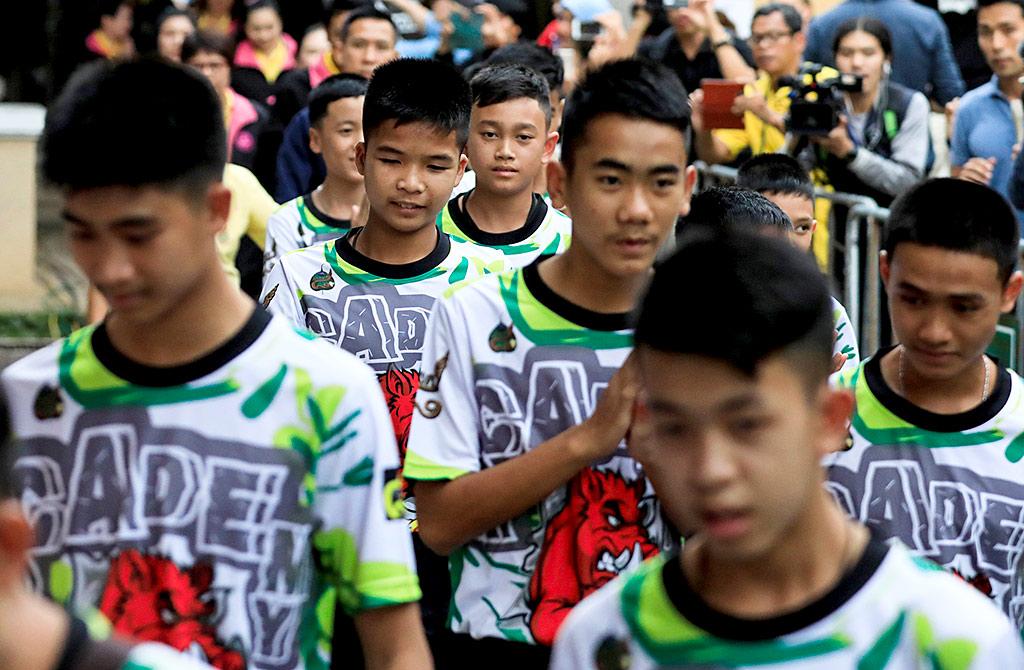 Safe and sound!
Was it a miracle?
We won't know, but the rescue of 12 Thai boys -- making the Wild Boars soccer team -- and their coach was what movie scripts are made of!
On July 18 -- almost a month after they entered the Tham Luang Nang Non cave and were trapped by the rain -- they were released from hospital and cleared to return to their families.
The boys addressed the public for the first time at a press conference and spoke about what they had learned from the ordeal.
One boy said he would be 'more careful and live my life the fullest.'
Another said, 'This experience taught me to be more patient and strong.'
The mission to rescue the boys and the Wild Boars coach was an extraordinary international operation with hundreds of cave and rescue experts and military personnel from several countries pitching in.
Rescue divers first delivered food and medical supplies, and then an air tube to the boys to make sure they had enough oxygen to breathe.
They then escorted them out of the cave on stretchers guided by expert divers, one by one.
Photograph: Soe Zeya Tun/Reuters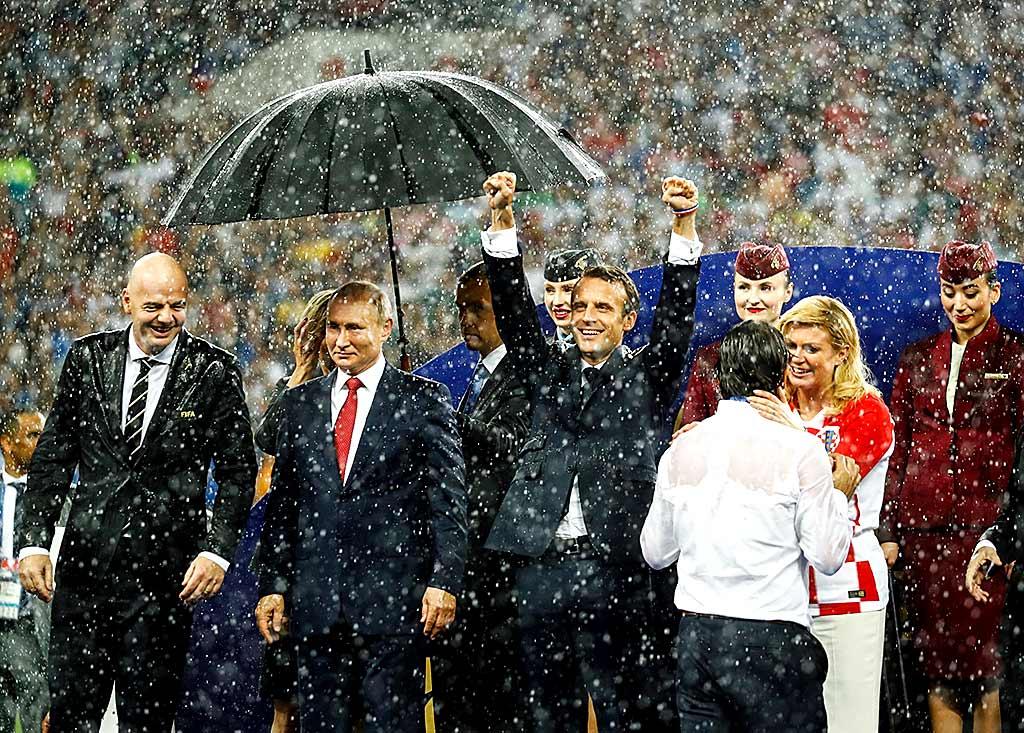 Rain can't stop us!
The final whistle was blown and France was ecstatic as they won the World Cup on July 15 after beating Croatia 4-2.
Even the rain couldn't dampen the mood of the victorious French.
As Reuters Photographer Kai Pfaffenbach said, 'Usually a football World Cup is all about the action, goals and emotions on the pitch. This World Cup's final had a lot of that too, but despite the 4-2 result my favourite picture is this.'
'As soon as the victory ceremony started, a heavy downpour began.'
'A helper had an umbrella for Russia President Vladimir Putin quickly on hand, while his counterparts from France and Croatia enjoyed a little shower along with FIFA President Gianni Infantino.'
'France President Emmanuel Macron didn't seem to care and enjoyed himself -- and his team's victory -- while Croatia President Kolinda Grabar-Kitarovic comforted her team's coach.'
Photograph: Kai Pfaffenbach/Reuters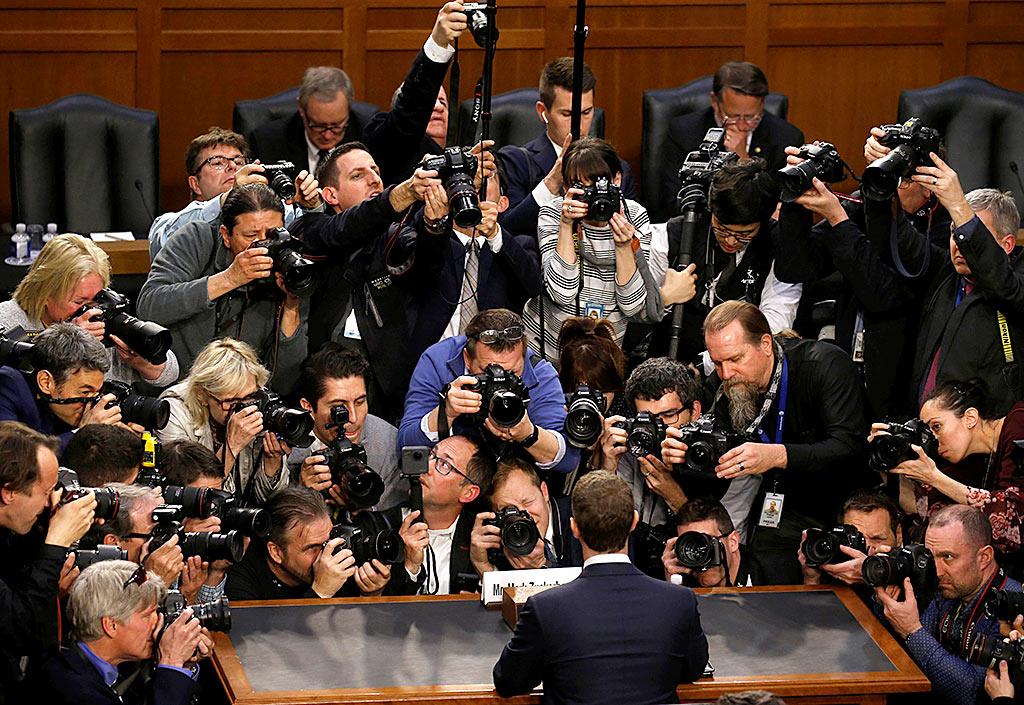 Like?
The year hasn't been too kind to Facebook founder and CEO Mark Zuckerberg.
On April 10, he was invited to testify before a US senate judiciary and commerce committee joint hearing regarding the company's use and protection of user data.
The hearing came after reports emerged that Facebook allowed political consulting firm Cambridge Analytica to harvest 50 million users' data.
The fallout from disclosures about Cambridge Analytica, which did work for Donald J Trump's presidential campaign, put Facebook under scrutiny in the US and Europe and battered its stock.
Photograph: Leah Millis/Reuters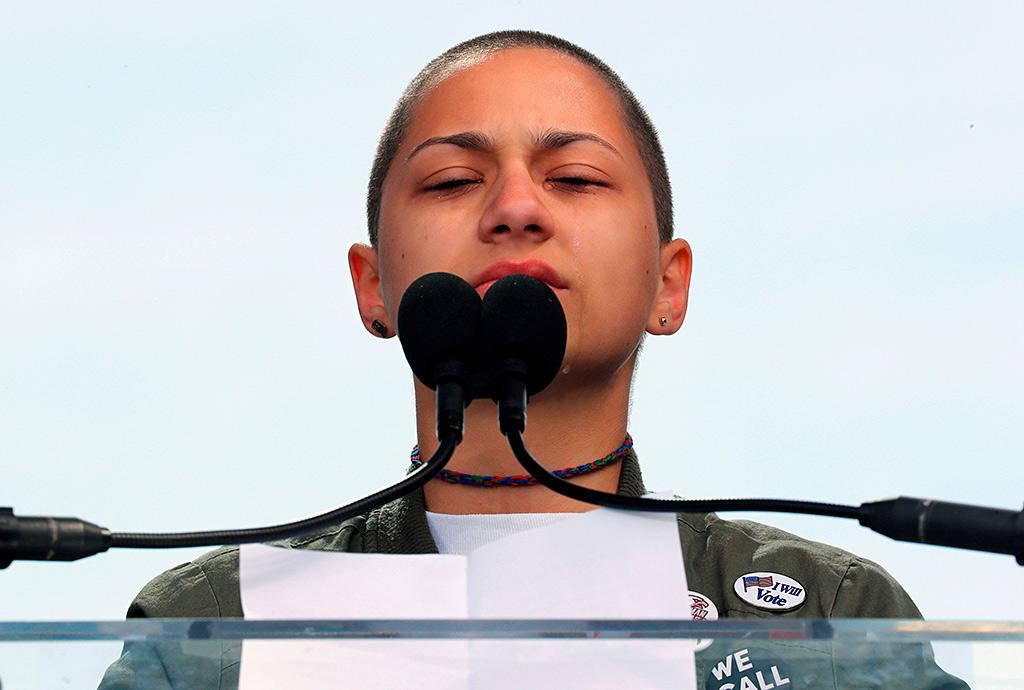 Rising from the ashes
On February 14, a gunman opened fire at the Marjory Stoneman Douglas high school in Parkland, Florida, killing 17 students and staff members and injuring 17 others.
What happened next was historic: The students of the school led a march for gun control, what they called a March for Our Lives on March 24 in Washington, DC with over 880 sibling events throughout the US and around the world.
The children's demand was simple: They wanted concrete legislative solutions to the epidemic of mass shootings and an end to the influence of the US National Rifle Association.
At this march emerged Emma Gonzalez, a shooting survivor from the Marjory Stoneman Douglas school.
'In a little over six minutes, 17 of our friends were taken from us, 15 more were injured, and everyone -- absolutely everyone in the Douglas community -- was forever altered,' Emma said.
She spoke for less than two minutes and then suddenly fell silent, marking the length of time it took for the gunman to kill 17 people in the rampage at her school.
She stared straight ahead, breathing deeply while tears streamed down her face.
The crowd of thousands cheered her name and chanted, 'Never again!'
Photograph: Jonathan Ernst/Reuters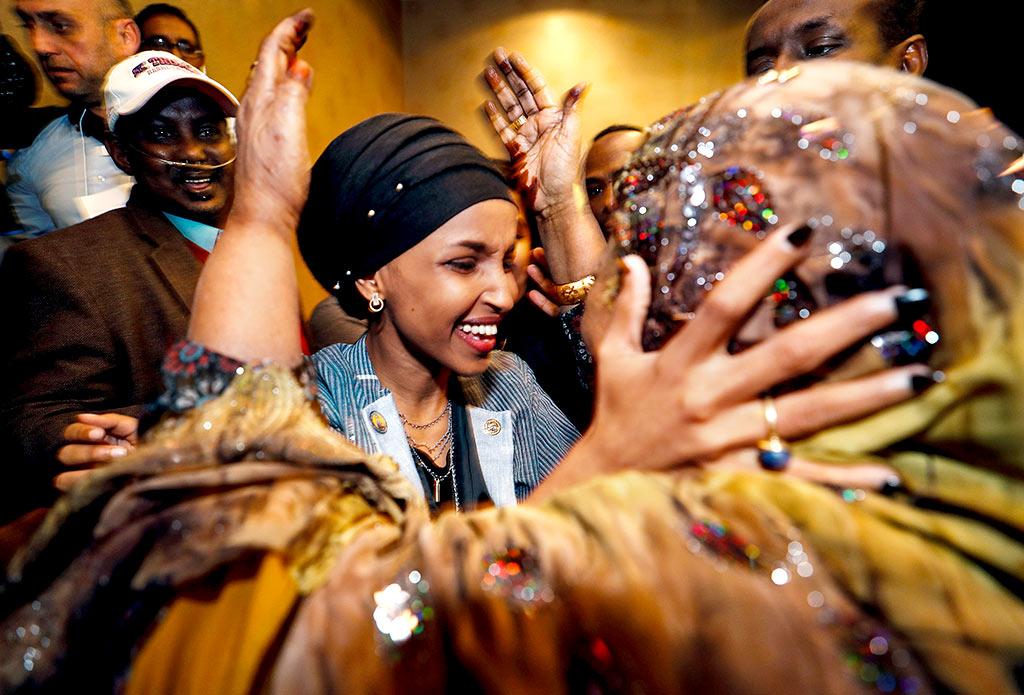 Making history!
US congressional candidate Ilhan Omar is greeted by her mother-in-law at an election night party in Minneapolis, Minnesota.
Omar became the first Somali-American Muslim to become a US legislator and, as of November 2018, the first Somali American elected to the US congress.
Omar fled the civil war in Somalia with her family in 1991 and spent four years in the Utango camp, near the Kenyan coastal city of Mombasa, before arriving in the US with six brothers and sisters under a resettlement programme.
Omar, a Democrat, will assume office in January, sharing with Rashida Tlaib, the historic distinction of being the first Muslim women elected to the US congress.
Photograph: Eric Miller/Reuters