2018 was a year of enduring complex conflicts.
From the political maelstrom in Washington to the humanitarian disaster in Yemen to the deadly unrest along the Israel-Gaza border, photographers captured a world in turbulent transition.
Kindly click on the image below to view the photographs in full screen.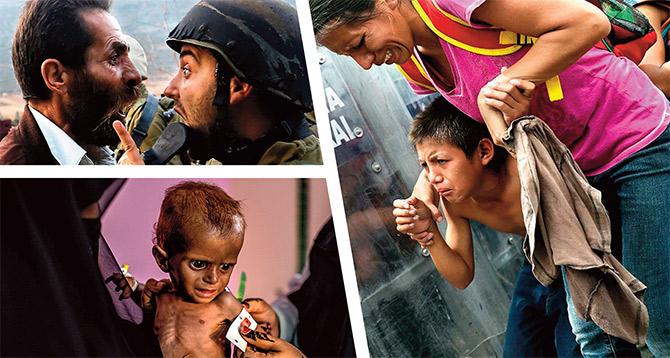 Close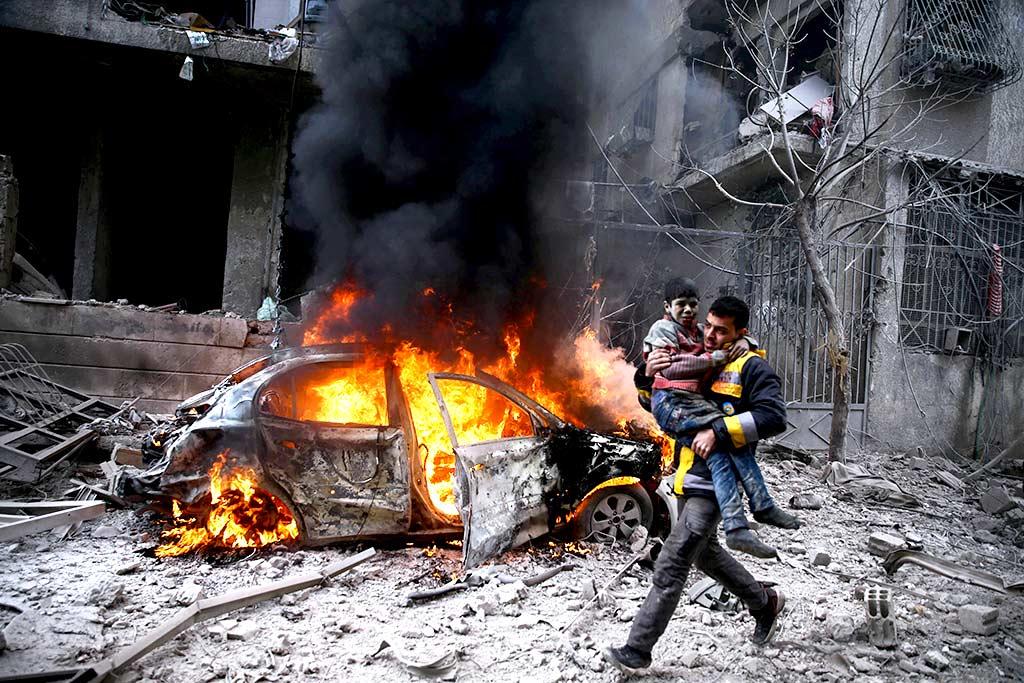 A Syria civil defence member carries a wounded child in the besieged town of Hamoria, Eastern Ghouta, Syria, January 6. The country's bloody civil war has had a telling effect on its children.
According to the United Nations, access to basic and lifesaving services has been severely restricted and in some areas completely cut off.
More than 13.1 million people, including 5.3 million children, need urgent life-saving assistance in 2018.
Photograph: Bassam Khabieh/Reuters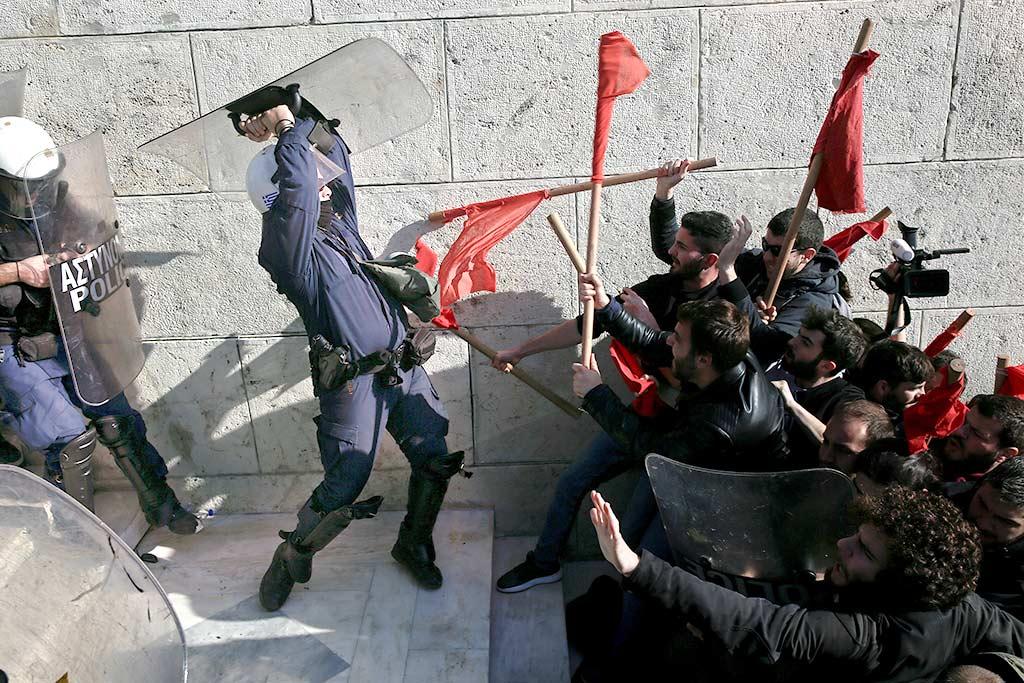 On January 12, protesters clashed with riot police during a demonstration outside the parliament building in Athens.
Greece has received about 260 billion euros in emergency loans since 2010 in exchange for unpopular austerity measures and reforms.
The money has kept Greece afloat but has also increased its debt, which now stands at 180 per cent of GDP.
Photograph: Alkis Konstantinidis/Reuters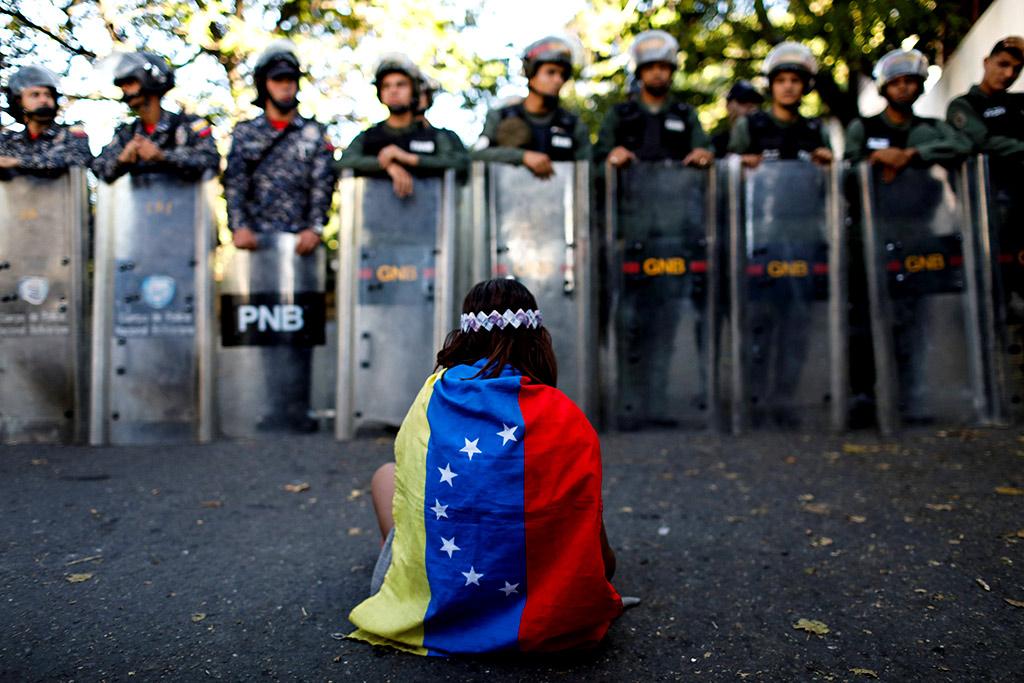 Venezuela saw bloody protests in 2018 and January 20 was like no other.
Security forces clashed with mourners for Oscar Perez at the main morgue in the Venuzuelan capital, Caracas.
Oscar Perez had been the leading man in an action film, a pilot who fought crime from parachutes with a dog strapped to his back.
In June, he commandeered a helicopter during protests, fired on the Venezuelan supreme court and unfurled a banner urging Venezuelans to rebel.
Perez was an actor, a detective and an insurgent.
To the government he was a terrorist.
To his followers he was a freedom fighter, a modern folk hero like Che Guevara.
Perez's end came on January 15. His body sat in a freezer at the Caracas morgue, with two bullet wounds and a cracked mandible, under armed guard.
On January 21, the government released the corpse, which was buried naked, except for a white sheet wrapped around it.
Photograph: Marco Bello/Reuters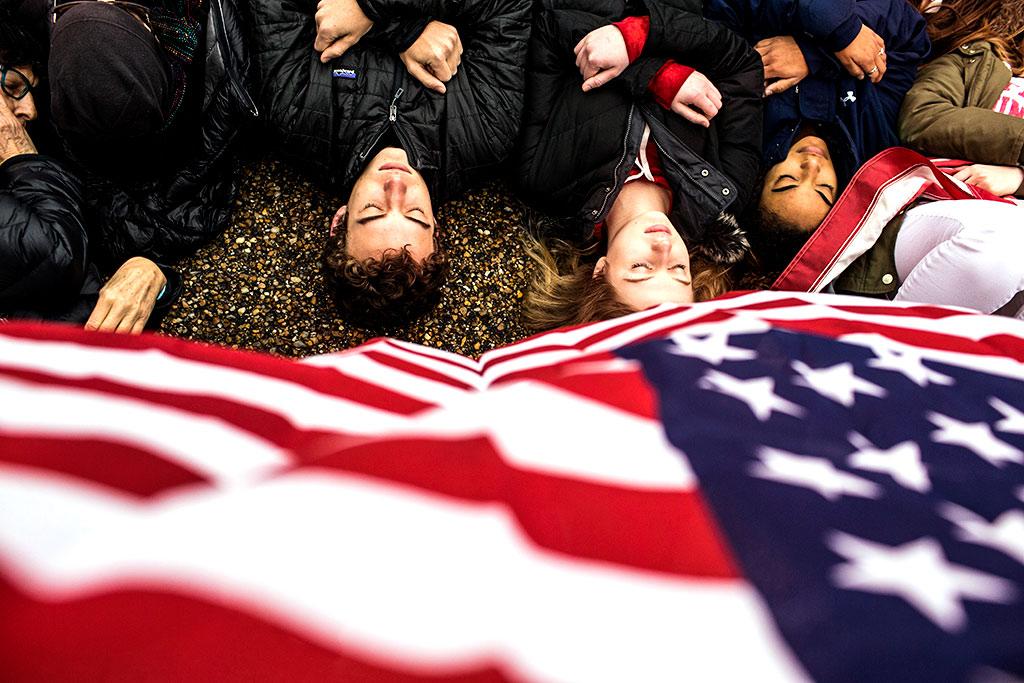 Demonstrators lie on the ground during a demonstration supporting gun control reform near the White House on February 19.
The group, dubbed Teens for Gun Reform, organised the event by seeking 17 demonstrators to lie down for three minutes to symbolise how long it took for Nikolas Cruz to gun down 17 students and teachers at the Marjory Stoneman Douglas high school in Florida.
Photograph: Zach Gibson/Getty Images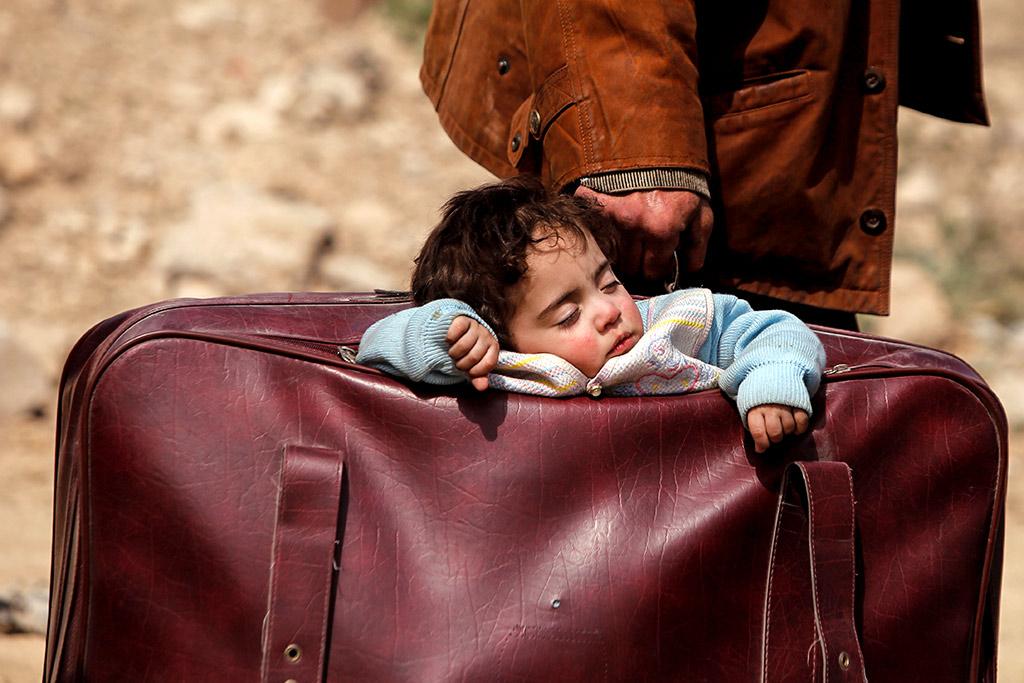 Syria's Eastern Ghouta has been shelled, bombed, attacked in ground assaults and also allegedly hit by chemical weapons.
These attacks have killed almost 2,000 people -- the majority civilians, including 371 children -- according to the Syrian Observatory for Human Rights.
Amid attempts of escaping this violence is this image of a child sleeping in a bag being carried by a man in the village of Beit Sawa, Eastern Ghouta on March 15.
Photograph: Omar Sanadiki/Reuters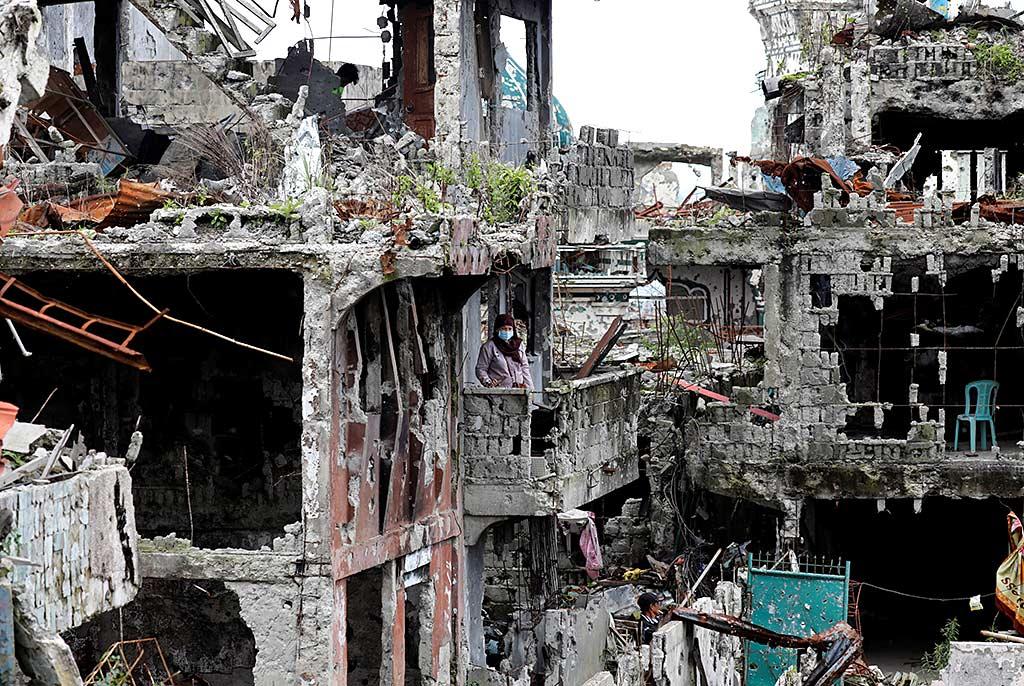 A woman stands at her ruined house after residents were permitted to return to their homes for the first time since the battle between government troops and Islamic State terrorists began in May 2017 in Marawi in the Philippines.
Marawi is today a ghost town, a heartbreaking reminder of the fierce battles the Filipino military fought to ISIS terrorists from carving out a caliphate in the Philippines.
Photograph: Erik De Castro/Reuters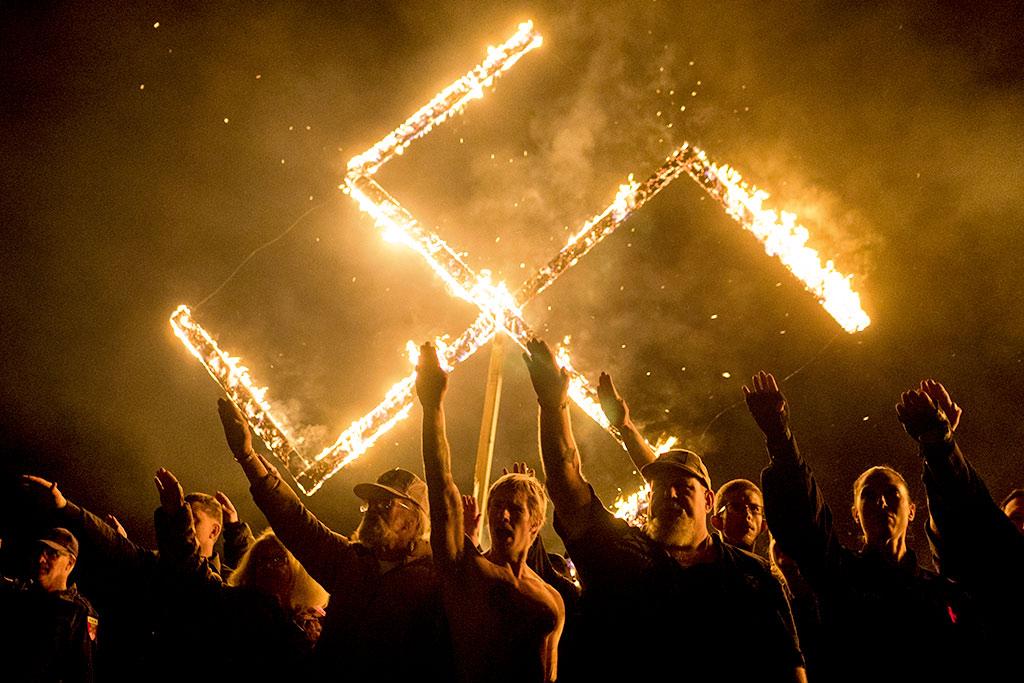 On April 21, liberal Americans were rudely shocked when this image of supporters of the National Socialist Movement, a white nationalist group, gave Nazi salutes in Georgia.
The New York Times reported the group was made up of roughly two dozen people, making it much smaller than the scary 'Unite the Right' white supremacist rally in Charlottesville, Virginia.
Photograph: Go Nakamura/Reuters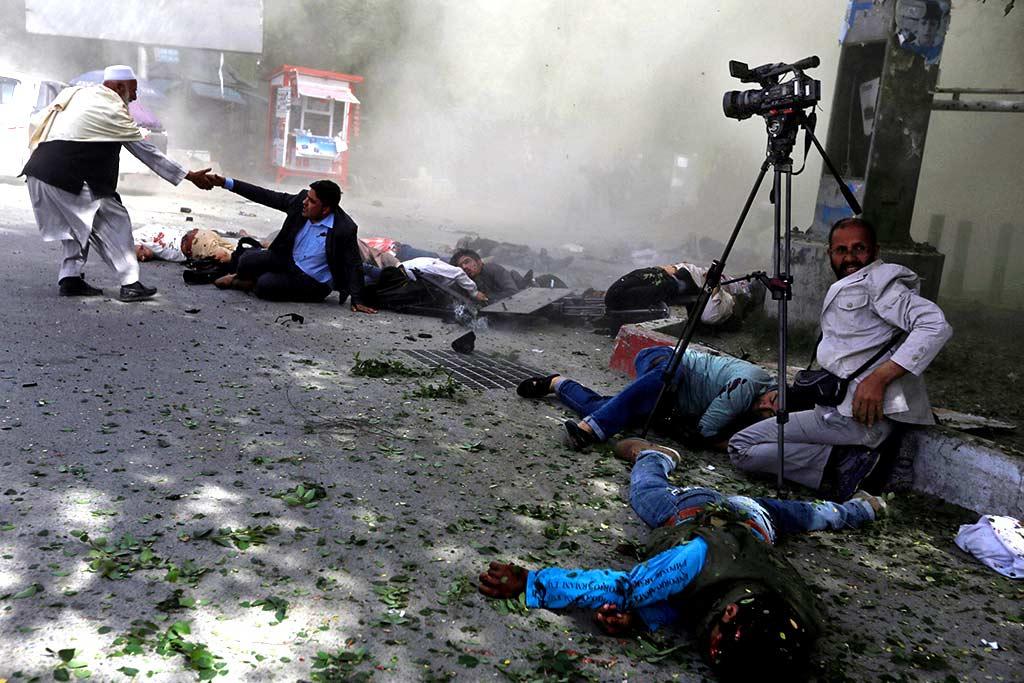 Two journalists and 20 other civilians were killed in twin blasts in a Shiite-dominated section of Kabul.
The attacks, part of a string of deadly strikes in Afghanistan's capital, intensified concerns about deteriorating security in the city.
Photograph: Omar Sobhani/Reuters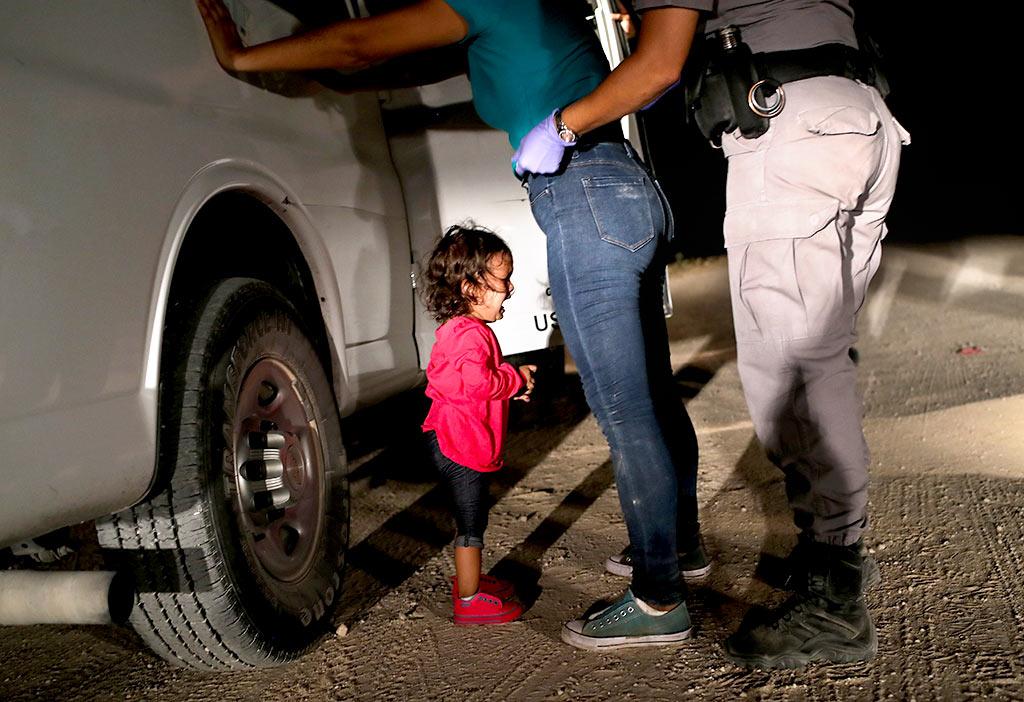 A two-year-old Honduran asylum seeker weeps as her mother is searched and detained near the US-Mexico border on June 12 in in McAllen, Texas.
The asylum seekers had rafted across the Rio Grande from Mexico and were detained by US border patrol agents.
The image which went viral -- Time magazine used it as a cover -- soon became a symbol for US President Donald J Trump's immigration policies.
Photograph: John Moore/Getty Images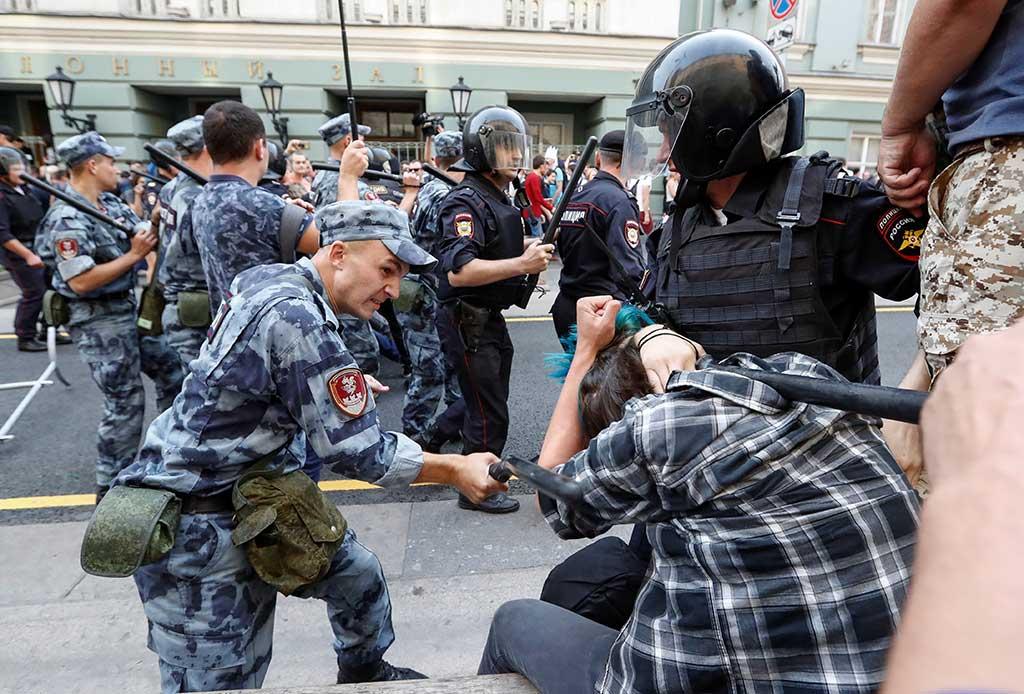 A member of the Russian national guard beats a protester at a rally in Moscow, September 9.
Photograph: Sergei Karpukhin/Reuters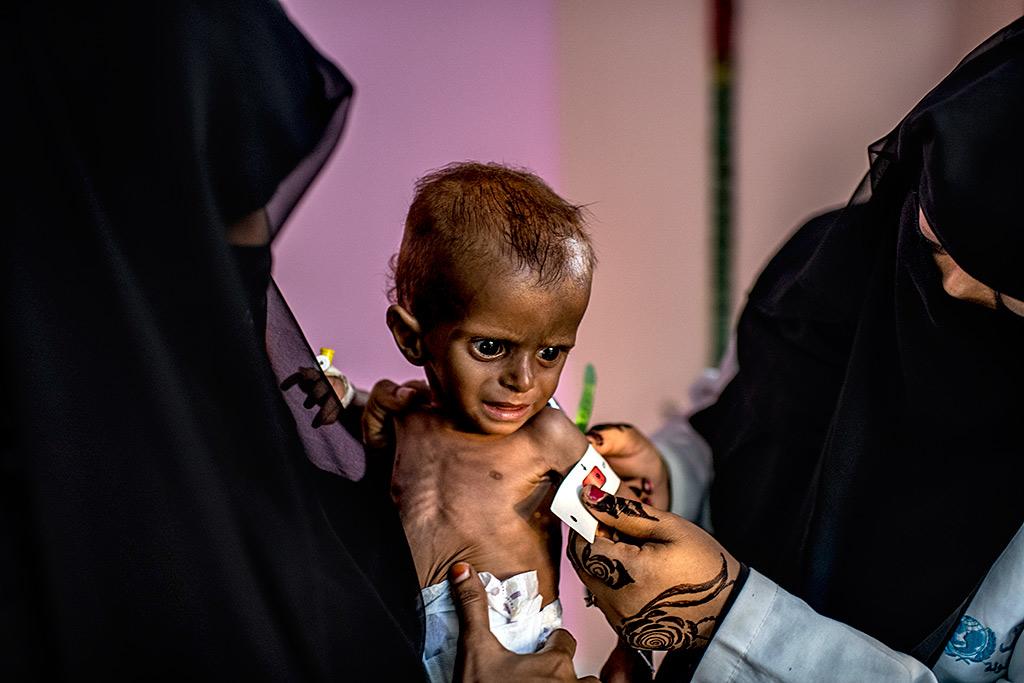 Nurses measure Ammar Khalid, 10 months, while undergoing treatment for severe acute malnutrition at a health clinic in Al Khawkhah, Yemen. Ammar and his mother fled fighting in their village in Hodeidah province.
A coalition military campaign has moved west along Yemen's coast toward Hodeidah where increasingly bloody battles have killed hundreds of people since June, putting the country's fragile food supply at risk.
According to the United Nations, more than 20 million in Yemen face starvation due to the civil war, the worst humanitarian crisis on the planet this year.
Photograph: Andrew Renneisen/Getty Images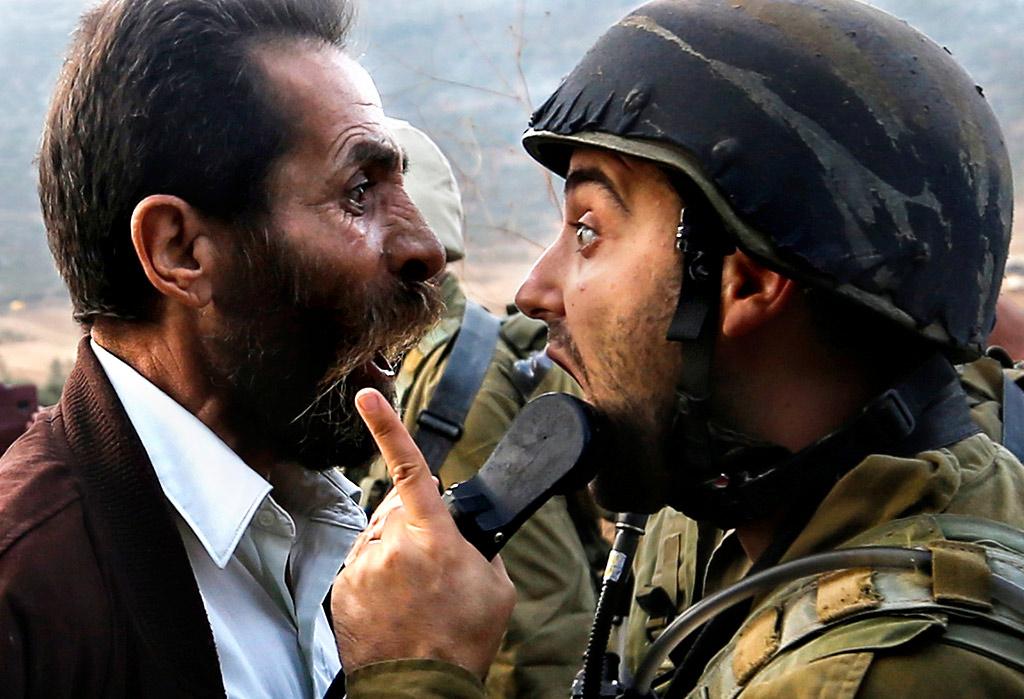 A Palestinian man argues with an Israeli soldier during clashes over an Israeli order to shut down a Palestinian school near Nablus in the occupied West Bank in October.
The Israeli-Palestinian conflict saw another year of violence -- from border protests to flaming kite attacks to airstrikes on Gaza.
Photograph: Mohamad Torokman/Reuters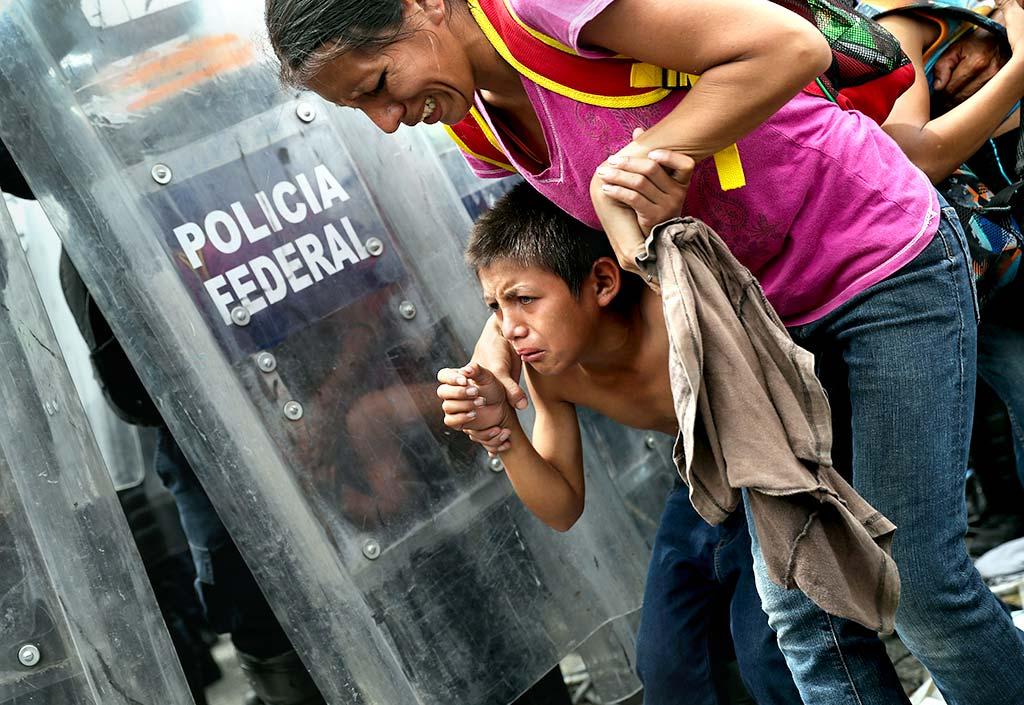 A child takes cover as Mexican riot police clash with the migrant caravan on the Mexico-Guatemala border, October 19, in Ciudad Tecun Uman, Guatemala.
The clash occurred when the caravan of thousands tried to enter Mexico, crossing over the international bridge after pushing past Guatemalan security forces.
The caravan opened the gate into Mexico, but was pushed back by Mexican riot police.
Photograph: John Moore/Getty Images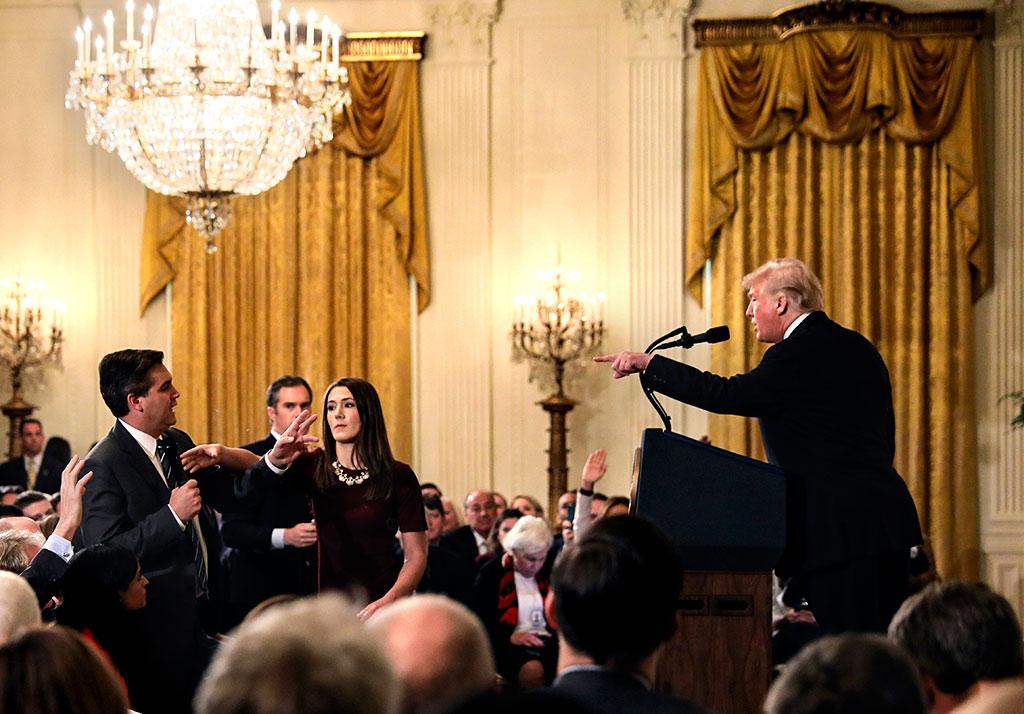 A staff member reaches for the microphone held by CNN White House Correspondent Jim Acosta as he questions Donald J Trump at a news conference following the mid-term US congressional elections, November 7.
In the tense confrontation between the American president and the journalist, Acosta called out Trump on erroneous statements he had made about the migrant march.
Provoked, the White House revoked Acosta's press pass.
CNN took the matter to court, a federal judge ruled in favour of CNN and restored Acosta's White House press access.
Photograph: Jonathan Ernst/Reuters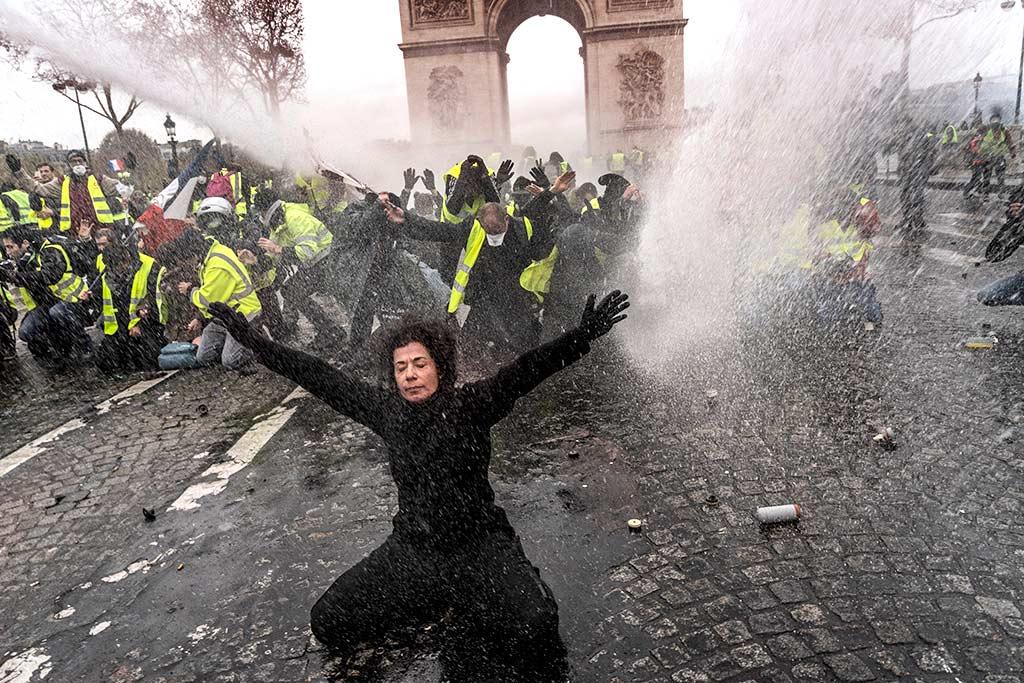 Teargas surrounds protesters as they clash with riot police during a 'Yellow Vests' demonstration near the Arc de Triomphe in Paris on December 1.
The Yellow Vests (gilets jaunes) rally over increased fuel taxes and other harsh government actions has rattled Emmanuel Macron's administration, forcing the French president to back down on several of his diktats.
Photograph: Veronique de Viguerie/Getty Images