Sheela Bhatt visits a large urban basti a mere 20-minute drive from the prime minister's home to discover a story of grim struggle in the time of lockdown.
Videos and photographs: Sheela Bhatt for Rediff.com.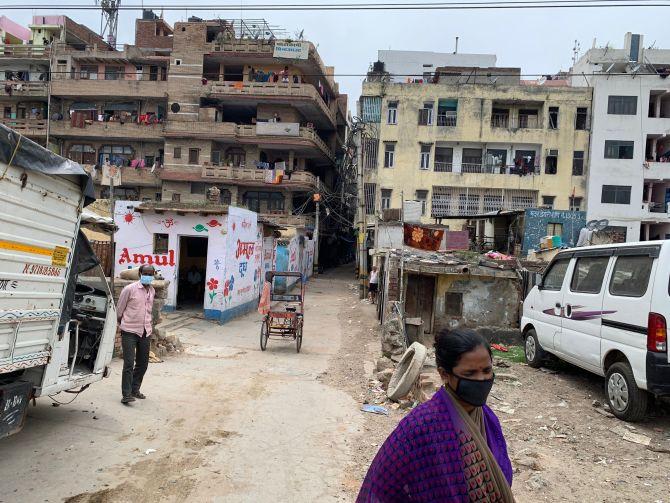 In New Delhi, just a 20-minute drive from Prime Minister Narendra Damodardas Modi's home, is located the urban village Sarai Kale Khan.
Despite the strict lockdown followed in areas of south east Delhi, I was able to visit this village, which is Poor India in a microcosm.
I hire a cycle-rickshaw to visit the village. Mangilal, the rickshaw-puller who is a migrant from Bihar, is wearing a dirty mask. When I give him a new mask before I climb into his rickshaw he tucks away his old mask in an unclean place (please see video below).
The virology, epidemiology and how the coronavirus works are all subjects of enormous interest for the rest of us, but for Mangilal it is all meaningless because he does not have a home.
At nights he sleeps in his rickshaw somewhere around the railway station.
On the third day of the national lockdown, everyone here is well aware of the contents of the prime minister's two speeches on the national health crisis due to COVID-19.
Anjani Das is a resident of Sarai Kale Khan, and her concerns right now are different even though it is intertwined with the lockdown.
"My 12-year-old daughter ran away a week before the PM announced Janata curfew, don't know who trapped her and why. I am facing hard times, I had even given her access to the Cartoon Network to keep her in the house, but still she ran away," says Das.
"The police claims that my daughter has been found, and she is safe in some ashram (remand home), but now everything is bandh. Hum toh bade pareshaan hain (we are very worried)."
"I can't see my daughter till the 21-day lockdown is over. I don't know where she went, or why she went. I don't even know how she is now. Hope she is getting some food," the mother says, hopelessness all over her face.
Anjani is a cook and earns around Rs 16,000 working in four houses all 30 days a month, 10 hours a day. Her husband is an alcoholic. He is unemployed because he is unemployable, says Anjani.
Her three daughters are left alone in the daytime when she crosses over to the other side of the Nizamuddin railway station, which is reasonably posh.
COVID-19 is not all about Prime Minister Modi, the government's incompetence or otherwise, sliding economy or the health crisis. It is also emotionally catastrophic for Anjani and her one lakh-plus poor neighbours who are facing a double whammy.
On one hand they fear death, and on the other hand is the terror of losing one's job.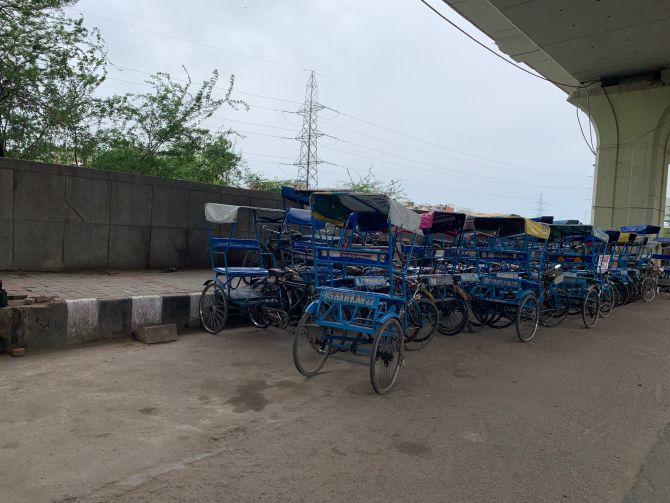 It is said that poetry, once in the public domain, is no more the poet's property. Something like that is happening to Modi's national addresses.
"Modi ne bola hai apna khyal rakho. Paisa toh milega, pahle jaan sambhalo (Modi has said take care of yourself first. You will get money, but survival is more important)," says Sanjana Das, who works as a maid.
In these two bastis, (please see video below) reside drivers, maids, cooks, dhobis, mochis, darzis, sweepers, gutter cleaners, ward boys, delivery boys, waiters, ragpickers, barbers, subziwalas, hawkers, vendors of sundry items, coolies, carpenters, daily wagers and, of course, the affluent classes's latest acquisition -- security guards.
Largely, most of them service what is now described as 'Lutyens's Delhi' or south Delhi.
Many of the houses in the basti are illegal, or were illegal when constructed.
Most houses are let out on a monthly rent of Rs 3,500 to Rs 6,000. Some dingy rooms, which cannot be called homes, are available at a monthly rent of Rs 3,000-odd, but are actually inside a tabela of buffaloes or situated on the edge of huge piles of garbage.
In front of one such garbage pile, one could see more health hazards present than the coronavirus, which has much a lower mortality rate (please see video below).
Ruksana and Sanju are neighbours. Both are rag-pickers. Both of them complain that their house-owner is not giving them water supply so it is impossible to wash hands as "Modiji and Kejriwal teach" them.
Sanju isn't interested in talking much about the coronavirus. "Sablog ghar main baita hai. Baahar jate hai toh Gurjar log maarte hai (everyone is locked down inside their homes. If we venture out the Gurjars are beating us up)," she says.
In the early 20th century Sarai Kale Khan was dominated by the Gurjar community. The entry point of the basti is even now known as Gurjar Chowk. It is currently manned by Gurjar youth day and night. Not the local ,police but it is these youth who manage the entry and exit of around one lakh residents in the times of the lockdown.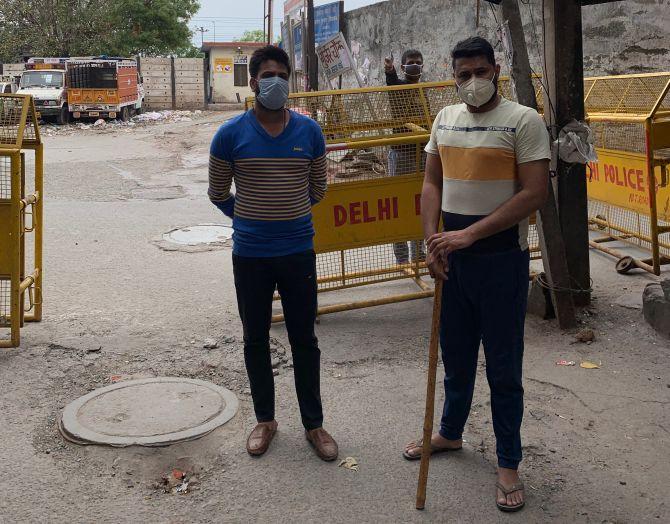 Since Modi's announcement last week they have not been allowing residents to venture out without verification.
The local youth are well-organised, and a bit of bullies, too. They keep a tight watch on who comes in and goes out, for what purpose and where.
Bhumi (please see video below), another resident, says, "We have been at home since 10 days (much before the Janata Curfew a few people remained home constantly watching news of coronavirus on television). Modi should have sent dal-chawal to the homes of poor people," adding, "Coronavirus is sakht bimari (very serious illness) because of it people are scared."
These hardworking manual labour force of Delhi's rich and middle classes is surely scared, but their fear works differently.
Even when the fear of getting infected by coronavirus is real, it is difficult for them to sit idle at home. The mental pressure of a cash crunch is enormous.
Bhumi keeps repeating, "Kaam-dhandha bandh hai, kuch pata nahi kya hoga (all work is closed, don't know what will happen next)."
In the colony itself, most residents have read between the lines of Modi's speeches differently. One middle-aged rag-picker says, "Shops are open, but we don't have money to buy anything. We will wait for Modi's third speech, now."
The impact of television is so deep and gripping that a few residents don't believe even their family elders. They start off by saying, "TV pe humne dekha (We saw on TV that)..."
Not surprisingly, it is the season for superstition too. In the absence of visits to temples and mosques people have started engaging in chanting mantras and five times namaaz at home for which they had no time when they were going to work.
"There is nothing Hindu-Muslim about this mahamaari (coronavirus)," says a Muslim unemployed father. "Yeh rog main paisewale ke kaaran garib pit gaya (The poor has been hit due to the rich)."
"Most people are following the rules because they are scared," says Raju, a delivery boy, "but nobody has any true understanding of the virus."
Ramanand, a cobbler, has one demand. "Modi babu ko bolo kharcha bhejen(please tell Modi to send us monthly expenses)," he says, asking, "How do we eat?"
His neighbour Hariprasad Pande is a rickshaw-puller. He is wearing a dirty mask and declares confidently that it will save him from coronavirus. "There is no ration-paani in the house. Bhukha mar raha hoon (I am dying of hunger)," he says (please ee video below).
People like Hariprasad Pande cannot stock much grains as it requires cash or savings.
When I draw his attention to his dirty mask, he says if someone donates him one, then he will replace it.
In frustration, he asks, "If I don't get food, what will I do? Daaka-chori karoonga, aur kya? (I will steal and rob, what else?)" (please see video below).
Hariprasad Pande regrets that while he knows astrology, his janampatri (horoscope) didn't tell him about the coronavirus. He doesn't own a television set nor is his mobile a smart phone.
"Notebandi was better than this lockdown," he says. "During that time the poor could at least walk on the roads." (please see video below)
Most poor people say the government should either release them from the lockdown or give them food.
Residents are aware of the Arvind Kejriwal government's free food scheme, but Hariprasad Pande and others say, "Police ka danda padta hai basti ke baahar jao toh (the police beats us up if we leave the area)."
However, this is contested by Pankaj Gurjar (please see video below) and his friends who are members of the local residents welfare association.
"Many people are not remaining inside their home," says Gurjar. "Even the police can't handle them."
Inside the basti, Gurjar claims they have arranged for vegetables and rations on payment.
However, the residents largely do not follow the rules of cleanliness or physical distancing within the family and in the neighbourhood.
"People believe blindly in god," says a young man keeping a vigil on the roads. "They think god will ensure that they won't get coronavirus."
Some names in this feature have been changed at the interviewee's request.