This barefoot pilgrimage home we are seeing all around us, and the way plenty of us have reacted to it, is not just a commentary on India, circa 2020. It also shames us forever, notes Dilip D'Souza.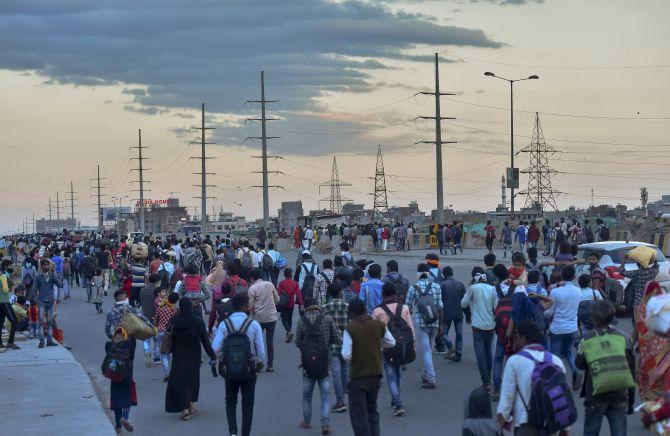 Just another young man in what looks like a sea of them, many carrying bags on their shoulders, all trying to make progress along a road beside what looks like a flyover.
He's wearing a black-and-white checked hanky as a mask, covering his nose and mouth.
You see (external link) him for about ten seconds and then he's gone, vanished back into the sea as the men all jostle forward to make their way through a police barrier.
Beyond that, they have more room to move on more freely.
He's wearing a pink and white striped shirt.
Two words are printed in grey on it: 'Beyond Evolution'.
In strange times, words seem to take on extra meaning, and it's no different with these.
What's 'beyond evolution', you wonder.
The virus? Our collective response to it? The scenes we've all seen, of migrant workers trying to find their way home, often on foot for hundreds of kilometres? The way those scenes speak of a certain callousness and indifference?
Just as we coursed through a post-colonial time, are we now in a post-evolutionary time? Is that what we have come to?
There is plenty to worry about in this surreal time that we're all in together.
You know it all well, so I won't do a repeat here.
With this one exception: The plight of migrant workers across this land.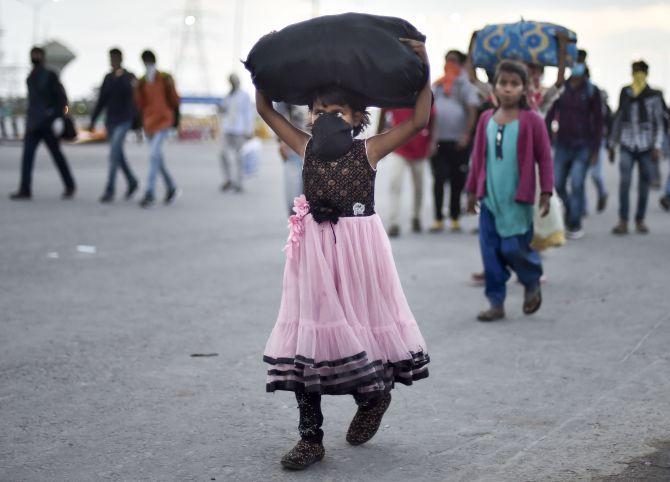 I remember moments of great uncertainty going back through several decades in this country: an eclipse; the unpredictable fall of some space debris, man-made or otherwise; communal and caste carnage in city after city; you can add your own.
Each time, there has been a substantial number of people who have migrated across the country for work and now want to return to their homes.
It's an entirely human, entirely understandable response.
When you think life has become tenuous, you want to spend it with loved ones.
That simple. If you're far from them, you want to do all you can to get back to them.
Fundamentally, this is why Indians marooned in various overseas spots -- Iran, China, Italy, wherever -- during this corona crisis have been appealing to Indian authorities to help them return home.
Fundamentally, this is why India has operated several flights to bring many of these people back to India.
Nobody balks at the effort, expense and risk involved in these rescue missions.
That would seem absurd and cruel. This is, after all, what a responsible nation must do.
There is, as you know, a parallel, and it goes like this:
Fundamentally, this moment of great uncertainty is also why Indians marooned in various Indian cities want to return home.
Unfortunately, the parallel ends there.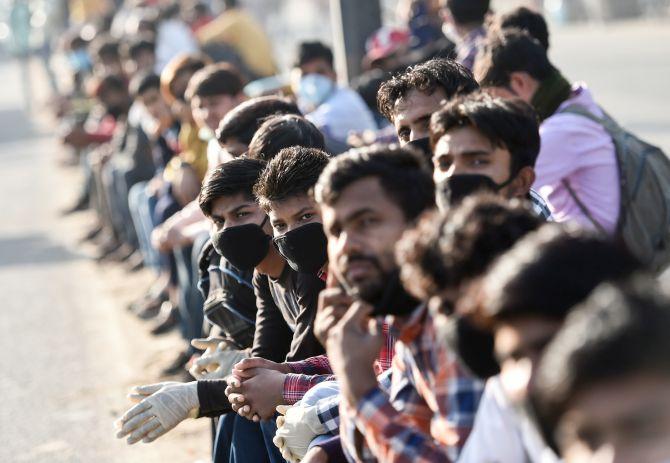 I know of no flights that India has operated to take these people back to their homes.
Nor trains nor buses nor trucks nor bullock-carts though some state governments made buses available on Saturday, March 28.
Instead, since our prime minister announced that we will lock ourselves down, we've seen any number of reports of such people deciding to head for home the oldest way possible: on foot.
A trickle of them has quickly turned into a flood.
From Delhi to Bihar, from Gujarat to Rajasthan, sometimes 80km, sometimes 250km, at least one whom I've seen carrying a child on his shoulders, but all resolute in that same goal: I'm going home.
Is there a risk in making such a trip? Yes, and in fact many.
Might they end up taking the virus to their home villages or towns? Yes, certainly.
Do they have alternatives? Well, you tell me, or tell them.
One told the camera that he normally stayed on the premises at the factory where he worked.
But with coronavirus on the prowl, his employer asked him to vacate.
What is his alternative? Find a place to stay alone in an alien city, spend scarce money on rent and food? Or try to go where he will at least be among family?
What would you choose? Well, that's what he chose.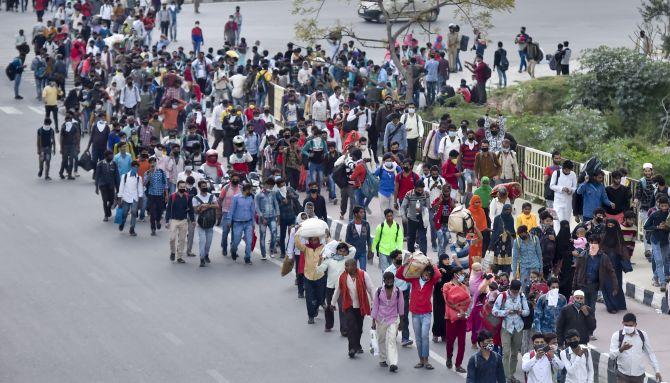 Yet it's not just that these people are forced to make such journeys with all the attendant risks.
They are also damned for making that choice.
There have been calls to shoot them for breaking the law.
The two-time BJP MP Balbir Punj called them 'irresponsible', and asserted that they wanted to use their 'forced' holiday to 'catch up with their families or errands back home'. (Well yes, Shri Punj. They want to catch up with their family. Please let me know if you're doing exactly that).
There is outrage that, in this time of social distancing, they form crowds. (What else will they form if there's a police barrier across the road? Or if they want to catch possibly the last train home?)
Let's be clear: This barefoot pilgrimage home we're seeing all around us, and the way plenty of us have reacted to it, is not just a commentary on India, circa 2020.
It also shames us forever.
And this is the climate, the time, in which 'Beyond Evolution' takes on meaning.
As a country, have we evolved beyond compassion? Wisdom? Humanity?
---
Dilip D'Souza, one of Rediff.com's earliest columnists, is the author of the recent The Deoliwallahs among several other books.