'Wasn't it the PM's duty to reach out to the daily wagers of whom he claims to have been a part?' asks Jyoti Punwani.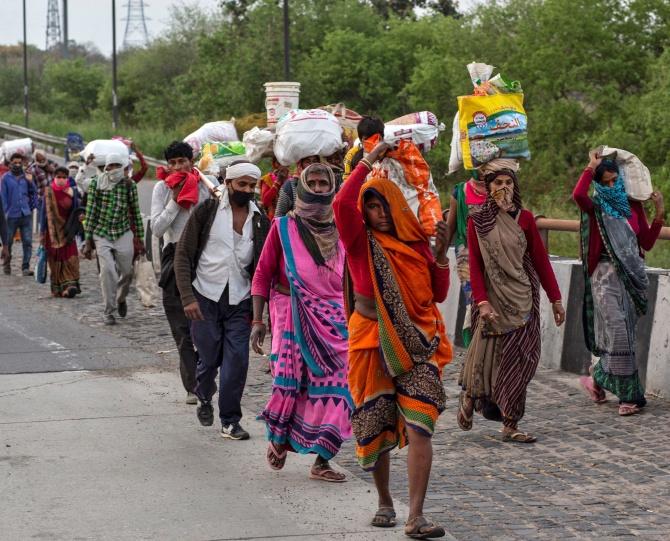 Two things are enough to explain why thousands of migrant workers are walking home hungry and desperate.
First, Prime Minister Modi's Mann ki Baat telecast on Sunday.
The PM ended by saying: 'We Bharatvasis will together fight this crisis. But please be sensitive to the garib (poor). See that they don't go hungry.'
So our PM sees 'we Bharatvasis' as one group; and the 'garib' as another, since 'we Bharat>vasis' have to be sensitive to 'them'.
Hence, it was not surprising that though the PM specifically asked the poor to forgive him for the trouble he had caused them by his decision, the 35-minute programme did not have a single image of the current disaster facing the poor.
The second explanation for the way in which labourers have been abandoned lies in two simple statistics: 50% of Ahmedabad's work force, and 70% of Surat's workers are migrants, according to Chinmay Tumbe, author of India Moving: A History of Migration.
Narendra Damodardas Modi, unquestioned ruler of Gujarat for 12 years, architect of the business-friendly 'Gujarat Model', didn't know this?
If nothing else, he should have thought of what his sudden announcement on March 24 of a three-week lockdown, made at 8 pm on a working day, would mean to the workforce that powered his 'Vibrant Gujarat'.
His current constituency is also badly affected by his decision.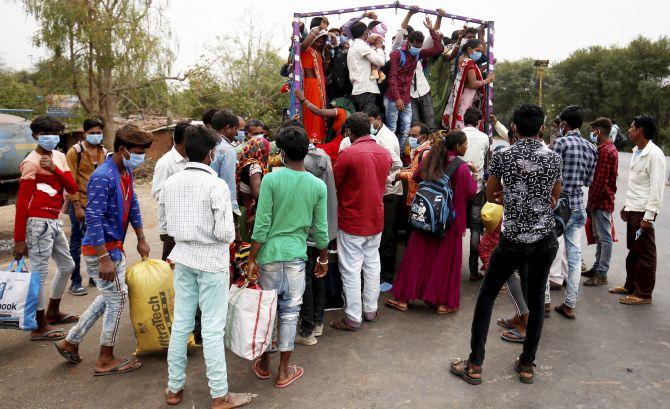 A 2017 report of the Working Group on Migration, sponsored by the central ministry of housing and urban poverty alleviation, lists Varanasi among the top 17 districts in India which sees 25% of its men migrating out for work.
The PM is vocal about his love for his constituency. He didn't know these men would want to come back once their work places closed down?
The PM's constituency featured prominently on social media last week. A photograph of Musahar children eating grass that went viral was from Varanasi.
The village Pradhan, Shivlal Yadav, who had sent these families away when they had approached him, had to finally provide them rations after the district magistrate, shamed by the photograph, swung into action.
Obviously then, the photograph reflected a harsh reality. Yet the next day, the DM sent a notice to the reporter and editor of the paper that published the photograph, for publishing fake news and defaming the Musahar community!
Through all of this, the MP from Varanasi maintained silence.
There are more statistics relevant to the lockdown.
According to the Economic Survey of India 2018-19, 93% of our workforce is 'informal'.
The 2017 Survey put migrant labour as 20% of our labour force. Their earnings amounted to 6% of our GDP, while what they sent back to their villages amounted to 2% of our GDP (external link).
In 2014, according to Credit Suisse's Global Wealth Databook, the bottom 50% of India owned just 2.5% of its wealth, while the top 20% owned 89 %.
These statistics may be new for us, but surely the PM knows them. Yet, his relief package announced three days after the lockdown for 93% of our workforce, amounted to just 1% of the GDP, half of what migrants themselves contribute.
One can hardly say that Modi is a hands-off PM who likes to manage things from Delhi. He travels to every district of the country when he campaigns, and he is campaigning half the year because his party can't do without him.
Just last month he was campaigning in Delhi for his party which aggressively wooed migrants from east UP and Bihar, the Purvanchalis, and was rewarded with eight seats from them.
Additionally, Modi acquaints himself with the background of every place he campaigns in, so as to pepper his speech with references his audience can relate to.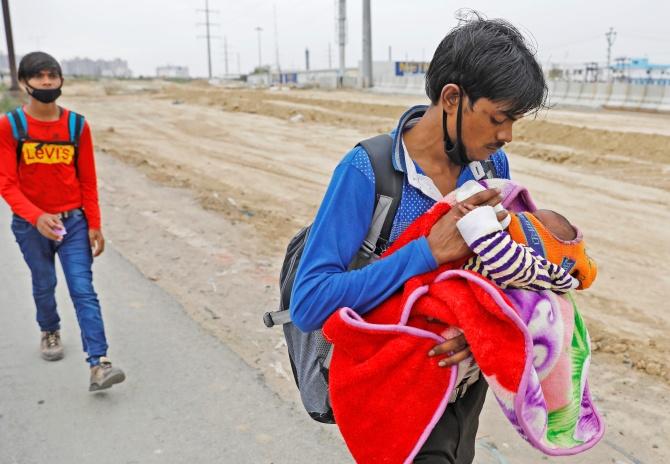 Finally, Modi, as he himself never tires of saying, is an outsider to the ruling elite that has presided over us since Independence.
He has built his persona around his humble origins as a chaiwallah. And his speeches and Mann ki Baat show that he can connect to ordinary people.
Wasn't it the PM's duty to reach out to the daily wagers of whom he claims to have been a part? Many of these urban workers swear by him, as reports from the May 2019 Lok Sabha polls showed.
While announcing the lockdown, couldn't he have explained to them why they shouldn't rush home, reassured them that they would be provided rations and cash to sustain them during the lockdown?
In Mumbai, which saw a gradual lockdown before March 24, NGOs had already started providing food kits to those suddenly left without their daily earnings.
Till Sunday, this had not been done by the Centre.
The Rashtriya Swayamsevak Sangh cadre, the Bharatiya Janata Party's backbone, are estimated to be about 500,000 while the BJP's membership is said to be 180 million.
Imagine half these numbers deployed to help daily wagers across the country.
All these statistics are important only to understand the extent of callousness exhibited by this government. When the PM suddenly announced the lockdown, the scale of its impact was known.
So was the extent of resources available not just with the government, but even with the ruling party to minimise the impact.
But do those worst affected by the lockdown -- the poor, at least 50% of our population -- figure anywhere in this government's priorities?
Coronavirus became a serious scare around Holi, March 10, by which time 50 cases had been reported from 11 states and Union territories.
On March 19, the defence ministry signed a Rs 880 crore (Rs 8.8 billion) contract with Israel for 16,000 light machine guns.
On March 23, the Centre notified land use change for its ambitious project to change Delhi's Central Vista. Rs 20,000 crore (Rs 200 billion) had been allotted for it earlier.
On March 24, reports came in of doctors falling ill due to shortage of masks, gloves and other protective equipment.
Shouldn't the government have postponed the Central Vista project and diverted the Rs 20,000 crore to build crucial coronavirus infrastructure?
Sunday's Mann ki Baat had 4 phone-ins, two with recovered patients and two with doctors. One understands the need for the PM to project positivity, but whence comes the compulsion to black out the massive tragedy caused by his announcement?
Towards the end of his programme, the PM read out a few messages sent to him on his Modi App, and showed the visuals accompanying them: men rediscovering their old school friends, women their love of music and quilting, families bonding over cricket on the lawn and new dishes in the kitchen.
Such is Modi ki Duniya. Where's the space in it for the seven labourers run over while walking home; the two who collapsed and died en route to home in just five days of the lockdown?