'As for people like me, if the virus doesn't get us -- the measures being taken against it definitely will.'
Geetanjali Krishna listens in.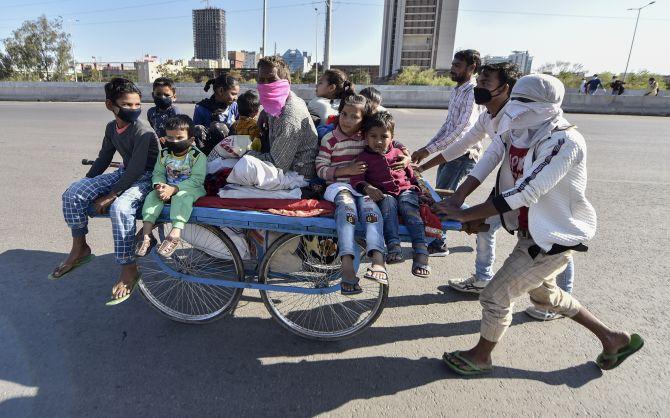 As the world is brought to its knees by covid-19, all one can really do is prepare for the onslaught.
So far, the number of cases in India is not large. I suspect that this is because the virus hasn't yet reached India's slums and low income neighbourhoods.
Given the lack of infrastructure and the poor sanitary conditions that prevail there, the spread of the virus could be devastatingly swift.
There's not much one can do. I've taken it upon myself to instruct as many people as I can about the correct procedure for washing hands, as it seems to be the only practical way to prevent infection.
However, it was while doing this that Kamini, a domestic worker, made me aware of how futile and expensive some measures to curb the spread of this virus seem to people like her.
"It's all very well for us to wash or sanitise our hands when we come to work," she said. "But maintaining any level of hygiene in my home will be impossible."
She lives in a small room in a crowded building in Khizrabad, a south Delhi village, with her two grown-up children.
Every room in her building is occupied by a different family and they all share three bathrooms.
Keeping the toilets clean is a challenge, as no one person wants to take responsibility for them.
"So each of us cleans the toilet and the floor before use," she said. "Cleaning the handle or the flush lever is not something we've even considered."
She asked me if washing utensils with ash (since soap is too expensive) would wash the virus off. I suspected not.
Each occupant swept the area in front of their room, but again, cleaning knobs, door handles and railings wasn't something anyone ever did.
"Now you tell me." she said, "if even one person in my building gets infected with covid-19, will any expensive sanitiser be able to protect me and my children from this disease?"
What scared her even more than the infection, Kamini said, was that on the TV channels, many have been advocating shutting down places of work to curtail the spread of the virus.
"What will happen to so many people who work for daily wages?" she asked. "What will happen to small businesses?"
Her son works in a shop and his boss has already announced salary cuts as sales are down. There was no way, she said, that he'd pay her son a salary for staying home to prevent the spread of the virus.
Kamini's daughter works for a small local beauty parlour, which is barely seeing any footfalls these days.
"If things become worse, she'll probably get sacked anyway," she said. "The uncertainty is keeping me up at night."
She wasn't worried about her own job: "My employers are good people; they won't cut my salary if things come to such a pass."
I found it interesting that none of her anxiety regarding covid-19 was about actually contracting the infection.
When I said so to her, she laughed: "This nice smelling sanitiser will hopefully ensure that even if I get infected, I don't pass it on to my employers," she said.
"As for people like me, if the virus doesn't get us -- the measures being taken against it definitely will."