A nurse at a Bihar hospital begs the prime minister for her life as the state's medical staff continues to treat suspected COVID-19 patients without protective safety kits.
M I Khan reports.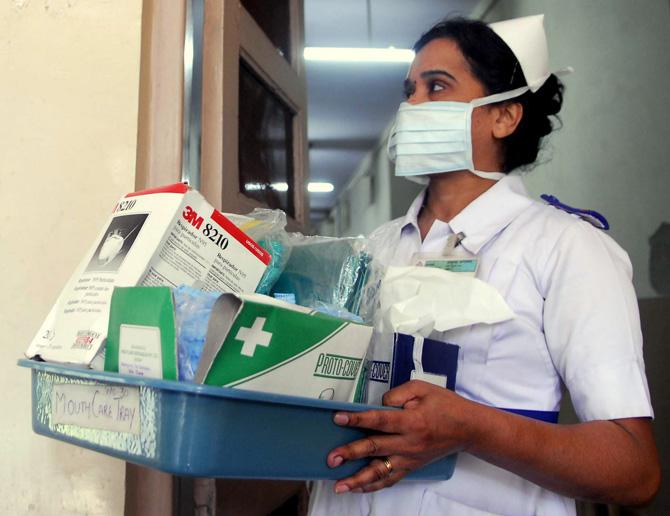 Julie Kumari, a staff nurse at the Patna-based, government-run Nalanda Medical College and Hospital, took to social media to urge Prime Minister Narendra Damodardas Modi to please save her and the hospital staff from likely death.
Julie and her colleagues work in the hospital's isolation ward without basic safety kits, N95 masks and alcohol-based sanitisers.
'Please, please, Modiji, hamari suniye. Hum marne wale hai. Aapne ye kaisa kit diya hai? Is se corona marij ka elaj kaise hoga? Hum nahi bach payenge (Please, please, Modiji, hear us. We are going to die. What kind of kit have you given us? How can we treat patients like this? We won't survive.)'
An emotional Julie, in her video message from the hospital's isolation ward for suspected coronavirus patients, requested Modi and Bihar Chief Minister Nitish Kumar to save her and her colleagues by immediately providing personal protective equipment and N95 masks.
She also questioned the quality of the common safety kit (for surgical operations and the HIV kit) given to them by the health department authorities.
'Iski quality (referring to the common safety kits) jaisi hai woh humein corona se kisi angle se nahi bacha sakta hai. Please, please hamari request suniye. Thali bajane se hum logon ka manobal nahi badhega. Hum kaise duty karen, apni jaan gawa ke (The quality is so poor that it will not save us from the coronavirus. Please, please hear our request. Mere applause won't bolster our confidence. How can we do our duty when we fear that we may die?)'
'We are doing our duty despite the risk to our lives,' Julie added. 'But we also have families; we have children. Please provide us with a quality safety kit.'
Dozens of hospital staff nurses gheraoed the hospital superintendent on March 27, demanding safety kits.
They expressed solidarity with Julie and unhappiness over threats by the authorities of action against her for revealing her fears and the lack of quality personal protective equipment and N95 masks.
Citing the lack of necessary safety equipment, 83 junior hospital doctors have demanded that they be quarantined.
In a letter to the hospital superintendent, the junior doctors association vice-president Dr Ranvijay Bharti said there is a lack basic facilities for doctors treating suspected coronavirus patients.
"The facilities are not adequate. If junior doctors treating suspected coronavirus patients get infected, their own life will be in risk. Who is responsible for that? We have requested the hospital to keep us away treating suspected cases," Dr Bharti said.
The Nalanda Medical College and Hospital is the second largest hospital in Bihar and the state health department has decided to turn it into a special hospital for coronavirus patients with 100 beds being reserved for suspected cases.
One hospital doctor said, "When we demanded N95 masks and PPE, the hospital authorities told us we don't have to worry since we are not involved in the treatment of coronavirus positive cases. But we insisted because no one knows who is infected; since only two labs are testing here, the results are coming slowly."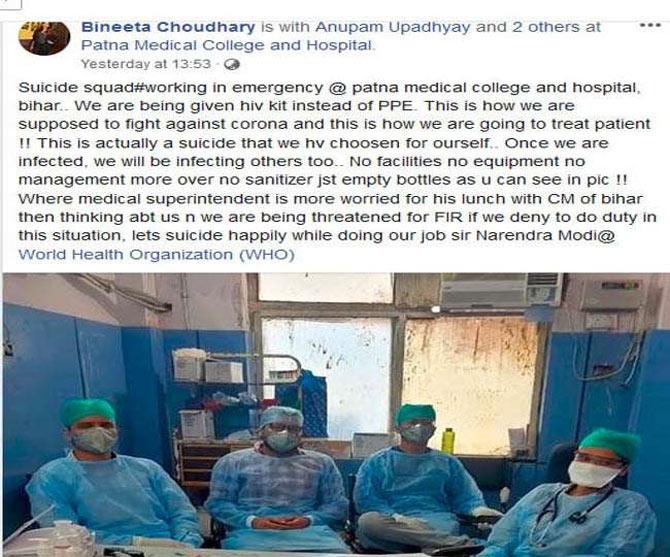 Julie is not the first Bihar-based medical staffer to take to social media to demand basic safety kits while doing her duty.
Amid fear of the likely spread of COVID-19, Dr Bineeta Choudhary of the Patna Medical College and Hospital, revealed -- much to the embarrassment of the state government -- that doctors have been forced to treat suspected coronavirus cases without basic safety kits.
The Patna Medical College and Hospital is the largest health centre in Bihar.
'Suicide squad#working in emergency @ patna medical college and hospital, bihar... We are being given HIV kit instead of PPE.. This is how we are supposed to fight against corona and this is now we are going to treat patient!! This is actually a suicide that we hv choosen for ourself.. Once we are infected, we will be infecting others too.. No facilities no equipment no management more over no sanitiser just empty bottles as you can see in pic!!' Dr Choudhary posted on Facebook on March 25.
Dr Choudhary, a resident doctor at the Patna Medical College and Hospital, accused the hospital's superintendent of shocking lack of concern.
'Where the medical superintendent is more worried about his lunch with CM of bihar then thinking abt us n we are being threatened for FIR if we deny to do duty in this situation, lets suicide happily while doing our job sir Narendra Modi', Dr Choudhary alleged.
After her post went viral on social media, many people questioned the Nitish Kumar government's claims about its fight against COVID-19.
Dr Choudhary has now deleted her post, apparently under pressure from her superiors, and in her new post, is downplaying her previous statement.
'I hope my post will be taken in a positive way to uplift management of PMCH. Hoping for quick action regarding all basic things required in management, after all this is best college of Bihar where people come with hope to survive n for a healthy life, we are healers, let's just ensure not to become a carrier of corona.'
Meanwhile, doctors at the Patna AIIMS are wearing helmets while visiting wards because of the lack of PPE and N95 masks.
However, hundreds of doctors, nurses and staff in government-run hospitals in Bihar are still examining and treating suspected coronavirus cases without basic safety facilities, As a result, doctors are threatening to resign and are requesting to be sent into quarantine.
Last week, doctors at the Darbhanga Medical College and Hospital threatened to boycott work. Some reportedly said they would resign if basic safety kits like the N95 mask and PPE are not provided to them when they are asked to treat suspected coronavirus cases.
In Samastipur district, the lack of PPE saw a medical team wearing raincoats to protect themselves while examining recently-arrived migrant workers.
A doctor, who was part of the medical team that visited half a dozen villages in Shivaji Nagar, said they had to examine suspected cases without being provided with the N95 mask, safety kit and gloves.
'In a bid to protect ourselves from a likely infection, we were forced to wear raincoats instead,' he said, adding, that the doctors covered their faces with common masks they personally purchased from the market.
In another alarming case, the superintendent of the Jawaharlal Nehru Medical College and Hospital in Bhagalpur district asked doctors to work without N95 masks and PPE after junior doctors demanded basic safety kits for treating suspected corona cases.
According to a health staffer at the hospital, after the doctors protested against having to work without a safety kit, the N95 mask and alcohol-based sanitisers, the superintendent discussed the matter with senior officers from the health department through video conferencing. He then instructed the doctors to work without the safety kit.
In an official letter, the hospital superintendent informed doctors there was no need to wear the N95 mask and PPE while working in the emergency ward. He also stated that doctors can work with a normal mask and gloves in emergency ward.
He warned doctors to continue their duty and threatened that if they did not, they would be reported to the principal secretary of the state's health department in Patna.
"There are no safety kits and N95 masks and gloves for us, but have been forced to examine suspected coronavirus cases," a doctor revealed, speaking on condition of anonymity.
Till date, Bihar has reported 9 confirmed coronavirus cases, including one death, confirms Dr Pradeep Das, director of the Patna-based Rajendra Memorial Research Institute, where the state's COVID-19 tests are conducted.