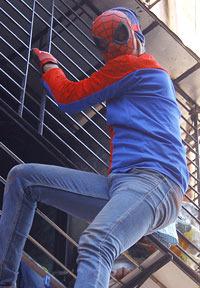 If a masked man climbed upto your window and demanded something from you, what would your first reaction be?
To scream?
Well, these people are smiling and shaking hands with him instead.
Climbing skyscrapers in record breaking time is nothing new to this martial arts trainer and fitness consultant. But contesting a Lok Sabha election is.
Gaurav Sharma has transformed his passion for climbing into his campaign strategy for Election 2014.
Sharma, who is contesting the election as an Independent, hopes to represent Mumbai South, one of the richest constituencies in the country.
Using a mask and a blue and red Spiderman tee to quickly transform himself into the desi avatar of the masked hero, he hopes to catch voters' fancy -- and their votes.
Hanging outside windows helps, he says.
After all, his election symbol is a window.
Text: Nithya Ramani
Video: Hitesh Harisinghani
DON'T MISS!