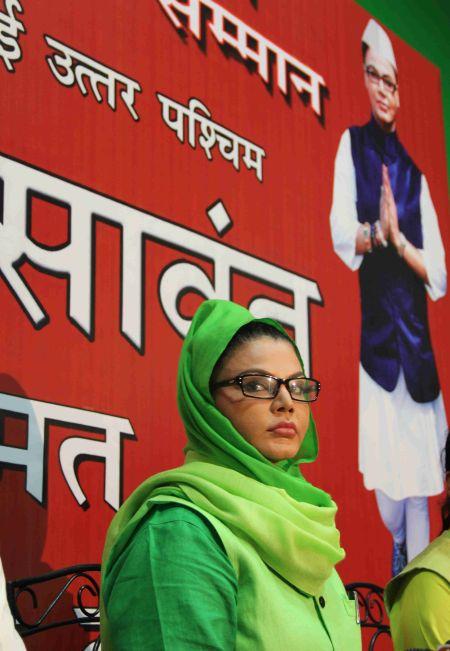 What would elections in India be without the heat and the dust, the colour and the tamasha?
Today, we begin a new series that brings you all the excitement of Election 2014, on video. All you need to do is click on the play button.
Inaugurating our series is the fiery Rakhi Sawant.
Text: Nithya Ramani
Video: Hitesh Harisinghani
There she stood, swathed in green.
Green kurta, green leggings, green waistcoat, green band holding her bun in place and -- gasp! -- were those green chillies dangling from her ears?
No, the item girl-turned-turned-actress-turned-reality-star was not becoming environment friendly; she is readying for a new avatar -- that of a politician.
"I quit Bollywood to join politics," she informs everyone loudly.
Rakhi, who called herself 'BJP's beti' after she had finished lavishing praise on the Shiv Sena, has finally filed her nomination as a candidate for the Mumbai North West Lok Sabha constituency.
She faces a tough battle from sitting MP Gurudas Kamat of the Congress, the Shiv Sena's Gajanan Kirtikar, Maharashtra Navnirman Sena and Raj Thackeray representative director-actor Mahesh Manjrekar, Mayank Gandhi of the Aam Aadmi Party and 16 other candidates!
Rakhi's day was to begin with the inauguration of her newly-minted Rashtriya Aam Party's Goregaon East campaign office. After a 30 minute wait, during which she sat in an air-conditioned car with tinted windows, she stepped out to the cheers of a few supporters to inaugurate the premises.
She hopes the Election Commission will grant her the green chilli as her party symbol.
Rashtriya Aam Party President Kisanlal Hans confirmed that the party manifesto isn't ready yet and once the symbol of hari mirch (green chillies) was finalised, they would organise a formal release ceremony.
Rakhi, who claimed to have a sore throat and said she wanted to "save energy for janta," didn't speak much before, during or after the rally.
She walked through the bylanes and slums of Goregaon East to meet her prospective constituents and request them to vote for her.
"Ek baar mujhe mauka do, mein doosron ki tarah dokha nahi doongi (Give me one chance; I won't betray you like the others)."
Not many voters were as keen about the election campaign as they were about seeing a celebrity. Most of those who recognised her as the 'item girl Rakhi Sawant' wondered why she wanted their vote.
But Rakhi was not to be deterred.
She met with vendors, dargah (mosque) leaders and a group of women and asked all of them to vote for the hari mirch. Did she forget the symbol has not been allotted to her yet?
Hopping onto an open tempo, she waved to every person on the road she could make eye contact with "Vote for me," she gestured. "Film industry chodke main sirf gareeb janta ki seva karni aayi hoon, unka suraksha karne aayi hoon. Mein sab kuch chod ke aayi hoon (I quit the film industry so that I can help the poor and protect them)."