'I was not silent during the 2002 riots'
'In 60 months, I will rather make a new garden, than wipe out the dirt of others.'
'If Modi has four FIRs in his name, then it should be tried within a year'
'If there is a Modi government, then it too should be sensitive.'
'Chaiwallahs, autodrivers benefitted from Gujarat model'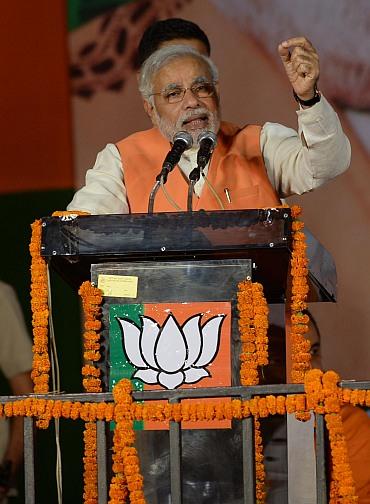 Bharatiya Janata Party prime ministerial candidate Narendra Modi has rejected the view that he had remained silent on the February 2002 communal riots in Gujarat, which according to official figures, claimed the lives of 790 Muslims and 254 Hindus; caused injuries to about 2,500 people and reported 223 as missing.

"I was not silent, I answered every top journalist in the country from 2002-2007, but noticed there was no exercise to understand truth," Modi said in the interview to ANI.
He further said that he believed that unknown entities gave rise to a number of conspiracies that allegedly linked him to the tragedy.
"I have said what I had to say. Now, I am in the people's court, and I am waiting to hear from them, and their verdict," Modi said when prodded further on his role in the 2002 riots.
He maintained that he was committed to democracy, and added that "If the media had not worked to malign Modi, then who would known about Modi today?"
Click NEXT to read further...
'I am going to win people's hearts; they will love me'
Modi said that he had nothing but love for the people of India, and that his aim was to win their hearts.

Modi seemed to reject the notion that Muslims should fear the possibility of a Hindutva agenda being forced upon them.

"I am not going to Banaras to defeat anybody, it is not my aim. I am going there to win the hearts of the people. Whenever they will meet me in person, and not through the media, or, my opponents, then I am sure they will love me in the way in which they haven't done so with any political leader," he said

When asked to respond to allegations and charges that his current state of popularity across the country has been successful in the sidelining of the old guard in the BJP, and the emergence of an aggressive new guard, Modi said: "I don't understand the term 'guard'. As far as I am concerned and in the know of, you only find them in train bogies. All my leaders are like the engine of a train."

Click NEXT to read further...
'I might address more than 1000 3D meets'
To a further query that leaders like Lal Krishna Advani and Murli Manohar Joshi being made guides in the party, and that the main jobs were being taken over by second generation leaders, Modi said: "There is nothing such as a takeover. Guidance is still with the experienced leaders, and they are guiding us."

He also said that he found it peculiar and unusual for a leader like Arvind Kejriwal of the Aam Aadmi Party to divulge his strategies through television, and, when he was asked what his strategy would be, he said: "I don't know of any strategist who divulges his details on TV."

Modi said since the announcement of the general election schedule, he had already addressed over 360 rallies across the country, and added that he expected this figure to cross the 1000-figure mark by the time he finishes campaigning.
"On September 13, the BJP nominated me as their prime ministerial candidate. Since I addressed the rally of ex-servicemen in Rewari, Haryana on September 15, I have addressed over 360 rallies; after the announcement of elections, maybe 180-190. I have used new technology and 3-D technology to try to reach out to the people. If there is no technical fault, then, I might address more than 1000 3-D meets," he said.
Click NEXT to read further...
'Chaiwallahs, autodrivers benefitted from Gujarat model'
Modi categorically predicted that the 2014 polls would be the worst the Congress Party's history, given its performance of the past ten years, and was quite emphatic in stating that these elections would be the best performance of the NDA and the BJP.
Outrightly rejecting the view of the Congress that he was behind the emergence of big businessmen, and that he would go out of his way to benefit the Adanis and the Ambanis when he comes to power at the Centre, Modi said: "To be specific, the per capita income of Gujarat is higher than that of India as a whole. In India, 57 percent of the total employment was generated from Gujarat. Now, who has benfitted? It was the poor."

"Earlier, there was two percent agriculture growth in my state, but in the last 10 years, it has grown to 10 percent. It was the farmer who has benefitted. There was no tourism in Gujarat, but today, the growth in tourism in Gujarat is much higher than that of the national average. Who benefitted? It was the chaiwallahs, autodrivers and handicraft workers etc."
On whether one type of crony capitalism will be replaced by another, Modi said: "There has been growth for everybody and that is what should happen. Not only this, small scale industries, you will be pleased to know that at least 80 percent of growth of small scale industries in India happened in Gujarat. So, people who accuse me, have nothing new to say."
"Secondly, how come the Government in Delhi which says that I have done wrong in Gujarat, is unable to able to investigate the charges properly. Therefore, such a government should not continue who have so much to accuse me of in their speeches, but has nothing to take action on. Such a non-performing government should not continue even for a minute," he added.
Click NEXT to read further...
'Open to good ideas on decriminalisation of politics'
Modi also asserted that if voted to power after the 2014 general elections, he would approach the Supreme Court with a request to set up special courts to deal with politicians who had criminal cases registered against them.
Modi said: "Criminalisation of politics is a grave issue, and this concern, is shared by every citizen of the country. It should be the concern of every party and all leaders."
When asked about solutions that he had in mind to deal with the issue, Modi said: "One solution is that political parties feel determined and don't give tickets to such leaders. But this situation hasn't arrived as of now. I have made up my mind, that this time, the MLAs or MPs who have been elected, to whichever party they belong, even if they belong to the BJP, if they have criminal charges against them, then I would request the SC to set up special courts to try them, and see that all of these criminals cases be disposed off within an year."
"So, that if a person is convicted, and his seat is vacated, then a person of a non-criminal background can takeover. In this way, the criminal layer in politics would be erased," he added.

On whether he would work for a political consensus on this issue in parliament, the Gujarat strongman said: "Every party raises this issue, but nobody actually takes the initiative. I want to do this, and, I think, this is the best way. But, I am open to other good ideas."
Click NEXT to read further...


'If Modi has four FIRs in his name, then it should be tried within a year'
"This should not be taken in a political context to put someone in jail. The real issue is that if Modi has four FIRs in his name, then it should be tried within a year. This is what I am saying. There is nothing vindictive. It's not that we will start a new CBI inquiry or dig out files of certain leaders. I don't want to commit this sin," Modi said.
"I want the credibility of the Indian institutions and the respect of constitutional organisations to increase. If the country stands on multiple pillars of constitutional institutions, it will emerge stronger," the BJP prime ministerial candidate said.
Seeing the issue from a historical perspective, he said: "In the beginning, the leadership that emerged was from the revolution for Independence. Then, it came from social welfare. Then, it went towards casteism. Slowly and slowly, a leadership started emerging through gunpoint. This was a big deterioration, which is of grave concern. Earlier, political parties use to seek the help of criminals for gains. But then, criminals felt that why shouldn't they themselves do this? So, this was the situation which started developing. Even if this was in small percentages like two percent or five percent, it was an issue of concern."
Click NEXT to read further...
'If there is a Modi government, it too should be sensitive on women's dignity'
Taking a dig at the Congress for raking up the snoopgate case, Modi asked the party to set its own record on women safety right instead.
He said: "If you look at the records of crimes against women, out of the first the ten states in the country where the rate is the highest, seven are being ruled by Congress governments, and three are partner states of the UPA."
"Not even one of them belongs to the BJP in that list of the first ten states, and no state belongs to a BJP ally. This is a very satisfying and pleasing record for the BJP, when it comes to dealing with crimes against women," Modi said.
"In our country, crimes against women are not limited to any one family or individual. It is a matter of shame for the entire humanity. It is affecting the image of India across the whole world. That is why, as a government, as a country, as a part of human society, we should try to be more sensitive on this issue," he added.
"If there is a Modi government, then it too should be sensitive. This issue should be kept away from political bickering. The dignity of women should be our priority. I should not abuse the Congress on this issue, nor Rahul Gandhi. I think we will keep on doing our politics, but it will be our mothers and sisters who will continue to suffer, and be insulted. For God's sake, I appeal to everybody (to work to stop such crimes)," Modi said.
Indirectly recalling Samajwadi Party leader and former Uttar Pradesh chief minister Mulayam Singh Yadav's controversial statement that there should be a more forgiving and lenient approach towards rapists, the BJP prime ministerial candidate said: "Recently, Mulayam Singh said something, and then there was the Nirbhaya case going on in Delhi. The media asked me repeatedly, but I maintained that my priority is just ensuring a woman's dignity. If I am blaming other political parties, I am forgettting that I am hurting the dignity of women. That is why I ensure that my thinking is apolitical on this issue."
Click NEXT to read further
'Congressmen talk about figures, which they dream about while sleeping'
Modi also trashed Congress allegations that he had spent Rs 10,000 crore on his election campaign.
"They talk about the figures, which they dream about while sleeping. I have requested (Commerce Minister) Anand Sharma, who has made these allegations, to conduct an inquiry into these allegations, as the present government still has 25 days. Is it not there duty to unearth the truth? Therefore, it is my appeal, and all those who have levelled charges against me, should investigate them," he said.
"The Election Commission has appointed observers for electoral expenses in every constituency. It is scrutinizing everything. Still, I ask the Congress leaders to submit all their evidences with the ECI, and there should be strict investigation into this," he said further.
"Secondly, shouldn't there be a good campaign in the country? I am surprised. I have the power to visit 500-600 zilas of the country, and it is deemed a crime? You should also go. In a democracy, you have a responsibility. It is a different thing that they don't go," Modi said.
When pointedly asked that their (Congress') allegation pertained to a suggestion that "advertisement is good, but there is doubt about the product", the BJP prime ministerial candidate said: "By marketing, they mean Gujarat. Marketing is considered an important aspect in all over the world. But, if I say that I have made a good road here and advertise it nicely, will it be visible to the people? They don't know about marketing. I say that I given water to people. It won't reach through marketing. They will only believe after they get it."
Click NEXT to read further...
'I will rather make a new garden, than wipe out the dirt of others'
The Gujarat chief minister also came down strongly upon the Congress party over the controversy generated by Prime Minister Manmohan Singh's former media adviser Sanjaya Baru's book.
Modi said he would not like to waste his time or energy in investigating alleged leaks from the Prime Minister's Office (PMO), if any.
"I don't take a vindictive approach towards anything. If the people will give me time, then, that will be limited to 60 months. In these 60 months, I will rather make a new garden, than wipe out the dirt of others. I don't want to waste my time in such things, and I have greater things to do. I will invest my time and energy in doing something constructive," he said.
Baru's book, titled The Accidental Prime Minister: The making and unmaking of Manmohan Singh, released just days ago, paints a damning portrait of a premier who was in office, but "not in power" while Congress president Sonia Gandhi called the shots.
Click NEXT to read further...
'Who said what for Modi is a thing of the past'
During the interview, Modi struck a statesman like tone, when he said he wanted to bury a thorny personal relationship with the United States and build on a future that will keep New Delhi's interest at the top.
He said, "Who said what for Modi is a thing of the past. The country runs on the future, and not in the past. Whatever is good for India, will be done."
Talking about nuclear-armed Pakistan, Modi said India's cultural ethos stands for unity, amity and dignity.
"In today's world, we have to move forward together -- fights and wars don't help anyone, but we want to live with dignity, we respect others dignity, and that is what our tradition says," he said.
Modi said he would pursue a policy of continuity based on the approach of former prime minister Atal Behari Vajpayee, who declared a policy of no first use of nuclear weapons after ordering the tests in 1998.
Speaking about India's foreign policy, Modi said only by mutual collaboration, would the country achieve both success and development.
"My upbringing says that we believe the whole world is one family -- we live in the 21st century; it is time to meet eyes, rather than show eyes, we should neither bow down nor be stared at-we have to work with everyone together," Modi said.
Click NEXT to read further...
'Media should become stronger and should criticise more'
Modi also had a word of advice for the media.
Modi said, "I respect the media very much, and in a democracy, it is the job of the media to criticize. If it does not happen, then, it will be very costly for the country."
"Therefore, I pray that the media should become even stronger and should criticise more, as it will benefit the country. But the problem is not the media, it is the news traders which are the problem today. Media and news traders are two different things. News traders have vested interests. They have sponsors. The country has to be made aware about the real media and news traders," he added.
"Improvement cannot be done without criticism. It is impossible. Does Modi not have any shortcomings or faults? Does he not have negatives? Who will tell that? The media should point that out," he said.
Modi also said that he was not in the business of settling scores with rival politicians or political parties. He said his track record of the last 14 years in Gujarat proves this.
"People have not chosen me for score settling or, to do some wrong to a particular leader. The priority of the government is ensure the maximum welfare of the people. If we indulge in political score settling, then we will never be able to do any good work for the people. There is no negativity inside me. I keep working like a crazy person for positive work," he added.