Shailajanand Mishra lists The Top Videos of the Week! Take a look.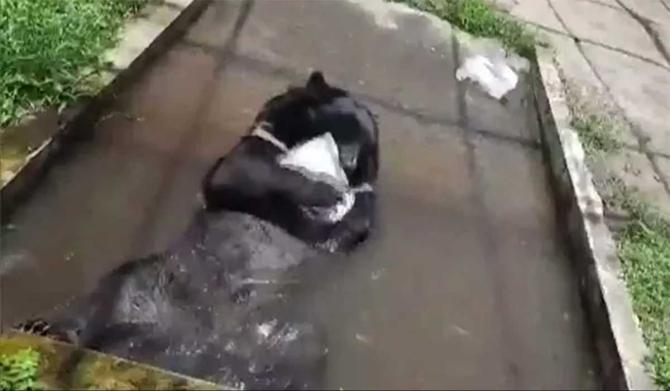 Every week is full of newsworthy events. And we make sure we bring you the most interesting ones, with a special twist.
These videos are chosen by you, through your likes.
So if you'd like to see your favourite video on our weekly round-up, please make sure you like them on iShare.
---
Why is the Jog waterfall drying up?
Date: July 9
Location: Shivamogga
Powerful. Beautiful. Mesmerising.
Unfortunately, the famed Jog waterfalls seem to be losing their magic.
With the Western Ghats and the Sharavathi valley still thirsting for an adequate amount of rain, the waterfall has lost its vigour. The normally lush greenery surrounding the falls too has faded.
---
Simply Stunning! Simply Shilpa!
Date: July 9
Location: Mumbai
How does she do it day after day, week after week, year after year?
Shilpa Shetty Kundra put in another gorgeous appearance at the promotion of her coming film, Hungama 2.
Co-actor Meezaan was present as well.
The Priyadarshan-directed film is set to stream on Disney+Hotstar from July 23.
---
Wow! Meet this 11-year-old yoga teacher
Date: July 10
Location: Thoothukudi, Tamil Nadu
She's just 11 years old.
And she already holds 41 world records in yoga and swimming.
K Prisha, who belongs to Tamil Nadu's Thoothukudi disrict, is also one of the youngest yoga trainers in the world.
---
Just chillin! Himalayan black bear enjoys ice bath
Date: July 11
Location: Siliguri
This Himalayan black bear, part of the Bengal Safari Park, was feeling hot.
So he got blocks of ice to play with.
; 'The temperature was high. So, to cool it down, we arranged for ice blocks. The animals were happy to get the ice blocks,' said Badal Debnath, director, North Bengal Wild Animal Park, Bengal Safari Park.
---
Hats off! They're using their pension to fill potholes
Date: July 11
Location: Hyderabad
Since the last 11 years, this is what an elderly couple from Hyderabad has been doing with their money.
They have been filling potholes across the city with just one aim -- to prevent accidents.
In fact, 73-year-old Gangadhar Tilak Katnam is popularly known as the 'Road Doctor'. Katnam and his wife Venkateshwari, 64, set out regularly in a car, which they call the 'Pothole Ambulance', and fill potholes wherever they find it.
Speaking to ANI, Katnam said, "After witnessing several accidents on the roads because of potholes, I decided to do something about it.
"Initially, I would complain to the municipality officials and the police, but it didn't help. So I decided to fill the potholes myself."
Tilak worked in the India Railways for nearly 35 years. After his retirement, he came to Hyderabad to work as a software design engineer but quit within a year to fulfil his dream of making his city pothole-free.
---
Manipur's apple revolution
Date: July 11
Location: Ukhrul, Manipur
For the first time in its history, Manipur's Ukhrul district is going apple-crazy.
Earlier, apples were not cultivated here due to low yield and low demand.
But three young farmers -- Ringphami Thingshung from Hungpung (Dungrei), Somayo Kashung from Shokvao village and Sandosh Horam from Litan -- have created an apple revolution of sorts.
They confined themselves to their apple orchards, nurturing apple saplings of different varieties, including Anna, Dorsett Golden and Sun Fuji.
They got the idea after attending a workshop on apple cultivation in Himachal Pradesh. This workshop was organised by the North Eastern Council and sponsored by the Council of Scientific and Industrial Research. Their aim was to convince villages in the north east to experiment with a pilot project for apple cultivation.
---
Photographer saves woman from drowning
Date: July 13
Location: Mumbai
The Gateway of India is a lovely place.
A 97-year-old monument that's open to the people.
In the backdrop is an even older institution, the 118-year-old Taj Mahal Palace hotel, which stands even taller after the 2008 Mumbai terror attacks.
Enclosing all this is the magnificent Arabian Sea where boats bob, offering joy rides.
Photographers roam around, offering to capture you against your favourite backdrop for a few rupees.
A safety wall a offers place to sit and stare at the ocean or munch on a quick snack.
But people can get careless and end up in the water.
A similar accident took place on July 12, when a woman sitting on the safety wall lost her balance and fell into the sea. Fortunately, she was rescued by an alert photographer.
---
Imagine being arrested on your wedding day!
Date: July 14
Location: Pune
Yes, you are the queen on your wedding day.
You want to capture every moment for posterity.
But, in these dangerous times, rules are sacrosanct. For your safety, as well as the safety of others.
So posing on the bonnet of your car without a mask is a big no-no.
The bride's co-passengers too were not wearing masks.
And all this was captured by the bride's videographer, shooting what he thought would be an unusual video at Pune's Dive Ghat.
The video went viral and the police certainly found it interesting. A case has been registered against the bride and her companions.
---
Feature Presentation: Ashish Narsale/Rediff.com