'An armed helicopter equipped with counter-drone systems will provide the airborne counter-drone capability and flexibility needed to protect India's critical assets.'
The drone attack on an Indian Air Force base in Jammu on June 27, 2021 has raised new defence challenges for India.
In the attack, two drones dropped an IED (improvised explosive device) each; while one broke through the roof of a building, the other injured two IAF personnel. Each IED was packed with high grade explosives.
In order to understand the latest defence challenge facing India, Rediff.com's Prasanna D Zore spoke to Group Captain Rajiv Kumar Narang (retd).
Group Captain Narang was awarded the Vayu Sena Medal for his services to the nation. His book, India's Quest for UAVs and Challenges includes an in-depth analysis of the Indian, Chinese and Pakistani drone industries.
The first of a multi-part interview:
What is the future of drone warfare in India?
India faced its very first drone attack on its airbase on June 27, 2021, which opens up the possibility of more drone attacks by terrorists and adversaries in the future.
Drones will transform aviation and the industry cognizant to that fact.
I had deliberated on the potential challenges that were likely to be posed by small drones in my paper, Armed sUAS Swarms: Big Threat of Small UAS (you can read the paper here [external link]) in 2019.
India as well as the global community was aware of the potential, and threat, presented by drones.
India is pursuing a number of UAV (unmanned aerial vehicle) programmes, including the Unmanned Combat Aerial Vehicle (UCAV) and Rustom-II Medium Altitude Long Endurance (MALE) UAV programmes.
The Indian Army demonstrated an armed UAV swarm on January 15, 2021.
As regards to its UCAV programme, it has modified its approach and opted to develop a Stealth Wing Flying Test Bed (SWIFT), which is a small scale model UCAV to test UCAV technologies and systems prior to developing a full scale UCAV.
This will reduce development cost and the cost of any failures during the development process, which is a smart move.
There is a need to revisit the Nishant and Panchi UAV programmes, which can be modified to develop India's own search and strike (loitering) armed UAVs.
Also, India has the Rustom-I, which is a reliable platform.
Miniaturisation of sensors and weapons is needed to leverage its capabilities for ISR (intelligence, surveillance and reconnaissance) and armed roles.
Hindustan Aeronautics Limited's proposed Combat Aerial Teaming System (CATS) programme -- comprising a mother ship, warrior drone and missiles -- could become a system for the future.
The significant aspect of this programme has been its flexibility, which can use proven LCA (light combat aircraft) or transport or helicopters as mother ships.
However, in order to prevent duplication in research and development, it would be prudent for HAL to collaborate with DRDO's (Defence and Research Development Organisation) ADE (Aeronautical Development Establishment), which is developing the SWIFT as a potential warrior.
For rotary mother ships, it can examine HAL helicopters; however, it would need to study the potential of using transport aircraft being manufactured/developed by other HAL units, National Aerospace Laboratories and the DRDO as mother ships.
This leaves India with a gap when it comes to developing High Altitude Long Range (HALE) aircraft to provide ISR and armed strike coverage along its long borders. This gap needs to be examined and a domestic programme initiated at the earliest, which would take its own time.
Another area India needs to focus is on is developing airborne counter-drone capability.
An armed helicopter equipped with counter-drone systems will provide the airborne counter-drone capability and flexibility needed to protect India's critical assets.
I believe the Light Utility Helicopters (LUHs) and Light Combat Helicopters (LCHs), which have higher speeds and perform better, are potential contenders for a counter-UAV role.
The LUH can have counter-UAV as an add-on system while the LCH can be equipped with counter-UAV systems.
India has the potential to develop manned and unmanned systems.
To make these technologies sustainable, it has to be led by the civil industry because if your industry is economically viable, you don't have to worry about economies of scale.
We also need to create more export potential for the domestic drone industry.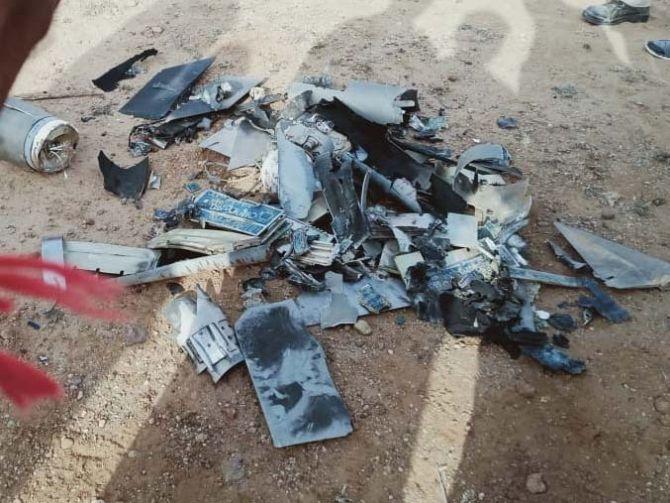 Talking specifically about the drone attack on the Jammu air base, what measures should be taken to degrade or neutralise rogue drones in future?
The new challenge is posed by small, slow, low-flying drones having low radar signature.
The detection systems include radars, RF (radio frequency) and acoustic sensors, while neutralisation systems include RF and GPS (global positioning system) jammers, GPS spoofing systems, lasers and microwave systems.
The laws of physics indicate that radar sensors will pick up small drones at relatively smaller ranges. In addition, RF and acoustic detectors can be employed at shorter ranges.
A number of soft and hard kill technologies are being developed to neutralise rogue drones.
Lasers can physically damage a drone while microwave systems can damage its electronic circuits.
The trend in counter-UAVs development is heading towards hybrid systems that have multiple detection and neutralisation abilities.
However, the effectiveness of these systems, and the potential for their employment on airborne platforms, would depend on their miniaturisation and robustness.
These counter-drone systems would need to be integrated with existing command-and-control centres, especially the legacy systems.
The legacy air defence systems have to be upgraded or modified to counter the new challenges posed by small drones.
The synergy and integration between the police (of various states and Union Territories) and the military would be another key pillar of the counter-UAV ecosystem.
The small drones can be launched from restricted spaces in civil localities that are away from military and strategic installations and flown remotely to their intended targets.
The best way to neutralise a drone is to prevent it from getting it airborne, which can be done by effective intelligence and ground action.
To achieve this, standard operating procedure and joint training mechanisms would need to be formulated with police and civil agencies.
Local people can become the eyes and ears of police and defence forces. An aware public can help prevent attacks by rogue drones.
Indian public and private sector companies are developing counter-UAV systems with soft and hard kill options.
DRDO has collaborated with Bharat Electronics Limited for supplying a hybrid detection and neutralisation system.
It would be best for India to procure some of the domestically designed counter-UAV systems and commence the process of integration.
The evolving nature of small UAV threats necessitates refining and upgrading these systems and building a robust counter-UAV network.
Another challenge relates to scale of production by domestic companies.
India faces a pan-nation threat, which necessitates induction of counter-UAV systems in large numbers.
The Indian counter-UAV industry is led by young startups and MSMEs (micro, small and medium enterprises). They lack the resources, capital and expertise for formulating business strategies.
This gap can be filled if larger industrial houses, instead of collaborating with foreign vendors, start hand-holding promising domestic startups and innovators so that they can scale up production and build business strategies.
The advantages of indigenously designed, developed and manufactured drone and counter-drones systems are many. For one, they can be upgraded.
Secondly, the money spent on domestic products is being circulated within your own economy, which helps in creating jobs, building allied industries, increasing export potential and saving precious foreign exchange.
---
Group Captain R K Narang (retd), Vayu Sena medal, is a pilot, author and policy analyst. He has earned more than 4,700 hours of flying experience in his 31 years of service in the Indian Air Force.
An alumnus of the 57 Defence Services Staff College, Wellington, Tamil Nadu, he has an MSc in Defence and Strategic Studies and is pursuing his PhD.
He has served as a Research/Senior Fellow at the Centre for Air Power Studies from 2014 to 2019.