'If we vaccinate quickly, it could be pushed to January, February and the longer it can be pushed, the smaller the wave is likely to be, because by that time vaccination will scale up.'
Caution: Graphic content. Viewer discretion is advised.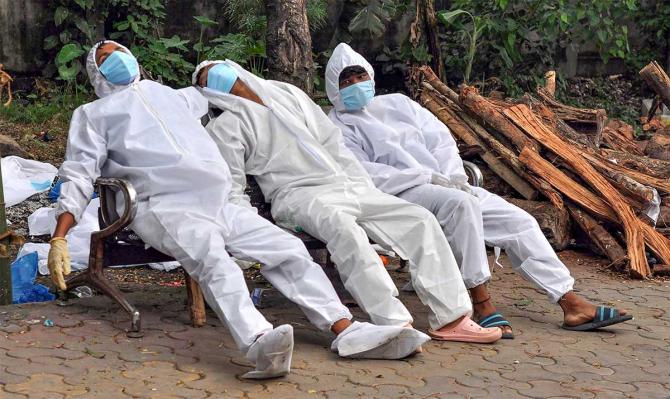 How many of us died in The Terrible Wave II of COVID-19?
As per government figures, 410,784 Indians (up to July 13) have died from COVID-19 of which a large proportion were this year.
And people are dying still. Every day. People you know. People for whom we numbly offer condolences, for which words fail us, for which words have run out, day after day.
But these numbers are not the real story.
We all know that.
Even the World Health Organization advocates multiplying the death count by two or three times.
Any death count. Any country.
Miscounting is the norm in pandemics, especially COVID-19, a disease that causes all manner of fatalities.
By that WHO thumb-rule, India might have lost, tragically, devastatingly, over 1.2 million people and counting over the past 500 or so days.
Different state governments have already started recounts of the deaths.
As shocking as it is, it is vital to have the right statistics to fight future waves. That realisation has come a little late. Better late than never.
For example, when Bihar was forced, by the Patna high court, to recount its death toll in early June, it added 4,000 more deaths and that saw India's entire death toll bumped up, manyfold, on June 9, thanks to this addition to the total and India topped fatality numbers, recording the highest deaths on one day for any nation during this pandemic.
Similar exercises were done in Maharashtra, Andhra Pradesh, Jharkhand and other states, giving a startling window into the true nature of our tragedy.
Dr Chandrakant Lahariya, who dons a range of medical coats -- epidemiologist, vaccinologist, public health specialist, preventive medicine expert -- and was working with WHO till April 2021 on strengthening health systems and vaccination programmes, says taking into account that death figures will be incorrect, "India should focus on estimated COVID-19 deaths for effective pandemic response, rather than be too focused on officially reported COVID-19 deaths."
The physician, who earned his qualifications (MBBS, MD, DNB, MBA, PGDHHM, FIPHA, FRSTMH, FICMCH, MNAMS) in Delhi, Geneva and Paris, in Part III of the interview to Vaihayasi Pande Daniel/Rediff.com also explains what we can expect in the next wave.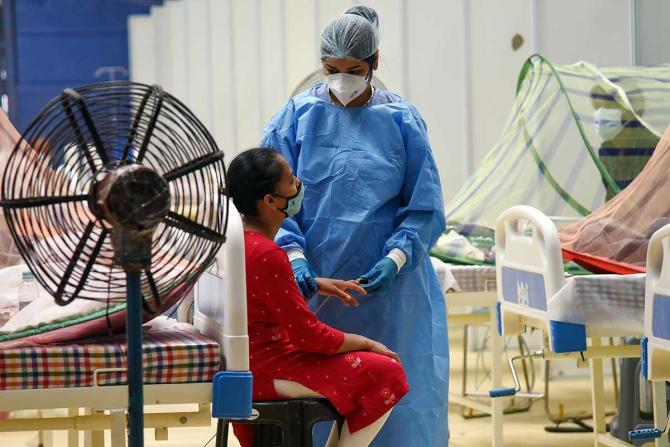 Let me ask you about the second wave and the third wave.
And everybody's already setting dates for a third wave and one's understanding is that it is hard to have such a timeline.
What are the key lessons that have to still be learned, as we get past the second wave and what are the preparations required for any future waves, should they exist?
When we know that the world is still mid-pandemic and the virus is widely circulating -- like India today (June 22) reported 42,000 new cases -- the relevance of whether the second wave has ended or when third wave would start, is very minimal.
It's only of academic significance, when in the retrospective you go back and say well, this is the point when... For all practical purposes it has no relevance for the general public, whether the wave has ended or when it ended. Till the pandemic is there in the world, we all have to follow COVID-19-appropriate behavior.
As far as the third wave is concerned: This is a reality that there would be more waves. As long as there is susceptible population, there will be additional waves, which will be reported from India.
Now when that would happen, that also depends upon what definition we take. Some of the states might have an early experience of the next wave.
For example, if in the rest of the states, the cases are declining, and in one of the states, the cases start increasing the national average will remain same. So, you will not see at the national level that there is a Wave Number 3. States might have a wave at a different period of time.
When India had its second wave, for instance, Delhi had its fourth wave.
A wave is just a pattern which we see of a rise in COVID-19 cases and then a decline in a certain setting (plac/region).
As far as a national wave is concerned, the broader principle is that (it comes along) when susceptible population increases (over period of time), when there is decline in adherence to COVID-19-appropriate behaviour, over a period of time and around the time of festivities and there is, the possibility of emerging variants. Also when there is waning of the immunity, because we know that the immunity is likely to decline over a period of time.
On that basis, experts have argued, going on the behaviour, variants, immunity, vaccination drive and other aspects, they have estimated that around November this year there could be a national wave.
If we vaccinate quickly, it could be pushed to January, February (next year), and the longer it can be pushed, the smaller the wave is likely to be, because by that time vaccination will scale up.
But the next wave can happen in September as well -- because of the way people are behaving, like if you see Delhi, there are so much crowds, at many places, in nearly all markets.
This appears to be worse than what we saw after the first wave. At least, at that time, people were little scared of the virus and the disease.
Right now, people see this as an opportunity and that this is the only window where they can do certain things. They know that there is talk of a third wave. It seems people simply want to go out and do things (complete certain tasks before that).
This is a matter of concern. And that increases the possibilities of a local wave.
One can be assured of the fact that the subsequent waves are likely to be smaller than the second wave. The second wave was the biggest and gave that kind of immunity to Indians.
About 60 to 70 per cent of the population already developed the infection it is estimated, and with vaccination scale up, I think, the next wave will be very small.
It will definitely not be of the same level as the second wave.
But having said that, again, there are a few unknowns. The emergence of a new variant, which is highly transmissible, which may cause more breakthrough infections (in those already vaccinated).
All of these possibilities and that will determine the timing and scale of the next wave.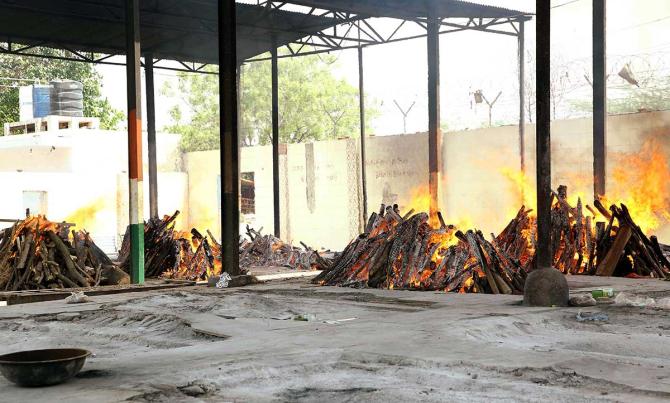 There has been this under-reporting of COVID-19 deaths. One needs to have a very good picture of the damage that the second wave has wrought.
It's important to have a good idea of how many deaths and casualties there were.
How can this happen in this kind of very foggy and cloudy environment?
So, I'm not sure whether you came across a piece I wrote, which was published in The Hindu, where I argued why India should focus on estimated COVID-19 deaths for effective pandemic response, rather than be too focused on officially reported or administratively reported COVID-19 deaths.
Of course, there is no doubt that the absolute number of deaths or actual number of deaths, due to COVID-19 in India, and in any part of the world, would be far higher than officially reported numbers.
The World Health Organization has estimated that, for the globe, the actual number of deaths would be two to three-fold of the officially reported deaths.
So that's a reality, especially in a country like India, where though death registration rate has improved, but medical certification of the causes of death is really low. Against this backdrop, it's not surprising that COVID-19 deaths are being underreported, with all the ground evidence proving the contrary (the high number of deaths).
In The Hindu piece, I argued many things, but one of the things I said was that the biggest evidence that deaths are being under-reported is when the governments of Bihar, Maharashtra, did a review or reconciliation audits, the number increased by three-fourth and that was just a very quick and dirty type of audit.
If all the states will do that, the number will go high.
We know that at the current death rate of seven per 1,000 population per year, in a village of 1,000 people, every two months, there will be just one death.
But anybody who is connected to villages -- many of us have roots in villages or at least know directly or indirectly -- we know that in the months of April and May instead of one death, which would have occurred otherwise, four to six deaths or even more have been reported in many villages.
If we take it that in the 660,000 villages across India, if even two additional deaths have occurred, in that period, it would convert to 12 lakh or 13 lakh deaths.
This number could be realistic. There is no doubt. Lower bounds (estimate) of three or four times and upper bounds (estimate) of about eight times or even 10 times is not unrealistic.
It is an advantage to a (state) government to (get a proper death count done) -- if the government wishes to avoid and debunk speculation - the best-known approach is to get an audit done and to get the real numbers.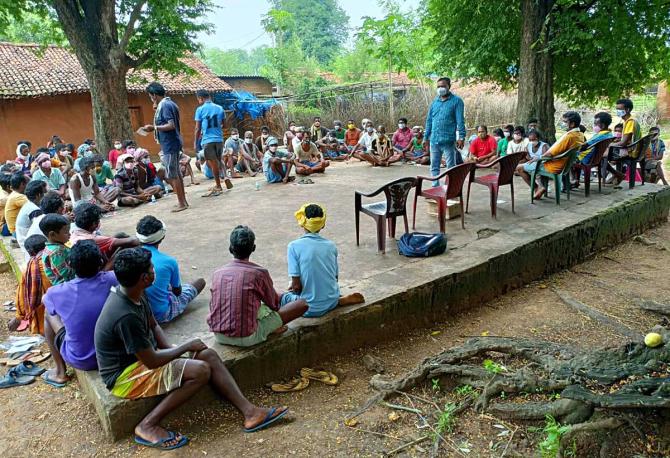 If they are willing to work with public health experts and epidemiologists?
No. No.
The government themselves can do it.
Ultimately, all of those efforts have to come from the government. Technical guidance can be provided, but sooner or later, it needs to be done and it can be done in real time.
Jharkhand conducted surveys in rural areas, in 10 days, to count the number of deaths. The state governments have that kind of machinery. Panchayats are self-dependent. If every panchayat is tasked with counting the number of people who have died and it is collated, it would not take that much of time.
It can be collated and a week's time is enough, if there is willingness at the state government level.
Of course, following that, putting the causes of death into the picture (is required) but counting the deaths in this period can definitely be done.
And Jharkhand has shown the way, even though it's considered a backward state?
We need to remember that Jharkhand is a largely rural, with tribal populations, difficult to access and even then, they shown the will and counted deaths.
I think that's a very good start.
Counting the excess deaths does not mean that all of those deaths happened due to COVID-19. Many people are arguing that the other non-COVID-19 services were not available, and people may very well have died of non-COVID-19 causes.
But all that needs to be identified -- why people died. And that's how we prepare for the future.
If more people are dying of non-COVID-19 causes, then strengthen non-COVID-19 services as well and urgently.
Feature Presentation: Ashish Narsale/Rediff.com