Who looks after them?
A Ganesh Nadar/Rediff.com finds out.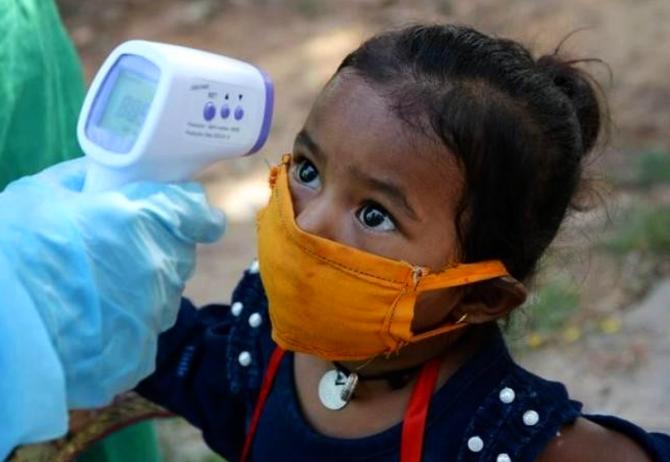 Families across India have been devastated by COVID-19.
The most tragic impact, however, has been borne by the children who have lost one, or both parents to the coronavirus.
Rediff.com had spoken to the chairman of the National Commission For The Protection Of Child Rights, Priyank Kanoongo, who shared the NCPCR's plans to care for the children orphaned by the pandemic.
Kanoongo explained that child welfare committees exist in every district, as do child protection units. Both these departments work under the ministry for women and child development. While the child's responsibility lies with the child welfare committee, the child protection unit monitors their work.
Rediff.com spoke to the officials in three districts to find out how these orphans are being looked after. "It is a work in progress," said the officials, "because the numbers change every day."
Mumbai has 254 children who have lost parents to COVID-19. While 249 children have lost a single parent, five have lost both parents.
Sneha Joshi, the probation officer who heads the child welfare committee in Mumbai, spoke about the five children who lost both their parents during the second wave.
"The youngest among them is a four-year-old girl. There was a gas cylinder explosion in her house in which both her parents were injured. After they were admitted in hospital, they were found to be COVID positive."
"The child is now living with her maternal grandmother. We went and met her. She is fine," says Joshi.
"We will create a fixed deposit of Rs 5 lakhs in her name. We will give her a document staying she is an orphan. We have started providing Rs 1,100 for her care and will help with her education," Joshi adds.
The child welfare committee is also supervising a girl who has completed Class 12 and her younger brother, who is in Class 9. The siblings lost their parents to COVID. They continue to live in their home and are being looked after by their uncle. The government will look after their education.
Another child the child welfare committee is in touch with a Class 8 girl who is living with her aunt after she lost both her parents.
"We are also supervising a 11-year-old girl who lost both her parents. Her father was a policeman. We have provided a job to his brother. The girl is living with her father's sister," says Joshi.
"We are providing all help to these children with their education, welfare and everything else they need till they are adults and are able to look after themselves," she adds.
In Mumbai's neighbouring district, Thane, 959 children have lost their parents to the pandemic. Of these, 29 children have lost both parents.
The children will get a monthly amount of Rs 1,125. Those ones who have lost both parents will have Rs 5 lakhs deposited in their names. The principal and interest will handed over to them when they turn 21.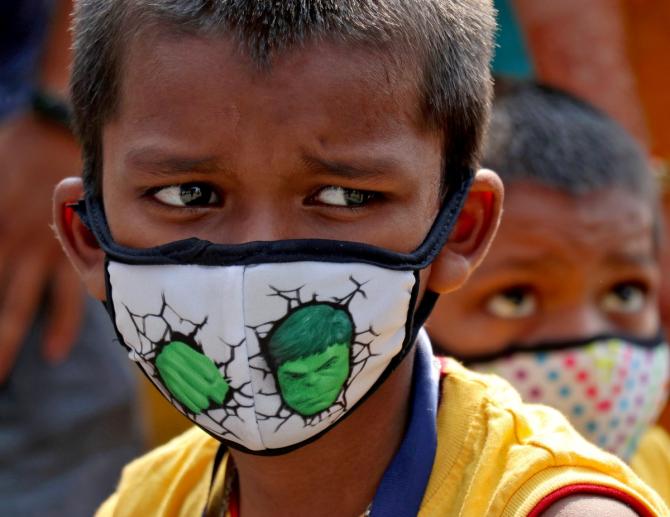 In Rajkot, of the 237 children who have lost a parent, 44 have lost both.
"The youngest among these 44 is a one-and-a-half year old boy. Others include a five-year-old boy and a five-year-old girl," says Rajkot's Child Protection Officer Mitsu Vyas.
"After meeting all 44 children, we found 43 of them have family who are willing to look after them. They are living with their uncles, aunts and grandparents. One 10 year old is in a shelter home as he doesn't have any close family. His father died due to COVID; he had lost his mother earlier," says Vyas.
"The children will be given Rs 4,000 every month under the Mukhamantri Bal Seva Yojana till they turn 18. If they continue their studies, they will get Rs 6,000 a month till they turn 21."
"We will help them get admission in school. We will look after their education, welfare and health," says Joshi. "After school, if they want to join a college or an ITI, we will help them get admission. We will look after their welfare and help them become eligible for a job."
Lucknow has 122 children who have lost their parents.
"Under the chief minister's Bal Seva Yojana," says Sudhakar Pandey, the child welfare committee's district probation officer, "the children will get Rs 4,000 till they are 18 years old. We are in the process of filling in forms with all their details and we will give them the help they require till they become adults."
Looking after these children is a long term process and both the child welfare committees and the child protection units will have to work diligently to secure their future.
Feature Presentation: Rajesh Alva/Rediff.com