Two years ago, Inspector Stephen Jose told his colleagues he was going to participate in a body-building contest. He was 48.
They didn't think he was serious. But he was. In January 2022, he became Mr Tamil Nadu.
A Ganesh Nadar/Rediff.com reports.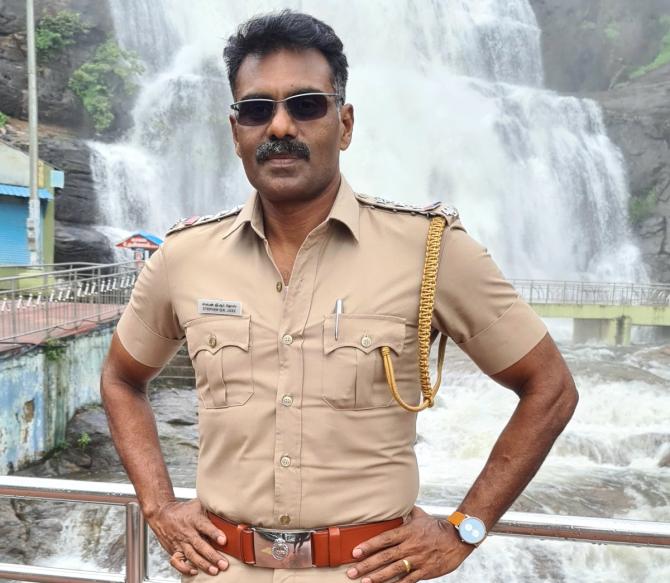 If there is one thing that characterises Stephen Jose, it's determination.
When he sets his mind to something, he almost always achieves it.
Two years ago, he told his colleagues he was going to participate in a body-building contest. He was 48. They didn't think he was serious. In fact, it became a bit of a joke.
But Inspector Stephen Jose, who is presently posted at the Courtallam police station in Tamil Nadu's Tenkasi district, was true to his word.
In August 2019, he participated in his first state-level bodybuilding contest in Madurai in August 2019. And, in this very first attempt, he won the 'Best Physique' award.
It gave him the confidence to move ahead.
His next attempt was the Mr Tamil Nadu title, but, first, he had to win at the district level. And he did. On December 19, 2021, he won the Mr Tirunelveli title. At the state level, though, he ranked third.
Inspector Jose saw this as a stepping stone, not as a failure.
Finally, on January 2, 2022, at the age of 50, he won the Mr Tamil Nadu title. As he had told his colleagues he would.
This time, no one was laughing; they were proud of their colleague's achievement.
Especially since the youngest contestant was 21 and the contestant closest to Inspector Jose in age was 41 years old.
His journey was not without challenges.
For one, he was much older than the other participants.
Besides, in 2010, he was in a bad road accident in which the elbow joint of his right hand was shattered. Post the bike accident, he could not even lift a glass of water. But, as Inspector Jose himself says, hard work, determination and physiotherapy can achieve miracles.
Over time, he recovered his strength and could lift weights again.
In 2016, he had another accident. This time, both his knees were damaged. They still hurt -- as does the ankle of his right leg -- when he walks on uneven surfaces but that does not stop him from focusing on his goal.
Due to a ligament tear, he has been advised surgery on his left shoulder, a decision he is still mulling over.
"I am managing now but, during competitions, it is painful," he confesses.
These were but pauses in his fitness journey and his goal of becoming Mr Tamil Nadu.
Now, his focus is on his next milestone.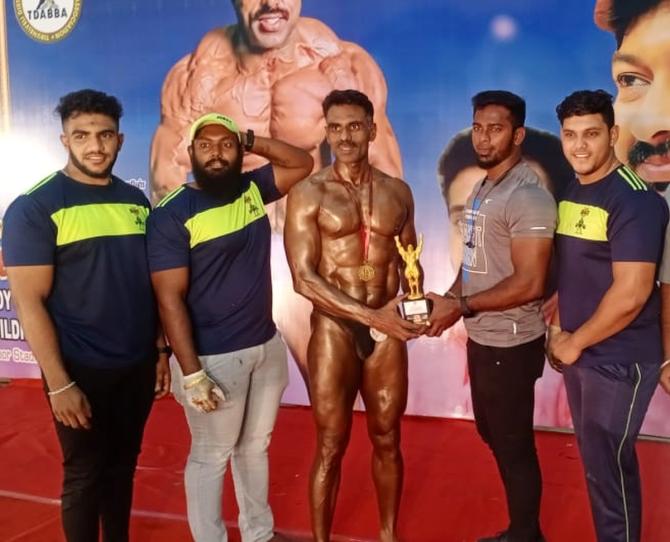 Courtallam, which is known for its waterfalls, has a very busy police station. During his shift, Inspector Jose could not take time to work out. So, once he decided he would participate in the competition, he began working out in the morning before leaving for work.
He would get up at 6 am and spend two hours in the gym.
As the competition date neared, he began exercising in the evening as well.
Besides, once a week, he cycles 40-50 km. He also runs the same distance once a week.
After he became Mr Tamil Nadu, Tenkasi Superintendent of Police R Krishnaraj has given him permission to work out daily.
Inspector Jose is grateful; he plans to participate in the Mr India contest, which is scheduled to be held in April-May this year. The extra training he can now put in will, he says, help.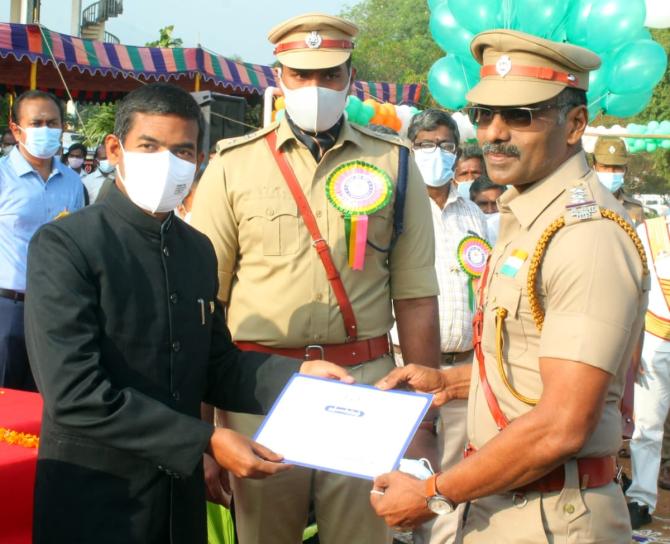 Fitness has always been a priority for Inspector Jose.
He was an athlete in both school and college, where he played football, basketball and cricket.
Even then, he was interested in fitness and kept in good shape by cycling, jogging and trekking at least five days a week.
The results showed. In 2019, his gym trainer suggested he try competitive bodybuilding. Inspector Jose found the idea appealing.
Now that he was preparing to compete, he modified his diet and exercise routine. He opted for a no-carb, protein-rich diet that included fruits, vegetables, chicken and egg whites. He increased the time and intensity of his exercises. And he spent a little more money on his food.
His family -- his wife is a psychologist; his elder daughter is a law student while his younger daughter studies in Class 12 -- are supportive and proud.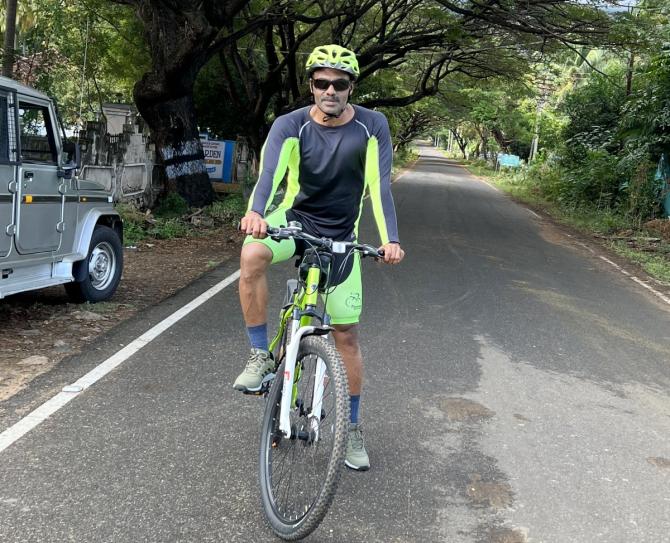 Inspector Jose has not decided for how long he will continue to participate in body-building contests.
"I want to motivate youngsters, but it also depends on my fitness level," he says with a firm touch of practicality.
Youngsters interested in body-building, he says, should only start training after Class 12.
"Don't take unnecessary medicines. People think you can win with steroids but that is wrong," he says. "Avoid oily food, sweets and junk food."
The competition's toughest part, he says, is posing on stage for three to four rounds. "It is difficult and it is important to maintain your energy."
Meanwhile, Mr India beckons. And Mr Tamil Nadu is ready.
Feature Presentation: Rajesh Alva/Rediff.com