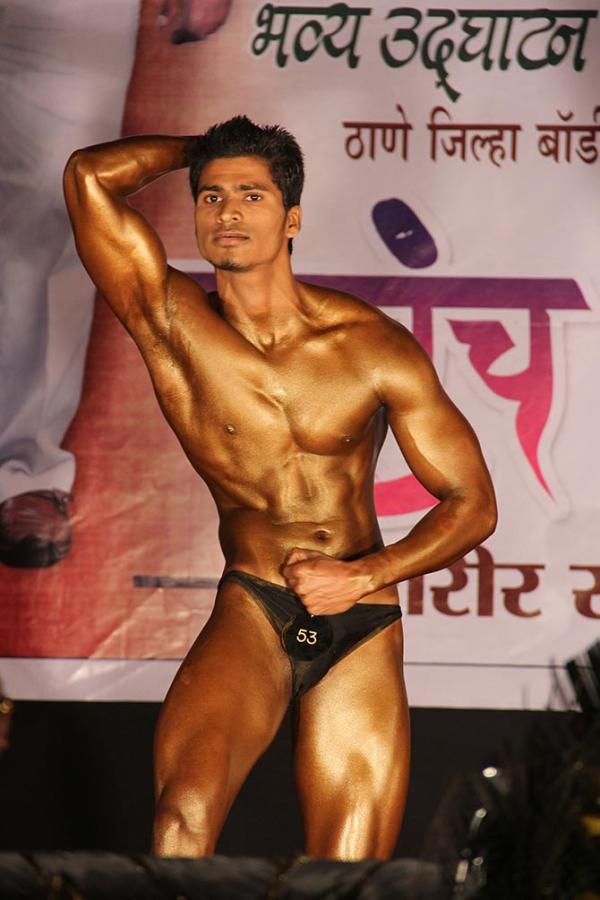 Body-building and the traditional form of kushti (wrestling) reign supreme in this little village near Mumbai.
Will Salman Khan. whose farm house is not too far away, drop by for some tips?

Text and Photographs: Uttam Ghosh/Rediff.com
From being submerged under 10 feet of water in 2005, when an unexpected rain-induced flood savaged Mumbai, to today -- when you see Audis and Mercedes Benz cars whizzing by -- Vichumbe village near Panvel has donned a new avatar.
Not very long ago, all you would see at Vichumbe -- which is located on the outskirts of Mumbai -- were paddy fields and vegetable patches. After the flood, it resembled a ghost town.
Now, with an upcoming airport, property prices have zoomed and ushered in an era of prosperity.
It isn't uncommon to find expensive cars being driven by young men in the narrow crowded lanes of Vichumbe.
Even so, some things haven't changed.
Baliram Patil, the former sarpanch of the village, continues to hold sway. His love for bodybuilding and the traditional form of kushti (wrestling) has meant that, despite the unplanned developments, there is a gym here and an akhara there where several young men sweat away the hours as they practise for the sport.
There are several local competitions where young men compete to prove they have the best body in Vichumbe. Uttam Ghosh/Rediff.com was a fly on the wall at one such event.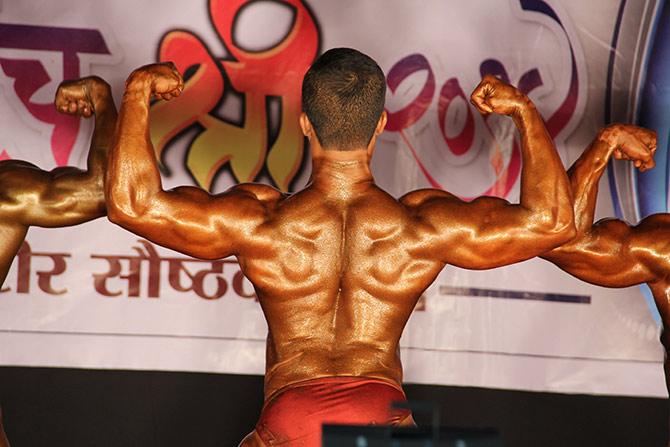 Young and well-built, the contestants quietly gather at the venue. In the photograph above, a young man displays his rippling back muscles.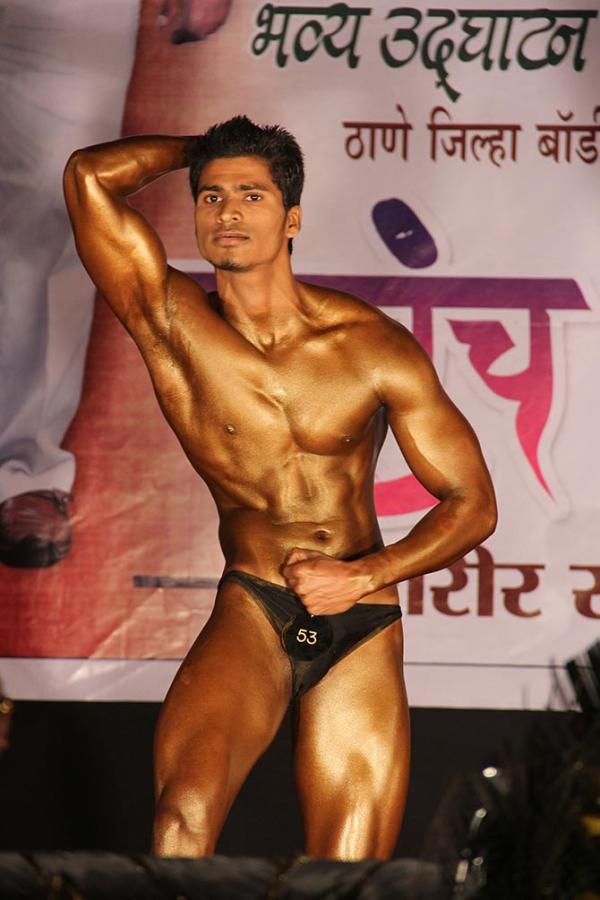 Most of them know each other well since they usually meet at competition venues. They also seem to have a general idea of who would win or lose. This contestant displays his sleek side abs.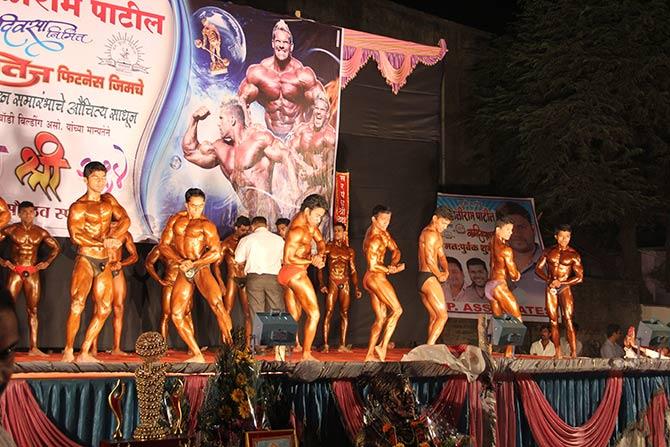 Yet, the competition is stiff.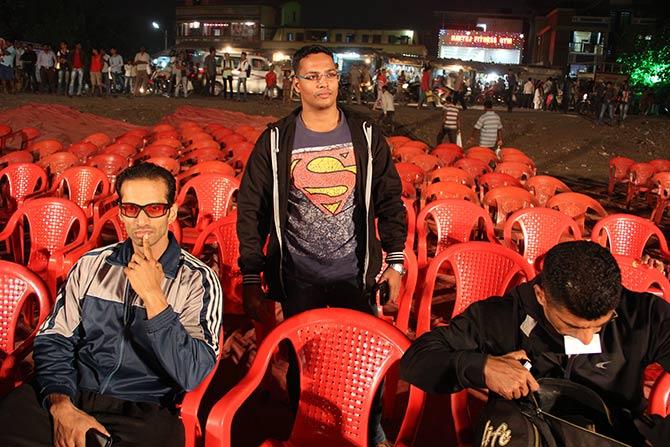 "The body loses a lot of water when flexing muscles," says Faisal Khan from Ulhasnagar. He is supporting his gym owner and instructor, both of whom are participating in the competition.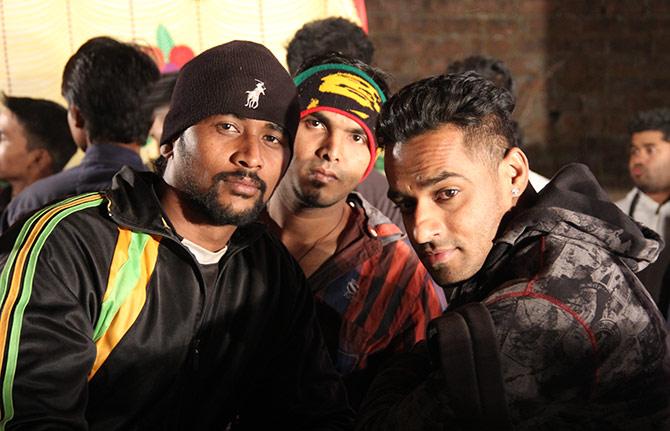 Dressed in hooded jackets and dark glasses, the competitors come armed with painkillers; two types of skin tan -- one golden and the other red; drinking water and a costume.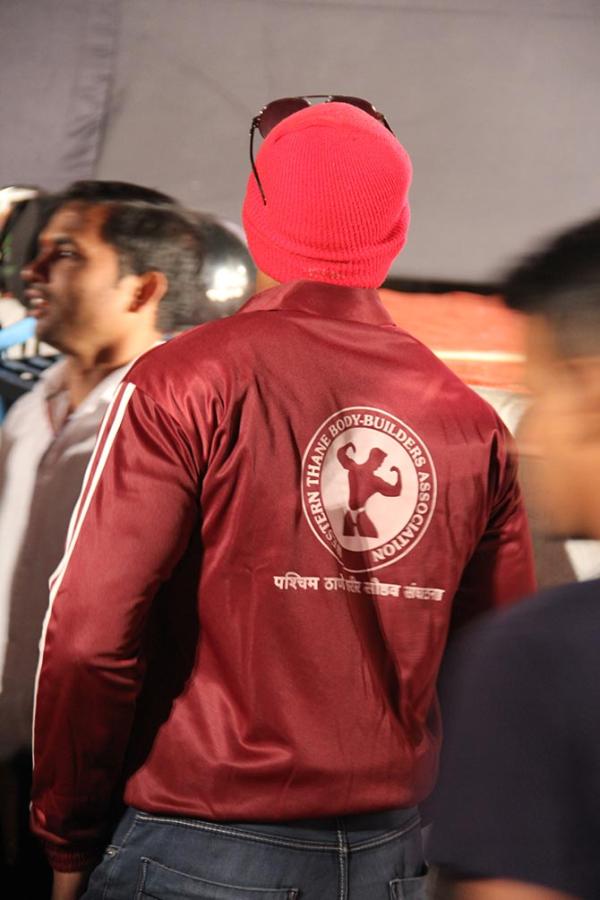 "These boys are poor and eat what their mothers and sisters cook at home," says one of the organisers.
The contestants come from nearby Raigad, Kalyan, Thane, Ulhasnagar and even Mumbai.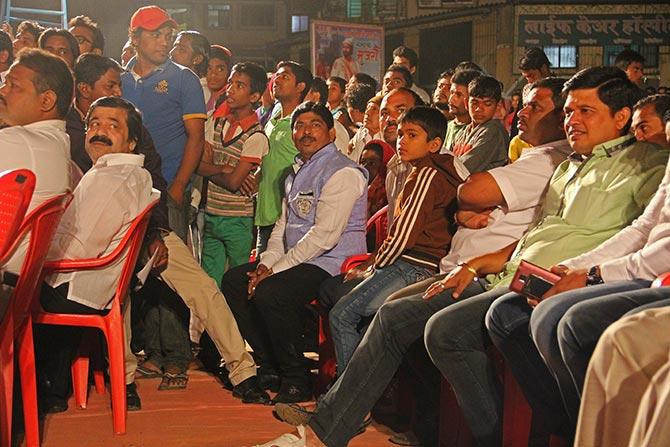 Despite the chaos and haphazard development, ex-sarpanch Baliram Patil, centre, has successfully nurtured body building and old style kushti on the red mud in his village.
Some years ago, he celebrated his birthday with a wrestling competition; in 2015, the competition was devoted to body building.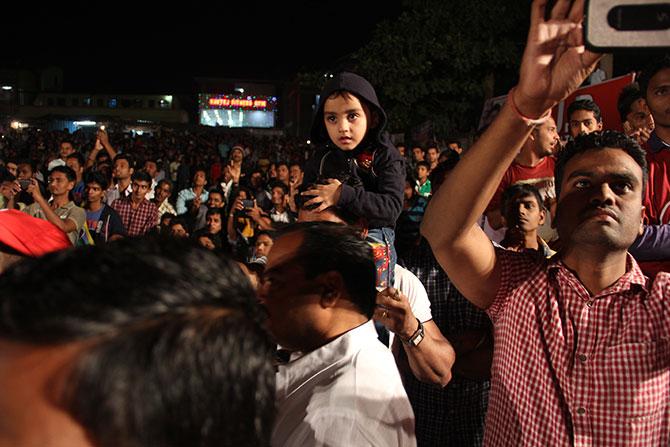 These events draw a loyal crowd, many of whom click photographs of their favourites on their cell phones.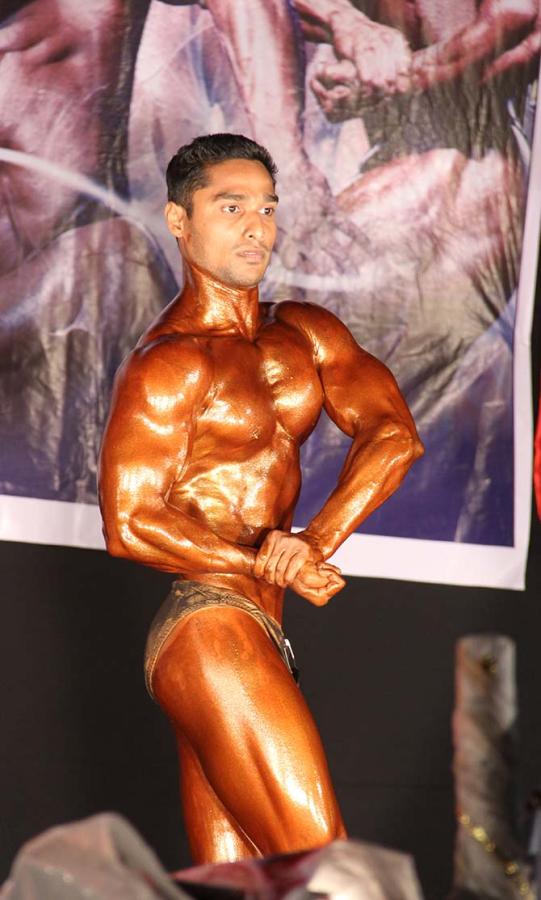 This contestant has opted for the red tan.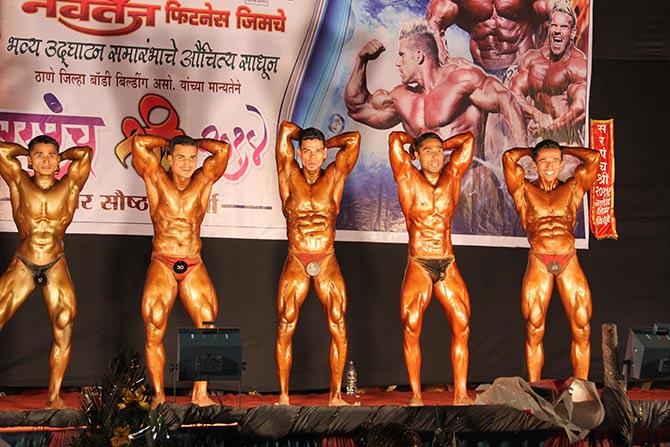 The abs that will give Bollywood a run for its money!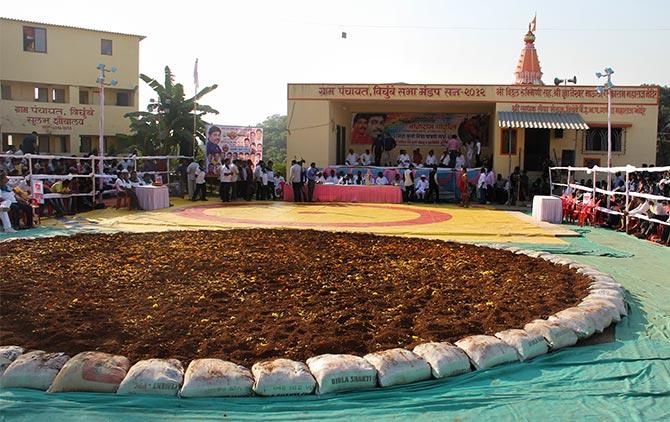 Meanwhile, at the Vichumbe village centre is adjacent to the river Kalundre, it's time for some kushti.
The red mud for the old-style kushti popular in rural India has been brought from Kolhapur.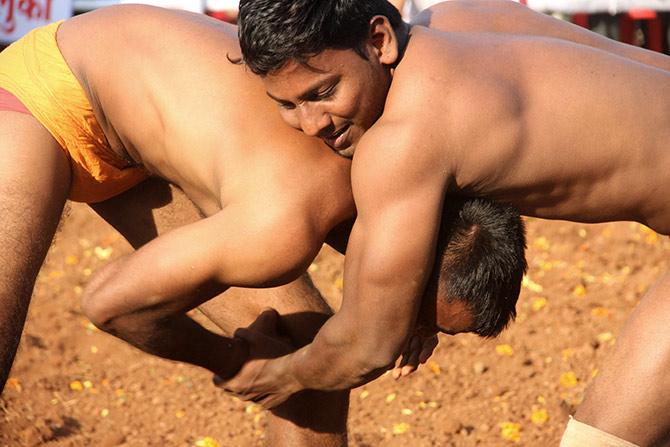 In each of these quick wrestling bouts, a wrong move would mean losing points. Some of the duels finished in minutes.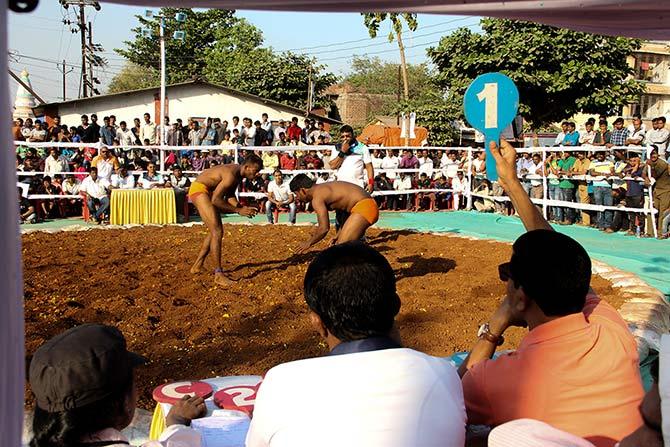 The judges were professional. They did not succumb to pressure from the audience.
I could hear a lot of disagreement and debate amongst those watching the bouts... it was almost like watching a cricket match. The audience knew all the moves and tactics the wrestlers would adopt.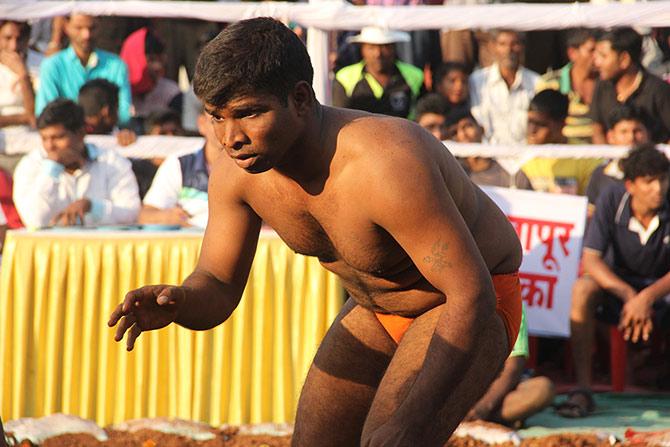 Nothing could distract this wrestler, who was completely focussed on his opponent.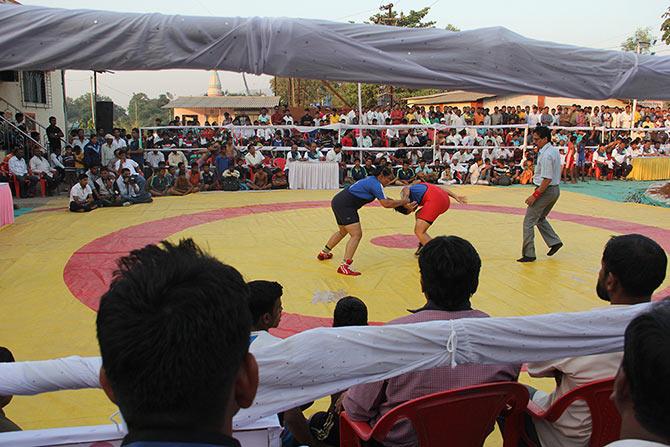 The organisers also have an Olympic standard modern mat complete with all specifications.
This was where the lady wrestlers exhibited their skills.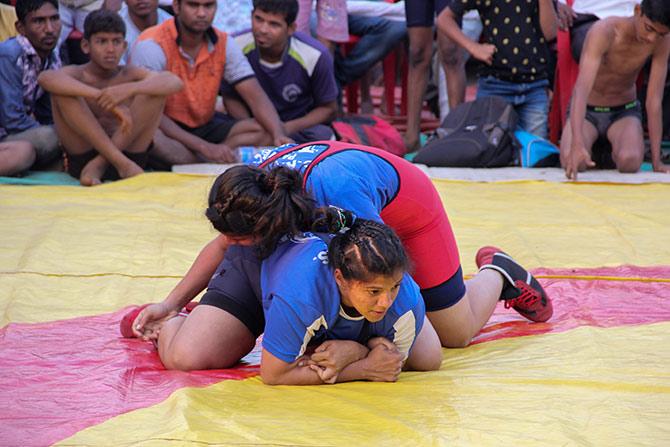 The Vichumbe events attract participants from nearly all the talukas in Raigad district, including Pen, Panvel, Khalapur.
It was almost like the German telematches we used to watch as kids on television, with people from each taluka cheering their champions.
Maybe Anushka Sharma, who will be seen in the soon-to-be-released Salman Khan starrer, Sultan, could learn a move or two from these young ladies? Salman's farmhouse, by the way, is not too far from Vichumbe village.