'I set out really early because it gets very hot.'
'The soles of my feet burn by the time I have finished going house to house on foot.'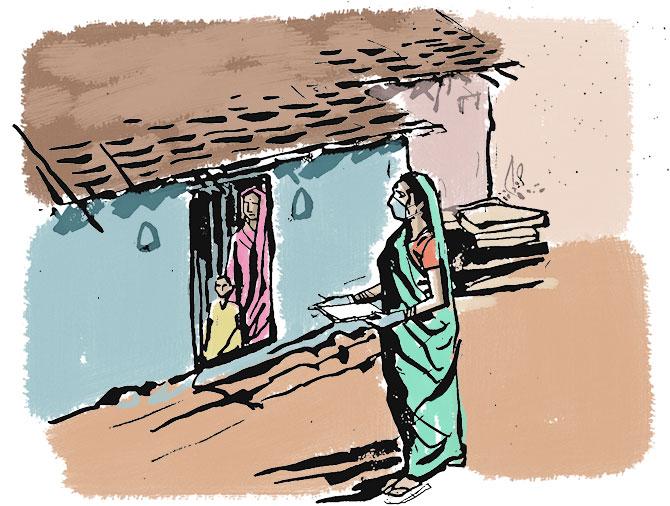 Every morning, Chinta Devi leaves her home at 6 am to go house to house in the village.
She wears a mask and gloves -- one set for each day -- given to her by the district health department -- and knocks on doors, asking families if they have a cough, fever, sore throat or headache.
She notes down the details provided by each house. She also tells men, women and children to wash their hands and maintain good hygiene.
For five days, she does the rounds in the ward assigned to her in the village and returns to the same houses three days later to check and re-check if any symptoms have appeared.
"I set out really early because it gets very hot. The soles of my feet burn by the time I have finished going house to house on foot," she tells Archana Masih/Rediff.com over the telephone from Siwan district in north Bihar as she makes tea, the universal soothing remedy for fatigue.
Tomorrow morning, she will once again go out in the village checking on people for any COVID-19 symptoms.
Chinta Devi is an ASHA or a community health worker in Panjaur village, Raghunathpur block, which recorded the most number of COVID-19 cases in Bihar.
29 people tested positive in the district, 23 from one family alone when a native who had returned from Oman on April flouted self-quarantine and mingled freely in the community.
The positive patients were sent in ambulance and buses to the nearest medical college hospital which is in Patna. 12 patients have been cured and the others are getting treatment.
The village and the district borders were sealed off and residents were screened and tested.
"No new case has come up after that. All test reports were negative," says Chinta Devi who draws a salary of Rs 5,600 per month, but complains that she has not been paid her arrears from 2016.
ASHAs and Anganwadi workers are the frontline warriors in the government's health care system at the village level. They are the ones going out and conducting surveys, identifying suspected cases and contacts at the grassroot level.
An anganwadi is the basic block of the public healthcare system. One anganwadi broadly has a catchment of a population of 1,000 people.
Bihar has identified 13 of its 38 districts as coronavirus infected and has 83 positive cases (as of April 17). It has only one death. 37 COVID-19 patients have recovered, according to Bihar's Principal Secretary (Health) Sanjay Kumar.
At 51.39%, it has the third-best recovery rate in the country and the fifth state to have the lowest fatality rate.
In the four districts of Siwan, Begusarai, Nawada and Nalanda which had positive cases, 100% house to house screening of symptomatic patients is being conducted based on the WHO model for the pulse polio mission.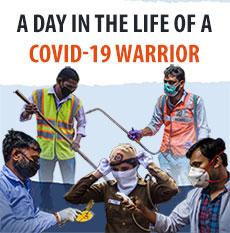 "Bihar has adopted the right strategy and this is why the infection has been contained," says a healthcare professional working for an NGO.
In other areas where positive cases have been identified, all households within a 3 km radius are being screened.
8,000 teams are involved in this effort.
A team of two -- one anganwadi and ASHA worker -- conduct the house to house survey and mark their progress by an arrow to indicate the homes that have been surveyed.
They give the report to a supervisor, who submits it to the public health centre and is forwarded to the district headquarters and further to the state headquarters.
There are six testing centres in the state where the samples are transported in 24 hours.
Medical shops and private clinics have also been asked to inform the administration about symptomatic cases.
Isolation centres have been established in all districts.
The state has also created a portal for COVID-19 infections where every person whose sample is taken is registered.
The time when the sample is dispatched from the district and when it is received at the testing centre is logged in.
The result is then updated so that all district health departments have the required information.
"The system has been streamlined and the portal has helped the district administrations to know the test results as soon as they come," says a healthcare professional.
In Raghunathpur block, with its borders sealed, grains and vegetables are brought to the village in a vehicle and people are told to cover their faces with masks or a cloth when they make purchases.
"Palak, which is sold at Rs 8, is selling at Rs 20," says China Devi. "Many don't have money in their homes and are complaining."