Far from the metros and big cities, the coronavirus crisis in the country's districts, towns and villages is being led by district magistrates.
The responsibility of keeping the pandemic under control lies with the DM or collector.
Subrat Kumar Sen, the young district magistrate of Saran, north Bihar, tells Rediff.com's Archana Masih how he and his staff are combating a crisis that no one has confronted before.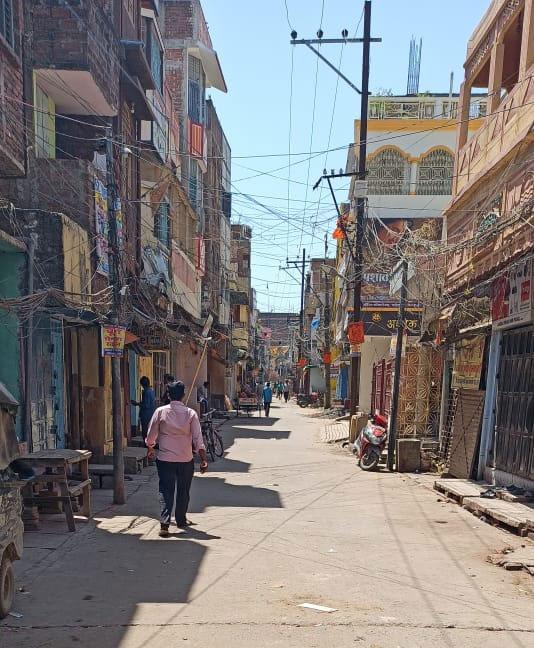 Subrat Kumar Sen, the young district magistrate of Saran in north Bihar, has been receiving 400 to 500 calls every day.
If he is unable to answer the calls himself, the call is forwarded to the district control room and someone at that end returns the call almost immediately.
When I call him, someone calls me back in two minutes asking me the reason for the call.
"A DM has many responsibilities, especially in the current crisis. There are many meetings, coordination, monitoring of various departments etc, I transfer the calls I can't attend to the control room for grievance redressal," says Subrat Sen, a 2013 batch Indian Administrative Service officer, over the telephone.
"People think if they tell the DM it will get done, their expectation is also valid because these are difficult times," explains Sen.
Since he took over as district magistrate of Saran last year, the COVID-19 health crisis is the biggest emergency he has had to face rather early in his career in the civil services.
Unlike metropolitan cities with various departments like the Brihanmumbai Municipal Corporation in Mumbai attending to the coronavirus crisis, in India's smaller towns, sub divisions, blocks and villages, the responsibility for keeping the pandemic under control is the responsibility of the district magistrate who heads all the state government's departments in the district.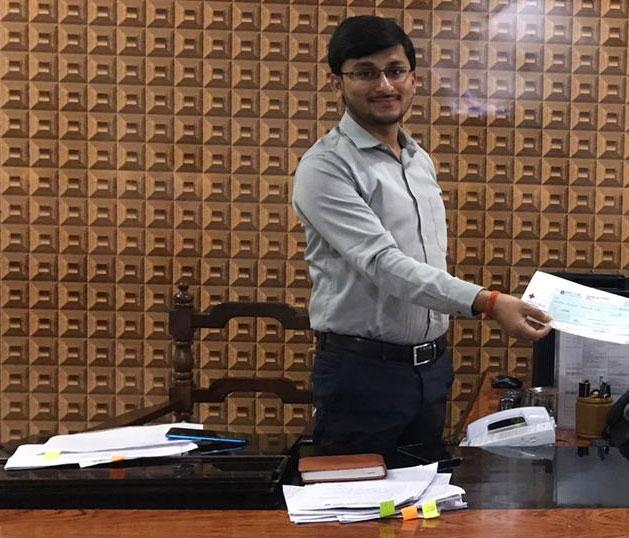 "We are new to service, but many senior officers have told us personally that they too have never seen something like this in their lifetime. This is the first time a country-wide lockdown has been enforced, it is a learning experience and an opportunity to serve our people," says Sen.
"Our duty is to provide help to citizens, especially the neediest, poorest without the least problem to them," adds Sen who is in his first tenure as a DM and sits in a British-designed collectorate in the district headquarters where staff have been asked to come in rotation and social distancing is being followed.
"Compared to a metropolitan district, a district operates differently," points out Sen. "The infrastructure may be an issue, but there has to be teamwork."
By way of example, he explains how his staff went about contacting travelers who had returned from overseas from the data received from the central bureau of immigration. On finding that some phone numbers were incorrect, the local police thanas were contacted and the station house officer told to get in touch with people.
There are around 800 residents in Saran district with a recent foreign travel history. Those who fell within the 14-day period were called to isolation centres and their samples taken.
"We had to take samples of around 160 recent travellers of which 135 samples have already been taken," says Sen. "Some of these travellers have moved on to Kolkatta or elsewhere."
Luckily, so far Saran has not had any positive case of coronavirus. The district has sent 150 samples and received 30 reports till March 31 which were all negative.
How the lockdown was enforced
As soon as the lockdown was ordered and the Union health ministry's guidelines were received, Saran district created seven different cells -- the quarantine cell, the 104 helpline for ambulance/medical services was beefed up, an independent cell to deal with confirmed COVID-19 cases which included officers and doctors, a cell to regulate prices because panic calls about price rise had started coming in.
An independent control room was set up apart from the existing law and order cell, and the 24-hour district emergency operation centre was augmented with additional manpower.
200 raids were conducted when the lockdown began to prevent hoarding of essential commodities and 16 FIRs were filed against those trying to create an artificial crisis.
"Transmitting the information is also a challenge because the end of the chain is manned by a constable. Unless s/he knows and has understood the direction, any order will be difficult to implement," says the young district magistrate. "The dissemination of information is extremely important."
"You have to ensure that the correct information is being passed down," adds Sen. "There are many links and joints and all have to be briefed properly to ensure that orders are understood down the line."
The Return of the Migrant
In the third phase, the control room started receiving calls from Bihari migrants stranded in different parts of the country.
They wanted to return home and were finding it difficult to feed themselves.
"We made arrangements for them in the district and at Bihar Bhawan in Delhi," says Sen.
A register with their names was created. With news of migrants leaving Delhi on foot started coming in, vehicles were arranged to transport Biharis to their respective villages.
"Since these were in the high-risk category their medical screening had to be done and a record maintained. The state government made an app where their details, mobile numbers were fed. They were placed in home quarantine and their mobile location was placed under tracking," points out Sen.
Since Saran district shares a border with Uttar Pradesh, 2,500 people entering the state from the UP border in Ballia were transported to different parts of north and south Bihar.
1,000 to 1,200 residents also returned to Saran from other parts of Bihar.
Some labourers were provided stay during the 14-day quarantine in their panchayat buildings or government buildings like schools.
Such quarantine centres were developed in the 323 panchayats of the district with stay and food arrangements.
"To cater to those who are from outside and were facing problems about food in the towns, we created the Aapda Rahat Kendra in subdivisions of the district," points out Sen.
The district has also conducted checks if any resident of Saran was present in the Tablighi Jamaat congregation in Nizamuddin, New Delhi. "There is no one from here who attended the jamaat. We have confirmed with religious leaders of the district," notes Sen.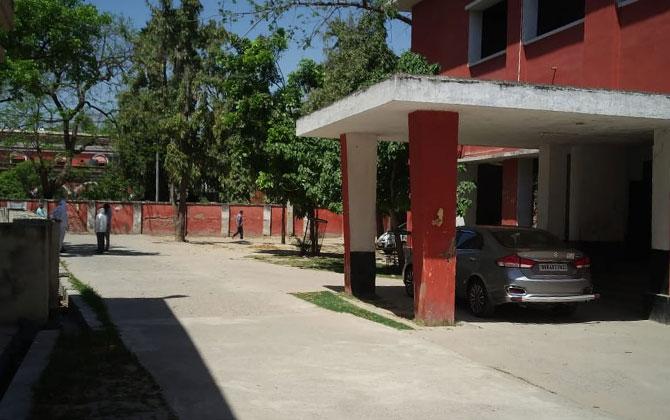 Hospital and hotels as isolation centres
A 200-bed isolation centre has been readied at the district hospital. 17 local hotels have also been roped in. "We have drawn an agreement with the hotels because we need rooms with separate toilets," explains Sen.
The out patient department at the local hospital has been closed to reduce crowds. Samples collection is being undertaken at the district hospital.
"PPE (personal protective equipment), N95 masks are a challenge in the entire country. We have kept them for ambulance drivers, technicians, doctors and symptomatic patients. We have a ready supply of surgical masks. N95 masks are being given according to the ICMR (Indian Council for Medical Research) guidelines," says Sen.
The samples of suspected cases are sent to Patna in a vehicle with PPE attired staff.
Interaction with the Bihar government in Patna
There is almost a daily interaction with the state government in Patna, says District Magistrate Sen. There have been several video conferences with Chief Minister Nitish Kumar, instructions from the chief secretary and phone calls from senior officers.
There is regular interaction with the departments that are directly involved. "We receive directions from them and if there is any confusion, we receive clarity. To deal with a crisis like this you need clarity and teamwork," points out Sen.
"I think we are on the right track in Bihar which is why in spite of high population density, we have been able to contain the transmission," adds the DM. "There has been an increase in testing also."
Mukhiyas or sarpanchs, members of panchayats and zilla samitis who have good ground knowledge also play an important role in this mission.
"The CM did a video conferencing with them and told them what was expected of them. Coordination is a very important aspect, teamwork, distribution of responsibilities, preparing a database and strict monitoring is crucial to dealing with this emergency," says Sen.
Harvesting wheat in the middle of a lockdown
Just as maintaining different services is a major challenge during a national health emergency, in the rural hinterlands of the fertile Indo-Gangetic plain, it is time to harvest the wheat crop swaying in the golden fields.
"It is harvesting season and if we don't allow that, it will affect the supply chain. The government has allowed harvesting in accordance with a protocol of maintaining social distancing and using machines as far as possible to reduce the number of farmhands. Also, if a mazdoor is unwell, he will not be put to work," clarifies Sen.
The ASHA and anganwadi warriors in the villages
The moment a suspected case is reported, the block development office supported by a medical team start tracing contacts according to WHO guidelines.
If there is a confirmed case -- which hasn't happened in Saran as yet -- a 3 km radius area will have be decontaminated and residents screened.
A database of around 5,400 people who have come to the district from different parts of the country has been made. They are in home quarantine and posters sent by state government have been stuck on their houses indicating the 14-day quarantine period.
"Every two days, the panchayat functionary visits to ask if they have developed any symptoms. If there are symptoms, we transfer them to the isolation centre. The negative cases are sent back," says Sen.
"ASHAs, anganwadi workers and district functionaries are doing good work in the grassroots," the DM adds.
The district administration distributed around 20,000 pamphlets in villages to spread awareness.
"People are very aware, we can see that from the calls we are receiving. They are informing us about those who have come from outside and those with cough, fever etc," says Sen. "The moment we are informed, we send a team. The home quarantine poster outside the house is very effective in keeping a watch."
Since the lockdown, the Saran district magistrate realises that getting the message down the line to the last government functionary is vital in this moment of crisis.
His schedule is packed with reviews, videos conferences with those heading different cells, monitoring, ensuring that people do not face problems in quarantine centres, maintaining supplies and issuing passes to those with genuine needs etc.
Meanwhile, he also wields a lot of phone calls, many from panic-striken residents with a slight fever, cough and cold.
"It is a learning experience and an opportunity to serve people," he says. "After all, this is why we joined the civil services."