'My wife, who expresses her fears and anxieties every night when I return home after doing my duty at a COVID-19 containment zone, promptly wakes me up the next morning so that I can report for duty on time.'
A new series on the Indian heroes at the frontline of the war against coronavirus: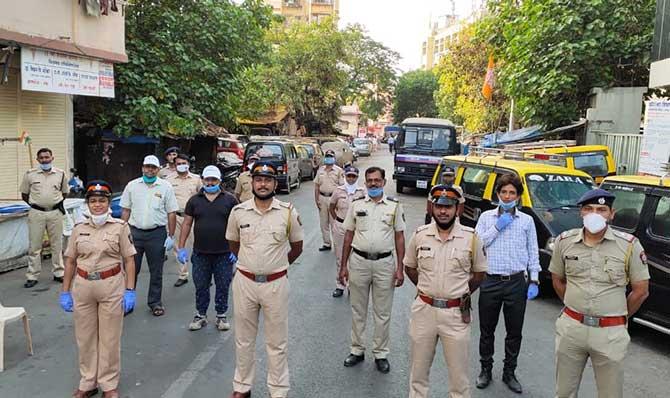 With two sons, one of them just four months, Assistant Police Inspector Sandip Gawai from the Dadar police station, has been deputed at the Worli Koliwada, one of the containment zones in south central Mumbai that has emerged as a hotspot for having coronavirus-infected people.
Deputed from March 30 at Worli Koliwada, API Gawai -- who does 12 to 13 hour shifts every day -- says over 100 men and women from the Mumbai police and 50 to 60 officials and staff from the Brihanmumbai Municipal Corporation ensure that the rules of the containment zone are strictly followed by residents of the area.
70 to 80 police officers and policemen have been posted at seven to eight checkpoints raised at different locations in the area. 20 to 30 policemen perform round the clock patrolling duties. The 50 to 60 BMC staffers take care of the civic amenities of the 150,000 people that reside in Worli Koliwada.
Prasanna D Zore/Rediff.com speaks to API Gawai to understand the anxieties, difficulties and the duties of those at the frontlines of fighting the dreaded disease.
API Gawai, in his words...
---
Worli Koliwada was sealed off soon after a number of COVID-19 positive patients and a large number showing symptoms were found in the area. The BMC sealed off the area to prevent the spread of coronavirus to other places.
People have been told not to enter or exit this area without a valid reason. We have set up two main check points where people are checked before they are allowed to venture in or out.
Only BMC staff who do essential jobs like cleaning of streets and collection of garbage are allowed inside the area. Even policemen staying in the area are not allowed to go out and report for duty lest they become carriers.
Only those people who have medical needs like going for dialysis or are tuberculosis and cancer patients are allowed to go out, but only after making sure that they have valid and genuine reasons.
Those who venture out without any reason are made aware of the consequences of their actions and how the police will proceed against them if they are found violating the containment zone rules.
There are two main challenges those on duty at Worli Koliwada face: One is the long commute some of our men and women have to make to report for duty. The other is changing the mindset of the people residing in Worli Koliwada.
Some of our co-workers and officers come from places as far as Badlapur, Titwala, Karjat, Kalyan, Thane and Dombivli (all areas are part of Mumbai's metropolitan expanse). They find it very difficult to come to report on time as there are no train services now. The buses that ply are too few and these too ferry fewer people so as to follow social distancing rules.
Many of these people posted here travel almost 100 to 150 km every day on their two-wheelers to report for duty. A mMajority of the 150 people posted here from the Mumbai police and BMC come from far-flung places.
The other challenge is changing the mindset of people living here. It was an uphill task to make the people here understand the importance of quarantine and a containment zone.
All the senior officers from the BMC -- Assistant Municipal Commissioner Sakharam Ugle of THE G South ward, Assistant Engineer, maintenance and repair, Manoj Patil -- and the Mumbai police -- Deputy Commissioner of Police Zone V Niyati Thakar, Assistant Commissioner of Police Sunil Gavkar and Senior Police Inspector Dadar, Diwakar Shelke -- took great efforts to convince the people here why and how this containment zone will benefit them and their children.
We addressed the people over loudspeakers about the benefits of quarantine and the containment zone and that helped a great deal. After the first few days, the people here realised its importance and began cooperating with the BMC officials and police.
We have also made arrangements for essential goods like groceries, milk, LPG cylinders, vegetables inside this containment zone so that people are not inconvenienced. That has automatically reduced the number of people coming out without any reason.
Every day we report between 7 am and 8 am and are relieved by 8 pm till the next batch of policemen and BMC officials report for duty.
As soon as we report to duty we check the logbook, a register, that we have maintained at different checkpoints and which has a list of people who have gone out and come back.
If a person has not come back at the designated time, we call that person on her/his mobile phone and request her/him to come back as quickly as possible.
Before that we check if there are any emergencies that need to be taken care of and act accordingly.
The Siddhivinayak Temple Trust and a Jain temple rrust nearby provide us with food and refreshment during meal times. Several NGOs active in the area help us with our requirements from time to time.
We eat our meals at the nearby police chowki (outpost) or eat wherever we find a place near our posts and come back soon.
We have to be alert through the day because despite our best efforts some people still don't cooperate and we have to make them understand the importance of this exercise.
Thankfully, we have toilet facilities inside the chowki, so that is not a problem for the female and male officers on duty here.
Our seniors Shelke Saheb, Gavkar Saheb and DCP Niyati Thakar monitor our work on a daily basis. They encourage us by themselves standing on duty when they are here, checking people, maintaining a log of people going in and out, calling people who have not come back at their designated timing.
They keep emphasising the importance of preventive measures we must take to keep ourselves free of infection.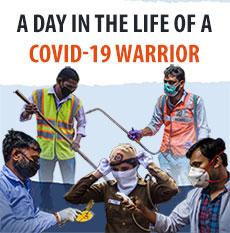 They tell us that we have got an opportunity to work for the cause of society's health and we must fulfil all our duties in a selfless manner.
We have been using sanitisers regularly and have been asked to wear masks while interacting with the people in the colony.
At home we follow all the precautions that we do while on duty here.
We have our families to take care of and they know the risks we are exposing ourselves to.
When we reach home by by 9 pm or midnight, depending upon where we stay, we first wash our clothes in hot water, bathe and only then interact with family members.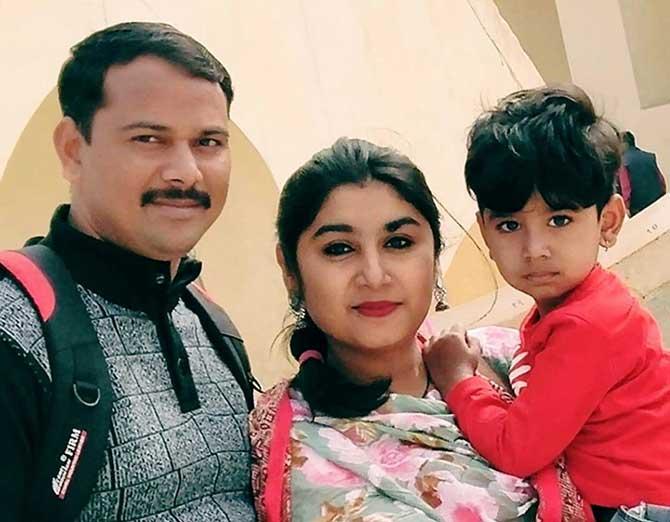 The families of most of us working at the frontline have now come to accept that it is our duty to do whatever it takes to prevent the spread of coronavirus. They express their anxieties, fears, happiness and pride at different times depending upon what they see, read via the media.
My wife, who expresses her fears and anxieties every night when I return home after doing my duty at the COVID-19 containment zone, promptly wakes me up the next morning so that I can report for duty on time.
I am sure the scene is the same in every family of people who are stationed at Worli Koliwada.