'Some colleagues come from very far, some come on bikes, some come in a group in a four wheeler.'
'This is because all of them want to come for work.'
'No one wants to stay at home despite the risk.'
'We have this feeling inside us that we have this responsibility towards society and that is why nobody wants to stay at home.'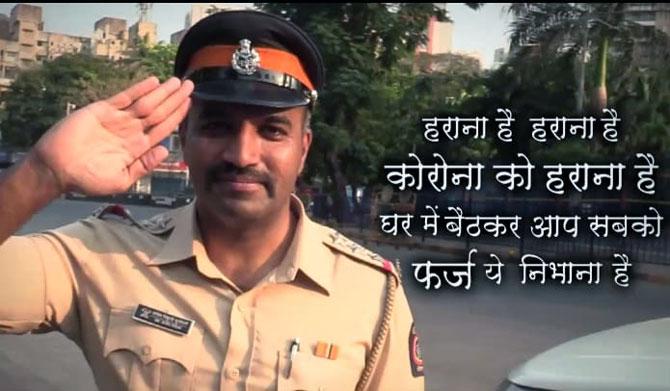 Mumbai is bearing the brunt of the coronavirus pandemic, accounting for more than 75 percent of the 1,000-plus cases across Maharashtra so far.
The Mumbai police has its task cut out, as the force grapples with the tireless task of trying to keep citizens indoors and prevent the coronavirus from spreading further in the city.
When the national lockdown was announced on March 24, the focus was on keeping people inside their homes, but many were reluctant to comply, preferring to venture out regularly, making the Mumbai police's task doubly difficult.
It was then that Sachin Suryavanshi, an assistant police inspector at the Kherwadi police station in suburban Mumbai, came up with a novel idea to convince Mumbaikars to stay at home.
Despite his hectic schedule during the lockdown, API Suryavanshi produced a video in which he reveals how the Mumbai police is frustrated by the careless attitude of Mumbaikars and how he wants them to support the police force in making the city free of the virus.
Rediff.com's Harish Kotian speaks to API Suryavanshi whose video has become a hit on social media.
VIDEO: Kind courtesy Sachin Suryavanshi
When did the idea of this creating a video come to you?
When the lockdown in Maharashtra was announced on March 22, the police were very strict in their approach to stop people coming out. Videos and photos of police officers using lathis were posted on social media and on Whatsapp groups.
We were struggling to understand how to make people understand that they should stay indoors.
Even after knowing the dangers of stepping out of their houses, a lot of them were coming out without reason and that is why we had to resort to some force to make them understand.
So we had a discussion on how to make people understand. We thought about using social media because it makes an impact and is a good tool to reach a lot of people.
At that point I decided to make a video to create awareness. I got in touch with some of my contacts to help me with editing, sound recording and all.
I took our seniors's permission and we shot the video on duty.
How did your seniors react when you told them about this video?
I had to take oral clearance from my superiors. After the video was edited, I showed it to them. Once I got their approval, I uploaded it on social media and it immediately became viral.
Deputy Commissioner of Police Zone 8 Manjunath Sengi, who is the DCP for my area, supported me a lot and encouraged me in this cause. He told me to make sure that the message reached the common man.
How has the response been for your video?
I never expected that the response would be huge. We made the video viral at noon and by evening, it was on Whatsapp or Facebook across Mumbai. The next day, people were making copies on Tik Tok.
We got a good message across to people and I am happy I was able to contribute.
Has this been the toughest challenge faced by the Mumbai police because there is little crime happening and it is proving to be a huge task to get people to stay indoors? It is more like the role of a school teacher...
Like in the past, school teachers used to beat children, but can't do in today's times, similarly, the police are also trying not to use the lathi.
We are trying to use less force and make people understand with such social messages because if they stay indoors then we can stop the spread of coronavirus.
How stressful has it been that people still come out at every opportunity?
It has been very stressful. The lockdown is not total, people can still come out to buy essentials like milk or vegetables or medicines.
Since the lockdown is partial, it is proving to be difficult. If we ask anyone why they stepped out, they will say they are going to the medical shop or going to buy vegetables, so we can't stop them.
A lot of people want to go outside Mumbai to their native places because offices are shut and schools are closed, so they will make an excuse that someone has passed away in their village. We know that they are lying, but how can we prove it so we have to allow them.
Has the situation improved in recent days in Mumbai as far as the attitude of people is concerned with regards to the lockdown?
People have started co-operating with the police.
We have started filing cases against people who are venturing out without reason, bringing their bikes or cars on the highway. We intercept them and file cases.
So a good message is reaching out to people that the police is taking action with resorting to the lathi.
People are scared to come out and that is a good thing because if they stay indoors, it will help everyone.
The current lockdown has been imposed till April 14. Do you think a lot of people will come out on April 15? Is that keeping the Mumbai police on its toes?
The public is on the verge of leaving for their villages as they feel the lockdown will be lifted on April 14. Many Mumbaikars stranded in their villages or in other places want to come back to the city.
So if people are allowed to travel, then you will see a lot of traffic on the highways and toll nakas after April 15th.
There will also be huge queues at fuel stations with people want to fill their tanks with petrol and diesel.
This will put a lot of pressure on the police force and the state machinery.
Will things get difficult if the lockdown is extended? Will it increase the frustration among people?
Yes, the frustration will definitely increase.
The people who stay in big societies or in big houses, they have no problems. But people who stay in slums, in small houses -- in some cases you have 8 to 10 people in a small house -- they will struggle if the lockdown is extended, they won't be able to bear it.
Do you get scared at times?
Yes, definitely, we are also scared.
We the police are not scared for ourselves, but we are worried for our children and our families.
When we return home, we get worried thinking whether we have brought the infection home. In this coronavirus, you don't get symptoms for the first few days, so it is difficult to know whether you are infected or not.
You meet so many people at the police station or you are making security arrangements in the quarantine zones, so there is a chance that you could meet someone who has the infection.
That is why we try and take as much precaution as possible and leave the rest to God.
You know some of our police colleagues come from very far like Kalyan or the Vasai-Virar region, some of them come on bikes, some of them come in a group in a four wheeler.
This is because all of them want to come for work. No one wants to stay at home despite the risk.
We have this feeling inside us that we have this responsibility towards society and that is why nobody wants to stay at home.
We wear a mask whenever we report for duty. Our seniors are constantly providing us with sanitisers, masks.
We have now been given a face-covering glass shield which is very helpful. So a lot of new equipment is being made available regularly, which is helping us to go out and help the people.
Does your family get scared every time you step out for work? What do they tell you?
My family tells me every day not to go to work and just stay at home. But we can't do that because if the police stays home then the law and order situation in the city will collapse completely.
When I go home in the evening, I take a bath and only then I talk to my kids. I am trying to keep a distance from them these days.
Have you taken a single holiday since the lockdown was imposed?
I haven't taken a single day off. But during duty hours, we get some time to rest.
We either go home and rest for a couple of hours. At the police station they have made arrangements for us to take a break and get some rest.