'Safest' looks like a phone booth, but is a state-of-the-art mobile COVID-19 testing lab.
Five such booths will be installed in Mumbai today.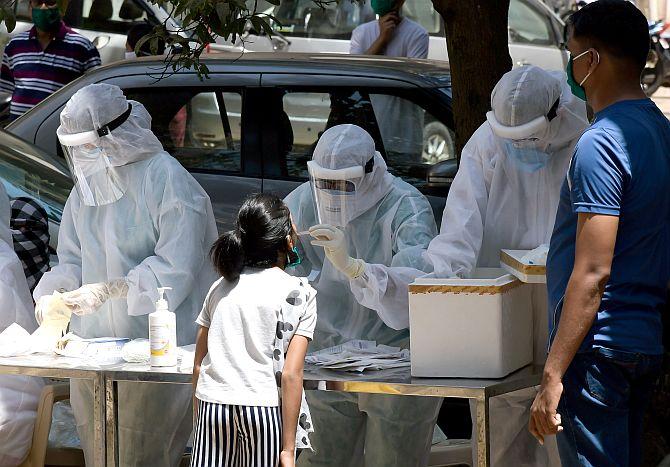 They have named it 'Safest' because they want doctors and technicians to be safe when taking samples from Covid-19 suspected patients.
'Safest' is a testing booth, which looks like a phone booth, but is actually a state-of-the-art testing lab.
It has air handling units, air conditioning, virus burners, plasma sterillisers, while the air inside is completely sterile like in an operation theatre.
The air is changed 20 times an hour, more than the World Health Organisation's recommended norm of 12 times an hour.
Five such booths will be set up at different locations in Mumbai by the BrihanMumbai Municipal Corporation today, April 15 -- at the KEM Hospital, Nair Hospital, Sion Hospital, Podar Hospital and the Seven Hills Hospital.
"We don't want to give doctors the cheapest solution and risk their lives, but to ensure that they are safest. They signed up to serve humanity, not to become sacrificial lambs," says Dr Swapneil Parikh, co-founder of a health start-up DIY.health.
Along with Dr Rajit Shah -- also a co-founder of DIY.health -- and Konika Heer of IKKON Architects, Dr Parikh is responsible for the design and construction of the the booths.
"Society should give them the equipment needed to be able to look after patients in an epidemic," Dr Parikh tells Rediff.com's Archana Masih.
"We shouldn't cheap out doctors, they are not expendable. People should not be callous about the safety of medical workers. We should ensure that they are safe and can serve their patients and country," explains Dr Parikh, who is also a co-author of The Coronavirus: What You Need To Know About The Global Pandemic, a book released last week.
The first booth, a clunkier Version 1 of the mobile testing facility, was set up at Mumbai's Kasturba hospital last week. It was put together quickly with the limited resources available during the lockdown, whereas the new version has been shrunk to reduce footprint and bears a better look.
"We have engineered a biosafety lab level 3. The only version higher is bio safety lab level 4 used for Ebola. There is nothing like this in the country, probably not even in the world because the plasma sterilliser has not been used anywhere. We are proud of what we have made," adds Dr Parikh.
The booth costs Rs 4 lakh.
To see how patients can be tested at the booth, please watch the video below:
Dr Parikh is also working on two major studies as an investigator that will help set up new ways of testing and treatment of COVID-19. The findings are expected to be published in an international medical journal soon.
Having worked with the BMC, he feels it has been receptive to new ideas and is rapidly trying to scale up testing and treatment facilities. It is also in the final stages of scaling up other kinds of COVID-19 clinics.
"Mumbai is doing a good job. Kerala and Maharashtra are the two best states in their response to Covid-19," he says.
On the highest number of infections and deaths in Mumbai, in comparison to Kerala's COVID-19 mortality at 2, Dr Parikh says the two states should not be compared.
"Kerala has succeeded because it had dealt with the Nipah outbreak in 2018 and had built a lot of systems to deal with it then," he says.
"Experience is your best teacher. If you have responded once you will be quick to respond again," points out Dr Parikh.
"But no city in Kerala has a population density like Mumbai. Mumbai also has intense social contact, very high urban density, more people with lifestyle diseases like diabetes, heart disease, smoking, pollution -- so you are dealing with a lower baseline in health," he explains.
"In fact, Maharashtra is doing many things right. They are quick to implement ideas."
"A pandemic is as much a force of nature like a tsunami and our ability to respond is limited. In the case of COVID-19, even if we started sprinting in February against this virus, we would still be a step behind it."
Explaining that testing is one aspect of tackling the epidemic, Dr Parikh feels what is urgently needed is an end to end solution.
"A process of processing the entire patient management at one site, where s/he is tested treated in the same facility and does not have to travel out of the area."