What India can learn from how Kasargod is battling coronavirus.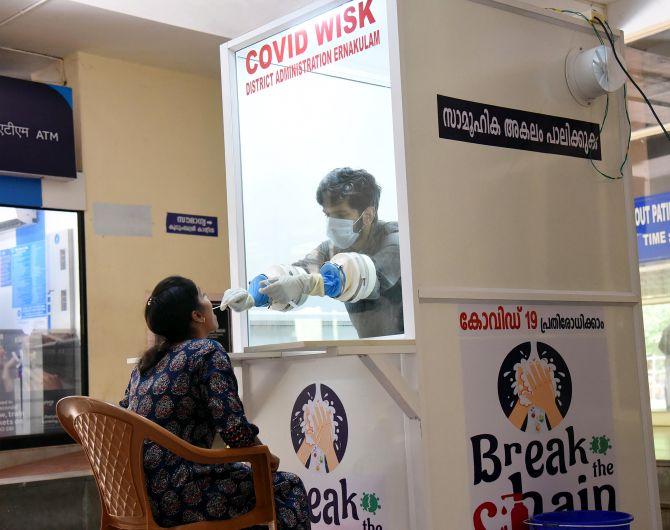 The exhaustion seeps through his voice as he answers the phone.
He kindly promises a quick interview, but warns that there will be interruptions as he replies to queries posed to him by his staff.
Dr A V Ramadas is probably one of the busiest people in Kasargod right now.
This tiny, sea-hugging district has the highest number of COVID-19 positive cases in Kerala, and the third highest number of cases in the country.
District Medical Officer Dr Ramadas is leading the Kasargod's medical fight against the coronavirus.
He was appointed to this post over two months ago. And he has not taken a single day's break since then.
"I am an anaesthetist," says the 53-year-old doctor. "That experience has given me the courage because, as you know, anaesthetists are crisis managers."
And he is using every bit of his 18 year experience as a government doctor -- 10 years at Kannur's Pariyaram Medical College and the remaining at Kasargod -- to ensure that it is Kasargod that wins the battle against COVID-19.
"We started our surveillance from the first reported case. We made it very strict. I believe that helped us a lot in restricting the spread of this disease," Dr Ramadas tells Rediff.com's Savera R Someshwar.
Kasargod has been designated a COVID-19 hotspot. How many people have been tested? How many are positive?
We have sent around 2,000 samples to be tested.
Around 155 are positive so far and four have already been discharged.
Some more will be discharged soon, depending on the results. We are waiting for it.
Are you satisfied with the testing facilities available to you? Or is the lack of adequate testing hindering your work?
Earlier, we had to send our samples to Alleppey, so we had a bit of a problem.
Alleppey is far (around 410 km from Kasargod town). Since all the samples are going there, the load is more. Getting results takes time.
Since April 3, we have started testing at the Central University at Periya (about 20 km from Kasargod town) so we feel a bit relaxed.
Most of our samples are now tested at Periya, though we have to send the repeat samples to Alleppey only.
But we still have difficulty getting the testing kits.
I am not blaming anyone for that. You can understand why there is such a huge shortage; the whole country is using it.
Do you have adequate number of doctors, nurses and tertiary medical staff?
(laughs) We are short of staff.
Let me explain.
The General Hospital at Kasargod is for COVID-19 positive patients only.
COVID-19 positive patients are also being treated at Kanhangad.
Another exclusive COVID-19 hospital was opened on April 7 at the Government Medical College (30 km from Kasargod town).
We require around 30 to 40 more doctors and 60 staff nurses for running all the three in full strength.
At the moment, we are somehow managing.
Kasargod is a relatively remote place in Kerala, so we are waiting to get the staff to fill the posts. It is a difficult process for us. And at the moment, because of the lockdown, we are not able to hire new people.
With your staff overworked, how are you ensuring they get adequate rest?
Somehow we are managing it.
What to do (a tired laugh)?
We are deploying support staff from periphery health centres. This includes the CSCs (common service centres, which offer telemedicine services and are operated by village level entrepreneurs) and PHCs (primary health centre).
The government will be taking adequate steps too.
At any point in time, have you felt worried for your staff or yourself?
No, there is no time for that.
All my efforts are concentrated on how to contain this disease.
I have been working for the last 70 days without a break. I am in my office by 8 am and it is 11.30 pm by the time I reach home.
My staff, especially those directly working to help control the spread of the virus, is sleeping by 1 am or 2 am.
I have to support them.
Do you personally meet COVID-19 positive patients?
Yes, of course.
As an administrator, there is no need for me to do so, but I do it to give mental support to my staff.
How many beds do you have ready now?
For those who need to be kept in isolation, we have over 1,000 beds. Certain PHCs (primary health centres) have also been reserved for those who need to be kept isolated.
If at all there is any rise in the number of patients, we can accommodate them.
What about ventilators?
We have ventilators available at the Pariyaram Medical College in Kannur, the district adjacent to Kasargod.
But we have not used that option yet since none of our patients have needed it.
We have received four ventilators, but they are yet to be installed.
And we have seven ventilators in private hospitals in Kasargod. In an emergency, we can utilise that also.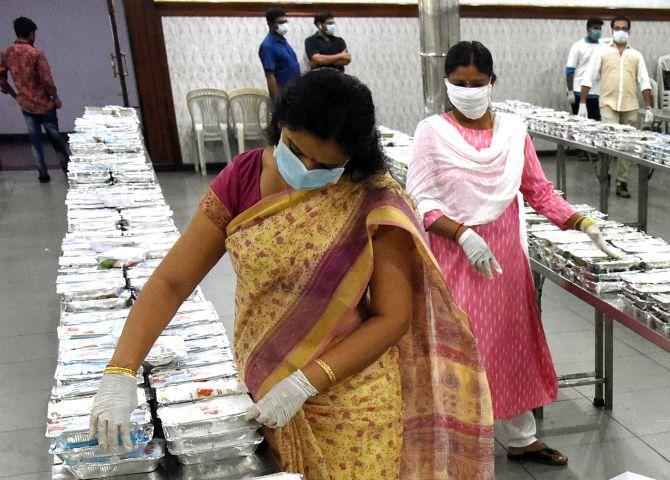 What is the age group of infected people?
Most of the patients are around 30 to 40 years old.
How would you describe the mental state of your patients?
When they initially go into isolation, they face a few problems because most of them come from well-off families.
They are kept in our general ward; we can't offer them the kind of facilities they are used to.
So, naturally, the first few days are difficult for them. But then they get used to it.
They understand what we are doing and are happy.
In hindsight, if there was something that you could change about how Kasargod dealt with the crisis, what would it be?
We did our best.
I don't think we could have done anything better.
What can India learn from the way Kasargod is handling this crisis?
We have excellent surveillance of those who are home quarantined.
We started our surveillance from the first reported case.
We made it very strict.
I believe that helped us a lot in restricting the spread of this disease.
What was your biggest challenge?
We don't have a choice; we have to manage such a crisis with the minimum of facilities.
We can't expect more.
So we are somehow managing what we have.
The state government and the district authorities are doing their best.
The only problem we are facing here is with human resources -- we need more people.
We have more cases because almost 10 per cent of our population stays or works in the Gulf, mostly in a place called Naif, which is a COVID-19 hotspot.
Some of those who returned home after the crisis escalated have turned out to be COVID-19 positive. That is why we are getting more positive cases