'A man dies and it's over for him. But we're right here, it isn't over for us,' she says cryptically. She talks about the "poverty" in which she had to raise her sons and daughter, the responsibility of today's youth to its country and how war widows should cope with their loss.
Manavi Kapur/Business Standard meets Param Vir Chakra hero Abdul Hamid's wife and family.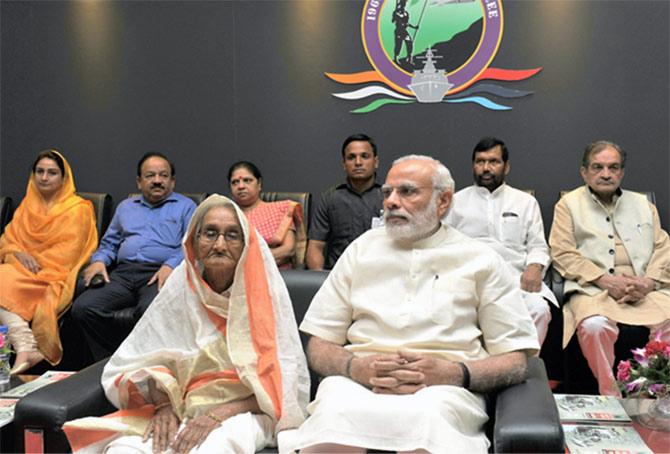 IMAGE: Rasoolan Bi, Param Vir Chakra Abdul Hamid's wife, with Prime Minister Narendra Modi at Shauryanjali, a commemorative exhibition on the 1965 War, at India Gate, New Delhi, September 17. Photograph: Press Information Bureau
Soldiers, even if they are war heroes, just fade away after a while. But as I travel through the eastern belt of Uttar Pradesh, it occurs to me that the legend of Abdul Hamid is truly alive: The hero of the battle of Asal Uttar in 1965, in which he destroyed single-handedly several enemy tanks with his recoilless gun.
Everybody on the road from Varanasi claims to know the direction to his village, Dhamupur in Ghazipur district. Some don't, but admitting it would be such a shame. A few even tell me that the family doesn't live in the village anymore and has moved to nearby Dullahapur. They are right.
The home of Hamid's widow, Rasoolan Bibi, is located not far from the Dullahapur railway station. The house is at the end of a dusty busy street, lined with vendors and greengrocers on either side. Her grandson, Jamil Alam, 30, who I spoke to over the phone, receives me at the door.
The small living room where we are seated may well be a memorial to Hamid. A black-and-white picture of him, garlanded with plastic flowers, hangs on one of the walls. Right next to this picture is the Param Vir Chakra citation and a photograph of the medal. (The original is in Rasoolan's custody.) The other two walls have shelves with various memorabilia, including a picture of Rasoolan with Prime Minister Narendra Modi taken when he was the chief minister of Gujarat.
At the memorial site in Dhamupur, a white minaret stands tall in a vast one-acre plot. The stone platform has inscriptions that describe Hamid's life and his time in the Army. A white bust of Hamid is mounted on a circular platform with a descriptor below.
It wasn't always this spic and span. In 2011, a news report on television spurred Member of Parliament Rajeev Chandrasekhar into action. This report, according to Chandrasekhar, said that Hamid's memorial had fallen into disrepair and the state government was not willing to intervene. He then decided to offer help to renovate it and gave the family over Rs 2 lakh (Rs 200,000) for this.
This year's ceremony on September 10, Jamil says, was attended by 50,000 people, including people from Hamid's regiment, The Grenadiers. Guests included prominent members of the state and central governments.
Jamil's younger brother, Salim Alam, dishes out his smartphone to show me a video of the event. Hamid's bust is covered in marigold garlands and the surrounding area has enclosures for visitors, VIP guests and family. Ajay Ajnabi, a popular Bhojpuri singer, sings patriotic songs from Bollywood films.
It is clear that Hamid's memory is being kept alive by Jamil. Before Jamil, says his father Junaid Alam, no one in the family had much 'awareness' of the rights of a war widow or the bureaucratic procedures to stake claim to them. "Another war hero who is still alive told us that he receives an honorarium of Rs 1 lakh every year. I have faith that now Jamil will be able to manage the paperwork for this," he says.
He discloses that two of Hamid's four sons, Zainul Hasan and Talaq Mahmud, joined the armed forces. While Hasan was in the Electronics & Mechanical Engineers, Mahmud went on to join 4 Grenadiers, the same unit as his father. "I began training for the Army too, but I had to withdraw my application after a snakebite," says Jamil. Like his father, Jamil works as a commercial clerk for the Railways in Varanasi.
Jamil has impeccable social skills, which has helped him step in as his grandmother's public relations manager of sorts. He appears in almost all pictures of Rasoolan with any celebrity or politician, including one with actor Salman Khan. One of the pictures has him looking dapper in a jacket, with a Bluetooth device on his ear.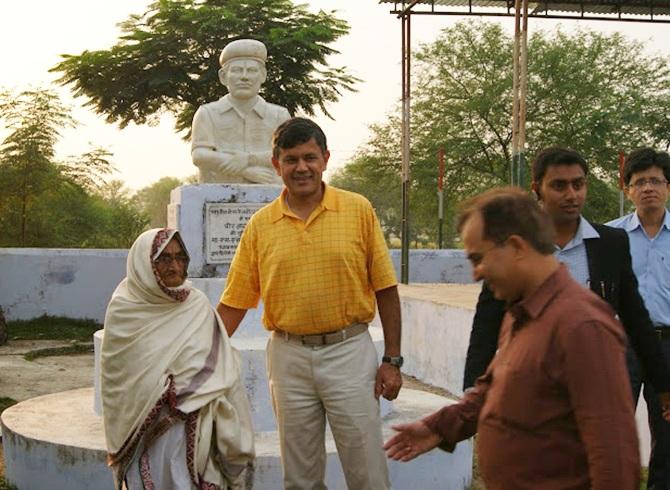 IMAGE: Rasoolan Bi, Param Vir Chakra Abdul Hamid's wife, with Vijay Dandapani (in yellow shirt) and Jamil (in jacket and Bluetooth device in his ear) near the martyr's memorial in Dullhapur village, Uttar Pradesh. Photograph: Kind courtesy, Vijay Dandapani
These social skills have often come handy. Over e-mail, Vijay Dandapani, president of Apple Core Hotels in New York, discloses that he felt the urge to visit Dhamupur after a going to Hamid's memorial near Amritsar. After meeting the family at their home, Dandapani decided to raise funds through a crowdfunding platform. He managed to collect $6,200 (a little over Rs 400,000), all of which was transferred to Rasoolan.
A smartly dressed four year old hops into the room and confidently shakes my hand. Jais Alam, Jamil's son, wants to join the Army. "Do you see my military pants? I'll get better ones when I'm in the Army like my great-grandfather." Jamil seems bent on ensuring that his son carries forward his efforts to keep Hamid's stories alive.
Our conversation is interrupted when a frail, short woman limps into the room and seats herself on the cot. Dressed in a white sari, her head covered and wearing two gold bangles in each hand, the 85 year old wears thick glasses that almost hide her eyes. Jamil introduces me to Rasoolan, who looks at me with a blank expression.
When I prod Jamil to ask her some questions on my behalf, she snaps at Jamil: "I'm not going to repeat all these stories." He smiles and tells me that she's not in the "mood" right now. "You should listen to her when she is, though. Then she won't stop talking. That's how I know so much about my grandfather."
According to Jamil, Hamid was over six feet tall and a wrestler. (Big burly men were preferred in The Grenadiers.) "But he could also knit very well," he chuckles. Hamid was also a good shot. Once a landlord challenged Hamid to take down an exotic bird that nobody in the village could. He accepted the challenge and won it, but refused to go collect his reward. "He was a proud man and said that those who wanted to reward him must come to him," says Jamil. Rasoolan seems to have imbibed her husband's sense of pride.
Jamil founded the Legend Vir Abdul Hamid Trust over a year ago. Jamil's savvy appears to stem from his association with Rajesh Patel, a Gujarat businessman and film producer who is the secretary general of the trust. Patel was the one to introduce the family to Salman Khan who has promised to 'support' a feature film on Hamid's life. Rajeev Chandrasekhar, too, has promised support for the film.
With Patel's help, Jamil has helped Rasoolan travel across India and meet ministers, dignitaries and celebrities. Rasoolan also went on the Haj pilgrimage in 2005, where, according to Jamil, she was received by the prince of Saudi Arabia.
Patel's mark is evident even on the plastic mementos, which have been made by an NGO in Gujarat for the family to gift to various people, including Modi. Shaped like the Red Fort, it has pictures of Modi, Hamid, Rasoolan and all of the trust's members, including Jamil, with a marigold garland, and Patel.
As Jamil and his grandmother have to leave for Varanasi soon, we decide to continue our conversation in the car. Seated next to me, Rasoolan peers at me with curiosity. "You're a city girl, but the village air is also important," she tells me authoritatively and out-of-the-blue.
Over the next three hours, she gradually opens up about her husband. "A man dies and it's over for him. But we're right here, it isn't over for us," she says cryptically. She talks about the "poverty" in which she had to raise her sons and daughter, the responsibility of today's youth to its country and how war widows should cope with their loss.
My conversation with Rasoolan is interrupted frequently with the calls that Jamil gets. He makes it a point to mention the "CMO" (chief minister's office) and "SDM" (sub-divisional magistrate) in the context of a hospital that he wants built in his grandfather's name in the village.
The sun has set and Varanasi is still 30 minutes away. Rasoolan groans with a backache. "I don't think I want to keep travelling like this. Now I'm old, I want to be left in peace," she tells me in a soft voice.
OUR SPECIAL SERIES: THE 1965 WAR, 50 YEARS LATER