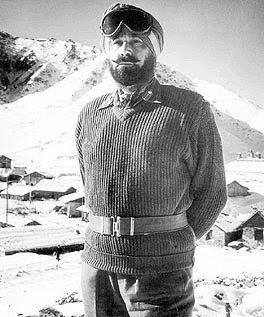 Lieutenant General Harbakhsh Singh, GOC, Western Command, disobeyed the then army chief and took on a superior Pakistani armoured column. The Indian Centurion tanks outgunned the more modern Pakistani Patton tanks in the battle at Khem Karan, that proved the turning point of the 1965 War.
Brigadier Gurmeet Kanwal (retd) salutes the Soldiers' General.
Some war images stick permanently in the mind and that of Lieutenant General Harbakhsh Singh, the General Officer Commanding-in-Chief, Western Command, standing atop the Haji Pir Pass after its capture by India during the 1965 war with Pakistan, is one of them.
However, this was not the only major achievement under General Harbakhsh Singh's leadership. All the raiding columns of Pakistan's Gibraltar Force were rounded up by the Indian Army with the help of the people of Jammu and Kashmir. Pakistan's Operation Grand Slam was checkmated in the Chhamb-Akhnoor sector, though with some loss of territory. An Indian division was knocking on the gates of Lahore within hours of the three-pronged offensive being launched across the international boundary.
And, in the battle of Assal Uttar, which quite appropriately means 'real answer,' the famed M-47 Patton tanks of a Pakistani armoured division were stopped in their tracks by a handful of infantrymen and a single Indian cavalry regiment armed with Centurion tanks of World War II vintage. The skeletal remains of the burnt-out shells of the Pattons still dot the landscape around the village.
General Harbakhsh Singh, a soldiers' general, had immense battlefield experience. He had seen action in the North West Frontier Province, been seriously wounded fighting the Japanese in Malaya during World War II, had fought the battle of Shelatang and saved Srinagar from the Pakistani marauders in 1947 and had then gone on to plan and supervise the re-capture of Tithwal from the Pakistan army.
During the 1962 war with China, he was flown post haste to Tezpur to take over command of 4 Corps when Lieutenant General B M Kaul had fallen sick after the rout at Namka Chu and had left for Delhi. General Harbakhsh inspired confidence in the defeated soldiers and commanders and began to once again re-build their morale. He had barely settled down and was busy re-organising the defences in NEFA to thwart further Chinese attacks when, inexplicably, General Kaul returned to re-claim his Corps.
IMAGES: Destroyed Pakitani Patton tanks after the 1965 war. Photograph: Kind courtesy: Brigadier Hari Singh Deora/Wikipedia
General Harbakhsh was side-stepped to take over 33 Corps at Bagdogra. General Kaul's was a political appointment and, as should have been expected, he once again led 4 Corps to suffer yet another defeat.
The 1965 war with Pakistan saw General Harbakhsh achieve still more professional success. As the Western Army commander he was responsible for operations in Jammu and Kashmir as well as Punjab since there was no Northern Command at that time.
Bold and daring in his approach, he did not hesitate to take calculated risks and this is where he fell out with his chief. The real truth about whether General J N Chaudhary, the then Chief of the Army Staff, actually ordered General Harbakhsh to pull back to the Beas river after receiving exaggerated reports of the progress made by a Pakistani armoured column in the Khem Karan (Amritsar-Firozpur) sector may never be known.
Alarmist reports are not uncommon in the fog of war. A good military commander learns to distinguish the truth from fiction by visiting the battlefield and acquainting himself first hand with the prevailing situation.
In his book In the Line of Duty: A Soldier Remembers, General Harbakhsh has written: 'Late at night on the 9th of September, the chief of the army staff rang me up... his advice was that to save the whole army from being cut-off by Pakistan's armour push, I should pull back to the line of the Beas river. Pulling back to the Beas would have meant sacrificing prime territory in Punjab including Amritsar and Gurdaspur districts and would have been a far worse defeat than that suffered at the hands of the Chinese in 1962.'
The move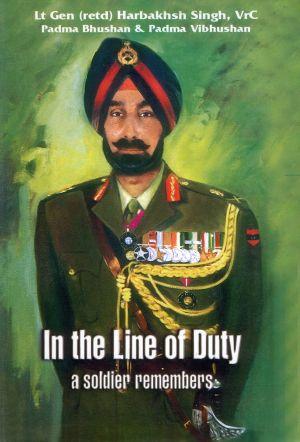 would have also resulted in bidding goodbye to the entire state of J&K and the army's 15 Corps that had performed extremely well over there. This has been corroborated by Captain Amarinder Singh, aide de camp to General Harbakhsh, who received the army chief's phone call.
He has written: 'At 2.30 am Army Chief General J N Chaudhury, called and spoke to the general and after a heated discussion centred around the major threat that had developed, the chief ordered the army commander to withdraw 11 Corps to hold a line on the Beas river. General Harbakhsh Singh refused to carry out this order.'
Writing on the 1965 War, Major General D K Palit has confirmed that such an order was, in fact, issued by the COAS, but 'Harbakhsh was adamant and refused to comply. He told Chaudhury that he would not accept a verbal order on such a crucial issue. A written order from the army chief never came. In any case the crisis was overcome when under Harbakhsh's leadership the outgunned Centurions and 106 mm guns played havoc with Pakistani Patton tanks in one of the great tactical victories of the war.'
Well-known defence analyst K Subrahmanyam has written that General J N Chaudhury had sought Prime Minister Lal Bahadur Shastri's permission to withdraw to the Beas but that Shastri said no. Columnist Inder Malhotra has written that General Chaudhury 'panicked and ordered Harbaksh to withdraw his troops behind Beas, and the latter refused.'
However, some other participants in the war disagree with this version. Among them is Lieutenant General Joginder Singh, General Harbakhsh's chief of staff. In his book Behind the Scenes, General Joginder Singh, whose relations with his boss were strained, has said no such order was given by the army chief.
In an article in the Indian Defence Review, Lieutenant General Harwant Singh has echoed a similar sentiment. He disparages the accounts of Subrahmanyam and Malhotra through deductive analysis. Clearly, something transpired on the night of September 9, 1965, between the chief and his army commander.
General Harbakhsh was a straight talking, no-nonsense, professional soldier of the Sikh Regiment. He was quick to give credit wherever it was due, but brooked no interference with his command and himself gave his undivided loyalty and full support to his subordinates.
When the situation so demanded, he had no hesitation in sacking unworthy commanders. Major General Niranjan Prasad, who had also acquitted himself badly while commanding a division in NEFA against the Chinese, was asked to hand over charge of the Amritsar division for conduct unbecoming of that of a general during war. Major General Chopra was removed from command for not ensuring that the guns of a field regiment were brought back safely during an organised withdrawal in the Akhnoor sector. Sacking inept commanders in war is a necessary evil as it invariably helps to stem the rot.
General Harbakhsh unhesitatingly acknowledged his mistakes, the few that there were, but did not hesitate to criticise either his subordinates or seniors. He was critical of General Chaudhury for raising 1 Corps by taking away his reserves, for not agreeing to launch the 1 Corps offensive from Gurdaspur sector towards Sialkot so that at least initially some reserves would be available on the Punjab front (a decision which the COAS must himself have regretted), for issuing direct orders to his subordinates bypassing him -- orders which General Harbakhsh was frequently forced to countermand, for failing to visit the front except on three occasions and for writing citations for gallantry and national awards for his subordinates without consulting him.
Rock steady in the face of adversity, General Harbakhsh Singh provided outstanding leadership at a critical juncture. He was a genuine national hero and was honoured with the Padma Vibhushan by a grateful nation.
Brigadier Gurmeet Kanwal (retd) is former director, Centre for Land Warfare Studies, New Delhi.
Our Special Series: The 1965 War, 50 Years Later