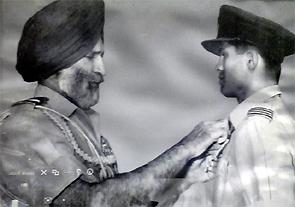 IMAGE: Fighter Pilot D K Parulkar receives the Vayu Medal from Air Chief Marshal Arjan Singh.
Flying Officer Dilip K Parulkar won a gallantry medal in the 1965 War.
Five years later, he spent more than a year as a prisoner of war in Pakistan after the 1971 war. He escaped, but was recaptured on the Pakistan-Afghanistan border.
Sitting in his home office in Pune, with a framed citation for his distinguished service and a model of the Hunter aircraft he flew in the '65 war, the flying ace looks back at those heady days 50 years ago.
His memories are vivid and fresh as if it happened just yesterday. His eyes light up, he thumps his table with excitement, he picks up the Hunter model to show how a bullet pierced the aircraft, then his arm and damaged his parachute (which he only discovered after landing the aircraft).
"I was lucky. If I had ejected, it would have been curtains for me. I would have hit the ground at 400 miles per hour and would have had to be scraped off the ground."
His overalls were soaked in blood, but he brushed the injury off and told the waiting ground crew that he would be ready for his next sortie on the next day.
"I wanted to show the airmen that Pakistani bullets mean nothing."
Archana Masih/Rediff.com met the plucky hero as he relived those days in September, 50 years ago.
'I am a crazy chap. I think my death wish was very strong.
Being a fighter pilot I was very keen on a war. I had joined the IAF as a teenager and in 1965, I was just two years and ten months into service.
You can call it young blood or whatever, but all I wanted was to fly missions against the enemy.
How the war actually started for us was that those chaps (Pakistani air force) made a pre-emptive attack on us and a very successful one at that. A lot of our aircraft were unfortunately destroyed. An airfield in the north (Pathankot) had Vampires -- an old aircraft which was one generation behind the Sabre (that the Pakistan Air Force had).
The Vampire was no match for the Sabre, but was thoughtlessly thrown into action and suffered badly.
(On September 1, the first day of the air attacks by the IAF, four Vampires were shot down. Only one pilot survived.)
IMAGE: It was a stroke of luck that landed Flying Officer Dilip Parulkar in the cockpit in the 1965 War. Struck by anti-aircraft fire, his overalls were soaked in blood when he landed back. Photograph: Archana Masih/Rediff.com
I was posted in Hindon, near Delhi, and had got my fully operational category on the Hunter aircraft only a week earlier.
To be declared fully ops on any type of aircraft you have to complete a laid down syllabus and only after that does your commanding officer certify that this pilot is fully ops.
Hindon was very safe from attack because a fighter aircraft is limited by range and there was no question of the Pakistani fighters reaching Hindon.
But the Halwara airfield, which had two Hunter squadrons, had lost aircraft and men and wanted reinforcements.
Hindon, which also had two Hunter squadrons, was to send these reinforcements. With just two years and ten months in service and having become fully ops just one week back, I virtually had no chance of being called.
I was watching all this as pressure was building on my Commanding Officer Wing Commander A L Bajaj to send in the pilots.
We would hear news coming in of our pilots being shot -- Squadron Leaders Peter Rawlley and S B Bhagwat, Flying Officers M V Singh (taken as a POW) and 'Pingo' Pingle (who ejected safely, was awarded a Vir Chakra for a Sabre kill and later became an air marshal). I can remember these names.
They were our friends. We broke bread together, lived together.
Peter Rawlley's death was particularly sad. He was a very popular person and very well liked in the unit. In the squadron he was considered a very good pilot. He got shot in Pakistan. That had a demoralising effect.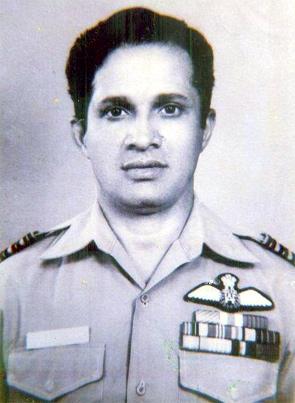 IMAGE: Five years later, he was taken as a POW in the 1971 War and spent over a year in Pakistani jails.
In the fighter squadron, pilots who have good record are sent for a flying instructor's course and transferred to the training academies. At that time these academies were in Jodhpur and Hakimpet, near Hyderabad.
When war starts, these pilots are called back to their respective squadrons. The pilot, who was deputed, suddenly remembered that his identity card had been left behind in the mess and went to fetch it.
I was watching all this and was trailing my commanding officer.
After another frantic call, he asked, 'Where is this guy?'
Somebody told him he had gone to get his I-card. 'How long is he going to take?' he asked.
Then what I hoped for and expected happened. He just turned from his telephone and said, 'Who else is there?'
I said, 'Sir, I am there. I can go.'
'But you're not fully ops,' he said. 'Of course, sir. You signed my certificate last week,' I replied.
He said, 'Then go!'
He had hardly said that and I ran, picked up my helmet from the crew room and dashed to the aircraft that was already ready. I jumped in.
When two other young colleagues, saw me rushing, they asked, 'Where are you going?'
I said, 'I'm off to Halwara.' (Breaks into a hearty laugh).
These two chaps came running after me, one of them is here in Pune. They climbed on the ladder of the Hunter and one said, 'Parulkar, I'm senior. Get off this bloody thing.'
I said, 'Speak to the CO, okay. I'm getting off this aeroplane only in Halwara.'
We either go in a pair or in fours. The leader of my formation of four was Squadron Leader Bhupendra Kumar 'Bhoops' Bishnoi (awarded Vir Chakras for both the 1965 and 1971 wars who later became an air marshal).
As we were getting closer to Halwara, the radar picked us up and the ATC asked us for authentication.
There was silence from Bishnoi. He asked me; 'I say DK, do you have the authentication table?'
I said, 'No sir.'
We had gone in such a rush that we had forgotten the authentication table which is carried on the thigh so that it can easily be read.
We very sheepishly told the ATC that we didn't have it. The flying control asked us our names? I said Bhupendra Bishnoi and Dilip Parulkar.
He said, 'Parulkar say some words in Marathi (laughs). Actually he was a Squadron Leader Paranjpe from Pune. So I spoke to him in Marathi and he said 'Ok, authentication done, come in and land.'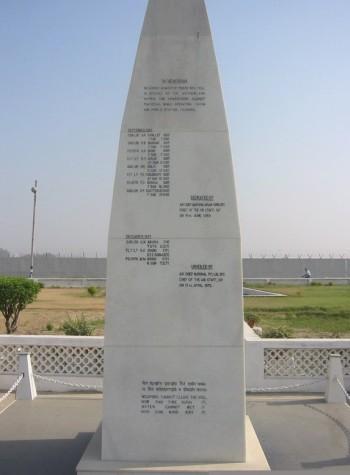 IMAGE: A memorial pillar commemorates the 8 dead of the 1965 war and three of the 1971 war at Halwara. Photograph: Kind courtesy Bharat Rakshak.com
When I landed at Halwara, I heard Flying Officer Adi Gandhi (awarded the Vir Chakra for the 1965 war who later became air marshal) had shot a Pakistani Sabre during an ORP (Operational Readiness Platform) in a Pakistani dusk attack.
How the ORP works is that at two ends of the runway, two aircraft are armed and kept in readiness always. The two pilots are in an underground bunker. Once given orders, the pilots get airborne within two minutes.
So after reaching Halwara I too went to the ORP. I met a senior pilot who asked, 'Are you fully ops?' I told him that I've been inducted into Halwara, so I was fully ops.
He told me that his muscles were tense doing ORP the whole day and if I could release him for the rest of the evening?
I said, 'Certainly, sir. That's what I've come for.' (laughs).
I knew there would be a CAP (Combat Air Patrol, a routine when the two aircraft get airborne and circle the air field) where there will be some Sabres coming and I would get to shoot them.
But nothing of that happened.
The next day I was put on a mission to attack tanks (in the Khem Karan sector).
We took off in our Hunters in a formation of 4. Bhoops Bishnoi was no 1, (Flying Officer G S) Ahuja was no 2, (Flying Officer) S K Sharma and me were no 3 and 4.
We were firing at Patton tanks that were moving towards India.
Fighter aircraft are the biggest menace for tanks because they come at great speed, attack from a height and their rockets are lethal.
The Hunter travels at 400, 420 knots. One knot is 1.6 times a km, so it was at a speed of 700, 800 km/hr.
You come at great speed and when you see the tanks, you pull up because attacks are always done in a dive. You go up to 3,000 to 4,000 feet and then dive on to the target and let off your rockets...
When no 1 in the formation attacks, he has the element of surprise. By the time No 2 comes, the enemy has started to fire. No 3, they are getting close and for No 4, the enemy is in position.
I invariably chose no 4. I think my death wish was very, very strong. It didn't materialise, that's the only thing. I am a crazy chap.
The Pattons have an anti aircraft gun on top. We attacked them and they fired back. S K Sharma was hit at no 3, I was hit too. I was diving and this tank was shooting at me.
The bullet which hit me, came through the side of the aircraft, grazed my shoulder completely and disappeared behind my head.
The noise in the airplane suddenly increased because the canopy had burst and I saw my overall getting soaked in blood.
I didn't know where the bullet went. Our plan was to carry out 4, 5 attacks and this happened in my second attack.
We talk to each other in the air and I kept quiet because if I told them it would cause lot of disturbance in the formation. The formation also feels bad that one of our chaps has got shot and we don't know how it would affect the next attack.
We carried out our stipulated attacks. With my injured arm, I carried out two more attacks.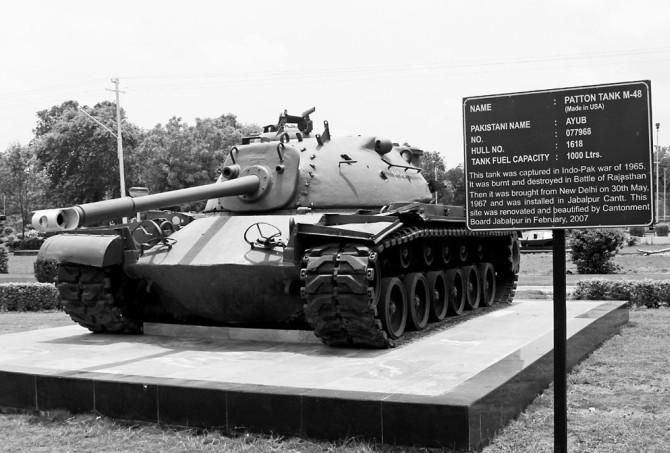 IMAGE: A Pakistani Patton tank captured in the war, now displayed at Jabalpur cantonment. Photograph: Kind courtesy: 1965: Stories from the Second Indo-Pak War by Rachna Bisht Rawat, Penguin Viking.
When we started back for Halwara, I told Bhoop Bishnoi, that I was shot in my right shoulder. He said, 'Eject, eject.' I said, 'No sir, I'm not going to eject.'
I decided not to eject because my aircraft was flying and it was not going to go down. There was no need.
You may find it difficult to believe, but my thinking was that this airplane can be reused and if I eject, it will just crash.
Believe me, I was thinking that I have to save this aircraft. It is a fact that most pilots don't want to abandon their aircraft. It has never let them down and brought them back home safely. So why abandon it at the first instance, I thought?
Bhoops Bishnoi thought maybe this fellow doesn't want to eject because we are still in Pakistani territory. So we flew for 5 minutes and when we crossed the Indian border, there were still 30, 40 miles to go before we reached Halwara, which would have taken another 5, 6 minutes.
Bishnoi said, 'Parulkar, now eject.'
I said, 'No sir, I'm not ejecting. I am landing this aircraft at Halwara.' (Thumping his hands on the desk).
He must have thought this bloody kid is going to die.
The four us came back, but unfortunately only three landed. We lost Ahuja over the airfield in a collision. I saw it happen in front of my eyes.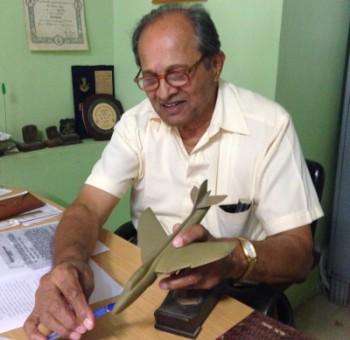 IMAGE: Group Captain D K Parulkar with a model of the Hunter, showing how it was shot by Pakistani tanks. Photograph: Archana Masih/Rediff.com
I had decided I would land and I did. I taxied back to the dispersal.
The flying control had been told that my aircraft had been hit and they were waiting for me. The ambulance came screaming and parked by the side.
As I was getting down from the aircraft, I did not know what the damage was -- and not a word of this is an exaggeration -- I told the airmen, 'Yaar yeh choti si baat hai, main kal phir se ja raha hoon. Doosri sortie ke liye aircraft prepare karo (This is just a small mishap. Prepare the aircraft for my next sortie tomorrow).'
I wanted to show the airmen that Pakistani bullets mean nothing.
I was so lucky because that bullet that had gone through my shoulder had pierced the centre of my headrest, inside which is kept a very vital part of the parachute.
The drogue chute pulls out the main parachute and that line connecting the drogue parachute to the main parachute had been severed by the bullet. The drogue chute would have landed like a kati patang.
If I had ejected, it would have been curtains for me. I would have hit the ground at 400 miles per hour and would have had to be scraped off the ground.
I had kept that parachute and my flying overall with my blood caked on it for a long time. Then my wife said, 'What morbid stuff you are keeping and threw it.' But it was one helluva souvenir!
They took me to hospital and the senior medical officer said, 'We have to stitch this up.'
I said, 'Wait!'
You see medical fitness is a very important in a pilot's life. I thought he would certify me medically unfit and I would be unable to fly.
What had happened was that Mr U Thant, the secretary general of the United Nations, was already in Pakistan trying to bring an end to the hostilities.
I knew if a ceasefire was declared, there would be no fighting or firing for me.
I told the senior medical officer, 'Sir, you make me fit for flying tomorrow.' He looked at the injury and said, 'What nonsense!'
I said if you're not going to make me fit for flying tomorrow, please put some iodine, dress this wound and I'll go and fly.
He gave me 14 stitches and told me to rest. He said as a medical officer he would not allow me.
Since I had rushed to Halwara from Hindon only in my flying boots and overalls, I had no other clothes. I borrowed a bush shirt and shorts from a chap from Nagpur whose room I was sharing.
I was wearing his clothes and he was three sizes smaller! My arm was in a sling.
When we go for war, we are given a revolver for personal protection. It was nothing handy like .32 or .25, but it was a .38 which was like a cannon!
Since it was issued to me, I had to look after it and return it after the war. So I kept this revolver in the pocket of my shorts.
In the meantime, another pilot had crashed and his body had been recovered. An IL-14 aircraft had come from Delhi to take the body back. Since my flying was over and my squadron was in Delhi, I thought I would go to the principal medical officer at the command headquarters at the Western Air Command.
I also thought I would be returning to my squadron as a war hero and there would be additional attention etc (laughs).
With the IL-14's lumbering speed, we reached Delhi at nightfall and were not allowed to land and were diverted to Agra.
The crew said we would go to Delhi the next morning and I thought it would be much faster to go by train. That way I would get to sleep in my own room that night!
I went to the railway station with my flying boots in one carry bag and my overall and helmet in another. I took a coolie since my arm was in a sling. My revolver was in my pocket.
The train was late and I was walking up and down the platform. Since we were at war, there was a lot of troop movement and there was a group of airmen at the station. One of them spotted my revolver.
They thought I was a Pakistani paratrooper!
At that time there was fear of Pakistani paratroopers because Pakistan had dropped armed paratroopers outside our air fields. It was such a futile exercise, they could not create any damage but created lot of commotion.
So this airman went and reported it to his sergeant. I was nonchalant about it when 10, 15 of them surrounded me. I told them I was an IAF pilot coming from Halwara and that I had been shot.
They asked for my ID. I told them during war we're not allowed to carry IDs but I had a traffic offence challan and a picture with a cousin who died as a cadet just before he got commissioned.
I had a photo with him in front of an HT-2 aircraft. I showed it and told them I was carrying an air force revolver that was issued to me. One of them opened the breach and saw that it was loaded. I said it had to be!
But they marched me to the police station where the inspector also asked for my ID. This continued from around 7 to 11 pm. By then, my faithful coolie came and told me that the train had reached the station's outer signal.
I thought now it was time to take action because I had to be on that train. I kept telling the inspector to call the commissioner, but he wouldn't listen.
I then pretended to lose my temper -- something I rarely have done in life -- I told him my wound was from a Pakistani bullet and when he would know the truth tomorrow, I don't know what would happen to him.
He was finally convinced, and told one of his constables to get me a lower berth. (laughs.)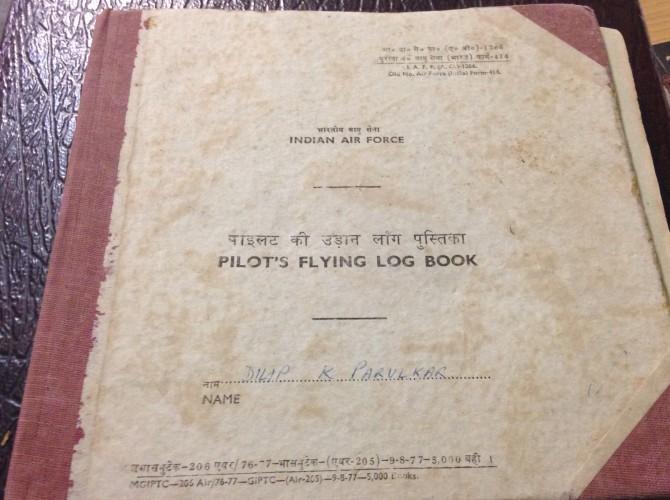 IMAGE: One of Group Captain Parulkar's flying log books. He still remembers his days of flying with great excitement. Photograph: Archana Masih/Rediff.com
I finally reached Delhi the next day and landed up at Group Captain Ajit Nath's office. He was the principal medical officer.
My clothes were better, of course. since I was in uniform.
I told him, 'Sir, I am Flying Officer Parulkar. I was shot in Halwara and have a wound.'
There was a Wing Commander Saxena across his cabin and he asked him to open the dressing and when he saw it, said: 'My god!'
I told him that he had to allow me to fly because this war would not go on for long and I had to fly till it came to an end.
I assured him that I could do any exercise in the air, that I would go to my squadron and do a sortie in a dual aircraft with an experienced pilot. I would do every exercise and show them that I could do it all.
There was a very senior pilot Squadron Leader Ian Loughran known as 'Locky' (Winner of a gallantry medal in 1961, he flew 14 combat mission in the 1965 War).
He had a huge reputation and image in the IAF. He did the flying sortie with me. I did whatever he asked me to do and he deemed me fit for flying.
I rushed back to the medical officer and on that day U Thant declared the ceasefire.
I got the Vayu Sena Medal for the 1965 War. Those were the days. That was the life. It was a great time.
Group Captain D K Parulkar flew the Sukhoi-7 in the 1971 war with Pakistan. He was taken as a prisoner of war when he ejected in Pakistani territory after his aircraft was shot down over Zafarwal.
Group Captain Parulkar, along with two other officers, made a daring escape before being recaptured on the Pakistan-Afghanistan border. He was released after spending more than a year in Pakistani jails.
Please read M P Anil Kumar's breathtaking story of Group Captain Parulkar's escape here.
19 Indian Air Force pilots and 18 airmen died in the 1965 War, according to The India-Pakistan Air War of 1965 by P V S Jagan Mohan and Samir Chopra.
Our Special Series: The 1965 War, 50 Years Later