'On June 15, 1965, Major A K Afridi of the Pakistan army was captured by Papa's 1 Mahar unit near Vigokot, when he accidently walked into Indian territory.'
'While he was being airlifted to Delhi from Kutch, Major Afridi made a request: He wanted to watch Sangam, the movie starring Raj Kapoor and Vyjayantimala. It was a request that the Indian Army fulfilled.'
'Major Afridi was sent with armed escorts to watch the movie in Ahmedabad and then sent to Delhi for further interrogation.'
Uma Sudhindra recalls the wars that interrupted her parents's romance before it ended in blissful marriage.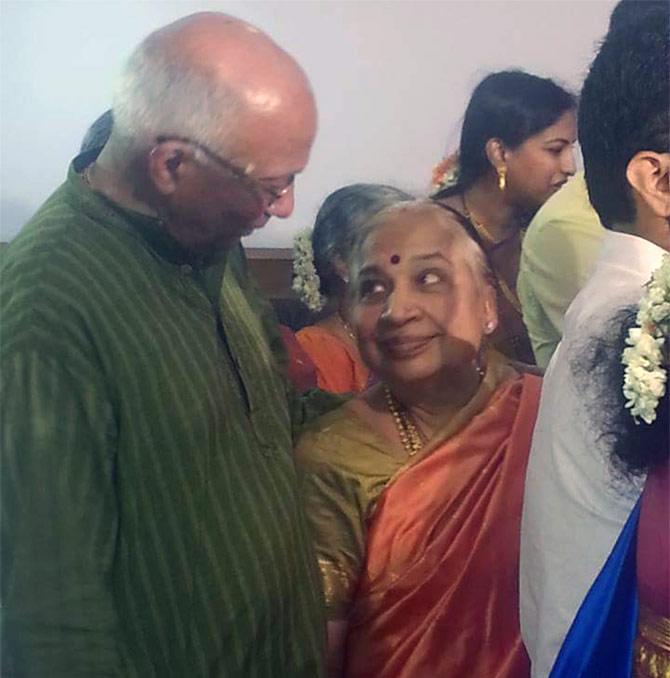 It is thrilling to read so many accounts of the 1965 war. Social media has at least half a dozen stories every day about the various aspects of this war we fought against Pakistan and television channels are airing programmes about it on prime time.
My perspective about the 1965 war is a little different.
You see, my father -- today a retired soldier -- was part of this war and I am writing about what he went through as a person during that period. I am writing about how a silent romance that kindled in the summer of 1961 simmered for five years before it culminated in matrimony in 1966.
It was in May 1961 that my father, Lieutenant General Venky Patil, met my mother Radha. His sister, who was married, was unknowingly responsible for this because she moved into the same neighbourhood in Bijapur, Karnataka.
Having been attracted by my mother's smile (so he says), Papa -- who was then visiting my aunt -- did not know what to do next. So he did what most young men do. He kept quiet.
He had put in about two years of service in the Indian Army and was aware that not many girls, let alone families, would be excited about marrying an army officer!
My Mom, I think was more practical and treated Papa as she should have those days -- just as the neighbour's brother. And life moved on.
In April 1962, he came home on leave from Walong in Arunachal Pradesh for two weeks but did not get a chance to meet Mamma.
I must share a little background information about the family here. My paternal grandfather had passed away in 1959 and my uncle was, for all practical purposes, the head of the family. He was a strict disciplinarian with a no-nonsense attitude towards life.
While he had been extremely supportive of Papa getting into the army, he was also the kind who would definitely not encourage romancing a young girl long distance. So, my poor father went back to Walong with my mother's smile in his heart.
In the meanwhile, my aunt (Papa's sister), the eternal match maker, proposed that when Papa came home on leave next, the family should pursue the alliance with Mamma's family. My mother had lost her father at a very young age and my grandmother had brought up her daughters (Mamma and her sister) single-handed.
The proposal was put forth by my aunt and she was subtly told, 'The boy is in the army... we don't know what future he has.'
In those days, especially in states like Maharashtra and Karnataka, a career in the armed forces meant you were never coming back alive! To top it all, Papa was the first one in the family to join the army.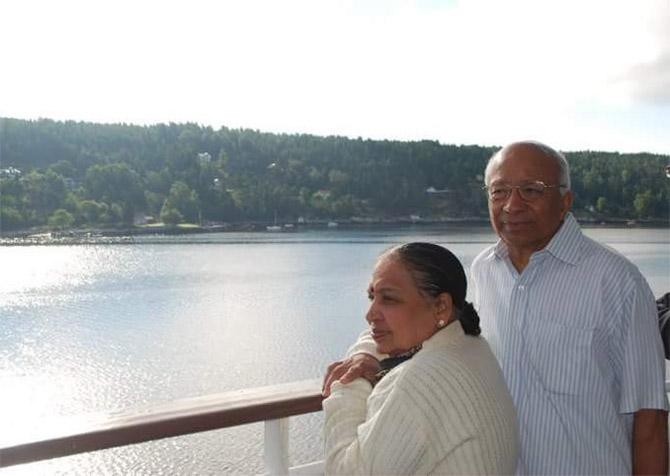 In October and November of 1962, we fought our war with China. Papa was posted to Walong initially and then moved to the Tawang sector to fight (both in runachal Pradesh).
It was his first war. This was left him in no doubt about the people he loved in his life and Mamma was definitely in that priority list. He made up his mind that he would talk to his family once he got back home.
As luck would have it, Papa went missing towards the end of the war as they were trying to find their way back to the brigade headquarters.
For almost two weeks no one knew where he was, there was no communication whatsoever. A message was sent to my uncle that the war was over, but Captain V M Patil was missing. Can you imagine the family's plight?
Then, on November 19, 1962, Papa and two other soldiers reached the camp at Bhalukpong (in Arunachal Pradesh). They were able to send word to the family later on that all was well.
In the meantime, my maternal grandmother who had heard this news from my aunt was quietly heaving a sigh of relief, thinking how glad she was that she did not pursue this alliance for her older daughter.
Imagine marrying your daughter off to an army officer, who then goes missing in a war.
However, Mamma's feelings were changing now; she was slowly but surely falling in love. She finds it difficult to express it even now, but her smile is enough for us to realise what her feelings were then.
The war got over and, in April 1963, Papa moved to Deolali (Maharashtra) for eight weeks for a course. He came home on leave, again for two weeks, and talks of him meeting Mom officially began to take place. But, as time was short, it did not happen. The silent romance, however, continued.
The next year, my father was posted as the aide-de-camp to Major General K P Candeth in Nagaland. Besides being a good soldier, the only two informal pre-requisites the GOC (General Officer Commanding) had was -- the ADC must be a bachelor and it would be great if he could play bridge.
So, when the meeting took place between Papa and then Major General Candeth (he later became Lieutentant General Candeth), Papa was asked, 'Venky, I hope you have no plans of getting married in the next two years?'
Being the true soldier that he is, Papa replied, 'No Sir. Not at all, Sir.' That put a full stop to any thought my grandmother had about getting my mother married to him. She told my Mamma, 'This alliance isn't going anywhere. I will look for someone who is available.'
My poor Mom had no choice. Imagine falling in love with someone who keeps disappearing from your life in the name of duty!
However, the universe or destiny plays its role in many ways.
One of Mamma's friends became the first young lady to marry an army officer from her town (Bijapur). The army officer she married was none other than Captain S C Sardeshpande, who later commanded the Indian Peace Keeping Force operations in Sri Lanka and retired as the Director General, Infantry.
When the two friends met in 1964 and exchanged notes about each other's lives, Mom felt more encouraged. In her mind, she resolved to wait for Dad. After all, it was a matter of another year... or so she thought.
An interesting stint in Nagaland with General Candeth taught my Dad a lot of things about soldiering and turned him into a master bridge player too! He was looking forward to finishing this tenure and finally tying the knot with my Mom by the end of 1965. As the old adage goes... man proposes and God disposes.
War clouds had started gathering over India by early 1965 and, in March, he moved to Rann of Kutch as OP (Observation Post) Officer with 1 Mahar. He got the fantastic opportunity of working with then Lieutenant Colonel K Sundarji, who subsequently became the Army Chief.
The family went back to waiting for its prodigal son to return and settle into some sort of normal life. Little did they realise that normal life in the armed forces is very different from civilian normal life.
While Mom continued to wait for Dad, her mother continued to look for other alliances. Dad was garnering experience after experience in the Bier Bet and Vigokot sectors of the Rann of Kutch.
On June 15, Major A K Afridi of the Pakistan army was captured by the 1 Mahar unit near Vigokot, when he accidently walked into Indian territory.
While he was being airlifted to Delhi from Kutch, Major Afridi made a request: He wanted to watch Sangam, the movie starring Raj Kapoor and Vyjayantimala. It was a request that the Indian Army fulfilled.
Major Afridi was sent with armed escorts to watch the movie of his choice in Ahmedabad and then sent to Delhi for further interrogation.
Yes, the Indian Army is tough, but it is also humane.
In July 1965, Papa moved to Deolali for his Long Gunnery Staff Course or the LGSC as it is popularly known in the army.
The family was happy that he was out of the war zone and were hoping he would come back to get married now. But my father said he would marry once the course was over as he did not want distractions.
The LGSC got over in May 1966 and my parents finally got engaged two months later. They got married on December 15, 1966, after a courtship of five months, in which period both Dad's family and Mom kept confirming that he would be present for his wedding!!!
My uncle's sense of humour came to the fore when he actually sent the wedding invitation card to Dad and asked him to make it convenient to attend his own wedding!!!
A look, a smile and a hello that had begun in the summer of 1961 finally ended in matrimony in the winter of 1966. Thank God for that, otherwise I would not have been here to tell you this story today.
That it was a strong relationship was proved further when Mom's younger sister also married an army officer in 1967.
The armed forces teach us a lot of things: Dash, courage, determination, discipline, honour, integrity, service before self. These are the values the world is aware of.
What the world should know is that the armed forces also teach us to wait patiently for a soldier does not fight his battles because of who he is facing. He fights for those he has left behind.
Oh! To fall in love with a soldier and continue loving him. Behind every soldier there is an even stronger woman who supports him unconditionally and loves him with all her heart. That is why they say God found some of the strongest women and paired them with soldiers!
Photographs: Kind Courtesy Uma Sudhindra
Uma Sudhindra is a current affairs analyst, with a focus on domestic & global politics & defence. An alumnus of Fergusson College and JNU, she has been writing about international relations, political systems and the humane aspect of armed forces.
She is also a social entrepreneur, running her own NGO, which empowers women by addressing their safety and harassment issues. She is part of the Forum for Integrated National Security, a think-tank based in Mumbai.
THE 1965 WAR, 50 YEARS LATER