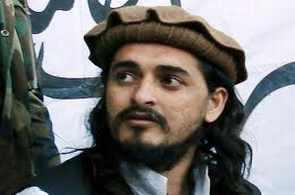 Against the backdrop of a spate of attacks on election meetings and campaign offices ahead of the landmark May 11 polls, Tehrik-e-Taliban Pakistan chief Hakimullah Mehsud has said his group is focussed on ending the country's democratic system.
The Taliban's aim is to "end the democratic system", Mehsud said in a letter sent to the media in Pakistan's northwest. As part of this campaign, the group will hinder elections in the country, he said.
The banned Tehrik-e-Taliban is now solely focused on the May 11 general election and Taliban fighters have been directed to target senior politicians and party leaders while continuing their battle against security forces, Mehsud said. He claimed his group had already achieved some success as the government had invited it to hold peace talks. "We have succeeded politically after we were asked to negotiate by the government," he said in the letter.
He further claimed his group was not just fighting a war at a tactical level but had been able to "subdue" politicians by making them negotiate with militants.
Over the past few days, the Taliban has claimed responsibility for a series of bomb attacks targeting the liberal parties like the Awami National Party, Pakistan People's Party and Muttahida Qaumi Movement in Sindh and Khyber-Pakhtunkhwa provinces.
A MQM candidate was gunned down by Taliban fighters in Hyderabad, Pakistan's second largest city, and about 40 people have died in bomb attacks on election offices and campaign meetings of the PPP and ANP.
The Taliban have said they are targeting these three political parties for their secular policies and for ordering military operations against militants while they were in power over the past five years. The campaigns of the ANP, MQM and PPP have been hit hard by the Taliban threats and they have stopped holding large rallies and meetings.
The attacks have heightened concerns about security for the election, which will mark the first democratic transition of power in Pakistan's 66-year history.

Image: Tehrik-e-Taliban Pakistan chief Hakimullah Mehsud