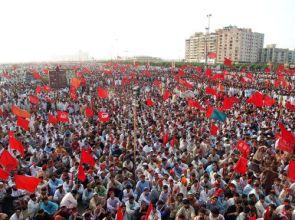 A suicide bomber on Tuesday targeted leaders of the secular Awami National Party in Peshawar city of northeast Pakistan, killing 15 people and injuring dozens more in the latest in a string of terrorist attacks ahead of next month's general election.
The bomber struck when a car carrying senior ANP leaders reached Yakatoot neighbourhood, where they were to address an election rally on Tuesday evening.
"The bomber detonated his explosives near the driver's door," said Peshawar police chief Liaqat Ali Khan.
The driver and four policemen, including two officers, were killed instantly, Khan said.
Other officials told the media that 15 people were killed and over 40 injured. About 30 injured people were admitted to the LadyReadingHospital, officials said.
Senior ANP leader Ghulam Ahmed Bilour, who was the railway minister in the outgoing federal government, sustained minor injuries.
Footage on television showed a shaken Bilour getting into an ambulance without assistance.
There were bloodstains on his clothes.
Bilour's brother Bashir Ahmad Bilour was killed by a Taliban suicide bomber in Peshawar on December 22. Bashir's son Haroon Bilour had a narrow escape in today's attack.
The banned Tehrik-e-Taliban Pakistan claimed responsibility for the suicide attack.
The Taliban have vowed to attack secular parties like the ANP and Pakistan People's Party ahead of the landmark May 11 general election, which will mark the first democratic transition in the country's history.
About 300 people had gathered for the ANP rally when the bomber struck. The blast destroyed a car and damaged several shops and buildings.
Footage on television showed flames leaping out of the car. A grief-stricken young boy repeatedly slapped himself on the head as others tried to console him. Local residents were seen putting the injured in cars and rushing them to hospital.
Peshawar police chief Khan said the level of threat for political parties and election rallies was "very great".
Police were conducting raids and gathering intelligence to prevent more attacks.
"But details of these (election) meetings and rallies are already known and they cannot be kept secret," he said.
ANP chief Asfandyar Wali Khan accused the Election Commission and the caretaker government formed to conduct the polls of being involved in a "conspiracy" against his party.
He said certain forces wanted to force liberal elements out of national politics while the Election Commission was focusing on irrelevant issues instead of ensuring the security of all parties.
"The security of ANP leaders has been removed. The caretaker set-up should give a level playing field (for the polls) but it seems to be involved in a conspiracy," he said.
Khan said he was yet to receive a response to a letter he had sent to the chief election commissioner, the supreme court chief justice and the caretaker prime minister about the lack of security for ANP workers and leaders.
"The ANP is not being allowed to hold election rallies and meetings. We have no confidence in the caretaker government. But the ANP leaders are the followers of (Khan Abdul Ghaffar Khan) and we will not flee from the field. We are willing to make sacrifices and we will not surrender to the terrorists," he said.
On February 15, senior ANP leader and former Khyber-Pakhtunkhwa Chief Minister Ameer Haider Khan Hoti, survived an assassination bid by a Taliban suicide bomber.
Earlier this week, one ANP leader was killed and another injured in roadside bomb attacks.
The ANP says over 600 of its workers have died in terrorist attacks over the past five years.