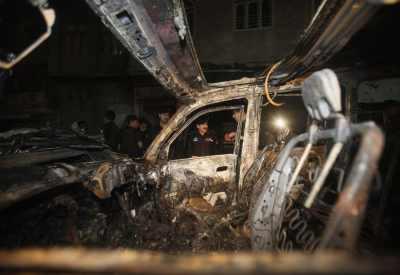 The outlawed Tehrik-e-Taliban Pakistan has defended its attacks on politicians, claiming its fighters were targeting liberal political parties for their secular ideology and support for military operations.
"The first reason for attacking political parties is their secular doctrine. The second reason is that they were responsible for burning (the tribal areas), Swat and Khyber-Pakhtunkhwa," Taliban spokesman Ihsanullah Ihsan said in a statement.
The Pakistan People's Party, Awami National Party and the Muttahida Qaumi Movement were responsible for the "displacement of millions of people, the plight of the Pakhtun, for abandoned villages and destroyed mosques" during military operations, he claimed. The Taliban would avenge the oppressed, he said.
Ihsan also rejected a fatwa or decree by Pakistani religious scholars that said voting was "compulsory under Islamic injunctions" and claimed it was an attempt to fool the masses.
Describing the May 11 polls as "so-called general elections" being held under a secular democratic system, Ihsan said Pakistan "came into being under the banner of an Islamic doctrine, while elections are based on a secular doctrine. The two are contrary to each other because Islamic laws and values come from Allah, while the secular doctrine comes from Rousseau, Kant and Bentham."
Claiming responsibility for a series of bomb attacks on politicians in Karachi, Peshawar, Swabi and Kohat, Ihsan said "a man cannot be secular and a Muslim at the same time".
Asked why the Taliban were not targeting other political parties, including religious parties, Ihsan said the Tehrik-e-Taliban Pakistan's shura or central council had decided to take revenge from those who were behind the killing of people in the tribal areas.

Image: Security officials collect evidence near a damaged vehicle at the site of a suicide bomb attack in Peshawar April 16. At least nine people were killed and more than 50 wounded when a suicide bomber attacked a pre-election rally held by a political party opposed to Pakistan's Taliban movement, police said. | Photograph: Oleg Popov/Reuters