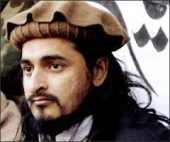 With a little more than a month to go for Pakistan's general election, Tehrik-e-Taliban Pakistan chief Hakimullah Mehsud has described democracy as a system of 'kafirs' (non-believers) and vowed to wage jihad to implement Islamic law in the country.
In a video message issued on Monday, Mehsud said the Taliban wants the enforcement of Shariah or Islamic law in Pakistan. Geo News channel quoted Mehsud as saying that he does not favour democracy. The Taliban chief claimed that 'kafirs' want to divide Muslims in the name of democracy. The Taliban wants an Islamic nation and "Allah's system" in Pakistan, he said.
Shariah will be implemented through jihad and a time would come when there would be a caliphate, Mehsud claimed. He further claimed that the Pakistan government and the United States were hatching conspiracies to make Muslims fight among themselves.
The banned Tehrik-e-Taliban Pakistan had earlier warned that its fighters would target the election rallies of the Pakistan Peoples Party, Awami National Party and Muttahida Qaumi Movement. The Taliban has carried out several attacks targeting the ANP and its leaders.
Pakistan will go to the polls on May 11 to choose new national and provincial assemblies, marking the first democratic transition in the country's 66-year history.

Image: Tehrik-e-Taliban Pakistan chief Hakimullah Mehsud