This will cost the government Rs 3.1 trillion, about 10 per cent of its annual expenditure, and higher than any other spending item in its Budget.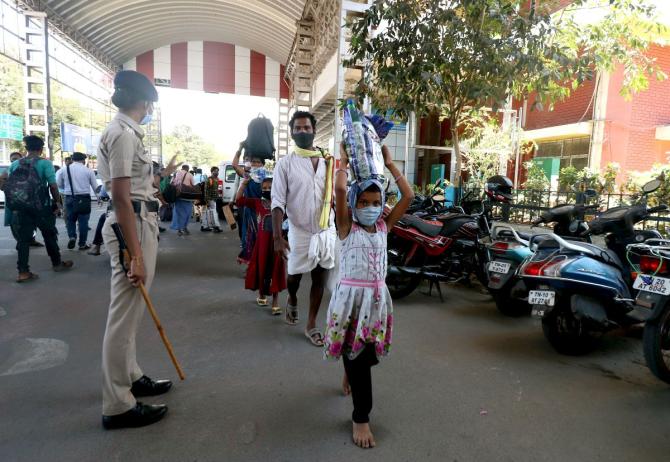 As a deadly second wave sweeps the country, a recent study bats for and provides insight into the need for immediate cash support to households -- like last year, but with some changes.
The study by the Bengaluru-based Azim Premji University proposes the government transfer Rs 5,000 to each household registered under the public food distribution system (PDS) for the immediate three months, even as there is no official word on a fresh set of relief measures this year.
This will cost the government Rs 3.1 trillion, about 10 per cent of its annual expenditure, and higher than any other spending item in its Budget. The report uses survey data from the Centre for Monitoring Indian Economy's Consumer Pyramids Household Survey.
The report, State of Working India 2021, finds that the poorest 10 per cent of workers lost Rs 15,700 owing to truncated incomes in March-October 2020 (lockdown and post-lockdown), compared to the July 2019-February 2020 period.
Though the income loss is in a similar range for all deciles, workers earning more (those in upper deciles) lost far less in percentage terms compared to their poorer peers in the peak month of lockdown -- April 2020.
Several other studies have also documented income loss across various vulnerable professions last year.
The report has three policy prescriptions linked to the key findings.
Firstly, the cash support last year was puny in quantum compared to the income loss, and a cash transfer scheme should ideally cover the loss borne by the poorest of families.
Secondly, the cash transfer component was limited in reach. Rather than transferring money to those holding accounts under Jan Dhan Yojana, the government should use the PDS database to reach more beneficiaries.
Thirdly, the cash component was low compared to peer countries as a share of monthly per capita GDP.
Small quantum
Apart from free food grains and expansion of work under rural employment guarantee scheme, the package last year included cash transfer to women who have Jan Dhan accounts.
But the cash component was limited to Rs 1,500 per family (Rs 500 each for three months), about a tenth of what the poorest families lost in eight months (March-October).
The study finds that the poorest households lost Rs 15,700 in eight months last year. It also finds that women lost more compared to men, and minorities lost more than dominant communities.
It quotes a Dalberg survey that found 65 per cent of earnings were lost in the peak lockdown period, and a London School of Economics-Center for Employment Performance survey that put the income loss at 48 per cent of the usual income level.
Thin reach
There are only 400 million Jan Dhan accounts in the country, compared to 800 million beneficiaries under the PDS, which targets the bottom two-thirds of the population.
"PDS had the widest reach among all social safety nets, covering 87 per cent of (interviewed) households, compared to 56 per cent covered under Jan Dhan, 42 per cent under MGNREGA and 32 per cent under PM-KISAN," the report notes.
About 91 per cent of priority households reported they had availed of free rations under the Pradhan Mantri Garib Kalyan Yojana of 2020. "PDS worked much better in rural areas with 83 per cent of priority households receiving free grains easily as compared to only 66 per cent in urban areas.
On the other hand, about 78 per cent of poor female respondents have a bank account but only 23 per cent have a PMJDY account, according to the Financial Inclusion Insights survey by Kantar (2018).
APU's survey also found that 48 per cent of rural households and 63 per cent of urban households did not have a Jan Dhan account.
Lowest support among global peers
Globally, Covid relief cash transfers have amounted to 32 per cent of monthly per-person GDP, the APU report notes.
"India's total transfer of Rs 1,500 amounted to mere 12 per cent of a month's GDP per capita, which is approximately Rs 13,000," the study noted.
The rationale
Job losses were the most evident -- and the most talked about -- impact of Covid. But the unemployment rate came down as the economy gradually found its lost ground.
The apparent improvement masks two other equally severe impacts of the crisis.
One, though jobs are back, they do not offer the same incomes as before, and the loss is the worst among those earning the smallest of incomes.
Two, informality rose, meaning that new entrants came in as informal workers or self-employed.
"About 90 per cent of the decline in aggregate incomes was due to reduction in earnings of workers who were employed and only 10 per cent due to the loss of employment."
Between September-October 2019 and September-October 2020, real median earnings per worker fell 30 per cent. It is highly likely that the current lockdowns will have a similar impact, if not more.