Banksy appears to have created a new masterpiece in the spirit of Valentine's Day after a picture of a little girl firing a catapult full of flowers appeared in Bristol, United Kingdom.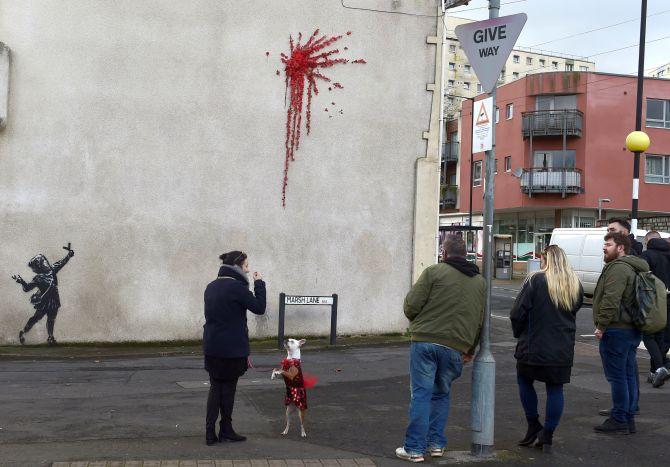 Residents in the Barton Hill area of the city woke up to the artwork sprayed on the side of a house on Thursday morning.
The artist has not confirmed the work as his but it caused crowds to gather and prompted the owner of the building to worry about how to protect what may turn out to be a valuable work.
The graffiti shows a young girl in a headscarf, stencilled onto the side of a house in the Barton Hill area of Bristol with black and white paint.
She holds a catapult in one hand with the other hand behind her, as though she has just launched a projectile. At the end of the catapult's trajectory is a bright red shape like a blood splatter, made of red plastic leaves and flowers.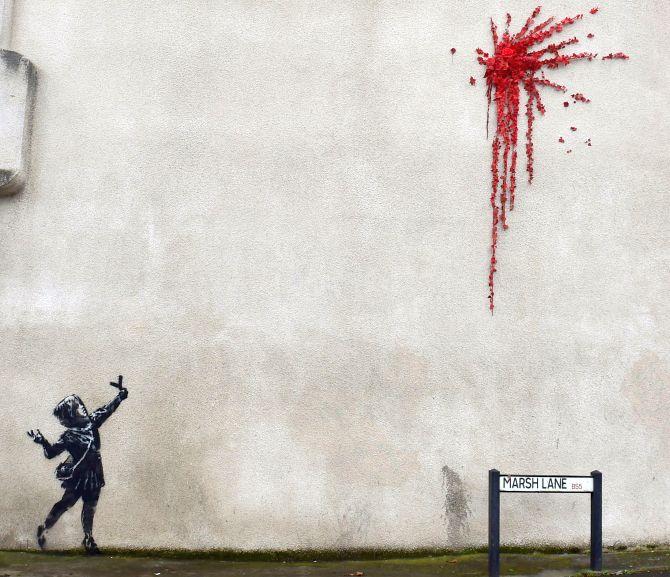 Banksy's street art often draws attention to social issues by adding elements of darkness to otherwise joyful scenes.
The artwork has delighted the property owner, 67-year-old Edwin Simons. He was quoted as saying, "I've always been fascinated by Banksy. I think he's brilliant, absolutely brilliant - and he's more brilliant now!
"We never thought this would happen to us.
"I think it needs to be covered in anti-vandal paint. But I don't know how you would protect the flowers. We need to get some advice."
The Bristol Somali Community Association was among the first to post photos of the artwork on social media.
It tweeted: "Today in Barton Hill, we woke up with this remarkable mural art painted on one of the houses of the area.
"We hope it's Banksy's work. Come and have a look yourself. Whoever painted, it's worth admiring their creativity. Thank you."
Photograph: Rebecca Naden/Reuters