Welcome to war.
A day before iconic street artist Banksy opens Walled Off -- his hotel in Bethlehem, a few feet away from the Israel-Palestine Wall -- Monali Sarkar takes you inside on a tour.
If anyone can set up an entire hotel in secrecy it is the elusive street artist Banksy.
But we readily admit that we couldn't have imagined that even he could pull it off in Bethlehem -- right under Israel's nose! (According to Reuters, 'Israeli military authorities in the West Bank did not immediately respond when asked if they had been aware in advance.')
Located under an army watchtower and across the street from the controversial concrete wall Israel has built in parts of the occupied West Bank, the three-storey Walled Off hotel will open for guests on March 11.
And this is not a joke, Banksy.co.uk assures us: but rather a 'genuine art hotel with fully functioning ensuite facilities and limited car parking.'
Photograph: Ammar Awad/Reuters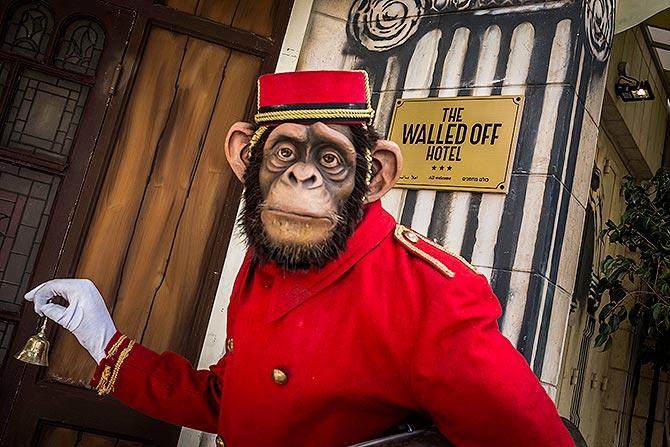 A statue of a chimpanzee bell-boy, clothes falling out of the suitcase he holds, greets patrons at the entrance.
The hotel has been styled to resemble 'an English gentlemen's club from colonial times,' a statement from Banksy said, in acknowledgement of the historical role Britain played in the Middle East.
The artist notes on the hotel's official site: 'Britain got its hands on Palestine in 1917 and the piano bar is themed as a colonial outpost from those heady days. It is equipped with languid ceiling fans, leather bound couches and an air of undeserved authority.'
Photograph: Ilia Yefimovich/Getty Images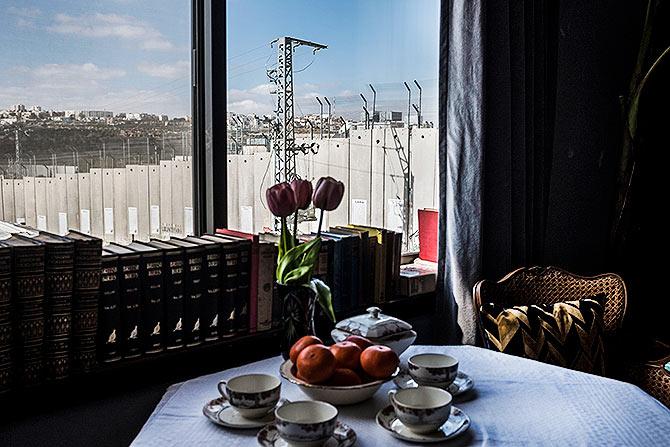 The hotel stands 13 short feet away from Israel's wall, and all 10 of the hotel rooms have views of it -- a view that Banksy called 'the worst of any hotel in the world.'
The wall came up in 2002 during the second Palestinian uprising (2000 to 2005).
While Israel calls it a separation barrier or a security wall, the Palestinians call it an 'apartheid wall.'
It is viewed by many as an Israeli attempt to grab land in the West Bank.
As the Electronic Intifada notes, 'In Banksy's work, location itself is a large part of the message, a key component of the resulting metaphor.'
Photograph: Ilia Yefimovich/Getty Images
The hotel's rooms and hallways are filled with Banksy's evocative work addressing the conflict.
One bedroom has graffiti work showing an Israeli border police officer and masked Palestinian youth having a pillow fight.
Banksy has been a long-time critic of the Israeli occupation and the people of the region are no strangers to his artwork.
The artist has not only snuck in and drawn on the separation barrier -- making it a tourist destination -- he has also snuck into the Strip after the 2014 Gaza conflict and made a 'tourist video' to show the world the squalid conditions there.
Then, in 2015, Banksy created a 'bemusement' park project called Dismaland, featuring Israeli and Palestinian artists.
'Walls are hot right now,'Banksy said in a statement, 'but I was into them long before [Donald] Trump made it cool.'
Photograph: Ilia Yefimovich/Getty Images
The owners say the Walled Off will be a functioning hotel along with being part art gallery and part political statement.
But that political statement is about peace; the hotel makes it very clear that nothing about it is intended to be anti-Semitic.
'The Walled Off Hotel is an entirely independent leisure facility set up and financed by Banksy,' the hotel says.
'It is not aligned to any political movement or pressure group. The aim is to tell the story of the wall from every side and give visitors the opportunity to discover it for themselves. We offer an especially warm welcome to young Israelis. Absolutely no fanaticism is permitted on the premises.'
Video: Hitesh Harisinghani/Rediff.com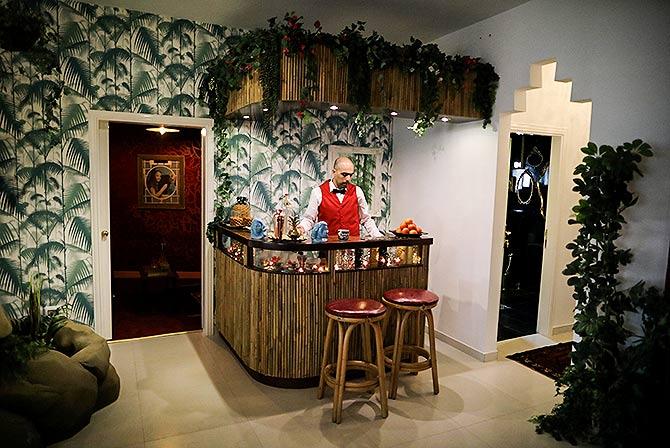 The hotel has been set up in an 'economic dead zone,' and some hope that Banksy's fame will bring back much needed tourism to the area.
The hotel's 45 staff members are Palestinian. The Telegraph newspaper quoted hotel manager Wissam Salsah as saying they hope to 'generate millions of dollars for the economy of Bethlehem.'
'We see more Banksy tourists than Jesus tourists,' Salsah told Al Jazeera.
According to the hotel's Web site, the piano bar features a remote controlled mechanical baby grand, 'programmed with a bespoke score of contemporary arrangements, plus every night it will play back a concert recorded exclusively for the hotel. We start our residency programme with 3D who presents the greatest hits of Massive Attack played with three hands. Concerts start every night from 9 pm. Upcoming artists include Trent Reznor and Atticus Ross, Flea and Hans Zimmer.'
Elton John reportedly performed remotely for the hotel's launch.
The hotel Web site invites guests to enjoy 'a collection of Banksy's artworks', the permanent and temporary collections in the art gallery, a museum that 'contains almost fully fact-checked material and will be an ongoing repository for local stories, artefacts and testimonies,' and warm scones and freshly brewed tea that will be served daily on fine bone china.
Oh! 'And the Walled Off Salad should not be missed.'
Photograph: Ammar Awad/Reuters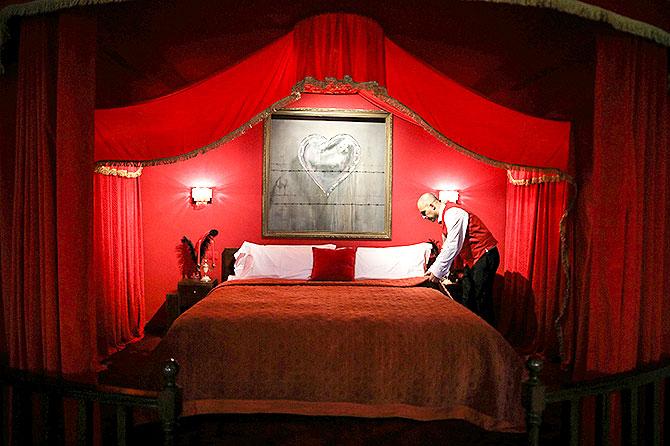 Guests can stay at the hotel in rooms ranging from one that costs as little as $30 a night and is 'outfitted with surplus items from an Israeli military barracks,' to a presidential suite, pictured above, 'equipped with everything a corrupt head of State would need -- a plunge bath able to accommodate up to four revellers, original artwork, library, home cinema, roof garden, tiki bar and a water feature made from a bullet riddled water tank.'
Photograph: Ammar Awad/Reuters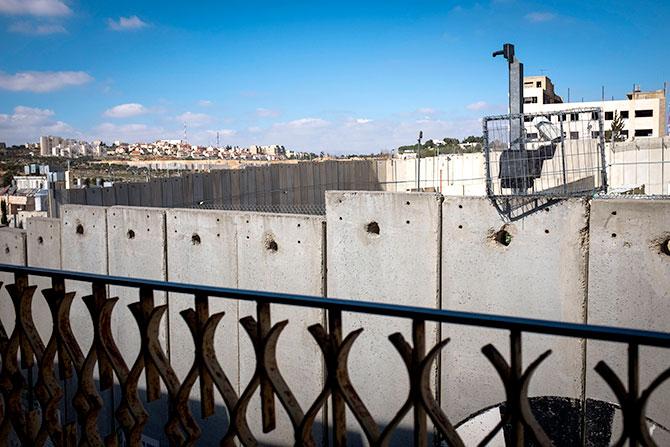 The hotel is located in Area C -- that portion of the West Bank under Israeli control.
Unlike Area A (where Israelis are not allowed) and most areas of Israel (where Palestinian movement is restricted) this is an area that both Israelis and Palestinians are free to visit.
The owners want the Walled Off Hotel to emerge as a safe space -- for meetings, discussions and ideas.
Questions of legality and ethics emerged as soon as the installation was announced, and the hotel's Web site addresses them.
'It's not not legal. The wall itself remains illegal under international law,' it says.
'Some people don't agree with painting the wall and argue anything that trivialises or normalises its existence is a mistake,' it adds. 'Then again, others welcome any attention brought to it and the ongoing situation.'
'Don't worry,' it assures people, 'Banksy won't see a penny. The artist paid for the installation costs and has now handed it over as an independent local business. The aim is to break even and put any profits back into local projects.'
The project is supposed to remain open for the centenary year, 'maybe longer if people come.'
Photograph: Ilia Yefimovich/Getty Images