For an artist that's known for his stunts, this could be Banksy's most perfect art world prank.
On Friday night, on sale at Sotheby's, London famed auction house, was a framed print of Girl With Balloon, one of Banksy's most widely recognised works, showing a girl reaching towards a heart-shaped balloon.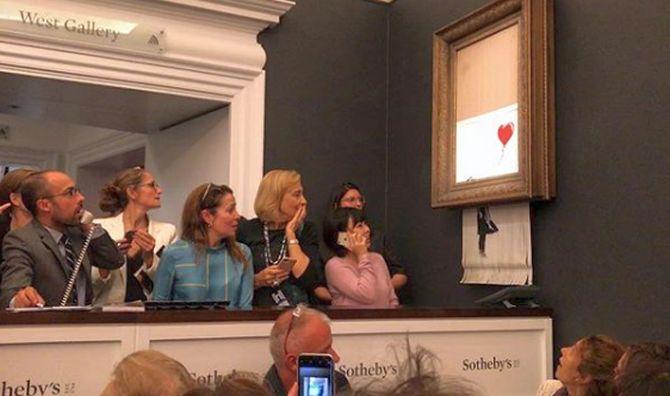 The evening ended on a high when the 'Girl with a Balloon' was auction off at an impressive final price of £953,829 or $1.4 million (Rs 9.23 crore).
But moments after the hammer had gone down, a shredder installed within the frame cut the print into narrow strips.
Posting a picture of the moment on Instagram, Banksy gave his own comment on the stunt, writing: "Going, going, gone..."
Immediately after the auction Alex Branczik, Sotheby's senior director and head of contemporary art in Europe said: "It appears we just got Banksy-ed."
There's no word on how the shredder started operating at the key moment after the auction, though it could have been activated by a remote mechanism.
Banksy is a Bristol-born street artist whose true identity has never been officially revealed despite repeated speculation.
The artist first achieved notoriety with a series of graffiti pieces that appeared on buildings across the country and later became involved in a public battle with rival King Robbo, who died in 2014.
Girl with Balloon first appeared on a wall on Great Eastern Street in London, in 2002 but the gallery version was created using spray paint and acrylic on canvas.
Several other Banksy artworks have been destroyed or damaged in some way, normally by third parties who do not appreciate their significance.