Gangster-politician Atiq Ahmed's brother Ashraf alleged that an official has threatened to eliminate him in two weeks, adding that he will send a sealed envelope to Uttar Pradesh Chief Minister and the Chief Justice of India revealing the identity of the perpetrator.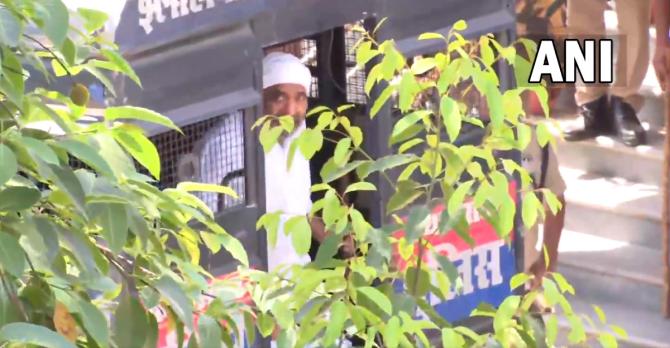 Former MLA Khalid Azim alias Ashraf also said that he had full faith in judiciary.
An MP-MLA court had on Tuesday held Atiq Ahmad and two others guilty in the 2006 Umesh Pal kidnapping case and sentenced them to rigorous imprisonment for life.
Ashraf and six others were acquitted by the court.
Talking to reporters before being taken back to Naini jail, Ashraf said from inside the police van, "I have full faith in the judiciary and believe that I will be acquitted in other cases as well."
He alleged that an officer told him that he would be taken out of jail after two weeks and killed.
Ashraf also called reports of his alleged involvement in the Umesh Pal murder case "completely baseless" and "part of a controversy".
"There is a conspiracy to trap the whole family. There is a conspiracy to defame the state government. Honourable Chief Minister of Uttar Pradesh Yogi Adityanath knows how fake cases cases are lodged... he understands my pain," he alleged.
Asked about the closed envelope, Ashraf said he will send the same containing the name of the officer who threatened him to CJI DY Chandrachud and Adityanath.
Despite being acquitted in the Umesh Pal kidnapping case, Ashraf will remain in jail as more than 50 cases have been registered against him, out of which hearing is going on in about 24 cases.
Umesh Pal, the main witness in the murder of MLA Raju Pal, was gunned down outside his Prayagraj residence on February 24.
A case was lodged at the Dhoomanganj police station in Prayagraj against Atiq Ahmed, his brother, his wife Shaista Parveen, two sons, aides Guddu Muslim and Ghulam, and nine others on the complaint of Umesh's wife.
Refuting the charge of planning criminal activities from inside jail, Ashraf said whenever someone comes to meet him in prison, officers from the local intelligence unit sit in front of him and CCTV cameras are installed.
"Who can plan anything in such a situation?" he asked.
He also sought to know why he and his brother were taken out of jail when the high court has permitted hearing of cases via video conferencing.
He said there is also an order that his lawyer should be with him when he steps out of the jail, adding that "I see there is no lawyer with me".
The former MLA dismissed any threats to his life inside the jail.
"The danger is outside the jail," he added.