Atique Ahmed is one of the most feared dons in Uttar Pradesh today.
There was another don who preceded Atique and had he survived, Atique wouldn't have been around today, recalls Sudhir Bisht.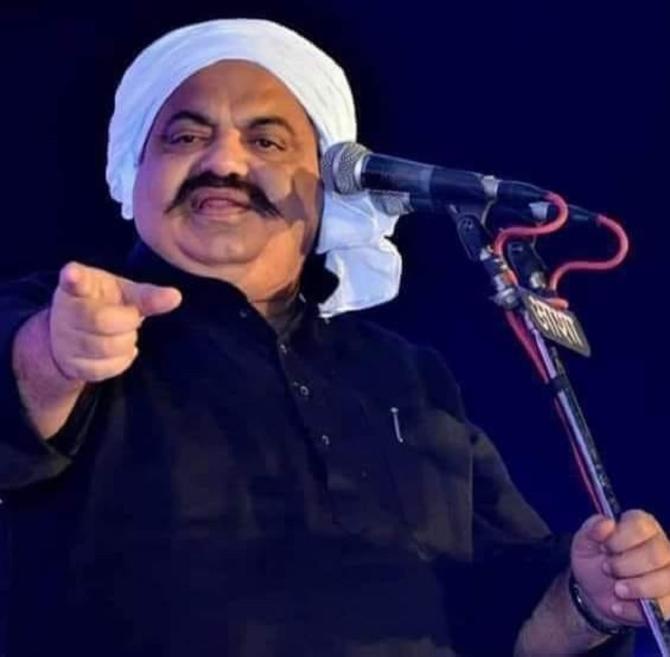 The Dhoomanganj area of Allahabad is in the news for the gory killing of Umesh Pal, allegedly by the henchmen of the dreaded bahubali (strongman) Atique Ahmed.
Umesh Pal was one of the key witnesses in the Raju Pal murder case that was also said to be committed at Atique Ahmed's bidding.
Raju Pal was murdered in 2005 and Umesh Pal on February 24 this year.
The two murders took place in the same locality and with the same sense of impunity.
Contrary to the popular story going around in the media that Atique's men eliminated Umesh since his statement before the magistrate was key to fix Atique in the Raju Pal murder, in my view this is not correct.
Umesh Pal's deposition before the magistrate in the said case had already concluded.
Local people say a land dispute between Umesh Pal and Atique Ahmed led to the gruesome killing.
Land disputes are at the heart of all the gang wars in Uttar Pradesh.
For those who are not well versed with the contours of Uttar Pradesh, I may mention here that Raju Pal was murdered in January 2005, allegedly by Atique's men.
The reason? Raju Pal had contested the assembly November 2004 by-election on a BSP ticket, and had won against Atique's brother, Mohammad Ashraf.
The by-election was necessitated because the incumbent MLA, Atique, had resigned following his election to the Lok Sabha.
Raju Pal's defeat of Atique's younger brother Khalid Azim alias Ashraf was seen a personal affront by Atique.
It is said Atique believes in the dictum that fear is the key to the longevity of an underworld empire.
The fear of Atique that was at its zenith in 1989 had begun to wane by 2004, at least that is how he interpreted his brother's electoral defeat.
He acted swiftly and decisively to ensure that the fear of his name remained undiminished.
It is alleged that his henchmen killed Raju Pal on January 25, 2005, within two months of his winning the assembly by-election.
Khalid Azim, Atique's brother whom Raju Pal had defeated, won the by-election that was held a few months after Raju Pal's murder.
Another point that I want to make is that Atique didn't just want to eliminate Umesh Pal, he wanted the impact of the murder to reverberate across Uttar Pradesh.
He wanted to send out a message that Atique is alive and kicking, even as he cools his heels in a Gujarat jail.
That is why the murder took place in broad daylight, on a busy highway where there were many CCTV cameras that everyone knew would capture the shooting incident.
Atique Ahmed wanted the people of eastern UP to remember that he, the son of a former tongawala (a horse-cart driver), remained the most dreaded name in Allahabad.
This time though Atique's bravado may become a cause of his own destruction.
With Yogi 'Bulldozer' Adityanath at the helm of UP, it is likely that Atique's empire would be crushed in the near future.
Atique may have vastly underestimated the resolve of Yogi Adityanath, the chief minister of UP, to eliminate the bad boys from Uttar Pradesh.
At least two of Atique's shooters have been killed in encounters and the police is closing in on his near and dear ones.
His wife is said to be on the run and his close aides are watching in mortification as their illegal buildings are being felled.
The fear of Atique Ahmed has been overshadowed by the fear of the Special Task Force whose personnel have been given a free hand by the UP government to bust the edifice of Atique Ahmed's empire.
Atique's name is going viral nowadays but before he burst into the scene, there was another gangster, Chand Baba, who had similarly terrorised Allahabad in the 1980s.
The recent deeds of gangsters in Allahabad take my mind back to 1988-1989 when I was undergoing training at the aviation fuel station of an oil major at the Bamrauli airport in Allahabad.
With a lot of time on my hands, I wandered in the beautiful city of Allahabad.
I lived in Allahabad for five years, my longest stay in any city other than Lagos, the capital of Nigeria. I know Allahabad like the city's own child.
Allahabad has always been synonymous with the Sangam (the confluence of the Ganga, Yamuna and the invisible Saraswati). It is still rated as one of most liveable, loveable cities in eastern UP.
Not far from Kanpur, Lucknow and Varanasi on three sides, it houses the Uttar Pradesh high court, auditor general's office, CDA office, the major education board headquarters, two large army cantonments, a selection centre for the NDA, the best government medical college and engineering college.
Not to forget the central university of Allahabad that has been in a state of decline since the 1970s.
Allahabad and its nearby constituencies have been represented by heavyweights of Indian politics.
The constituency of Phulpur in Allahabad had sent the first prime minister, Jawaharlal Nehru, to the Lok Sabha in the 1952, 1957 and 1862 parliamentary elections.
Nehru was succeeded by his sister, Vijayalakshmi Pandit, in 1964 and 1967.
In the 1971 and 1977 elections, Phulpur had sent Raja Vishwanath Pratap Singh to the Lok Sabha.
The same constituency had the ignominy of sending Atique Ahmed to the Lok Sabha in 2004.
Atique won the seat on a Samajwadi Party ticket and defeated Keshari Devi Patel of the BSP by around 65,000 votes.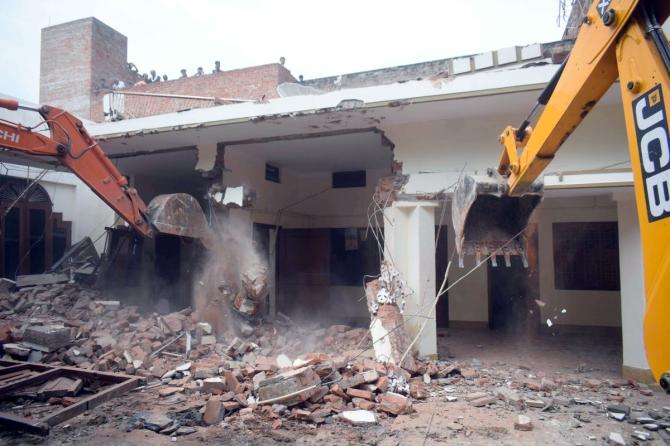 Allahabad in the 1980s was a mix of people. It had middle class people and poor people.
There were men who were honest because they liked honesty and there were those who were openly dishonest.
It also had people who were honest simply because they were not getting enough opportunities to indulge in corruption.
Allahabad was home to people who loved Keats and those who loved Kalidasa and then there were many illiterates that walked the city.
Allahabad had its gentry that spent the longest hours over half a cup of coffee at the Indian Coffee House at Civil Lines and it also had tipplers who were happy to drink a quarter of cheap liquor from authorised vends in three gulps, while sitting on the cycle rickshaw.
There were no very rich people in Allahabad. They were all middle class and poor.
With the rise of materialism in the 1970s and with the migration into cities from the neighbouring villages, petty crimes rose sharply in Allahabad.
Very soon the petty criminals formed alliances and big gangs surfaced in Allahabad.
They indulged in dacoity, kidnapping and extortion. The biggest gangs specialised in land grabbing, fixing tenders and booth capturing.
The patronage of these criminals came from politicians and government contractors. The bureaucrats and police played their part by ignoring them and collecting the crumbs that were thrown at them.
By the 1980s, the gangster ethos had taken strong roots in Allahabad.
In the mid-1980s, eastern UP was in the grip of various mafiaS. There was the coal mafia who dominated the coal distribution from Chandauli, Mughalsarai and Benaras.
There was the contractor mafia who had a stranglehold over all types of contracts that ranged from petty civil projects to the big contracts of the railways.
The mafia would ensure that only those contractors who gave them a cut could fill the contract bids.
The mafia superstructure used to be a mix of local politician and his chosen government officials and of course the chosen gangsters who had their patronage.
The gangsters in due course of time became so strong that even their political masters started fearing them.
What happened was that the gangsters started nurturing ambitions of fighting elections and becoming the 'mananiyas' (honourable) -- the honorific that is attached to members of the municipal corporations.
One such gangster was Shauke Ilahi, popularly known as Chand Baba.
In the 1980s, Chand Baba was an established star in the world of gangsters and commanded over one hundred diehard criminals.
Atique Ahmed was a school dropout when he joined Chand Baba's gang after flunking high school examinations.
Atique remained a Chand Baba disciple for three years, but later started nursing the ambition of leading his own gang.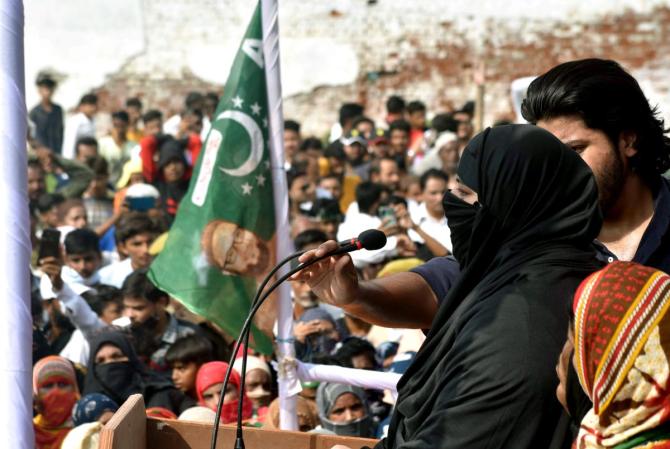 In 1989, when Chand Baba was gunned down, fingers were pointed at the henchmen of Atique Ahmed, who was a less dreaded gangster as compared to Chand Baba.
Chand Baba was the first dreaded 'rangbaz' (chief among goondas) of Allahabad who became a dreaded gangster after political patronage came his way.
He was notorious for lobbing home-made bombs at his opponents.
Guns too were in vogue then in Allahabad, but bombs were Chand's preferred weapon of eliminating rivals.
A bomb was as lethal as a gun and it had an aura of ferocity around it.
Chand Baba came into the limelight when he killed the alleged killers of his brothers in a gruesome manner.
He was very young, not tall at all, but of rather thin build. But he was a very dangerous man.
He was not afraid of taking a bullet in his chest or a bomb on his body.
In addition he had a notoriously bad temper.
His name became synonymous with terror and things came to such a pass that nobody in the establishment, except very few brave policemen, were able to confront him.
He could get his work done by just sending a few goons to any public office in Allahabad.
The crimes of Chand Baba were on the rise and the police looked set to avert any confrontation.
One episode made the police force give up its inertia and go hammer and tongs at Chand Baba.
It so happened that once a few men of Chand Baba were rounded up by the police and in a fit of indignation Chand Baba attacked the police station with his bombers and shooters.
The local police was low on reputation, but a gangster surrounding a police station and trying to kill the policemen was too much even for them.
That day the policemen had to hide, but the next day they decided to get their act together.
The local police went after Chand Baba who went into hiding for a while.
During this time, his boys, including Atique, learnt the skills of commanding small teams of gangsters.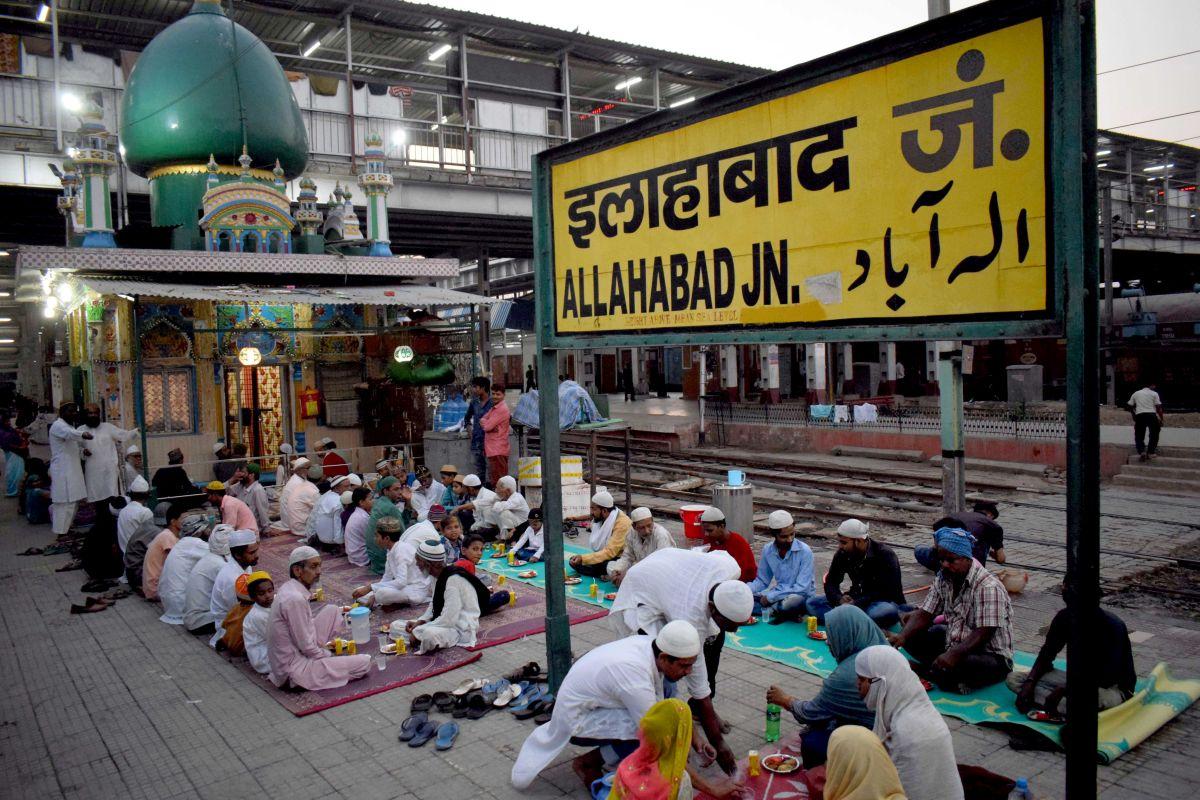 At the advice of his political master, Chand Baba surrendered to the police.
He fought the municipal corporation elections from inside the jail premises and won.
He was soon out on bail and when he stepped out of jail, Atique Ahmed and others welcomed him and took him out in the city's busy Chowk area on their shoulders.
Chand Baba was the new hero of Allahabad.
When in jail, Chand's terror was undiminished and he orchestrated a bomb attack on a senior jail official, who had a narrow escape.
Atique was junior to Chand Baba and in a way was his pupil, but Atique's ambition was much bigger than Chand's.
Upon seeing that Chand Baba had earned a degree of respectability by winning the corporation election, Atique started eyeing even higher office, of an elected member of the UP legislative assembly.
Atique was still a rising gangster from the Dhoomanganj/Chakia area while Chand Baba was the undisputed king from the Chowk area.
Atique's territory of influence, the Dhoomanganj-Chakia area, is about 12 km from the Chowk area, the stronghold of Chand Baba.
Chakia used to be on the outskirts and Chowk was the heart of Allahabad.
Young boys and girls from Chakia and other fringes used to come to Chowk to see the hustle-and-bustle of the area.
When Atique announced to Chand Baba that he wanted to be the MLA of Allahabad-West, Chand Baba angrily told him to forget it and that he himself was eyeing that constituency.
Atique Ahmed retreated, but stopped coming to the Chowk area.
He set about building his own team of young boys who wanted to make it big in the world of crime.
Atique built his own small empire and within quick time, the politicians started to patronise him too.
Atique's rise incensed Chand Baba and he waited to teach him a lesson.
Atique too accepted the challenge and it is said that both wanted to finish off each other.
Both filed nominations for the assembly elections as independent candidates.
On a fateful day in November 1989, I think a day after polling ended, Chand Baba got a tipoff that Atique's men were roaming around freely in his area.
Chand Baba and his men surrounded members of the rival group at a hotel near Roshan Bagh.
I think Atique's men were attacked at a hotel called the Jabbar.
It is said Atique seldom lost his cool even though he looked ominous from his body language.
On the contrary, Chand Baba had great difficulty in controlling his impetuosity.
Chand Baba's problem was that even though he had a force of over 100 men, he liked to attack rival gangs by leading from the front.
On the day he was face to face with Atique's men, he charged towards them, lobbing one bomb after another.
The rival gang members sprayed bullets at the attacking party and Chand Baba's men retraced on sensing the ferocity of the opposite side's attack, but Chand Baba kept charging onwards.
After the smoke of multiple bombs that were hurled had settled, Chand Baba's body was found on the ground, riddled with multiple bullet shots.
I heard many women of old Allahabad wept loudly when his janaaza (funeral procession) was taken through the gullies of the Chowk area.
Chand Baba had helped in the closure of a few brothels in the Garhi Sarai area in old Allahabad.
This had won him the gratitude of many women from respectable families.
One or two days after Chand Baba was killed, the election results were announced.
Atique Ahmed had won the election hands down while Chand Baba came a poor third or fourth.
One thing is for sure, if Chand Baba had survived that day, Atique wouldn't have been around this long.
Dr Sudhir Bisht, author and columnist, writes from New Delhi.
Feature Presentation: Aslam Hunani/Rediff.com