As he stepped out of Sabarmati central jail in Ahmedabad and was being taken to Prayagraj by Uttar Pradesh police, gangster-turned-politician Atiq Ahmed on Sunday expressed fear that he might be murdered.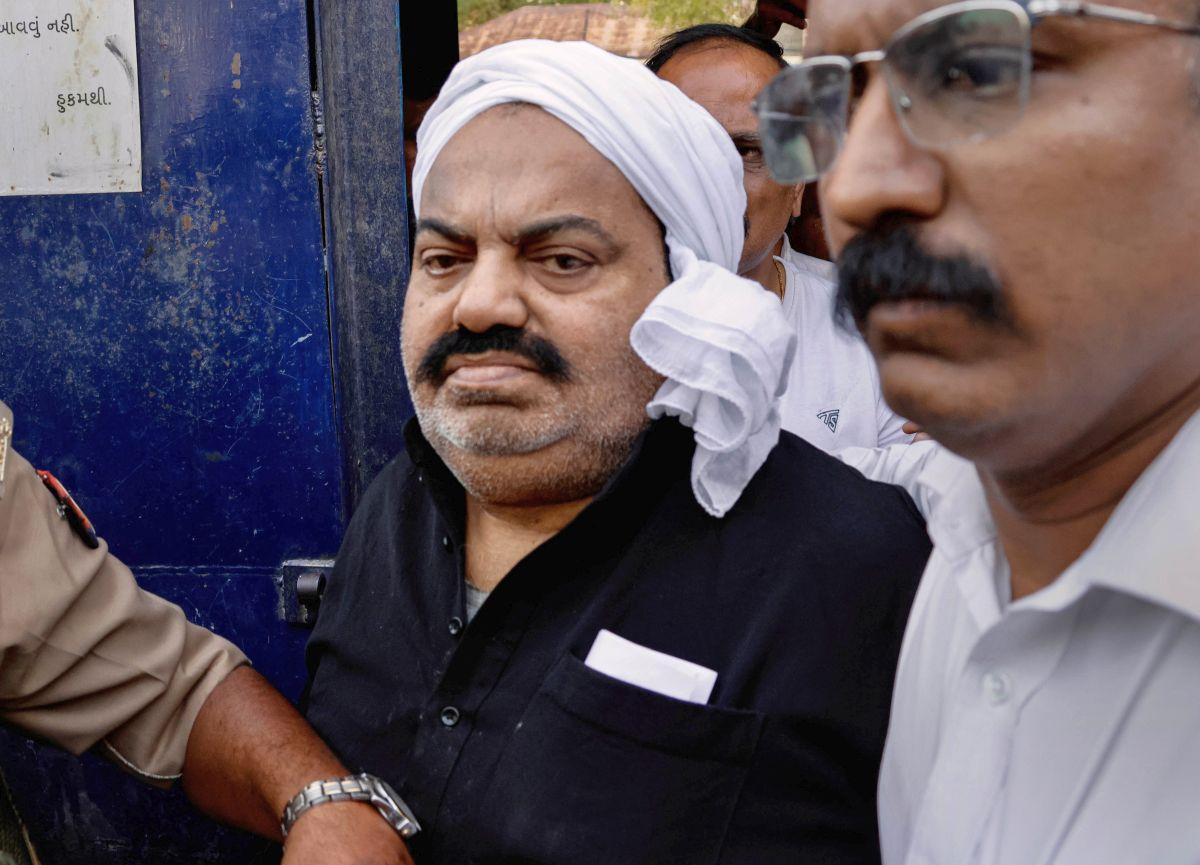 "Hatya, hatya (murder, murder)," Ahmed told reporters outside the prison while being whisked away in a police vehicle by security personnel .
When some reporters asked him if he feared for his life, the former Samajwadi Party MP said, "Mujhe inka programme maloom hai...Hatya karna chahte hain (I know their programme...They want to murder me)."
He also said that his appearance in a Prayagraj court was a just pretext for the police to kill him.
"Court ke kandhe pe rakh ke maarna chahte hain (They want to kill me under the pretext of court appearance)," he said as he was taken towards the van.
A team of the Uttar Pradesh police reached the Sabarmati jail in Ahmedabad city in the morning to take him to Prayajrag where he will be produced before a court on March 28 when it passes an order in a kidnapping case in which he is an accused.
The police team left the premises with Ahmed amid tight security around 6 pm after completing the necessary formalities.
Ahmed, a former Samajwadi Party MP from Phulpur, was shifted to the Sabarmati central jail in June 2019 following a Supreme Court after he was accused of orchestrating the kidnapping and assault on a real estate businessman Mohit Jaiswal while in prison in UP.
He is named in more than 100 criminal cases, including the recent Umesh Pal murder case, police said.
After Umesh Pal, a key witness in the 2005 killing of then BSP MLA Raju Pal, and his two security guards were killed in the brazen shooting on February 24, Chief Minister Yogi Adityanath had, while speaking in Uttar Pradesh Assembly, vowed to destroy the mafia.
Two of the accused were shot dead in separate encounters by police on February 27 and March 6.
On March 1, Ahmed moved the Supreme Court, claiming there is a "genuine and perceptible threat" to his and his family members' lives and referred to the statement made by Adityanath.
He said the Uttar Pradesh Police in all likelihood will seek his transit remand and also police remand to take him from Ahmedabad to Prayagraj and he "genuinely apprehends that he may be eliminated during this transit period".
The matter was listed for urgent mention on March 17 but the hearing was adjourned after Ahmed's counsel sought time to file some additional documents.
BJP Lok Sabha MP Subrat Pathak had said he would not be surprised if mafia Atiq Ahmed's vehicle overturns like that of gangster Vikas Dubey.
Dubey was gunned down in July 2020 by the Special Task Force of Uttar Pradesh police shortly after a police SUV in which he was being brought to Kanpur from Ujjain in Madhya Pradesh overturned under mysterious circumstances on a highway. Police claimed that he had tried to flee.
On Sunday, Samajwadi Party chief Akhilesh Yadav said at what time a vehicle has been "overturned" and by whom can be found through satellite imagery.
"The CM must have told them that the vehicle will be overturned at this place... I had said earlier also. You can take help from Google and America, every second is mapped it will be known how the vehicle overturned
"It will be there in the satellite. This record will be there, it will not go anywhere. Even after 3-4 years. These are all documented. Do not commit such a mistake," he told reporters in Lucknow when asked about the remarks of BJP leaders on Ahmed.
UP's Co-operative Affairs Minister JPS Rathore said if a criminal creates a ruckus in the vehicle it may overturn.
"If the criminal comes under police (custody), then he should peacefully sit in the vehicle so that it could safely reach the jail. If he tries to create a ruckus (woh agar hai-tauba machaayega) and thinks of jumping out of the vehicle, then the vehicle may overturn," he said.
Gangster Vikas Dubey was gunned down in July 2020 a week after eight policemen, including DSP Devendra Mishra, were ambushed in Bikru village in Kanpur when they were going to arrest Dubey and fell to bullets shortly after midnight on July 3.