The 5.54 pm Borivali fast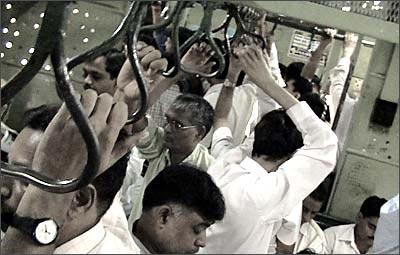 Fear is not an option for the average Mumbaikar, it is an alien emotion to them thanks to the harsh city life. This was evident abundantly in the first class bogey of the 5.54 pm Churchgate-Borivali fast local that was ripped apart by a powerful explosion this very day last year at Mahim, reducing it into a mangled mass of iron, wood and human flesh.
Though 365 days had elapsed after that dreadful evening, every single person in the first class compartment today was apprehensive about his safety.

"I consider myself extremely lucky to be alive today. I regularly travel back in this compartment from Churchgate to Kandivali. But last year I got to the platform just as the train was pulling away. I was shocked when I heard about the blast," said Ashok Bhundekar, deputy manager at a private firm in Churchgate.
He was not the only one who escaped; there were a number of people on the train who missed death by a whisker.

According to Varghese, a railway employee and a regular on the local, divine intervention kept him away from his regular ride back home on July 11 last year. "I had an emergency at home and had to take leave from work unexpectedly. That was my safety ticket, otherwise I would have been dead like my companions."

The compartment was half filled at Churchgate station but space became a priced commodity as it reached Dadar station.

"Security is still lacking but, then, foolproof security is not at all practical, especially on Mumbai's local trains," says Bahadur Singh, another regular.

Many passengers preferred not to remember that fateful evening.

"It is the media which is spreading tension among the public. We all know that trains are not safe and anyone can blow them up. So why don't you guys do something constructive once in a while?" grumbled a man who did not want to be quoted, as his friends nodded in agreement.

For the passengers it was just another trip back home. Nothing particular or unusual as far as they were concerned. Nobody bothered to glance outside or even mention the incident (at least in my vicinity) as the train sped past Mahim today. Could they have been in denial mode?
"Well, anyone can do anything on these trains. Terrorists can blow it up according to their whim and fancy. What has the police and railway police done so far? One has mangled up the investigation while the other is toying with our life by not providing us proper security," said Vipul Rathod, a businessman who occasionally travels on this train.

But on the whole, just like everything else in their lives, the horrific memories of July 11 have taken a backseat. Daily life issues and problems are what they have on their mind. Students are busy discussing academics and more worried about their college admissions. Someone else is arguing with his colleague on the cellphone about their business strategy while it is family affairs that are being analysed in another corner.

"Whenever some minister comes they provide airtight security but they just go back to their same old laidback ways once the VIP gets airborne," said Ujesh Shetty, a teenager who boarded the train at Andheri with his friends.

No one has forgotten the horror of 11/7 but then, they don't want to remember it either.
Text and photograph: Binoy Valsan
5:19 pm | 5.26 pm | 5.37 pm | 5.48 pm | 5.50 pm | 5.54 pm | 5.57 pm