Home > News > First Look


The 11/7 blast trains, a year later

July 11, 2007

The 5.50 pm fast train from Churchgate to Borivali.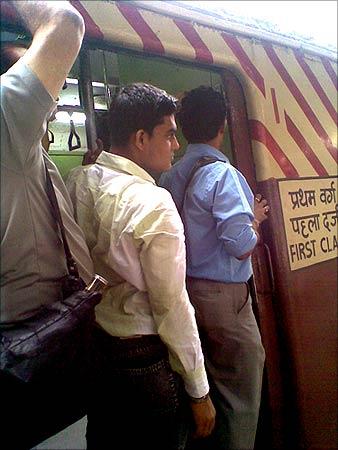 It's business as usual in a first class compartment in a fast train heading from Churchgate to Borivali. Except, while this 5:50 pm train is characteristically populated by politer and neater-dressed individuals than the general throng of Mumbai commuters, there's something not quite right.
It's comfortable. Much unlike the sardine-packed travel regular train travellers are used to, today's trip is breezy. There is seating room, to spare -- and this is unheard of. The anniversarial ill omen does indeed seem to have cast a minor pall over the famed Mumbai spirit: forcing these fastidious everyday travellers to take a train four minutes later is a massive deal indeed.
Three seasoned veterans reiterate this fact, soaking up breeze as they stand in the doorway, chests collectively swelling with pride as they recount having been in the exploding train same time last year -- and having boarded it again the very next day.
They have, after all, being doing it for 20 years. Harilal, a genial white-haired man -- and evidently the most gregarious of the group -- points out his buddies, the tall gentleman into wire manufacturing and the bearded insurance man. "I have a job," he reveals, explaining that it's important they take the same train. It's tradition.
And, his tall buddy reveals, it could happen anywhere. The next train, a bus, on the road. They accept that the anti-terrorism security measures have been laughable, but hey, what else is there? "Sure this train could blow up right now," he says in chaste Urdu, "but if it can happen in Glasgow..."
That is the overhanging feeling, one of resigned, casual inevitability. The crowd only pours in somewhat after Bandra, which is where the explosion happened on this train at 6.24 pm on July 11, 2006.
Darshan, the young man in the seat in front of me, one-away from the window, takes out his Nokia earphones to smile and mention that not just is he in the same compartment as the fateful year before, but the very same seat. "I made it a point to get the same seat," he emphasises, before saying that he doesn't want to talk about the tragedy.
"What's the point of remembering something that sad?" Darshan ponders, almost to applause from the senior citizens in earshot. "Quite right, quite right," they chime in unison, "it's best left forgotten."
Yet, it isn't completely forgotten. Sure, folks are sitting back and reading about item girls and talking about weather and their day, but the palpable undercurrent of conversation is, well, explosive -- Were you there? Remember what happened to so-and-so's brother-in-law?
And then there's a wry smile and a shrug, and these men carry on. Life chugs along.
Text and photograph: Raja Sen
5:19 pm | 5.26 pm | 5.37 pm | 5.48 pm | 5.50 pm | 5.54 pm | 5.57 pm