Home > News > First Look


The 11/7 blast trains, a year later

July 11, 2007



The 5.37 pm fast train to Virar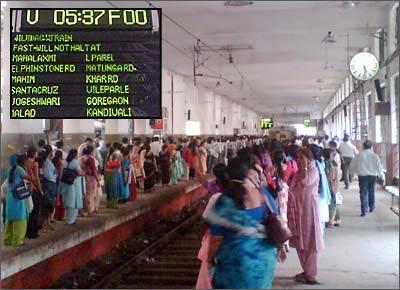 If one were to ask me about the most resolute city in the world, I would not think twice to name Mumbai. A year has gone by since terror struck its lifeline -- the local trains. Yet, not one expression of fear can be seen in the eyes of the commuters.
To witness the never-say-die attitude of this metropolis, I headed out to Churchgate station from where I was to board the 5.37 fast train to Virar. On July 11, 2006, this train never made it to its destination. The first class compartment was ripped apart by a bomb as the train rolled into platform number 4 at the Borivali station.
The scene at Churchgate station was mundane. Blue- and white-collared commuters hurried their steps to catch a seat in the earliest available train. The only people standing out today were the policemen in spotless uniforms, who went about frisking people and their luggage. After all, it was the first anniversary of the 11/7 blasts.
My train arrived on the platform at 5.30 and left at the scheduled time. As the train gathered speed, I searched for traces of uncertainty in the 20, 30 pairs of eyes in the compartment. The exercise was in vain. Nobody was discussing terror or bombs or 11/7. I decided I had to poke somebody on the issue.
"You can never feel safe. I don't think about such things... life just carries on like this train," said Manoj Jha, as held on to a pole at the entrance.
"Security is there, but on platforms. Trains will always be vulnerable," he added.
Satisfied with the philosophical reply, I turned my attention to a fellow passenger who had been listening to our conversation. He identified himself as Sanjay, or let me say 'smart' Sanjay.
"I was out of Mumbai when the bomb blasts took place. However, one of my colleagues had a narrow escape. She took the bus after she missed one of the ill-fated trains that day. The next day she asked me if it was safe to take the trains. I told her that terrorists are not fools to strike at the same place twice. They would go looking for other targets," said the smart guy.
He went on to substantiate his theory.
"Had terrorists kept hitting the same targets, more incidents like the September 11 attack on the World Trade Centre in the US would have taken place. I believe that's the smartest way of looking at things," said Sanjay.
Both these gentlemen viewed fear as a constant factor in their lives. Terror has no face, but neither has death. It will come to them anywhere, anytime. So why think about it? Life has to go on... Like the train they were on.
Text and Photograph: Vipin Vijayan
5:19 pm | 5.26 pm | 5.37 pm | 5.48 pm | 5.50 pm | 5.54 pm | 5.57 pm