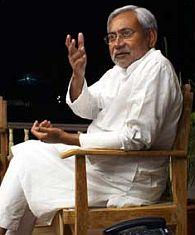 Facing allegations from the Bharatiya Janata Party of not taking timely action to rescue Bihari pilgrims in Uttarakhand, Bihar Chief Minister Nitish Kumar on Monday made a veiled attack on his Gujarat counterpart Narendra Modi saying he was no 'Rambo' but took steps for assisting pilgrims there.
"I am not Rambo type of personality. I do not have that kind of potential," he told reporters emerging from 'Janata Ke Darbar me Mukhya Mantri' programme.
Amid reports that Modi had rescued 15,000 Gujarati pilgrims from Uttarakhand, Congress had termed the senior BJP leader 'Rambo'.
Kumar dismissed BJP's allegations that unlike other states, the Bihar government did not take timely action to assist Bihar pilgrims.
"As soon as we got to know of the tragedy, the state government deputed a team of senior officials to coordinate relief and rehabilitation action there," he said adding he himself talked to his Uttarakhand counterpart Vijay Bahuguna and contributed Rs 5 crore in the relief fund.
"I myself presided over several meetings of state disaster management team and gave necessary direction to help the stranded devotees," he said.
On the allegation levelled by his former NDA partner, Kumar said, "This is nothing but a reflection of low level politics practised by them. Natural calamity and human tragedies should not be part of politics. It should not be an issue of finger pointing on each other."
He said everybody has their own character. "But, I can not stoop to such low level on such humanitarian issue like them."

Asked about Cabinet expansion, Kumar said, "There is no hurry for that. It will come to you as a surprise."
To a question as to how he was managing 18 departments himself, Kumar said, "I am used to work and do not feel problem in discharge of any amount of work."
There were 29 ministers including the chief minister but after the sacking of 11 BJP ministers, Bihar Cabinet has been reduced to 18 along with Kumar. There is scope of keeping 36 ministers.
There were reports of Kumar walking the tightrope on the Cabinet expansion with four Independents who voted for the government pitching for ministerial berths.
But, Kumar dismissed any pressure saying, "It is media creation and all speculative. There is time to do everything and in exercise of my privilege as a chief minister I will induct more ministers at an opportune time."