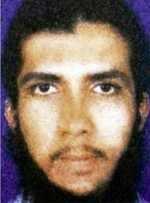 Yasin Bhatkal, the man who carried a reward of Rs 75 lakh on his head and also a master of disguises and aliases, tried his luck for the last time when the Intelligence Bureau came knocking on his door in Nepal.
Sources tell rediff.com that once faced with his interrogators; Yasin introduced himself as Dr Imran, a specialist in Unani medicine. He pleaded his case for nearly 15 minutes and claimed to be a resident of Bihar.
"I am a doctor specialising in Unani medicine for the past five years," he told his interrogators initially.
However, the IB men had come prepared. 'Dr Imran' was in fact an alias that Yasin had used for operations in Bihar. He was not known by any other name in Bihar barring that very name. He also went by the aliases Shahrukh, while his real name is as Ahmed Siddibapa.