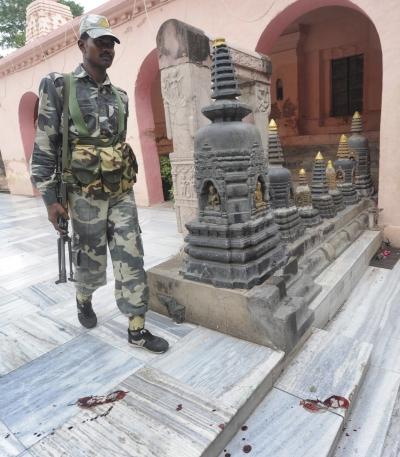 The arrest of Yasin Bhatkal comes as a huge relief to the Bihar police, who expect to now crackdown down on active terror units in the state, reports Vicky Nanjappa.
The arrest of India's most wanted terrorist and Indian Mujahideen founder Yasin Bhatkal is a major breakthrough for security agencies in India, especially, the Bihar police.
IM's Darbhanga module, a brainchild of Yasin, created a menace like no other. Formed after the Pune module was busted, the Bihar unit, according to Intelligence Bureau officials, was the most dreaded. It was this module that planned and carried out the 13/7 Mumbai blasts, last year's Pune serial blasts, twin bomb blasts in Dilsukhnagar, Hyderabad in February this year and July's Bodh Gaya blasts. The 2006 Varanasi bombings was the first attack ever to be executed by the Bihar unit, which till today remains unsolved.
The Bihar cell comprises grassroot-level operatives, most of whom are illegal Bangladeshi migrants. Those working for the Darbhanga module follow a rather rustic modus operandi -- they never communicated with each other over the phone or e-mail.

Yasin very successfully managed to coordinate with Fasih Mahmood and Asadullah Akthar, the two Gulf-based operatives, who roped in terror funds for the outfit. Simultaneously, he overlooked local operations. According to the IB, the illegal immigrants recruited by Yasin as foot soldiers were paid a paltry Rs 1000 per operation.
However, Yasin's biggest weapon was the political support he enjoyed in Bihar, say IB insiders. The Bangalore police complained that local authorities extended no cooperation when they wanted to search Darbhanga. Now, with the arrest of Yasin, the Bihar police can heave a huge sigh of relief.
The Bihar government, which faced a set back after the Gaya blasts, has taken the issue of terrorism more seriously. The police are keen to interrogate Yasin. They are expected to grill him on the blasts at the Mahabodhi temple premises and on the other terror modules active in the state, which aide the IM.
An officer part of the operation that led to the arrest of Yasin told rediff.com, "It was thought that the Delhi police would question him first. But Yasin's bigger crimes have been in Bihar. Hence, it was decided that he would first be grilled in Bihar."

Image: A security personnel walks next to bloody footprints inside the Mahabodhi temple complex

Photograph: Krishna Murari Kishan/Reuters