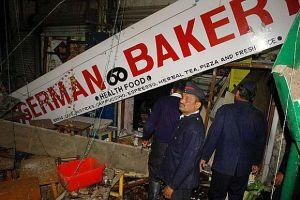 Yasin Bhatkal, a dreaded terrorist and co-founder of terror-outfit Indian Mujahideen, who was arrested from the Indo-Nepal border in north Bihar, will be handed over to National Investigation Agency.
Bhatkal, 30, was arrested after being on the run for over five years.
He will be handed over to NIA for probe, Union home mnistry officials said on Thursday.
Bhatkal is wanted by NIA in several cases of terror activities and waging war against the country. NIA, which has registered cases under various sections of Indian Penal Code and Unlawful Activities (Prevention) Act against him, had also announced a reward of Rs 10 lakh for his capture.
A non-bailable warrant was issued against Bhatkal, who hails from Bhatkal in Karnataka.
Bhatkal, who was on run since 2008, is wanted in cases of terror attacks in Ahmedabad, Surat, Bangalore, Pune, Delhi and Hyderabad.
Bhatkal, who co-founded IM in 2008 along with brother Riaz, is also wanted in the German Bakery bomb blast in Pune on February 13, 2010, that left 17 people dead.
The IM was designated a terrorist group by the government under the Unlawful Activities Prevention Act in June, 2010.
Nabbing Yasin Bhatkal is a "great success", former Home Secretary R K Singh said today after his arrest from the Indo-Nepal border.
"This fellow has been the most active terrorist in the IM group. He himself was a bomb planter, organiser and he was infact one of the most potent terrorists in that (IM) stable," Singh, who was till recently a top officer in the country's internal security set-up, said.
"We have been after him. Catching him, therefore, I think, is a great success," he said.
Singh said Bhatkal's name had also cropped up in the interrogation reports of the Mumbai train blasts and his role in that case had to be examined "very closely".
The former home secretary said Bhatkal gave the agencies slip at least twice earlier.
"Once it was said he was arrested in Kolkata but they (security agencies) did not have his identity and he managed to get bail and on another occasion again, our agencies had worked out a plan but he managed to give a slip," he said.
Singh said Bhatkal also uses an alias of Imran and that the establishment of the Indian Mujahideen outfit is based in Pakistan.
The former home secretary said the arrest of Bhatkal would surely dent the capabilities of the IM but more steps would be required to dismantle the entire infrastructure of the terror outfit and its plans.
Singh said Bhatkal's arrest was a result of coordination among various security and intelligence agencies of the country.
"In the past year-and-a-half, we have made great strides arresting a number of these operatives," he said.
Image: The 2010 bombing at Germany Bakery in Pune is one of the many terror cases in which Yasin Bhatkal is involved
Photograph: Reuters