Rahul Gandhi on Tuesday took his fight against the contentious land acquisition bill to Punjab as he travelled by train to visit the National Democratic Alliance-ruled state and see the condition of farmers with his own eyes.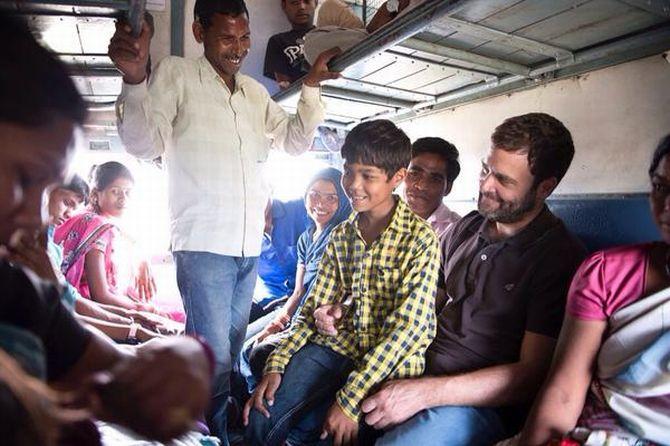 Image: Rahul Gandhi on board Sachkhand Express. Photograph: Congress/Twitter
Dressed in a brown tee and jeans and sporting a stubble, the Congress vice president reached this town in Haryana bordering Punjab this evening sitting in a general compartment of the Sachkhand express for the visit dubbed as "political" by his critics.
"I have been told that the situation is very bad. So I want to see it with my own eyes. I am going to Punjab. I had also stated in my speech (in Parliament) that those who provide grains to the country, food to the country, from them their land is being snatched. This is wrong and we will counter it," Gandhi told reporters from his window seat earlier at the New Delhi Railway station from where he boarded the train.
Congress leaders Jyotiraditya Scindia and Shakeel Ahmed, All India Congress Committee in-charge of Punjab accompanied Gandhi.
Image: Rahul talks to a farmer who got only Rs 1,800 as compensation for his crop loss. Photograph: Congress/Twitter
Asked to respond to the criticism that his visit had political overtones, Gandhi shot back, "What do they want to make everything non-political?"
Gandhi is on his way to visit Khanna and Gobindgarh by road in the Shiromani Akali Dal-Bharatiya Janata Party ruled state and will take stock of the situation in the state's grain markets where farmers are finding it difficult to sell their produce after the recent unseasonal rains. He will also have a stop at Sarhind Mandi.
The visit comes at a time when farmers in the region have accused the government of tardy wheat procurement. The state has also been witnessed suicides by farmers.
Khanna grain market is considered one of the largest grain markets in Asia.
The visit to Punjab is a precursor to the Kisan Padyatra that Gandhi will undertake next month to reach out to farmers against the backdrop of the agrarian crisis.
Image: Rahul interacts with passengers of Sachkhand Express. Photograph: Congress/Twitter
Union Minister and Akali Dal leader Harsimrat Kaur dubbed Gandhi's visit to a mandi as a "drama".
Congress has been alleging that the Punjab government is not purchasing the produce of farmers adequately.
Gandhi had recently attacked the government, alleging that it was "ignoring" the farming community and favouring the industrialists and rich people.
He has also accused the government of giving out contradictory figures about the damages suffered by farmers during the recent unseasonal rains.
Gandhi, who was absent in the first half of the Budget session, owing to his 56-day leave, has been raising issues related to farmers and youths since he resumed party work.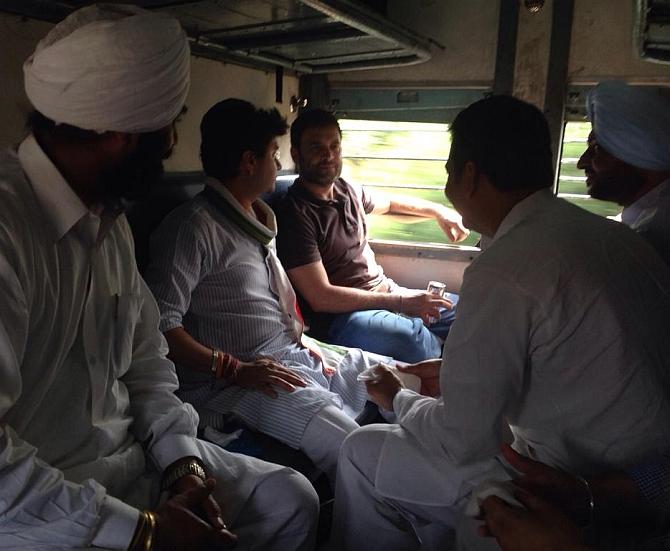 Rahul Gandhi along with Jyotiraditya Scindia on board Sachkhand Express. Photograph: Congress/ Twitter
The Congress vice president also plans to undertake a padyatra from either Vidarbha in Maharashtra or the Telangana region, from the first week of May to connect with farmers.
Gandhi's aggressive approach on farmers' issues is being seen as an exercise to connect the party with grassroots at a time when it faces an uphill task of revival after its worst-ever debacle in the 2014 Lok Sabha polls in which its tally came down to a drastic 44 from 206 it had got in the 2009 general elections.
The party sees the momentum generated by opposition protests to NDA's land bill and the agrarian crisis as an opportunity to broaden its base among the farming communities.